Critics say Michigan open-government reform legislation has too many loopholes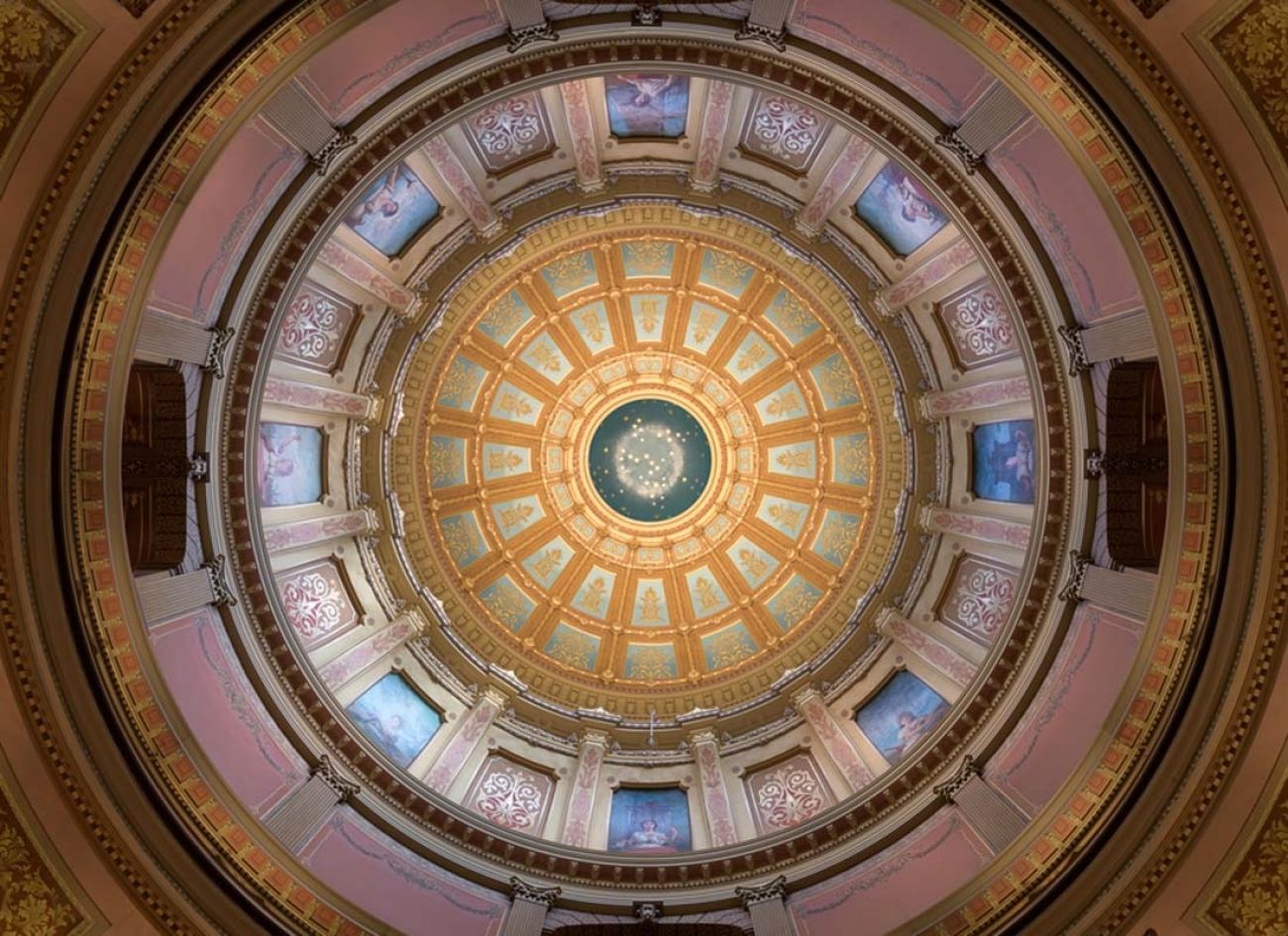 Michigan is one of two states that exempts the governor and legislators from open records requests. Legislation is moving forward to end that distinction, but critics say it's riddled with problems. (Shutterstock image)
Michigan Government
Critics say Michigan open-government reform legislation has too many loopholes
Update: Michigan House passes transparency plan fourth time. Will Senate finally act?
LANSING — A long-debated transparency package advancing in the Michigan Legislature is riddled with loopholes that would limit access to documents that should be public, according to liberal critics urging revisions.
Michigan is one of only two states that fully exempts the governor's office and Legislature from public records requests, which has helped the state earn a failing grade for ethics and transparency.
Related:
Bipartisan legislation would end that distinction by extending the Freedom of Information Act to the executive branch and creating a new Legislative Open Records Act.
That plan is supported by groups including the Michigan Press Association, Voters Not Politicians and the American Civil Liberties Union, while Republicans say it's especially timely given recent revelations of confidential severance payouts to former members of Democratic Gov. Gretchen Whitmer's administration.
But Secretary of State Jocelyn Benson and others contend the legislation is flawed because it would not allow residents to sue the Legislature if a request is denied, could allow legislators to destroy some communications before they become public and would shield all internal documents from within political party caucuses in both the House and Senate.
Benson, in a Monday briefing on her own transparency agenda, said that without changes, the bills "would allow our Legislature to continue to operate in the shadows and deny Michigan citizens the transparency they truly deserve."
Under the bills, a communication or document would only be considered a "public record" if it was in possession of the Legislature for 15 days or more, which could incentivize lawmakers to quickly delete emails.
And unlike the Freedom of Information Act, the new law would not allow residents to sue the Legislature if they believe a records request was illegally denied. Instead, a requester could appeal a rejection to the Legislative Council Administrator, who is appointed by a legislative panel controlled by the House and Senate majority leaders.
"The authority to enforce FOIA must be placed with a truly independent body, not one that the Legislature oversees and can control, as is proposed in their current legislation," said Benson, a Democrat, describing the legislation as a "watered down version of FOIA for the Legislature."
Bipartisan bill sponsors say they developed the appeals process because courts could be reluctant to resolve disputes due to separation of powers provision in the Michigan Constitution.
That's what happened in Indiana, where the state Supreme Court in 2016 declined to force disclosure by a legislator accused of advancing bills that personally benefited him. Doing so would have been an "invasion into a core function of the legislative branch," justices ruled.
The Michigan legislation will "withstand judicial scrutiny, which other states have had much trouble with," sponsoring Sen. Ed McBroom, R-Vulcan, said Tuesday in the Senate Oversight Committee, which is expected to vote on the package next week.
'Much greater transparency'
Despite concerns over the lack of judicial review, many open government advocates say the legislation remains a vast improvement over current law.
"These bills offer much greater transparency that we have right now," said Steve Delie of the Mackinac Center for Public Policy, a Midland free market think tank that has successfully sued state departments and universities for information officials tried to withhold.
"There may be things that need to be cleaned up and improved as time goes on, but this is not a scenario where we will let perfect be the enemy of good," he said.
Sponsoring Sen. Jeremy Moss, a Southfield Democrat who has partnered with McBroom to push the bills in the upper chamber, said the legislation would create "a floor, not a ceiling" for public records access in the Legislature.
"We do need a tool here to disclose communications that are wrong, unethical and possibly even illegal," Moss told colleagues. "If you aren't doing anything wrong, then you shouldn't have anything to worry about."
Similar legislation sailed through the House unanimously last session before stalling in the Senate. Backers are optimistic the new measure could reach Whitmer this year because a supermajority of senators support it or have co-sponsored prior versions of the bills held up by Republican Majority Leader Mike Shirkey and his predecessor Arlan Meekhof.
Whitmer has not followed through on a 2018 campaign pledge to make her office subject to existing public records laws if the Legislature did not act. Her office raised concerns but ultimately supported the bills last session.
Progress Michigan, a liberal advocacy group, also supported similar legislation in 2019 but is now opposing the House and Senate bills while planning a potential 2022 ballot proposal that would extend FOIA to the governor's office and Legislature without "carve-outs."
Attorney Mark Brewer said the ballot proposal seeks to eliminate separation of powers disputes by directing Michigan courts to waive any privilege or immunity claims by the Legislature or governor's office.
The legislation under consideration in Lansing is "what you would get if you ordered FOIA reform from Wish.com," said Lonnie Scott, executive director of Progress Michigan, referencing an online retailer known for cheap products.
The measure would create "a different standard of transparency to the Legislature" than other governmental bodies and "blocks the courts as an avenue for people when their requests are denied."
The legislation would not require the governor's office or Legislature to disclose any documents produced or received prior to Jan. 1, 2022. The bills also include numerous exemptions that would shield some information from public scrutiny.
Among other things, the Legislature would not have to disclose:
Communications with constituents, unless those constituents are registered lobbyists
Records and internal communications created or possessed by the Republican and Democratic caucuses in both the House and Senate
Internal communications of an "advisory nature" between lawmakers and staff in advance of any policy or action, unless disclosure is "clearly" warranted because of public interest
Records pertaining to an ongoing internal or legislative investigation
Trade secrets, commercial or financial records or confidential information provided to the Legislature for use in developing governmental policy
Records or information subject to attorney-client privilege, related to open civil lawsuits involving the Legislature and those already exempt in other state laws
A bid, quote or proposal submitted to the Legislature, until the contract the person or entity was applying for is awarded
Records that would interfere with law enforcement proceedings, disclose the identity of a confidential source, endanger the life or physical safety or a legislator or staffer and hurt the Legislature's ability to "maintain the security or integrity of its properties or information technology systems."
Records pertaining to future calendar entries or meetings
The governor's office would not have to disclose:
Communications between the governor's office and a constituent, other than appointees, state workers and registered lobbyists.
Deliberations on gubernatorial appointments, potential removal or suspension of public officials and decisions to grant or deny a reprieve, pardon or commutations for criminal convicts
Budget recommendations, spending reductions and other messages to the Legislature
Information about about the governor's executive residence in Lansing or records that "could materially compromise or diminish the security of the governor or lieutenant governor"
Information or records subject to executive privilege, a legal term not defined in state law
'Proactive destruction'
Sponsors say they included those exemptions in order to secure needed votes in the Legislature and support from the governor. Shirkey, for instance, has said he's concerned that overly broad legislation could "discourage negotiations, discourage conversation" in Lansing.
McBroom acknowledged the bills propose a less aggressive form of disclosure for the Legislature, but he said the goal is to "start small" to get legislators used to the idea that their emails are public record.
Senate support is "balanced on the edge of a knife," he said.
The bills would require the Legislature to retain documents for up to two years, but critics are sounding alarms over the exemption that only considers documents public if they have been in possession of the Legislature for 15 days.
That creates a "proactive destruction schedule" allowing legislators or staff to delete records before a determination is made whether they could be made public, argued Scott, the executive director of Progress Michigan.
"Any serious transparency proposal has no such document destruction policy," Scott said.
The legislation would also shield any internal records from Republican and Democratic caucuses in the House or Senate, and that could set up a system "where you hide all the documents that you don't want public through the caucus system," Scott continued.
He noted the Michigan House and Senate Business Offices last week disclosed nearly $700,00 in settlement and severance payouts to former employees since 2010 but refused to provide documentation of those deals.
"I think there's a real question as to whether or not we would have been able to get severance agreements for the Legislature if they simply structured those as going through the caucus, as opposed to the House Business Office of the Senate Business Office," Scott said.
Progress Michigan's potential ballot proposal, would also exempt communications between elected officials and their constituents, cell phone numbers, information about the governor's residence and a schedule of "non-public events" for the governor and lieutenant governor.
Instead, the governor, lieutenant governor and legislators would be required to publish logs of all public events and visitors from the prior day. That would provide the public with relevant schedule information "without revealing potential security issues" like the time and location of recurring staff meetings, Scott said.
Progress Michigan's potential ballot language also seeks to prohibit lengthy delays by requiring the government to produce documents within 60 days after a request is approved and paid for.
But it would not address another common complaint with Michigan's FOIA process: Processing fees that can end up costing requesters hundreds or thousands of dollars.
It's not uncommon for the government agencies in Michigan to charge upwards of $1,000, for instance, to process as little as one week's worth of emails, as news agencies statewide — including Bridge Michigan — can attest.
Only donate if we've informed you about important Michigan issues
See what new members are saying about why they donated to Bridge Michigan:
"In order for this information to be accurate and unbiased it must be underwritten by its readers, not by special interests." - Larry S.
"Not many other media sources report on the topics Bridge does." - Susan B.
"Your journalism is outstanding and rare these days." - Mark S.
If you want to ensure the future of nonpartisan, nonprofit Michigan journalism, please become a member today. You, too, will be asked why you donated and maybe we'll feature your quote next time!