Feds: Union solicited by state Rep. Larry Inman worked to recall him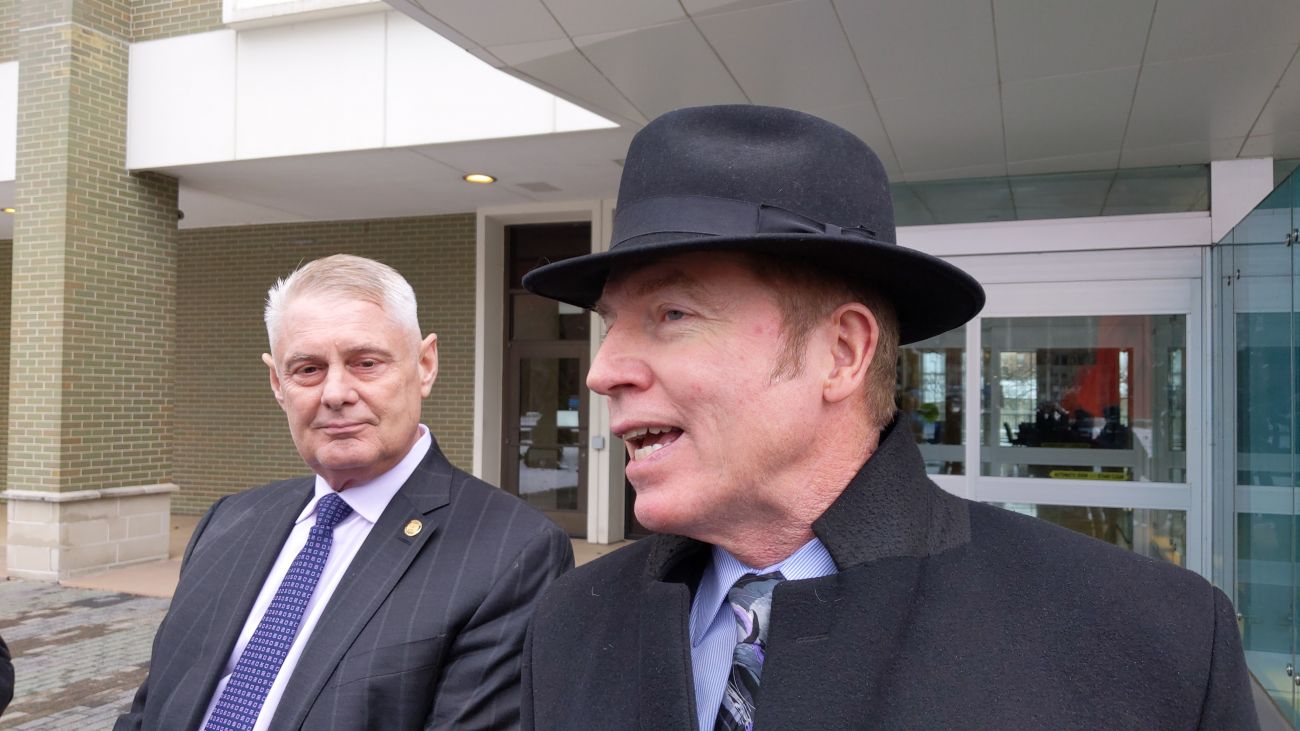 GRAND RAPIDS — The union that state Rep. Larry Inman allegedly extorted subsequently worked on a campaign to recall the lawmaker, attorneys revealed Tuesday at the onset of what is expected to be a week-long trial.
Defense attorney Chris Cooke suggested to a federal judge that the Michigan Regional Council of Carpenters and Millwrights had contributed as much as $60,000 to the recall effort, but he later backed off that number under questioning from reporters, and a recall campaign official said the figure was "absolutely not" true.
Prosecutors accusing Inman of offering to sell his June 2018 vote on a prevailing wage repeal initiative disclosed the recall campaign connection to defense attorneys last week but did not specify the level of union involvement.
Cooke told U.S. District Court Judge Robert Jonker that he may ask the prosecution's star union witness about the recall assistance to prove a "bias" against Inman that could have motivated her to cooperate with federal investigators after he texted her days ahead of the prevailing wage vote.
Lisa Canada, political and legislative director for the Michigan Regional Council of Carpenters and Millwrights, was the first witness that prosecutors called Tuesday in Grand Rapids but she will not face cross-examination from Cooke until Wednesday morning.
Mike Naughton, an attorney for the Inman recall campaign, denied the carpenters union had contributed to the effort financially but said the labor organization did provide some assistance by supplying "some" canvassers to circulate petitions. The campaign has not yet disclosed any financial donors.
"I don't know where the $60,000 comes from," Naughton told Bridge Magazine, referencing the claim Cooke made in court. "It would have been nice but we didn't get it."
State officials last week tossed out recall petitions filed by organizers because of a missing word. The campaign is challenging that decision in the Michigan Court of Appeals after collecting an estimated 13,990 petition signatures from voters in Inman's district.
Prosecutors in Inman's criminal case allege the Traverse City-area Republican attempted to sell his vote on the prevailing wage initiative to the union in exchange for $30,000 in re-election campaign contributions, and they argued Tuesday that subsequent recall campaign assistance by the union is irrelevant because it occurred months after Inman's alleged crimes.
But Canada is the "chief accuser" in the case, Cooke told U.S. District Court Judge Robert Jonker, and the recall campaign contributions may explain her earlier decisions on how she handled and interpreted the texts Inman sent her, which are a key piece of evidence in the case, he argued.
Jurors can hear those arguments, Jonker ruled ahead of jury selection. But if Cooke raises the issue in cross-examination, the judge said jurors can also hear testimony about other reactions to Inman's mid-May indictment, including House Republican's movie to remove Inman from their caucus and a full House vote on a resolution urging him to resign.
"I think the issue is fair game," Jonker said of the recall campaign assistance. The defense may try to show Canada turned Inman in because the union "saw an opportunity to pick off a vulnerable Republican and get someone more to their liking."
Jurors can also hear how House Republicans and others reacted to Inman's indictment "in a similar fashion" but minimizing his role in the Legislature and urging him to step down, Jonker said.
The judge decided that matter before jurors entered the courtroom. Jurors who were selected over the next two hours -- a group of 14, including two alternates -- will decide whether Inman is guilty of alleged extortion, bribery and lying to the FBI over his June 2018 solicitations for campaign contributions.
Inman pleaded not guilty to all charges ahead of the trial, which is expected to run through early next week and will include testimony from House Speaker Lee Chatfield, union lobbyists, FBI investigators, state Rep. Joe Bellino and Dan Pero, who served as chief of staff to then-House Speaker Tom Leonard at the time of the prevailing wage vote.
It's not yet known whether Inman will testify in his own defense. Walking out of court Tuesday, Inman said he feels "excellent."
As Bridge Magazine reported Monday, the case will come down to whether federal prosecutors are able to convince the jury that there was a quid pro quo. "A trade, if you will," Jonker told jurors during the selection process.
"The hinge" of the case is whether Inman offered to vote in a specific way in exchange for campaign contributions, Jonker said.
Opening statements
Inman did just that, Assistant U.S. Attorney Ron Stella said in his opening statement, telling jurors Inman offered "this for that" by promising his vote on a "very important matter" that the union opposed.
The prevailing wage law had guaranteed union level wages and benefits on state-funded construction projects like schools and government buildings.
Stella described nearly identical text messages Inman sent to Canada and a union lobbyist three days before the June 6, 2018, vote. In the texts, he urged additional campaign contributions for 12 unnamed lawmakers who might vote against the initiative despite pressure from GOP leaders, who wanted a repeal.
Inman was concerned about a potential Republican primary challenge if he bucked his own party, and he ended up voting for the repeal after the union did not respond to his solicitation for additional campaign contributions, Stella said.
Inman's "yes vote was very much motivated by the same factor" as his texts to the carpenters union: "Money," the federal prosecutor argued.
But Cooke, the defense attorney, portrayed Inman as a victim of a political system where special interests donors are a fact of life. He argued Inman's texts to the union were a protected form of free speech that did not include a direct promise to vote in a specific way.
Political action committees can contribute up to $10,000 to a state House candidate per election cycle, and "they don't donate because they think you're going to be favorable to them," Cooke told jurors.
"They donate because they expect you to advocate for their position. That's just the way it works. All of that is legal."
Cooke also criticized the FBI investigation by suggesting it began with a predetermined conclusion that Inman was guilty.
The carpenters' union hired additional lobbyists in the run-up to the prevailing wage vote in an attempt to sway enough Republicans to join opposition Democrats to kill the initiative, he told jurors.
"They hired these lobbyists with specific directions to obtain the support of these Republican lawmakers, and in exchange for that give them campaign money," he said. "And they gave campaign money to a lot of these folks who voted in favor of the union's position."
Inman ended up returning a $4,000 check the union had written him in May 2018, but "he's the man facing indictment," Cooke said. "What about those who took money? Does the government investigate Lisa Canada?"
Other lawmakers who received contributions from the carpenters union have denied any knowledge of the alleged scheme or texts from Inman, who did not return another $2,000 in donations the union gave him in 2017.
'Shocked' and 'angry'
Canada testified that Inman had first discussed a connection between prevailing wage and campaign contributions with her in November 2017 during a union-organized meeting with roughly a dozen lawmakers at the Capitol Prime restaurant in Lansing. Officials from two other trades groups were also present, she said.
"He was asking how helpful we could be monetarily if he were to get a primary," Canada said during questioning by Assistant U.S. Attorney Chris O'Connor.
On June 3, 2018, Inman sent Canada a text urging trade unions to give $30,000 contributions to unnamed lawmakers or "max out" by giving $10,000 each. "People will not go down for $5,000, not that we dont appreciate it," he said, ending the text with: "We never had this discussion."
Canada testified that she was "shocked" and "angry" when she received the text from Inman. While his message referenced other unnamed lawmakers, Canada testified she took that to mean he "was asking for more money or he wasn't going to vote our way."
Rather than respond to Inman, Canada took what she called the "unethical" text to her boss and union lobbyists. She reported the text to the Michigan State Police the next morning, two days ahead of the vote. She later worked with the FBI to record a phone call with Inman.
In the 15-minute call, played for jurors Tuesday, Canada told Inman she felt he had questioned her integrity in the text. He repeatedly insisted he had been urging contributions for other lawmakers, not himself, and declined to say whether he would have voted with the union had it given him more campaign cash.
"I was fine with what you gave me," he told Canada at one point, offering to return the $4,000 check the union had written him in May.
"If anyone questions your integrity (because of the text), I'll say it came from me, and I didn't do it properly," Inman told her.
The phone call also included discussion of Leonard, the former House Speaker who President Donald Trump recently nominated to be the new U.S. Attorney for the Western District, which is now prosecuting Inman.
Leonard "put pressure" on other GOP lawmakers who had considered voting against the repeal initiative and "got them to fold," Inman told Canada. "Tom Leonard won, and your people lost, at least for the day."
Testimony will continue Wednesday. Prosecutors are expected to spend at least three days presenting their case before the defense will have a chance to call witnesses. Jonker told jurors he expects they will begin deliberations Monday or Tuesday.
Editor's note: This story was updated Dec. 3 to reflect new testimony in the case. The headline was changed to reflect disagreement about the level of the union's involvement in Inman's recall campaign.
Only donate if we've informed you about important Michigan issues
See what new members are saying about why they donated to Bridge Michigan:
"In order for this information to be accurate and unbiased it must be underwritten by its readers, not by special interests." - Larry S.
"Not many other media sources report on the topics Bridge does." - Susan B.
"Your journalism is outstanding and rare these days." - Mark S.
If you want to ensure the future of nonpartisan, nonprofit Michigan journalism, please become a member today. You, too, will be asked why you donated and maybe we'll feature your quote next time!