Charlesetta Wilson has always been a doer. Growing up in poverty in Detroit, that wasn't so easy.
She worked for years as a lounge server at MGM Grand Casino in Detroit. When she saw a need for fairer working conditions eight years ago, Wilson became a labor organizer with UNITE HERE Local 24, a hospitality workers union.
Update: Nessel wins AG nod from Michigan Democrats
With 2018 midterm elections approaching, the mother of three didn't see a candidate for the state House who promised to address the issues affecting her community. So she decided to make her own run, in a House district serving parts of southwest Detroit and the Downriver cities of Ecorse and River Rouge.
Charlesetta Wilson of Detroit is a union organizer and first-time candidate for office. She decided to run for a state House seat because she didn't see anyone she felt represented her community. (Bridge photo by Riley Beggin)
"There's a little bit of a disconnect (between) actual communities that are struggling" and the Democratic Party, she said. Wilson ticked off the issues driving her activism: the environment, education, economic justice. "I'm a reluctant leader, but I have to make some sacrifices to make a better future for myself and my family."
Related Michigan political coverage:
Democrats across Michigan hope to turn President Trump's unpopularity into a blue wave that sweeps the party back into power in Lansing after eight years in the political wilderness.
But to have a chance, Democrats, who hold their convention in Detroit this weekend, must quell lingering tensions between a labor-dominated establishment and the increasingly impatient demands of progressives. And, as Wilson's first-time candidacy suggests, Democratic leaders must show other key constituencies ‒ African Americans, women, workers and the poor, to name a few ‒ the party will fight for them as well.
Brandon Dillon, the Michigan Democratic Party chairman, acknowledges the task in bringing disparate factions together under a unifying message.
"We have such a broad coalition of supporters in our party," Dillon said, "that I think we talk about too many issues, sometimes."
On Sunday, party activists will pick nominees for some top statewide races, including Attorney General and Secretary of State. (The nominee for governor will be chosen in an August primary.) And, in some respects, the ideological battle echoes the debate that played out in Michigan's 2016 presidential primary between Hillary Clinton and Bernie Sanders.
Will Democrats choose candidates who can appeal to more moderate general election voters — including union and other blue-collar workers who may have voted for former President Barack Obama but broke ranks for Trump two years ago? Or do they ride the passion of the "resistance" and party progressives, driven by antipathy for all things Trump and uncompromising positions on issues like racial and LGBTQ equality, gender politics and universal health care?
In Michigan, as elsewhere, Democrats are seeing a surge of energy and momentum among people who oppose Trump's policies, from immigration to tax cuts. Party spokesman Paul Kanan said more than 3,000 first-time members have registered ahead of Sunday's convention — more than in 2016 or 2017.
But a "never Trump" platform won't be enough, especially for a state party often viewed as distant and out of touch, according to more than two dozen interviews Bridge conducted with party insiders, grassroots organizers, union members, activists, political pundits and voters around the state. Democrats concede they must mend internal rifts and rebuild a party infrastructure fractured during the 2016 presidential campaign.
Fault lines within the party were exposed by the insurgent campaign of Sanders, the Vermont senator whose populist positions against free trade resonated with Michigan workers. That stance fueled his surprise primary victory over Clinton, and foreshadowed Trump's own success in Michigan that November.
Two years later, leading Democratic candidates for governor are battling for the progressive mantle. Early frontrunner Gretchen Whitmer, a former state Senate minority leader, is fending off challenges from former Detroit health director Abdul El-Sayed and entrepreneur Shri Thanedar. Both men present themselves as the most progressive to distance themselves from Whitmer, who has secured the backing of more than a dozen labor groups and campaign money from corporations, including Blue Cross Blue Shield of Michigan.
Related Democratic Truth Squad stories:
But it's the state Attorney General's race that's producing the early sizzle. Former U.S. Attorney Pat Miles and Dana Nessel, an attorney who won the landmark case overturning Michigan's ban on same-sex marriage, have split union endorsements and are trading barbs over ownership of progressive ideals.
A successful Democratic candidate for governor this year needs to tailor their message to diverse, grassroots constituencies, said Elisabeth Gerber, professor and associate dean for research and policy engagement in the Ford School of Public Policy at the University of Michigan.
"There aren't a ton of things that identity voters in urban central cities and labor union members and suburban areas and wealthy, highly educated professionals in the outer-ring suburbs of Detroit are all going to agree on," she said.
Lessons from 2016
The day before Easter Sunday, Pastor Brian Ellison's sanctuary in Detroit's Martin Park neighborhood filled with the echoes of impassioned speeches and hearty applause.
Many attendees at the Democratic Party town hall in the Church of the New Covenant-Baptist had had it. With police brutality. With crumbling education systems. With politics that don't represent their needs.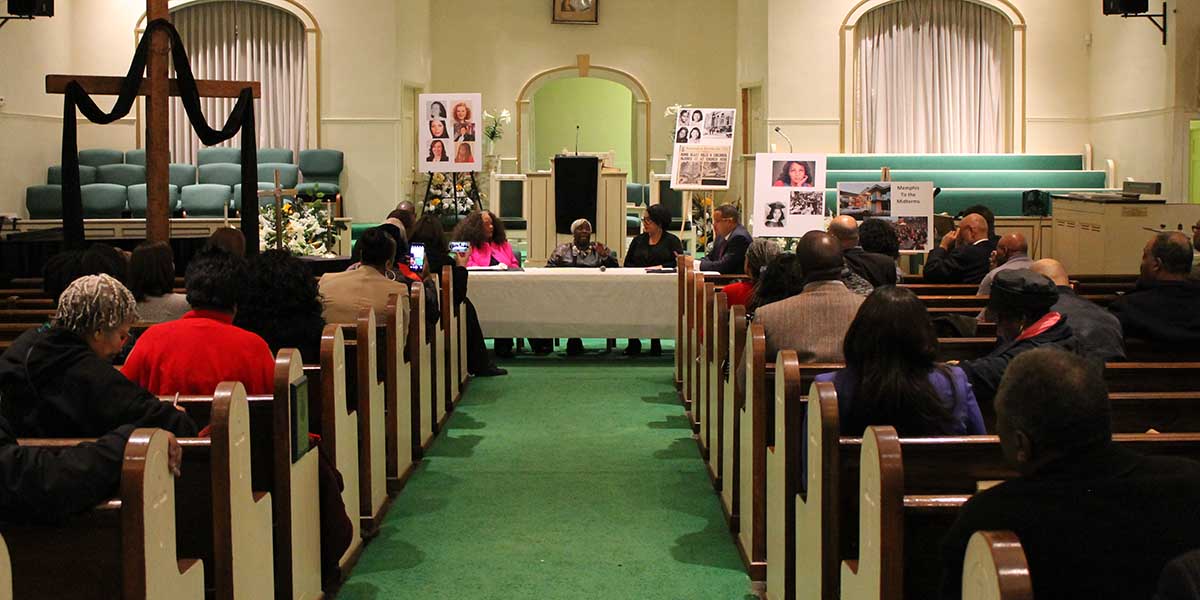 People attending a Michigan Democratic Party town hall at the Church of the New Covenant-Baptist in Detroit listen to speakers discuss paths to victory in November. From left to right: Garlin Gilchrist II, Virgie Rollins, Donna Givens, Carol Prince-Hundley and Keith Ellison. (Bridge photo by Riley Beggin)
"You have these angry, angry, angry people," Ellison said, as the sound of shouts echoed past the pulpit two rooms away.
The pastor and lawyer is the brother of U.S. Rep. Keith Ellison, the deputy chairman of the Democratic National Committee. Brian Ellison said he worries that moderate and progressive Democrats are not reaching out to one another.
"I don't think that's the way to go," he said. "You have to build coalitions with the more liberal wing of the Democratic Party."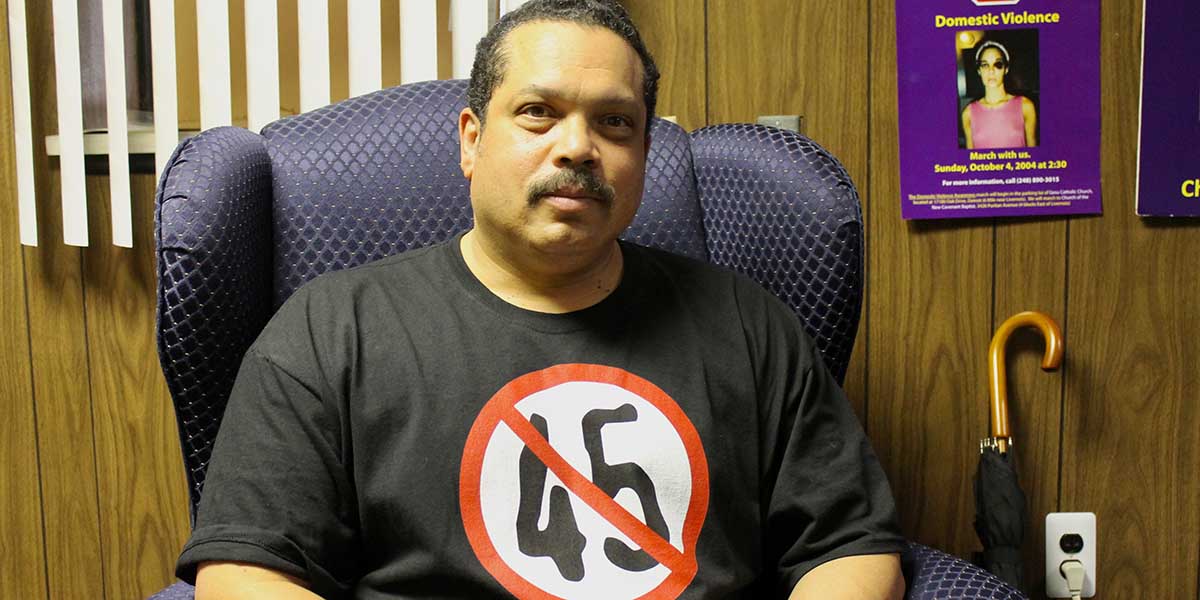 Brian Ellison is pastor of Church of the New Covenant-Baptist in Detroit's Martin Park neighborhood. (Bridge photo by Riley Beggin)
Democrats can come back in force in 2018, he said. That is, if they understand they're all in the same boat.
Yet while Democrats might agree on policy goals — for instance, expanding access to health care or raising workers' wages — they often disagree on strategy.
Experienced party hands, familiar with the glacial pace of change in politics, counsel an incremental approach to regaining influence in Lansing. Republicans control the governor's office and House, and enjoy a supermajority in the Senate.
The party's best shot at the House may be to focus on picking up a handful of seats over a few election cycles, rather than to throw everything it has at gaining a majority this November, said Dianne Byrum, a partner at Byrum & Fisk Advocacy Communications and a former Democratic lawmaker in the 1990s and 2000s.
Currently, Democrats are down 47-63 in the 110-member state House; they would need to win 56 seats, a pickup of nine, for a majority.
Cutting into the Republican majority "would be huge," said Byrum, since Republicans would find it harder to approve legislation without bipartisan votes. "It forces compromise and conversations, finding middle ground."
But Kanan, the party spokesman, said Democrats have no plans to take an incremental approach.
"We are aiming to take back every single House district. And obviously that sounds like a monumental, herculean, Everest-type task," Kanan said. "Our mindset is we are going to go for every single vote in every single location in Michigan, and that includes aiming for every single office up and down the ballot.
"And when you aim for everything, you can still come up short and win."
Susan Demas, a political columnist turned vice president at Lansing-based public relations and political consultancy firm Farough & Associates, said progressive activists are not interested in gradual change. Instead, they have borrowed a tactic from the conservative tea party movement, she said — to be as vocal as possible and refuse to back down.
Progressives argue that the party isn't listening to what they saw as the lesson in Michigan and nationwide in 2016: That voters want authentic voices for left-leaning policies — purity candidates like Sanders.
With such a broad coalition of voices and interests, "it's going to be very difficult to come up with a cohesive party platform that everybody is going to be thrilled with," said Demas, who is working on the Secretary of State campaign of Jocelyn Benson, who has no Democratic opposition.
Thus, the push and pull between following a centrist or progressive path to electoral victory.
"You have people who want single-payer health care today," Demas said. "You have people who feel that you're going to jeopardize universal coverage by pushing for something that far left and we should just try to shore up Obamacare. But the fundamental issue — trying to get more people health care — I think that's a universal value."
Dillon, the party chair, rejects the narrative that the establishment-versus-progressive battles of 2016 are playing out again this year, arguing that hard feelings from the presidential race were an indication of how people felt about those candidates.
"We can't win if the same dynamic plays out" this year, Dillon said.
"I just haven't seen that play out anywhere else in the country, and I don't see it playing out here. But having said that, it's incumbent upon party leaders and others to make sure that folks (whose candidates do not advance Sunday feel) the party still represents them in a significant way."
Also on Democrats' minds: The party that controls the Legislature gets to draw new legislative and congressional district maps after the 2020 census, which ups the ante for Democrats, who contend they're disenfranchised by Republican gerrymandered control for a decade.
"The maps were, frankly, drawn so that the Republicans could withstand these wave elections," said Byrum.
There is also the perennial problem of getting enough Democrats to vote in November. Democratic turnout might not seem to be a problem in 2018, given the activism Trump's positions on immigration, the environment and civil rights has spawned — along with the potency of the #MeToo and gun control movements.
Yet Dillon acknowledges the state party must shake the perception of being distant and disconnected from voters, of not reaching out to voters until just weeks before an election.
In past years, the party didn't have much of a ground game; its leaders focused more on fundraising and communications efforts. Too often, Dillon said, party leaders relied on polls and focus groups to learn about the issues voters cared about, rather than reaching out directly to voters.
MoReno Taylor II, a Detroit-area party organizer, said that after the 2016 election, the party realized it didn't have a precinct delegate in more than half of the state's precincts. Precinct delegates are some of the most active grassroots organizers; their absence meant "we were not really showing up and discussing the importance of voting."
So last year, Dillon said, the party began to refocus grassroots organizing around a model that has been successful for state Republicans. Democrats are now working with county parties and activist organizations to knock on doors, make calls and organize town halls.
The state party now is going to voters themselves to identify the issues that keep them up at night. At the top of the list: Health care, followed by jobs, wages and education. This has helped the party refine its tactics and its priorities.
"If you want to sell a product to somebody, you've got to make sure that they are really willing to listen to your first sales pitch," Dillon said. "And if you're leading with the wrong issue, it's going to be harder to close the deal, ultimately, than if you lead with the thing that's most important to them."
A progressive push
Trump's election was a political tipping point for Dilhara Muthukuda.
The public health specialist from Lansing was frustrated and wanted to get involved. When she heard about a group organizing to resist the Trump agenda starting in her area, she headed to Mac's Bar for one of its first meetings.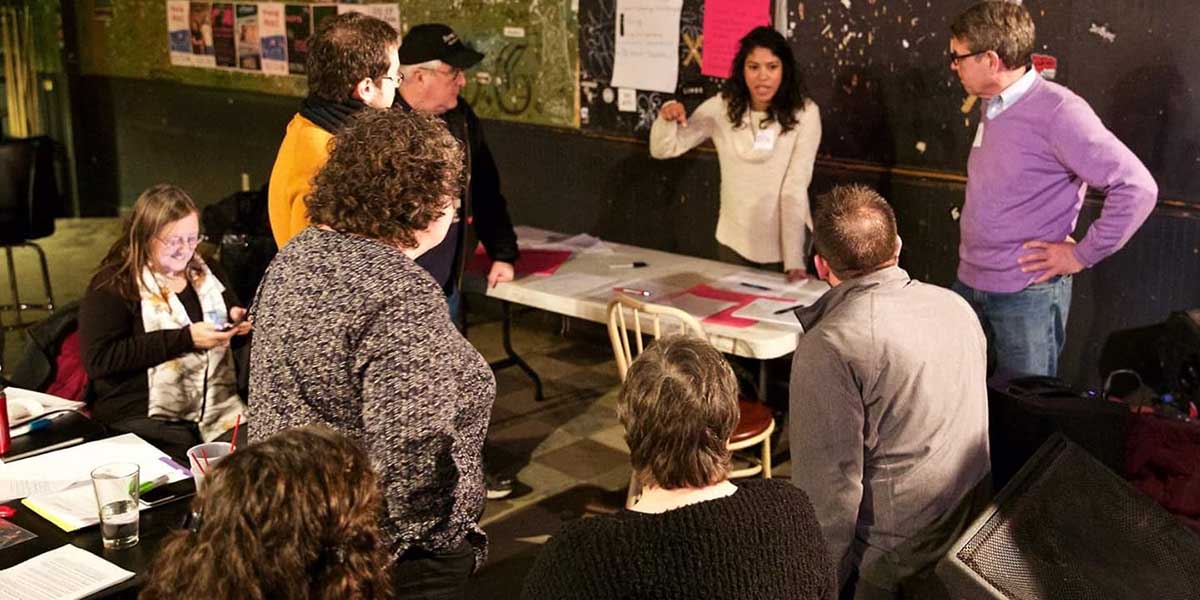 Dilhara Muthukuda, one of the leaders of the Lansing-area Indivisible group, talks with other members at an organizing meeting in January 2017 at Mac's Bar in Lansing. (Photo courtesy of Dilhara Muthukuda)
Fifty people crowded around a table; the energy was palpable. They were ready to mobilize.
"It was a lot of raw emotion," she recalls.
Muthukuda became a district leader with Indivisible, a national group that pushes back against Trump policies at the local level through such actions as demonstrations, talking to politicians and learning grassroots organizing strategies. Her chapter represents Michigan's 8th Congressional District, which includes Ingham and Livingston counties and portions of northern Oakland County.
Dilhara Muthukuda joined the Lansing-area Indivisible chapter after the 2016 presidential election in frustration with Trump administration policies. Now she is one of the leaders of the group, which helps get people involved in local political activism. (Photo courtesy of Dilhara Muthukuda)
Self-described "lefties" like Muthukuda came out in droves after Trump's election with a sense of duty to become politically active. Many say they were motivated not only by a distaste for Trump, but inspiration from Sanders' campaign.
Progressive planks usually include pushes for universal health care and a $15 minimum wage, and a roiling frustration with politicians who accept money from interest groups and large political action committees, or PACs.
Lonnie Scott, executive director of Progress Michigan, said the lure of such policies predates Sanders' campaign.
"Progressive issues have won on the ballot even in states where Democratic candidates have not," Scott said.
In 2014, for example, Alaskans legalized recreational marijuana, while voters in Arkansas, Nebraska, Alaska and South Dakota raised their minimum wages.
"Now elected officials are catching up with where the policies are," he said.
Other progressives express exasperation with a Democratic Party they contend panders to moderates while leaving potential votes from its base on the table.
"I honestly think the real momentum is in the progressive movement," said Kelly Collison, chair of the Michigan Democratic Party Progressive Caucus. "The thing we need to do is actually just go left and pick up all these people."
More than 48,000 people who voted in the 2016 Democratic Party primary did not vote in the general election, according to data Collison said she obtained from the Secretary of State's voter registration database. These numbers suggest that many Sanders supporters stayed home, rather than hold their nose and back Clinton.
Fred Woodhams, spokesman for the Michigan Secretary of State, said his office hasn't analyzed the data in this way, so he could not confirm whether Collison's numbers are accurate.
Collison said she fears the same will happen this November if Democrats can't unite.
Yet if Democrats veer too far left in the primaries, they run the same risk in a general election as Republicans who swing too far right: Unable to win the support of the state's moderate and undecided voters.
That's a concern for Scott Bell, another leader of the Lansing-area Indivisible group, who calls himself a "realistic progressive." Count Bell as a believer in incremental change, which can put him at odds with the urgency felt by his peers.
"We're arguing for big, grandiose ideas," he said. If progressives were in power, it might be possible to make all the changes they want at once. "But right now," he said, "that is not possible.
"You're literally just screaming at a wall."
Veering to the left
Regardless of whichever candidates prevail Sunday at the party's endorsement convention, there is little question that the party's left wing has gained clout since 2016. Progressive women, veterans and people of color are running for office and making their voices heard in a party that Bell said too often produces "milquetoast" candidates.
"Now we're at the point where the people who have the most skin in the game — the middle class and the lower class — have jumped in and said enough is enough," Bell said.
Ann Arbor businessman and gubernatorial candidate Shri Thanedar calls himself a "fiscally savvy Bernie Sanders" on the campaign trail, though doubts are being raised about his bona fides. Abdul El-Sayed, the former Detroit health director, has former Sanders campaign organizers on staff and vows to accept no corporate PAC money. And Whitmer talks about her 2012 initiative to fund free college education and her 2013 fight to expand Medicaid.
Whitmer's challengers are attacking her progressive credentials, in large part because of her acceptance of corporate campaign contributions — namely from Blue Cross Blue Shield of Michigan.
Her willingness to accept the donations is "antithetical" to the desires of Democratic voters, said El-Sayed, who notes that single-payer health care is becoming a more central plank for Democratic voters nationally. "It speaks to the overall mismatch between where Democrats are and where the Democratic Party should be."
Whitmer spokeswoman Annie Ellison counters that Whitmer "has been on the front of progressive issues for a really long time. But being in the (legislative) minority, she's also learned how to work with a Republican governor or a Republican Legislature to get things done."
Whitmer also has locked up numerous endorsements from unions, which have long held sway over state Democratic politics, despite being weakened in recent years.
But union leaders, too, are seeking to close divides with progressives. They note that labor has reliably supported worker-focused, progressive causes for years, from repealing the state's right-to-work law to pushing for a $15 hourly minimum wage and expanding voter rights.
"I've been a progressive all my life," said Ron Bieber, president of the Michigan AFL-CIO, which backs Whitmer for governor and Miles for Attorney General.
"If you look at the issues that they're pushing, they're our issues, for the most part," Bieber said. "I can't draw a line of distinction where we're not on the same page."
For all the setbacks, unions still hold enormous sway, remaining among the top donors to state House and Senate Democratic funds. Whether they can convince many of their own members to return to the Democratic fold remains an open question.
"Trump came in and seduced some of our members with his promises on trade," Bieber said. "We're going to put the facts out there and let our members decide. Frankly, we're going to call balls and strikes on Trump."
Bieber said that no matter which candidates win the Democratic nod for state races, labor will back them. It's the only way to reverse what he calls the GOP's anti-worker policies of the last eight years, from passage of right to work to the erosion of retirement and unemployment benefits.
Gender on the ticket
Ideological unity isn't Democrats' only challenge this election cycle. Gender issues are bubbling beneath the statewide campaigns.
The party conceivably could put up an all-female slate of candidates this November, should Whitmer, Benson and Nessel win their nominations. That prospect has prompted some in the party to quietly question such an outcome this fall.
In January, Detroit Mayor Mike Duggan — one of the state's most influential Democratic politicians — worked behind the scenes with union leaders to recruit other candidates as an alternative to Whitmer. Among the names floated were U.S. Rep. Dan Kildee, of Flint Township, and U.S. Sen. Gary Peters, of Bloomfield Township, both of whom declined.
Duggan later endorsed Whitmer's candidacy, telling reporters that "Gretchen Whitmer is the best candidate in my view. She's our candidate moving forward, 150 percent."
While some Democratic insiders said the recruiting campaign was inspired by concerns about Whitmer's electability, others expressed concern that sexism was seeping into the campaign even as the nation reckons with how to respond to a troubling pattern of sexual harassment and assault.
Record numbers of female candidates are running for office across the U.S., many motivated by Trump's presidency.
Women voters in particular are motivated and increasingly supporting Democrats, said Richard Czuba, a Lansing-based pollster with The Glengariff Group Inc. And independent voters in Michigan are leaning more to the left than they have in past election cycles, according to a poll Czuba conducted in January for The Detroit News and WDIV-TV.
The poll found if independent voters were to choose today, they'd be nearly 10 percent more likely to vote for Democrats than Republicans.
"Democrats' favorite pastime is to eat their own. Whitmer is a perfect example," Czuba told Bridge.
When polling showed Whitmer leading Republican frontrunner Bill Schuette by 7 points, even with concerns about her name recognition, "I didn't hear one Republican voice out there saying, 'Oh, we need to get rid of Schuette.' And yet you have these voices in the Democratic Party — coming largely from men — that Whitmer's not strong enough. Yet step back (and) look at this race: Clear frontrunner, wrapped-up endorsement and largely cleared the field from any known male names. If anybody else was running, you'd look at them and say, 'That's been pretty effective.'"
Byrum, the former House Democratic Leader, said Trump's election was an "awakening" for women afraid of what his policies, behavior and comments about women could mean for their families and children.
"Women are always underestimated," she said, "and it's hard to put together a campaign that will outwork a female. I'd put my money on Gretchen Whitmer right now."
Scott, of Progress Michigan, said that comparing Whitmer to other female politicians such as Clinton based on gender alone "is playing right into Republicans' hands … that's also sexist," he said. "Every candidate should be judged on their own merits."
A blue wave?
In a packed Saginaw union hall in March, with the words "Laborers vote! Laborers win!" painted on the walls, the four Democratic gubernatorial candidates (Whitmer, El-Sayed, Thanedar and business executive Bill Cobbs) explained why they should lead the party's comeback.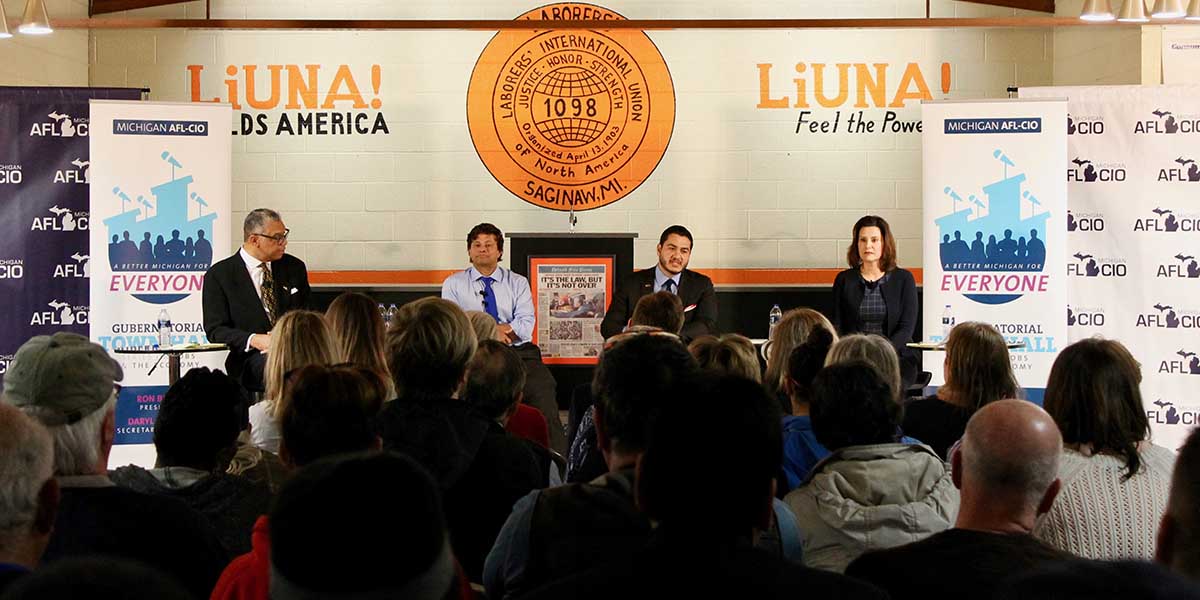 Democratic candidates for governor (from left) Bill Cobbs, Shri Thanedar, Abdul El-Sayed and Gretchen Whitmer, address union members at an AFL-CIO debate in Saginaw in March. (Bridge photo by Riley Beggin)
In the audience was Mike Bunker of Saginaw, whose life changed three years ago when he was laid off from the demolition job he'd worked nearly a decade. The next day, he was back in the fold — but this time, he was a union member. He said his salary doubled and he enjoyed employer-provided healthcare for the first time.
And the lifelong Republican became a Democrat.
"I'm sick of seeing people be exploited. I regret that I was exploited," he said. "It's important to me that my kids don't have to go through that."
Bunker said he believes Democrats are the party looking out for working people, but many members of his union supported Trump because of "the lies, the lack of work and the broken promises." With straight shooters in office, he said, he hopes Democrats can win new victories for laborers.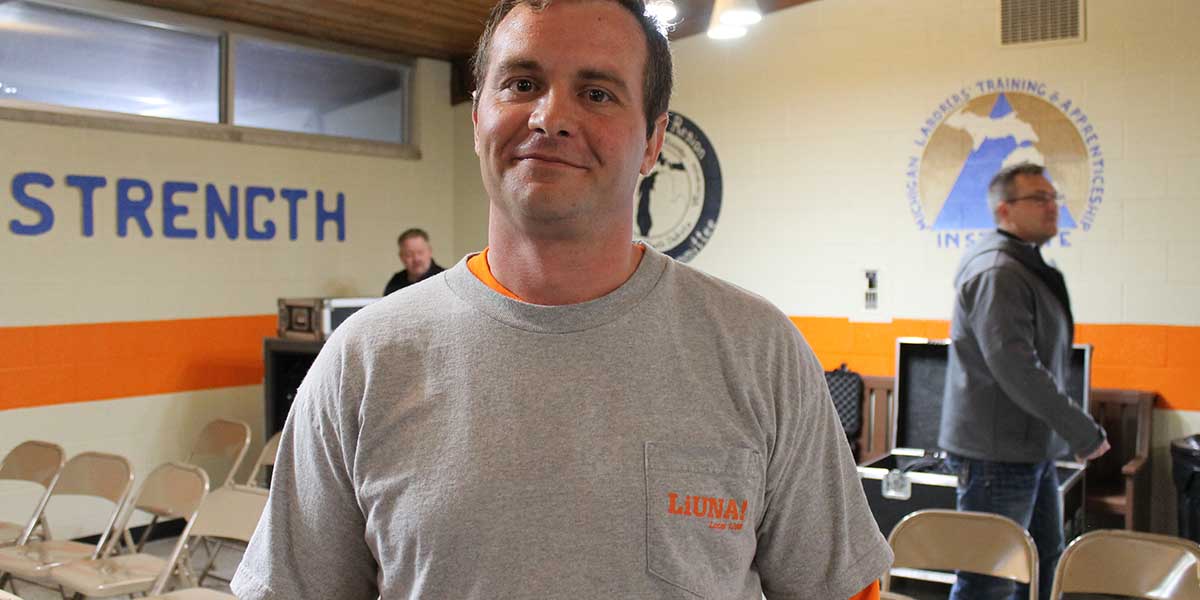 Mike Bunker has worked in demolition for more than a decade. He joined a union and became a Democrat three years ago because he says the party supports working families, he said. (Bridge photo by Riley Beggin)
Michigan's governor's race has been ranked by national publications as among the most closely watched in the country, and Democrats are optimistic.
"The perception was the Democrats were not talking about the issues that were most important to them," Dillon said. "If we do that, I think we not only pick up a significant number of those voters who crossed over and voted for Trump or voted Republican last time."
He said the party also hopes to build momentum with younger voters "who are with us ideologically, but haven't been motivated enough because we haven't been clear and consistent in our message."
Democrats still trail Republicans in fundraising for state legislative races. Through 2017, House Democrats raised roughly $1.1 million to House Republicans' nearly $2.1 million in committees supporting the respective party caucuses, according to the Michigan Campaign Finance Network. In the Senate, Democrats raised slightly more than $658,000 to the GOP's $1.7 million. Democrats haven't controlled the upper chamber since the 1980s.
The Democratic Governors Association, based in Washington, D.C., said it plans to spend $5 million this fall on ads in Michigan, partly because the organization considers Michigan among eight target states for redistricting reforms after 2020 — and just one of four states in which the group plans to spend money.
"Michigan is definitely a marquee gubernatorial race this year, and it is one of the biggest opportunities for Democrats to pick up a major seat, a major state," said Jared Leopold, a spokesman for the governors' association, which does not endorse candidates in primary races.
Democrats are motivated to vote, Leopold said, "whether it's for governor or for dog catcher."
But state-level candidates can't control national political winds, nor Trump, Byrum said. The key for them, she added, is to focus first on building a policy platform that resonates with voters.
"If there was any lesson to be learned from the Hillary campaign, it's that you can't just be against your opponent," Byrum said. "You have to have a message and you have to stand for something. It needs to be largely economic. It needs to be about the future. It needs to give people hope."