GOP targets no-ID ballots to cut fraud. Only 0.2% voted that way in Michigan.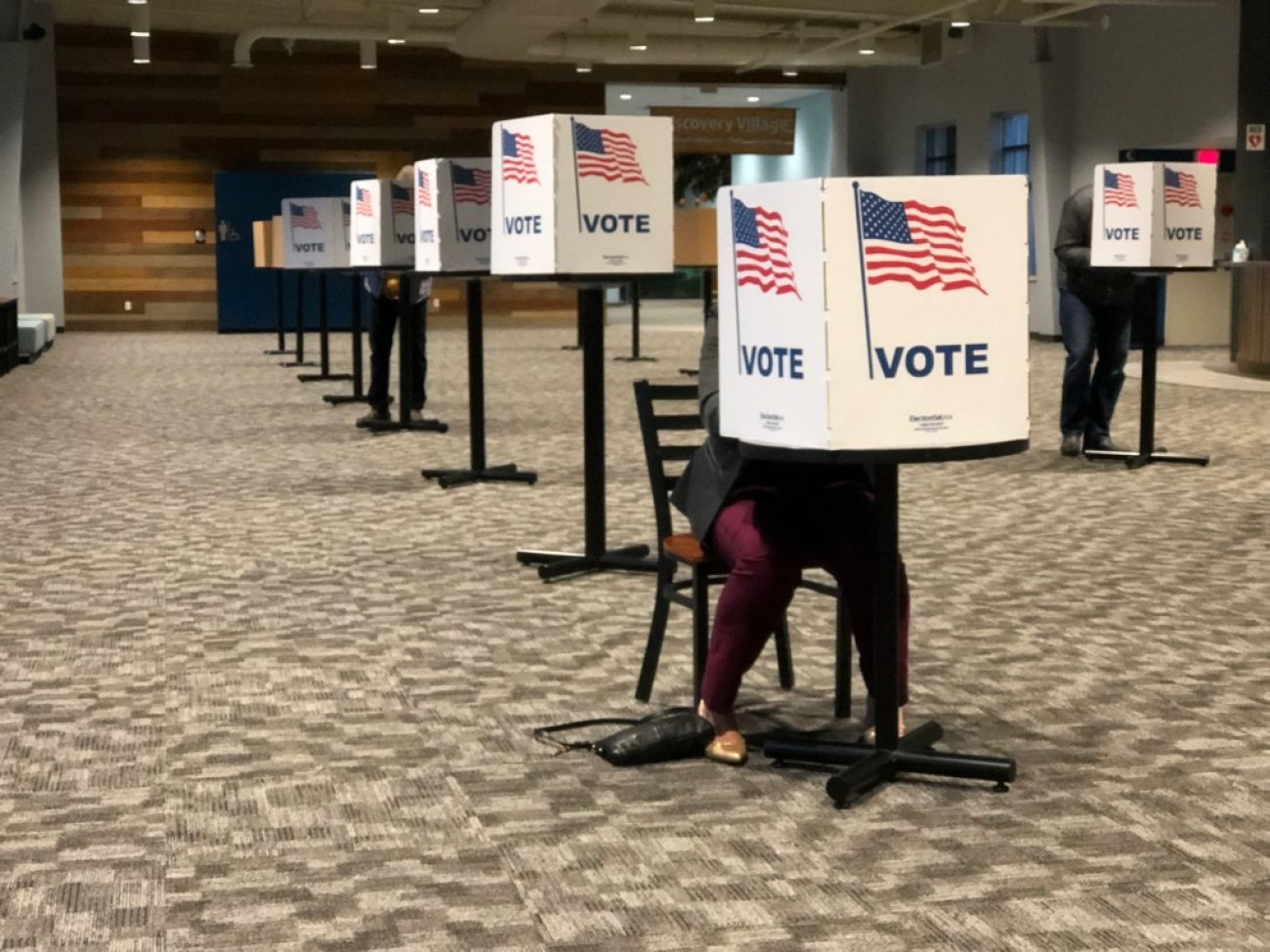 Records released this week show that 11,417 Michigan residents cast ballots without ID in 2020. President Joe Biden won the election by more than 150,000 votes.
Michigan Government
GOP targets no-ID ballots to cut fraud. Only 0.2% voted that way in Michigan.
July 8: Michigan Republicans to drop signature-matching provision in election bill
LANSING — Roughly 11,400 Michiganders voted in person without photo identification in 2020 after signing an affidavit to confirm their identity, a convenient but rarely used option that would end under a controversial Senate Republican election reform plan.
Roughly 1 in 4 of those affidavits were signed in Detroit, but the practice was hardly limited to large cities or Democratic strongholds: Voters in 82 out of 83 Michigan counties used the option to vote without identification last year, according to state data released this week and analyzed by Bridge Michigan.
Tiny Lake County in west Michigan was the only exception.
"Typically, they just forget (IDs,)" said Shelly Stibitz, a nonpartisan elections clerk in Norton Shores, a conservative lakeshore community south of Muskegon where a majority of voters backed former President Donald Trump in 2016 and 2020.
Related:
Last year, 54 out of 15,357 voters in Norton Shores signed an affidavit to vote in-person without an ID. They listed their name and home address on a form warning that falsehoods would amount to perjury, punishable by up to five years in prison or a $1,000 fine.
Republicans want to eliminate that option as part of a slate of reforms they say will make it harder to cheat, echoing an allegation from Trump.
Stibitz said that may make sense as a safeguard to "prove that (voters) are who they say they are. But it's going to keep some people who truly just have lost (their ID) from voting that day."
Clerks statewide have criticized the Republican reform as a solution in search of a problem, and Bridge's analysis found that voting without an ID is incredibly rare and unlikely to sway elections.
While more total voters in Democratic cities cast in-person ballots without an ID, that is primarily a reflection of the larger populations of those communities, Bridge found.
Indeed, in cities throughout Michigan, less than 1 percent of voters cast a ballot in person without ID in 2020 in both Republican cities (0.5 percent in Escanaba, 0.6 percent in Shelby Township, 0.1 percent in Midland) as well as Democratic ones (0.3 percent in Inkster, 0.5 percent in Saginaw, 0.6 percent in Flint.)
No-ID voters eclipsed 1 percent in only a handful of cities, including Troy, Detroit, Roseville and Pontiac, and of those, all were under 2 percent.
In all, just 0.2 percent of all ballots cast statewide in November — 11,417 of 5,579,317— were cast without an ID in an election that Democrat Joe Biden won by 154,188 votes.
Foes argue, though, the damage done to those without IDs would be vast
"I'm sure (eliminating the option) will reduce voter turnout, especially amongst people with lower incomes and people with disabilities," said Felicia Rutledge, the Democratic clerk in Inkster, a Detroit suburb where 28 of 10,529 voters cast in-person ballots without an ID.
"Some people are not able to travel to go get a license, and there is a fee."
The Senate Republican proposal would eliminate the option to sign affidavits and require voters without ID to cast a provisional ballot that would only be counted if they returned with an ID and proof of residence in the next six days.
And, for the first time, the legislation would also require applicants to include a photocopy of their driver license or other photo ID when applying for an absentee ballot by mail, a provision that election administrators fear could discourage voters and open them up to identity theft.
"If there are 12,000 people voting this way, we need to have an expectation that people show an ID card when they come into vote, and that is already widely the expectation," said Sen. Tom Barrett, R-Charlotte, who sponsored the bill to eliminate the affidavit option.
"To me, this is just an important election integrity issue."
Is there a problem?
Critics have blasted the GOP legislation as a "voter suppression" or "new Jim Crow" effort that would disproportionately impact voters of color, who are statistically less likely to have a photo ID and are more likely to vote Democratic.
Some studies estimate as many as 13 percent of African-American residents nationwide lack a government-issued ID. Nationwide, an estimated 3 million Americans of all races lack ID, according to the Brennan Center for Justice.
Bridge's analysis found that more voters used affidavits in big cities with larger Black populations.
But that data does not paint a complete picture of ID accessibility, because ID was not required to vote by absentee ballot, a method used by roughly 60 percent of Michigan voters last year.
In Detroit, a Democratic stronghold, 2,871 in-person voters signed an affidavit to vote without ID, but most voters — 174,384 — cast absentee ballots.
Moving to a strict voter ID system would have a big impact on "a small number of people (who would) likely lose their right to vote," said Chris Thomas, a former Michigan Bureau of Elections Director who worked as an election consultant in Detroit last year.
"Very few people (will) make that second trip to the clerk's office" to show their ID and proof of residence in order to have their provisional ballot count, he said. "And everybody knows that."
Trump falsely claimed widespread voter fraud cost him last year's election. And "before we start stripping people of their voting rights, let's make sure that there's actually a problem to be solved," Thomas said.
Senate Majority Leader Mike Shirkey, R-Clarklake, has called the GOP package an attempt to make it "harder to cheat" but easier to vote. If obtaining an ID is a barrier, then the state should figure out a way to "provide an ID to every person who qualifies for one," he said last month.
Michigan already waives its $10 fee for older, disabled, homeless and low-income residents who have qualified for government assistance programs, but voting rights advocates say that process can still be cumbersome for residents without transportation or required documentation, such as a Social Security card and proof of residency.
"There are barriers to getting ID cards, and it starts with getting the Secretary of State branches open so people can get them," Barrett said, criticizing Democratic Secretary of State Jocelyn Benson for making an appointment-only system permanent despite lengthy wait times.
Record turnout, fewer affidavits
A record 5.5 million Michigan voters cast ballots in last year's presidential election, up from 4.9 million in 2016.
But considerably more people signed affidavits to vote without ID in 2016, an option used by 18,580 people in that election, which Trump won by 10,704 votes.
Fewer voters used the affidavit option in 2020 because fewer people voted in person, according to experts and election officials. Most voted by absentee ballot, a process that does not currently require photo ID unless applicants are also registering to vote in their first election.
Requiring absentee ballot applicants to include a copy of their photo ID could be a bigger barrier than barring affidavits on Election Day, according to experts.
That would change under the Senate GOP proposal, which would require voters to include a copy of their photo ID when applying for an absentee ballot. And experts say that proposal could be a bigger barrier for voters than barring affidavits on Election Day.
"It's going to be problematic for people, especially our older population, who don't necessarily have copy machines sitting at their house," said Stibitz, the Norton Shores clerk, who told Bridge Michigan the proposal will "make it harder for them to vote."
To apply for an absentee ballot, Michiganders must be registered to vote, a process that already requires photo ID, Stibbitz noted. Election officials currently compare every absentee ballot signature to those on file, typically from a driver's license, "so I don't think it's benefiting the clerk's office or making it any more secure on our end," she added.
Thomas, the former state election director, called the absentee ballot ID proposal a clear "suppression effort," a description he said he did not use lightly.
"It's known that older people and people of color are going to be less likely to have the equipment in their home to make the copies of their licenses," Thomas said. "They know that this is going after inner-city residents. It's a terrible thing they're doing. It's worse than Georgia."
It's unclear how many Michigan voters have printers or photocopiers, but Detroit's estimated 35 percent poverty rate suggests cost could be a barrier there. Some rural counties with smaller populations, including Isabella and Lake, also have poverty rates that top 20 percent.
In Georgia, Republican Gov. Brian Kemp signed a controversial election reform law in March that requires voters to print their driver license or ID number on their absentee ballot application.
Michigan may ultimately consider a similar approach, said Sen. Ed McBroom, a Vulcan Republican who serves on the Elections Committee and has spent months investigating claims about the 2020 contest.
"There's a fair discussion to be had on whether" requiring Michigan voters to mail in a photocopy of their ID "is a burdensome hurdle," McBroom said, suggesting the Elections Committee may amend various proposals before advancing them to the full Senate.
"Many of these things are concepts, and I think we've had real good committee hearings to discuss whether the practical output of a good concept is functional or not."
McBroom opposed a GOP push to tighten voter ID laws in 2016, arguing that eliminating the affidavit option for in-person voters could be difficult in rural areas like the Upper Peninsula who may live far from their local clerk's offices.
In the 12 counties he represents in the U.P., just 182 voters signed an affidavit to vote without an ID in last year's presidential election.
The largest concentration was in Escanaba, where 29 out of 6,180 voters — about .5 percent of the total — used the option.
"I have voted at times by filling out an affidavit because I forgot my driver's license," McBroom said in 2016. "And now I'm going to be told that I have got to find time when my clerk's at the office because she's not in the office on most days."
Four years later, McBroom said Wednesday he still has some concerns about the voter ID legislation but also thinks "the landscape is significantly different" now because of liberal new election laws approved by Michigan voters in 2018, including no-reason absentee voting.
"If we can find a simple mechanism to do this, that is not burdensome and guarantees that free IDs are available to all people for the asking, I'm at least willing to consider the policy again," McBroom said.
Senate Elections Chair Ruth Johnson, a Holly Republican who previously served as Secretary of State, said she plans to hold a hearing on the voter ID legislation but is not yet taking a position.
"I'm listening to all the input that we get, because nobody is a total expert, and our job is to listen and then make decisions," she told Bridge Michigan.
Mike Wilkinson and Sergio Martínez-Beltrán contributed to this story.
Only donate if we've informed you about important Michigan issues
See what new members are saying about why they donated to Bridge Michigan:
"In order for this information to be accurate and unbiased it must be underwritten by its readers, not by special interests." - Larry S.
"Not many other media sources report on the topics Bridge does." - Susan B.
"Your journalism is outstanding and rare these days." - Mark S.
If you want to ensure the future of nonpartisan, nonprofit Michigan journalism, please become a member today. You, too, will be asked why you donated and maybe we'll feature your quote next time!