We read all Michigan election reform bills. Many would add hurdles to voting.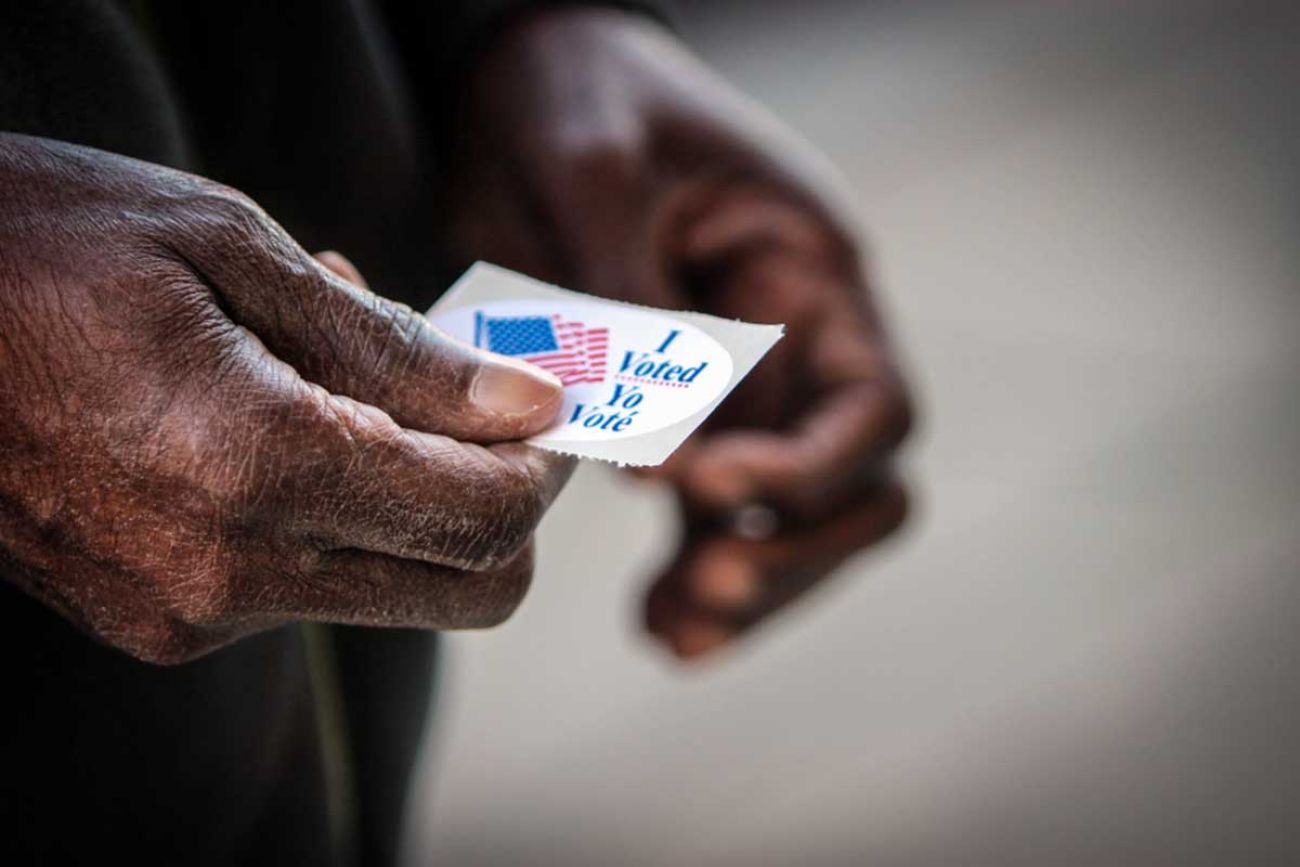 Michigan Republicans have proposed a 39-bill package of reform bills they say will make voting easier and cheating harder. Michigan clerks say they wish they'd been consulted before the legislation was written. (Bridge file photo)
Michigan Government
We read all Michigan election reform bills. Many would add hurdles to voting.
June 23: GOP investigation finds no Michigan vote fraud, deems many claims 'ludicrous'
June 16: Michigan GOP passes voter ID bill to deter 'fraud.' Critics call it 'garbage'

LANSING — Michigan Republicans say they want to make it "easier to vote and harder to cheat" with a sweeping election reform package. In fact, many of the bills would make it harder to vote and address "fraud" that experts say is incredibly rare.
Bridge Michigan reviewed all 39 Senate bills that could be the basis of a statewide petition drive to circumvent a likely veto by Democratic Gov. Gretchen Whitmer, including measures that would limit voter access to absentee ballot drop boxes and require photo ID to vote in person or by mail.
Related:
We spoke with attorneys, election officials, voting rights advocates and other experts to ensure we understood the bills and how they could impact Michigan voters.
That's something Senate Republicans did not appear to do, according to GOP and Democratic clerks, who object to some of the provisions and question whether the bills are motivated by false fraud claims from former President Donald Trump and his supporters.
"The standard of proof needs to be pretty high if you're going to make life worse for a voter," said Ottawa County Clerk Justin Roebuck, a Republican who co-chairs the Michigan Association of County Clerks' legislative committee.
Democratic President Joe Biden beat Trump by 154,188 votes in Michigan, but not before Trump had prematurely declared victory, fueling conspiracy theorists who continue to argue the election was stolen despite numerous state audits confirming its validity and accuracy.
Some of the bills make sense as a way to "secure our electoral process and maybe increase confidence in some elements of the process," Roebuck added. But there is no evidence of fraud to justify strict voter ID requirements the plan proposes, he said.
The legislation "makes it more difficult to vote in a number of ways," said Canton Township Clerk Michael Siegrist, a Democrat. "It makes it more difficult to administer elections, and it really shifts a lot of the power … to the political parties."
The bills, taken together, would add restrictions that would have a greater onus on predominantly Democratic counties, allowing Republicans to block the placement of absentee drop boxes and setting deadlines for vote counting that could be hard to meet.
Here are some of the most important provisions in the Senate GOP plan, and how they would impact voters and election administration. (Note: The bills could be amended during the legislative process. Committee hearings have not yet started).
All voters would need an ID to vote in-person or by mail
What's new: Michigan generally requires an ID to vote in person, but allows voters without one to cast a ballot after signing an affidavit of identity, under penalty of perjury.
That option would end under Senate Bill 303, which instead would require voters without ID to cast a "provisional ballot" that wouldn't be counted on Election Day — and would only count if the voter returned to the clerk and presented both a photo ID and proof of residence, such as a utility bill or bank statement.
Senate Bill 304 would require election staff to provide notice to provisional ballot voters that they may qualify for a free photo ID from the state if they are over the age of 65 or have already qualified for state assistance programs.
But that's not new, and the voter would still have to visit a Secretary of State's office to apply for the ID, which would otherwise cost $10.
Absentee ballots: Now, absentee ballot applicants must sign an application, which election staffers compare to signatures on file. Under Senate Bill 285, absentee ballot applicants would have mail clerks a copy of their photo ID or bring it to the clerk's office.
Analysis: Polls show that voter ID proposals are popular among voters, many of whom agree with Republicans that they're a commonsense effort to increase security.
But experts and officials who spoke to Bridge Michigan said the reforms are a solution in search of a problem and could disenfranchise voters, particularly those who are less likely to have a driver license because of cost, lack of transportation or other factors.
Some studies estimate as many as 13 percent of African-American residents nationwide lack a government-issued ID. Nationwide, an estimated 3 million Americans of all races lack ID, according to the Brennan Center for Justice.
"I'm sure it will reduce voter turnout, especially amongst people with lower income and people with disabilities," said Inkster Clerk Felicia Rutledge, a Democrat.
It's unclear how many Michigan voters don't have an ID, and the Secretary of State's office said it has not yet finished compiling data on the number of voters who used the affidavit option last year.
Roughly 7.5 million U.S citizens over the age of 18 have a valid driver license or ID card, according to the state. There are 7.9 million adults residents in Michigan, but that figure includes undocumented immigrants and others not allowed to vote.
The new ID requirement for absentee ballots could also pose a challenge for those without a printer or photocopier, said Roebuck, the Ottawa County Republican.
And by including a copy of their ID in an easily identifiable absentee ballot application envelope, voters may end up susceptible to identity theft, he said.
"The end result will be legitimate ballots will not count on Election Day, and I think that's really unfortunate," Roebuck said. "I've had zero cases of voter impersonation brought to my attention in the 13 years that I've been an election official in my county."
Drop boxes could be blocked, locked
What's new: Absentee drop boxes became popular statewide in 2020, as more than 700 were placed in 300-plus Michigan communities last year as a way of reducing exposure during a global pandemic.
Detroit installed 30 last year, while there were 12 in Flint and seven in Grand Rapids.
Unlike a controversial Georgia law that has caused national controversy, the Michigan proposal wouldn't limit the number of absentee ballot drop boxes that local election officials could utilize in an election.
But Senate Bill 273 would require the Secretary of State and county Board of Canvassers to approve any drop boxes, which could allow partisans to block them at the local level.
Under current law, each county board is composed of two Democrats and two Republicans. And if those two Republicans won't vote to approve drop boxes, for instance, election officials in those counties couldn't use them.
Senate Bill 286 would require clerks to lock drop boxes for the last time at 5 p.m. the day before an election, meaning voters could no longer use absentee ballot drop boxes on Election Day.
Instead, last-minute absentee voters would need to personally drop off their ballot at their clerk's office. If a voter tried to mail the ballot instead, it likely would not reach the clerk's office by the time polls close on Election Day and therefore would not be counted.
The Senate GOP proposal also includes a host of new security requirements for absentee ballot drop boxes to ensure they are locked and monitored at all times by high-definition video cameras. It would require clerks to maintain a "chain of custody" log to document ballot box collections and deliveries. And any drop box must include a warning to voters reminding them that they may be on video, and that Michigan law only allows a voter or their immediate family to drop off ballots.
Analysis: Election officials say there is no good reason to close drop boxes the evening before the election, which can help reduce congestion in the clerk's office on what is already a very busy Election Day.
And in these hyper-partisan times, it doesn't make sense to condition the use of dropboxes on approval by county boards that are partisan by design, said Siegrist, the Canton Township Democrat.
"I don't know that I trust people that tried to throw out my vote to certify my drop box," Siegrist said, noting he and other voters were almost disenfranchised last fall when Republicans on the Wayne County Board of Canvassers initially refused to certify the local results.
Roebuck, the Ottawa County clerk, said the proposed security measures "totally make sense" so long as local governments can afford to pay for them.
The bill doesn't include any funding for security, though, which makes it an "unfunded mandate," argued Rutledge, the Inkster clerk.
"Especially with COVID right now, we just don't have the means," she said.
No more prepaid postage on absentee or outside aid
What's new: Michigan voters chose to write no-reason absentee balloting into the state constitution in 2018, and Republican legislators could not change that without another vote of the people.
But Senate Bill 287 would prohibit local clerks from providing free return postage for absentee ballots, even if the Secretary of State gave them funding to do so.
Pre-paid return postage is currently allowed, but Republicans contend it's created an uneven playing field where some communities pay for return postage and others do not.
The Legislature could solve that problem by approving funding for statewide return postage, but the GOP plan instead proposes a blanket ban.
Senate Bill 284 would prohibit election officials from accepting outside funding for election administration or equipment. This appears to be a response to grants from the Center for Tech and Civil Life that were fueled by a $250 million contribution from Facebook founder Mark Zuckerberg.
Trump supporters initially alleged last year's grants targeted Democratic communities, but the nonprofit reports that it provided funding to every local government that requested it, regardless of politics. More than 470 Michigan communities, led by Republicans and Democrats alike, received grants to hire additional elections staff, pay for absentee ballot mailings, buy election equipment and personal protection equipment for workers, among other things.
Zuckerberg's involvement fueled conspiracy theories, but he wasn't the only outside funder. Flint native Kyle Kuzma, an NBA basketball player, gave the city $10,000 to install absentee ballot drop boxes last year. And, perhaps inadvertently, the bill could also prohibit groups like the Michigan Association of Municipal Clerks from helping local governments pay for supplies.
Senate Bill 310 would prohibit the state from mailing absentee ballot applications to voters who did not request one. The state's top election official could not even send voters unsolicited postcards that link to an online application form.
Democratic Secretary of State Jocelyn Benson spent some of Michigan's $4.4 million in federal elections aid to mail absentee ballots to voters across the state.
The Michigan Court of Appeals ruled Benson had the authority to send the applications, but Republicans argued the mass mailing could open the door to voter fraud because some applications were sent to the wrong address or to dead voters whose names had not yet been removed from the state rolls.
Analysis: There is no evidence the mailings led to any fraud, or that applications sent to the wrong address were filled out illegally in an attempt to receive ballot.
Siegrist noted that both political parties mailed absentee ballot applications to voters, often alongside promotional materials telling voters which candidates they should vote for.
"Why is it OK for political parties to send out propaganda with applications, but the government can't send out neutral applications?" he asked. "This is taking power away from the professional election administrators and really ensuring that the process is more partisan."
Roebuck said there are legitimate concerns over private funding being used to run public elections — "what would some of my Democratic colleagues say if the DeVos family decided to fund elections in Michigan?" — but he noted locals may not have sought the grants last year had the Legislature "adequately" funded election administration.
Banning free return postage for absentee ballots could make it harder for some residents to vote, but Roebuck said pre-paid envelopes may not be a good use of government funding in all communities. He's encouraging voters in Ottawa County to use drop boxes.
"Uniformity needs to be the answer, and I don't understand what problem that's solving to say that we can't pay for postage," Roebuck said.
Results could be delayed — again
What's new: Local election officials last year pleaded with the Michigan Legislature to allow them to process — and begin counting — absentee ballots days or weeks before Election Day.
The Republican majority gave them one day and only allowed pre-processing, which essentially amounted to opening outer mailing envelopes and stacking ballots for counting the next day.
Officials predicted lengthy reporting delays, and that happened in some parts of the state, especially big cities with many Democratic voters. That gave Trump an opening to falsely claim he had won Michigan because he led early returns.
Senate Bill 334 would make permanent that one day window for pre-processing, but it would not expand the allowance even though Majority Leader Mike Shirkey has touted absentee ballot processing in Florida, where can begin counting absentee ballots weeks before Election Day.
Senate Bill 299 would create a new deadline for election clerks to finish counting ballots and report results to the County Board of Canvassers by noon the day after the election.
Analysis: While 2020 was unusual because of the pandemic, election officials expect absentee voting to be the new normal, and they continue to urge lawmakers to allow them to begin counting the ballots before Election Day.
The Senate GOP plan doesn't do that. Instead, it demands that clerks speed up their Election Day counts to report all results by noon the following day, which could be a challenge in larger cities that tend to vote Democratic.
"Clearly, the clerk community was not consulted on any of these 39 bills," said Roebuck, the Ottawa County Republican. "That's very obvious."
Siegrist, the Democratic clerk from Canton Township, said it may be impossible for some communities to meet the deadline, which would put them in a position of either breaking the law or stopping the count.
"There's no way we're going to stop tabulating ballots," he said. "If somebody returns a ballot by the deadline, and we can't process them by 12 noon the next day, I'm not going to violate their constitutional right to vote. I'll take the ding. There's no way we're gonna deliver an unfinished election to the county."
Political party challengers could video record
What's new: The Senate GOP proposal includes several new training requirements for election workers and poll challengers.
Local officials and experts say that's sorely needed given that drama that unfolded last year at the TCF Center in Detroit, where GOP challengers flooded an absentee counting board with demands that workers "stop the count" because of false fraud claims.
But election officials are concerned about Senate Bill 292, which would prohibit nonpartisan groups from designating poll challengers allowed to observe and contest the validity of ballots.
That means only political parties could designate challengers, not groups like the League of Women Voters, the ACLU and the NAACP that are currently granted access to guard "against the abuse of the elective franchise."
Senate Bill 276 would allow those political party poll challengers to video record ballot tabulation inside polling places and absentee counting boards.
Analysis: Allowing video recording of ballot tabulation might build confidence in the count, but election officials say it could also jeopardize the fundamental right of a secret ballot, and potentially intimidate voters in the process.
The legislation would prohibit challengers from recording "the personal identification" of a voter or intimidating them, but that would be hard to enforce, said Roebuck, the Republican clerk from Ottawa County.
A new option for early voting
What's new: Two bills in the Senate package could make it easier to vote.
Senate Bill 274 would allow 16-year-olds to pre-register when applying for their driver's license, so they could automatically vote at 18.
Senate Bill 300 would create a new early voting option by requiring clerks across the state to open for traditional, in-person voting on the second Saturday before an election.
Under the proposal, local clerks would tabulate and record votes that day just as they do on Election Day. But it would be a felony crime to disclose any results from the early voting period until polls close at 8 p.m. Election Day.
Analysis: Michigan voters already can effectively vote early by casting an absentee ballot in person at their local clerk's office. And under a constitutional amendment approved by voters in 2018, those offices must be open for at least eight hours on the weekend before Election Day.
The Senate GOP proposal would build on that voter access, however, and any ballots cast on the second Saturday before election could be tabulated that day.
That's a good idea, said Rutledge, the Democratic Inkster clerk, who called the proposal "another way of giving people an opportunity to get out early and vote."
Only donate if we've informed you about important Michigan issues
See what new members are saying about why they donated to Bridge Michigan:
"In order for this information to be accurate and unbiased it must be underwritten by its readers, not by special interests." - Larry S.
"Not many other media sources report on the topics Bridge does." - Susan B.
"Your journalism is outstanding and rare these days." - Mark S.
If you want to ensure the future of nonpartisan, nonprofit Michigan journalism, please become a member today. You, too, will be asked why you donated and maybe we'll feature your quote next time!