Gov. Gretchen Whitmer's to-do list: gun control, tax cuts, Right-to-Work repeal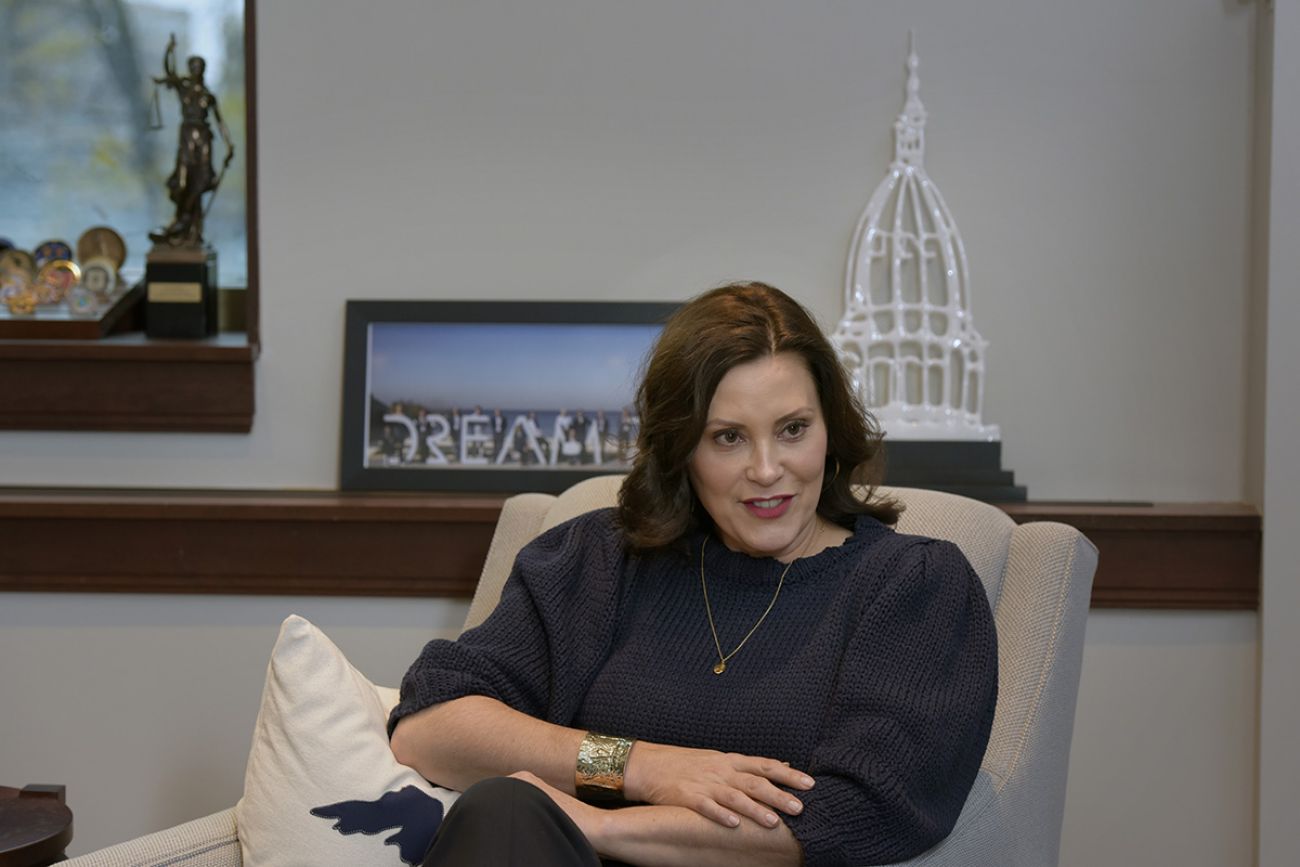 Gov. Gretchen Whitmer says she's willing to work with Republicans and is mindful of Democrats' slim leads in the Legislature. But she's ready to move on gun security bills and other measures. (Bridge photo by Rod Sanford)
Michigan Government
Gov. Gretchen Whitmer's to-do list: gun control, tax cuts, Right-to-Work repeal
"It's new territory for a lot of people," Whitmer told Bridge Michigan in an interview at her downtown Lansing office, across the street from the state Capitol where she spent her full 14-year legislative career in the political minority.
"I'm excited about what I think we're going to be able to get done."
Related:
With Whitmer winning re-election by 11 points at the top of the ticket last week, Democrats also won control of both the House and Senate for the first time in 40 years. When Democrats take power in January, it'll be only the fourth time the party has had the so-called trifecta in 130 years.
But Whitmer pointed out the relatively small margins in each chamber — two seats in both the House and Senate — and said she remains willing to work with Republicans and "everyone who wants to solve problems" like fixing roads, closing the skills gap or stimulating the economy.
"I am always mindful that the best solutions are what we can do for the people in Michigan, not what one party wants or what one party doesn't want," Whitmer said.
But the governor is also gearing up to take on long-discussed Democratic priorities, including gun control measures she embraced after last year's fatal shooting at Oxford High School, where a student used a handgun his father had recently purchased to murder four classmates and injure others.
One Democratic bill blocked by the current GOP-led Legislature would require adult gun owners with children in their home to store their firearms in a secure lockbox. Adults could face up to five years in prison if they fail to secure a weapon that a minor uses to injure or kill themselves or others.
Another bill would create a "red flag law," allowing a judge to issue an "extreme risk protection order" authorizing police to seize guns from those deemed a risk themselves or others.
Whitmer also wants to close a loophole that allows people to buy long guns from a private seller without submitting to a background check required for purchases from a dealer.
"I think that these are each individually proven policy solutions that could mitigate the likelihood of a future shooting, and so I think that's where we need to start," Whitmer said.
"I do believe that you will all of a sudden see a very different environment in Lansing where the Oxford families and advocates will have the ability to make their voices heard and to inform and drive the policy change that this current legislature has completely shut the door to."
The governor has framed those policies as common-sense solutions to prevent gun violence. But she'll need almost every Democratic vote in the Legislature, as Republicans are expected to fight the legislation next year.
"I believe in the individual over the state, and it's unfortunate that Democrats are trying to look for ways to limit individuals' liberty and freedom," incoming Senate Minority Leader Aric Nesbitt told Bridge in a separate interview Tuesday.
"Any (areas) where they're going to limit individual freedom, I'm going to fight against. If there's going to be ways they expand individual freedom, I'll partner with them."
Right-to-Work repeal
The minority will be a new position for Republicans, who are also expected to do everything they can to fight repeal of the state's Right-to Work law, which prohibits contracts that require workers to pay union dues or fees as a condition of employment.
Democrats who will control the House and Senate have already signaled intent to repeal the law signed in 2012 by then-Gov. Rick Snyder. In the years since, union membership and collective bargaining power has waned in Michigan.
Whitmer, who was Senate minority leader when Snyder signed the law, was a leading opponent of the policy and joined massive union protests outside the Michigan Capitol as Republicans prepared for votes inside.
"No one should be surprised about what my position has been on Right-to-Work," Whitmer told Bridge, saying Democrats must have "robust conversation" about the law, timing of potential repeal and how to make sure the public "understands what and why we're pursuing this."
"But that is something that I continue to be very interested in," she said.
Republicans and some leading business groups argue repealing the law would make Michigan less competitive in the global fight for automotive and other manufacturing jobs. Voters in Tennessee – where Ford is building a major electric vehicle manufacturing plant – last week voted to protect a Right-to-Work law by adding it to their state's constitution.
Democratic calls to repeal Michigan's Right-to-Work law "shows that they are unserious about their campaigns of economic development and creating jobs," Nesbitt said.
"You talk to any economic development, group or organization… and you're on some lists when you're a Right-to-Work state, and you're off lists when you're not a Right-to-Work state," he said. "If the governor is serious about developing the economy, growing jobs here in Michigan providing opportunities for the next generation, they wouldn't go there."
Whitmer dismissed arguments that allowing contracts with mandatory union dues or fees would put Michigan at a competitive disadvantage, arguing it is a "false choice to say that you can't both be growing a robust business climate and ensuring that workers can collectively bargain."
Gov. Gretchen Whitmer says she's "very interested in" repealing Michigan's Right-to-Work law, which has driven down union membership. Republicans promise a fight. (Bridge photo by Rod Sanford)
"I'll continue to be a good partner with the business community," Whitmer told Bridge, noting her efforts to lure new investments to the state through a bipartisan tax incentive program, boost skilled trades training through tuition-free programs and rebuilding infrastructure.
"We want business to thrive and grow in Michigan. We also recognize that part of the great history of the state building the middle class was because workers were able to join their voices and bargain for you know pay and time off, etcetera."
Tax cuts still possible?
With Michigan still sitting on a nearly $6 billion general fund budget surplus, Whitmer and the current GOP-led Legislature continue to discuss potential tax relief, a mutual goal they were unable to find common ground on during election-year budget negotiations.
Whitmer vetoed larger GOP income tax cuts but has proposed eliminating the so-called "retirement tax" by exempting more senior income and expanding the Earned Income Tax Credit for lower-income workers.
It's possible they could still strike a deal next month during the so-called lame-duck legislative session, but Whitmer said it is not clear whether ongoing negotiations between executive and legislative staffers will intensify, or if the Legislature will meet much at all before the end of the year.
If Republicans don't send Whitmer tax relief bills she's willing to sign, the governor said she anticipates Democrats will take the lead in 2023 to expand the Earned Income credit and give "people the retirement tax relief that we've been trying to get done for four years now."
"None of this happens in the vacuum, but those are a couple things that I think continue to be real priorities for me," the governor said.
One thing Whitmer says she won't pursue again in her second term: A fuel tax increase to help follow through on her 2018 pledge to "fix the damn roads."
It's a "no," said Whitmer, who in 2019 proposed a 45-cent fuel-tax increase that was a non-starter in the Legislature, where Republicans panned the plan and Democrats kept their distance.
Whitmer secured some additional road funding by borrowing money through a $3.5 bonding program, and the state has only just begun to spend $7.9 billion in new federal infrastructure funds.
But Whitmer said she is still interested in finding a longer-term funding solution – one that is forward thinking enough to anticipate the expected rise in electric vehicles that do not consume gasoline, which is currently taxed by the state at 27.2 cents per gallon to pay for road repairs.
The governor pointed to Oregon, where lawmakers are considering whether to make mandatory a voluntary program that allows drivers to pay a miles-driven tax instead of traditional fuel taxes.
"There's no state that's figured it out yet," Whitmer told Bridge, saying she'd like to convene a bipartisan workgroup to develop a new funding model. "I think we've got an opportunity in front of us, but it's not going to come from one person or one perspective. It's got to be something that we work on together so that we can get it passed."
Only donate if we've informed you about important Michigan issues
See what new members are saying about why they donated to Bridge Michigan:
"In order for this information to be accurate and unbiased it must be underwritten by its readers, not by special interests." - Larry S.
"Not many other media sources report on the topics Bridge does." - Susan B.
"Your journalism is outstanding and rare these days." - Mark S.
If you want to ensure the future of nonpartisan, nonprofit Michigan journalism, please become a member today. You, too, will be asked why you donated and maybe we'll feature your quote next time!