LANSING — Michigan state Rep. Sarah Anthony broke down in tears Monday as she described her work day on April 30, when armed protesters entered the Capitol during a debate over Gov. Gretchen Whitmer's emergency authority amid the coronavirus pandemic. 
Protesters chanted outside the House chambers while a group of men with long guns entered the Senate gallery and shouted down at lawmakers from above, prompting one to wear a bulletproof vest at her desk on the floor. 
Related:
Anthony said she thought armed protesters had "stormed" the Capitol "with the express intent of inciting fear and intimidation" during a critical vote.
"It was terrifying," Anthony, D-East Lansing, told members of the Michigan Capitol Commission, who moments earlier voted down competing proposals to either ban all firearms in the building or only prohibit openly carried guns. 
"By not banning firearms in this building you are telling me that my life does not matter," she added. "It's been 137 days since many of those who call this building a workplace have had to work in fear."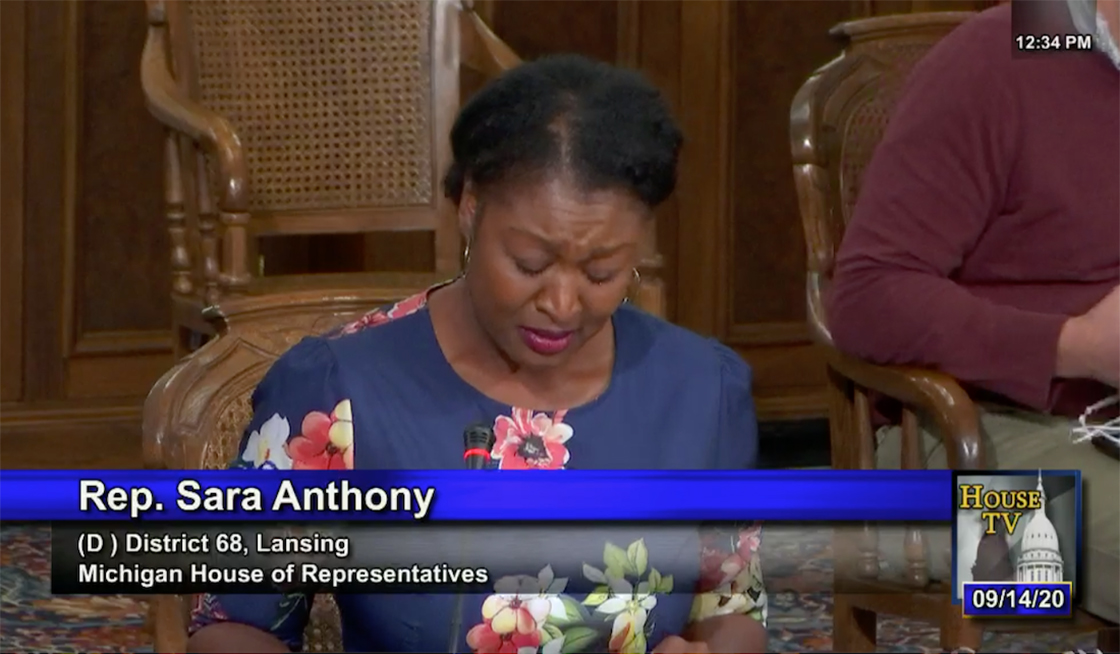 State Rep. Sarah Anthony, D-Lansing, testifies before the Michigan Capitol Commission on Monday. (screenshot)
Instead, commissioners plan additional study on proposals they've contemplated for more than four months. As part of the process, they studied costs for equipment like X-ray machines and hired an outside attorney to confirm what Attorney General Dana Nessel has told them: They have the authority to adopt a ban, should they choose to do so. 
In the meantime, Michigan will remain an exception to the majority of states that have some sort of firearm restrictions in their Capitol buildings. 
But commissioners who rejected the bans said the debate is not over and will discuss potential regulations again at their next hearing after meeting with Senate Majority Leader MIke Shirkey and House Speaker Lee Chatfield, Republicans who appointed four of the six members on the panel and recently requested a sit-down. 
"We take this very seriously," Commission Chairman Gary Randall told Anthony and state Rep. Brenda Carter, D-Detroit, who had both urged quick action to regulate guns. "But the fact of the matter is a total ban would require money that we don't have. It will take an appropriation."
The restrictions failed on two votes, with Republican appointees teaming with a Whitmer appointee, William Kandler, to defeat a full ban. He proposed a limited ban on openly carried guns, but that plan failed in a 3-3 vote. Measures need a majority to pass.
"If we pass this, tomorrow nothing changes," Kandler said, noting lawmakers would need to approve spending for the commission to purchase screening equipment.  
"There's no magnetometers at the doors, no X-ray machines and no security people. So people could just flout it.... While I'd like to see this happen eventually, we can't do it today."
The failed votes come just days before hundreds of gun activists are expected at the Michigan Capitol for an annual Second Amendment Rally. The Thursday rally will take place outside the building, but in past years, activists at the event have carried their long guns into the Capitol during session. 
It's not immediately clear why Shirkey and Chatfield waited until September to request a meeting with the commission, which generally oversees efforts to maintain and restore the historic building.  
Chatfield "would like to meet with the commission, review their findings, listen to their thoughts on the issue, and share his own thoughts concerning constitutional rights," said Gideon D'Assandro, a spokesperson for the GOP speaker of the House from Levering. 
Kandler and Commissioner John Truscott on Monday presented colleagues with a report on potential firearm policies and associated costs, an analysis they had worked on since May 30. Implementing a full ban in the Michigan Capitol would be costly, according to the report, but banning only openly carried weapons would be relatively easy for state police to enforce. 
Commissioner Joan Bauer, a former state lawmaker appointed by Whitmer, questioned why the panel couldn't simply vote to put up a sign in the Capitol explaining that guns are not allowed. That would avoid the need for screening equipment but give police the authority to search someone suspected of carrying a weapon, she said. 
The commission "has the authority and the moral responsibility to ensure the safety of the public as well as those who carry out the people's work by prohibiting firearms within the Capitol building," she argued. 
While there was no physical violence at the April 30 protest, at least one demonstrator held a sign encouraging violence against Whitmer: "Tyrants Get The Rope." Another brought a Confederate flag outside the Capitol. 
Whitmer called the protest "disturbing." Shirkey, a Second Amendment champion, said some protested responsibility but called others "a bunch of jackasses."
Michigan is among a handful of state capitols with no rules prohibiting firearms or requiring visitors to pass through metal detectors. Visitors are, however, banned from bringing signs or posters inside, a policy ostensibly designed to prevent damage to walls of the historic building.
Policies in other states have generally been adopted by legislators or the governor, said Truscott, a public relations specialist who served as spokesperson to Republican former Gov. John Engler. 
"We are an unelected, unaccountable body here to maintain the building," Truscott said, resurrecting a long-running debate over the commission's mission. "I've always believed this is an overreach on our part. I'd rather have the Legislature or governor deal with this."