How Donald Trump can come from behind and win Michigan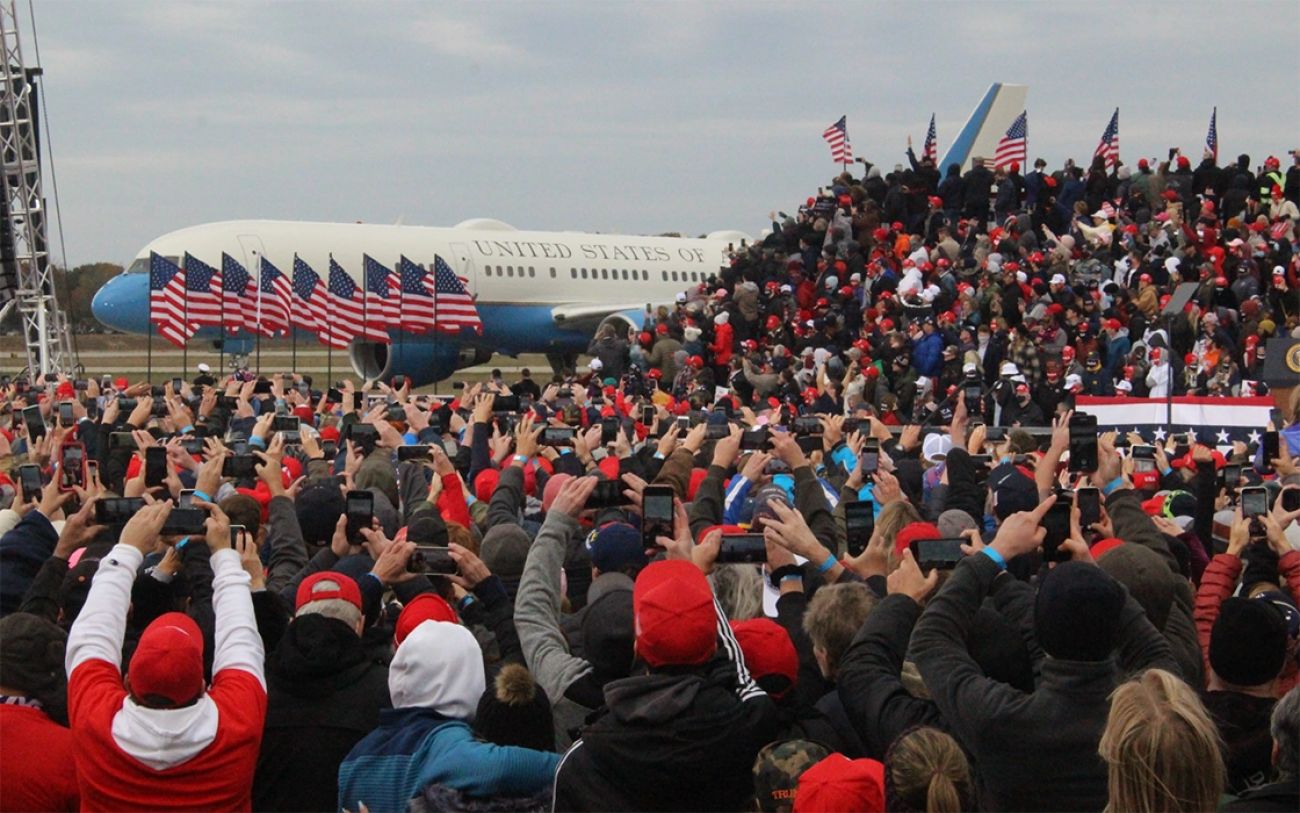 LANSING – It's déjà vu all over again in Michigan, where Republican President Donald Trump is down in the polls but predicting victory in an election that is little more than a week away.
Four years after his razor-thin win here, Trump and his family are barnstorming the battleground state in hopes of a late surge that could help him win a second term.
The odds are not great for Trump, who is planning to return to Michigan on Tuesday for 2 p.m. rally at Capital Region International Airport in Lansing.
As of Monday, Democrat Joe Biden was leading recent Michigan polls by an average of 8.1

percentage points, according to Real Clear Politics.

Among the 14 Michigan

public opinion surveys released this month, Trump led only one by a single percentage point. In one of the most recent, Fox News had Biden up 12 points.

The latest FiveThirtyEight forecast pegs Biden's win probability at

94 percent in Michigan.
But Michigan elections experts aren't closing the door on Trump, who outperformed the polls in 2016 to win Michigan by 10,704 votes over Democrat Hillary Clinton. Bridge Michigan asked some of the state's leading political consultants and pollsters how Trump could do it again.
Trump is 'saturating' the state
The president's path to a Michigan victory relies on "engaging and connecting with the grassroots across the board, and that's what they're doing," said Jenell Leonard, a Republican consultant with the Marketing Resource Group in Lansing.
She said it's important for voters to see "a strong leader out there," and recent Trump campaign stops are "energizing the base."
In the past two weeks, the president campaigned in Muskegon; Vice President Mike Pence was in Grand Rapids and Oakland County; Eric Trump traveled to Novi, Lansing and Clinton County; Lara Trump campaigned in Freeland and Hanover; Ivanka Trump toured Alto and Donald Trump Jr. campaigned in the Upper Peninsula.
"The Trump campaign has just been saturating Michigan," Leonard said.
Digging deeper in Trump country
The Trump campaign isn't just blanketing Michigan, it's going to areas he won in 2016 in an attempt to build on those gains, said John Sellek, a Republican strategist with Harbor Strategic Public Affairs in Lansing.
Last month, for instance, Trump spoke in the Thumb region, where four years ago he became "the first Republican to win Saginaw and Bay counties since Ronald Reagan did in 1984," Sellek said. "So he's pushing that zone hard."
The strategy isn't just about turning out the same voters again, Sellek said. It's about "pushing deeper" into counties Trump flipped in 2016 to try to find more like-minded residents who either did not register or did not vote four years ago.
"That is how Trump wins Michigan," Sellek said, by "building bigger margins in those counties."
He noted the Trump campaign also appears to be taking a new tact in advertising: A commercial now airing in Michigan features a local senior citizen discussing how Medicare Advantage rates dropped in recent years and warning that Democrats could move the country toward "socialized" medicine.
After months of trying to figure out how to win back suburban voters, the Trump campaign now appears to instead be trying to focus on senior voters in an attempt to "peel people back from the Democrats," Sellek said.
First-time voters
Democrats are projecting confidence, but Republican efforts to recruit first-time registered voters "does give us pause," said Greg Bowens, a Democratic consultant with Bowens & Co. in Grosse Pointe.
"That's the only way [Trump] wins: If he gets the people who aren't polled, and many of those are likely new voters."
He noted Trump has continued to draw large crowds, including this month in Muskegon, a sign of continued enthusiasm for the president from his base. The president appears to speak to "folks who have not been engaged in the political process all that much before," Bowens said.
"It's just kind of crazy stuff, but if those are new voters who have been registered, then the question becomes whether or not it'll be enough," he said. "We kind of take it for granted that most of the people in this state who are voting age are registered."
Biden is no stranger to gaffes
Trump is "running out of time" and "the only thing that could potentially happen is if Joe Biden had a major, major screw-up… and things just eroded completely for him," said Bernie Porn, a pollster with EPIC-MRA in Lansing.
His most recent poll, released Oct. 12, showed Biden with a nine-point lead over Trump. And the president has not done himself many favors since then, Porn said, pointing to subsequent surveys showing similar margins.
He noted Trump has continued to attack Whitmer, who has significantly higher favorability ratings than the president here, and more recently Dr. Anthony Fauci, "who is trusted more than anyone else in terms of dealing with the coronavirus."
One week out from the 2016 election, the Real Clear Politics polling average suggested Clinton was leading Trump by 7 percentage points in Michigan.
But Porn noted 2020 surveys show a much smaller percentage of undecided voters who could break late in either direction.
Trump may need another October surprise
For Trump to pull off a Michigan upset again, "you would need to see just historic levels of turnout in what are the reddest areas of the state," said Democratic strategist Adrian Hemond of Grassroots Midwest in Lansing. "Because relatively fewer people live in those areas, you would need to see really, really high turnout there."
While Trump has tried to win back suburban women with warnings that Antifa activists could storm their neighborhoods, that appears to be a lost cause, Hemond said. Instead, the president should focus on winning back college-educated men who supported him in 2016.
"College-educated women are long gone," Hemond said, "but he did well with [college-educated men] in 2016, and he's not now. So he would need those numbers to stabilize."
Four years ago, Trump benefited from what Hemond called "external events" late in the campaign, including FBI Director James Comey's Oct. 28 letter informing Congress that the Bureau was resuming its Hillary Clinton email investigation because of new evidence.
Trump needs something like that to happen again, Hemond said.
"He's got a very, very narrow path in Michigan, and I don't see how he gets it done without [an October surprise]. Wikileaks, or like they're trying to roll their own, so to speak, with this Hunter Biden Ukraine thing. But it's pretty low rent."
Election Day surge
Republicans "have got to get to the polls on Election Day," and they have to "drive up margins beyond anything we've ever seen in rural Michigan" for Trump to win here, said pollster Richard Czuba of the Glengariff Group Inc.
He noted a record number of Michigan voters are expected to vote by absentee ballot this year given the global pandemic and a new state law. And recent surveys suggest that trend will benefit Biden.
Democrats are requesting absentee ballots more frequently than Republicans, "and there has to be a pretty good chunk of those that don't return their ballots" for Trump to triumph, Czuba said.
"It's really threading the needle at this point because we're seeing how these absentees are coming in," he said.
We're not just a news organization, we're also your neighbors
We've been there for you with daily Michigan COVID-19 news; reporting on the emergence of the virus, daily numbers with our tracker and dashboard, exploding unemployment, and we finally were able to report on mass vaccine distribution. We report because the news impacts all of us. Will you please donate and help us reach our goal of 15,000 members in 2021?