Joe Biden is favored to win Michigan but can he build a Democratic wave?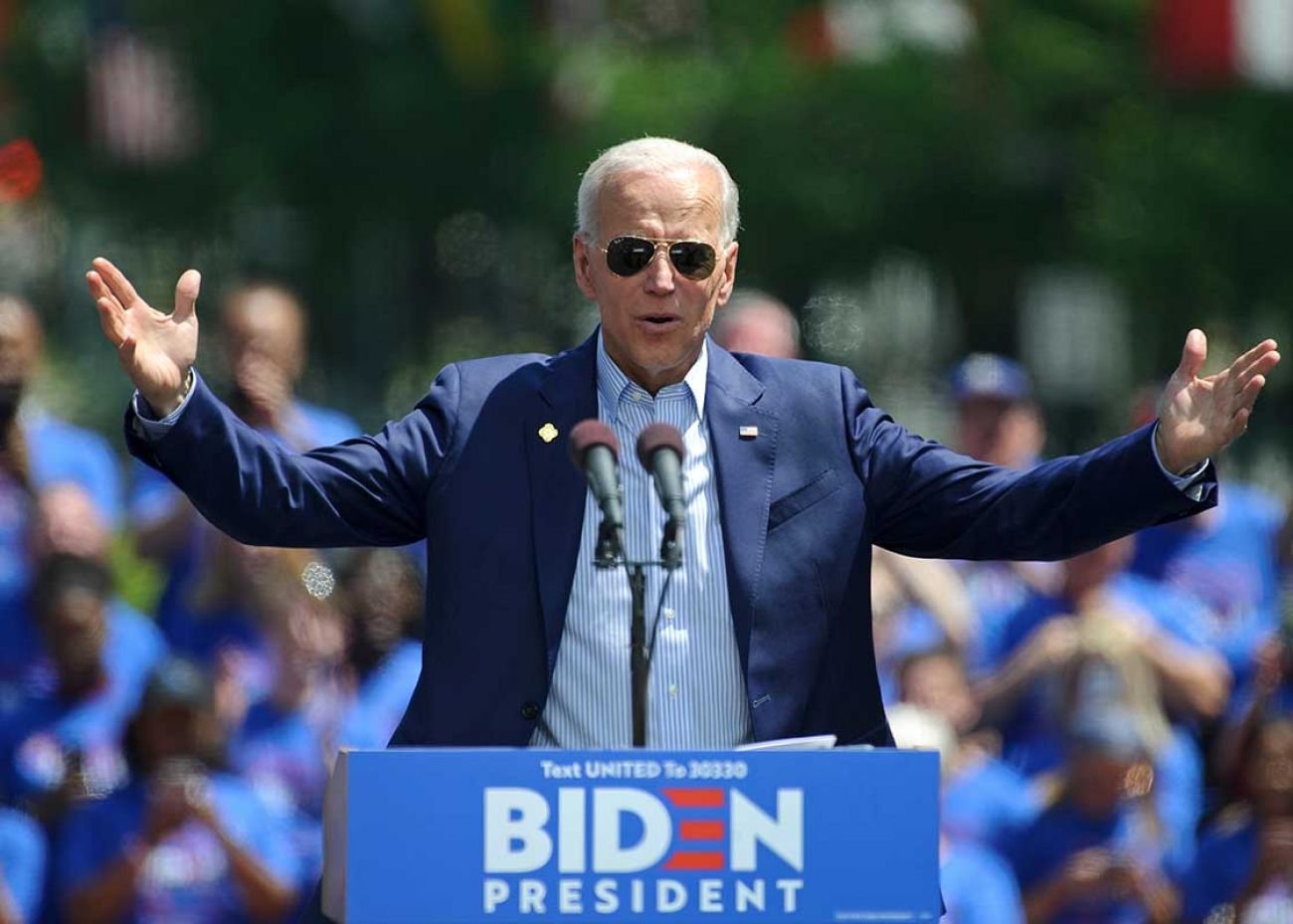 LANSING – Democrat Joe Biden is leading President Donald Trump by a significant margin in recent Michigan polls, but his campaign and surrogates warn the race may be closer than it appears.
"The race is always tighter than what the polls lead us to believe, and I think Joe Biden and Kamala Harris believe that as well," Gov. Gretchen Whitmer said last week on CNN. "That's why they're spending so much time in states across the country, and certainly here in Michigan."
Experts say it's smart to sound those alarms: Democrats don't want Michigan voters to get complacent in a state where Trump surged late in 2016, upending polls to win by 10,704 votes. And Democrats don't just want to win the White House; they want to build a Biden wave that benefits Democratic candidates for Congress, state House and other offices.
Bridge asked some of the state's leading political consultants and pollsters how Biden could win Michigan, and whether he could do it by large enough margins to impact other races.
Turn out Black voters
With a week to go before the election, the only potential "trouble spot" for Biden in Michigan remains turnout among African-American voters, said Bernie Porn, a pollster with EPIC-MRA in Lansing. His recent surveys suggest Black voters will back Biden by massive margins, but an "unusually high percentage" remained undecided as of mid-October.
Nonetheless, Biden may have already locked up the state because of strong support from suburban women and voters in other areas in lower Michigan, Porn said.
"He probably is already there, but he will have a stronger percentage if African Americans turn out," he said.
"In 2016, if 58,000 Detroiters who [sat out the election after voting in 2012] had come to the polls, Hillary Clinton" would have probably won Michigan.
Turn out some of those voters, and all signs point to at least a small wave election for Democrats, Porn said.
If Biden wins by 7 or 8 percentage points, he would have long enough "coat tails" to have a major impact on down-ticket races, Porn predicted.
And if Biden wins by 10 points? "Then it's probably like that Leslie Neilsen movie, 'The Poseidon Adventure,' where he's looking at a huge wall of water coming toward the ship and says, 'Oh my God.'"
Bring back Harris
Biden himself isn't necessarily wowing Black voters, but his selection of Kamala Harris "added excitement to the ticket" that should help turnout efforts in Detroit and other communities of color, said Democratic strategist Greg Bowens.
He noted Harris, who would be the country's first African-American and first Indian-American vice president, has already been "bouncing around southeast Michigan" for votes and that's a winning strategy for the campaign.
"The idea that you can have your first Afircan-American vice president is something that is exciting folks who may not be as excited or enamoured with Joe Biden," Bowens said. "Couple that with people's dislike for Donald Trump, and that's what's propelling" Biden.
He noted reports of extensive turnout operations in cities like Detroit, where turnout declined in 2016 as Trump scored a narrow 10,704-vote win over Democrat Hillary Clinton.
Experts say Biden has already paid more attention to voters of color than Clinton did in 2016: In addition to deploying Harris to Detroit and Flint, the campaign has sent pop star Lizzo and basketball legend Magic Johnson to Detroit, and Jill Biden to Dearborn last week.
U.S. Sen. Gary Peters could be "the biggest beneficiary of a blue bump," Bowens predicted. Peters is locked in a tight battle with Republican challenger John James, an African-American businessman whose parents are Democrats and started the family company in Detroit.
"In the day of Black Lives Matter, the idea of having your first African American elected to the Senate from the state of Michigan is one that's also appealing," Bowens said.
"Unfortunately for John James, people still got that 'I'm with Trump 2000 percent' thing stuck in their head," Bowens said, referring to James' declaration of support for the president when he ran for Senate in 2018 against Sen. Debbie Stabenow.
Run up the score in Kent County
On top of efforts to "juice" turnout in Metro Detroit, Biden's campaign is trying to "push margins in west Michigan to make it impossible for Trump to come back," said John Sellek, a GOP consultant with Harbor Strategic Public Affairs in Lansing.
He pointed to Kent County, which was once one of the most reliably Republican areas of the state but is in the midst of a dramatic shift. For the first time in at least two decades, Kent County broke blue for Democratic Gov. Gretchen Whitmer in 2018, and the Biden campaign has "invested a lot of time in west Michigan" to build on that momentum, Sellek said.
Kent County may as well be called "Oakland County west," he joked, comparing it to the suburban Metro Detroit region that swung hard to Democrats in 2018, when U.S. representatives Elissa Slotkin and Haley Stevens both flipped GOP seats.
Similar dynamics are playing out this year in West Michigan, where Republican Peter Meijer and Democrat Hillary Scholten are locked in a tight battle for the 3rd Congressional District seat that had been in GOP hands for decades until Rep. Justin Amash, who is not seeking re-election, finalized his break from Trump by defecting from the party.
"Republicans are getting squeezed there from two sides," Sellek said of Kent County. "The older, inner-ring suburbs like Kentwood and Wyoming are all turning blue. Grand Rapids itself is getting just like every other city in Michigan: super blue. And it's the only place in the state that is actually growing because people are wanting to move there."
Win big with women
Biden can win if there's strong turnout in both urban and suburban areas that are trending his way, said Jennell Leonard, a Republican consultant with the Marketing Resource Group in Lansing. And female voters could be key, she said, referencing a major demographic that broke sharply for Democrats in 2018.
While Trump's campaign is attempting to highlight policy differences between the candidates Biden has built a lead in the polls by contrasting their personal characters, morality and response to the coronavirus pandemic.
"His path to victory is just maintaining a professional and presidential campaign and seeing if the personalities end up playing out versus the policies that are on the ballot," Leonard said.
Stay the course
Ahead in the polls, Biden needs to simply "stay disciplined" and keep engaging voters to make sure they cast an absentee ballot or in-person vote in the only poll that matters: Election Day, said Adrian Hemond, a Democratic consultant with the Grassroots Midwest firm in Lansing.
"The Biden campaign needs to make sure that they're keeping enthusiasm high – and that doesn't necessarily mean enthusiasm for their candidate," Hemond said. "It means enthusiasm for Donald Trump not being president. This election is 100 percent a plebiscite on the president and how he has conducted himself in the last four years."
Democrats would take a narrow Biden win, but they're excited about the possibility of a wave election that would benefit down-ticket candidates for Senate, Congress, the state House and other offices.
Michigan's current political maps, drawn in 2011 and nearing retirement, were drawn by Republicans "to withstand about an 8-point win statewide for a Democrat," Hemond said, meaning anything at or above that level could produce a big wave.
As of Monday, Biden was leading recent polls by an average of 8.1 percentage points, according to Real Clear Politics. He's trailed in only one statewide poll this month, and one of the most recent surveys, from Fox News, pegged his lead at 12 percentage points, which would amount to a blowout.
In 2018, Whitmer beat Republican nominee Bill Schuette by more than 9 points. Democrats had "their largest gain in a couple generations" in the state Senate, picked up three seats in the state House "and Republicans were routed in the statewide offices," Hemond noted.
So if Biden wins by similar margins, "things can get really weird," he said.
Facts matter. Trust matters. Journalism matters.
If you learned something from the story you're reading please consider supporting our work. Your donation allows us to keep our Michigan-focused reporting and analysis free and accessible to all. All donations are voluntary, but for as little as $1 you can become a member of Bridge Club and support freedom of the press in Michigan during a crucial election year.