How Michigan's auto insurance premiums became the nation's highest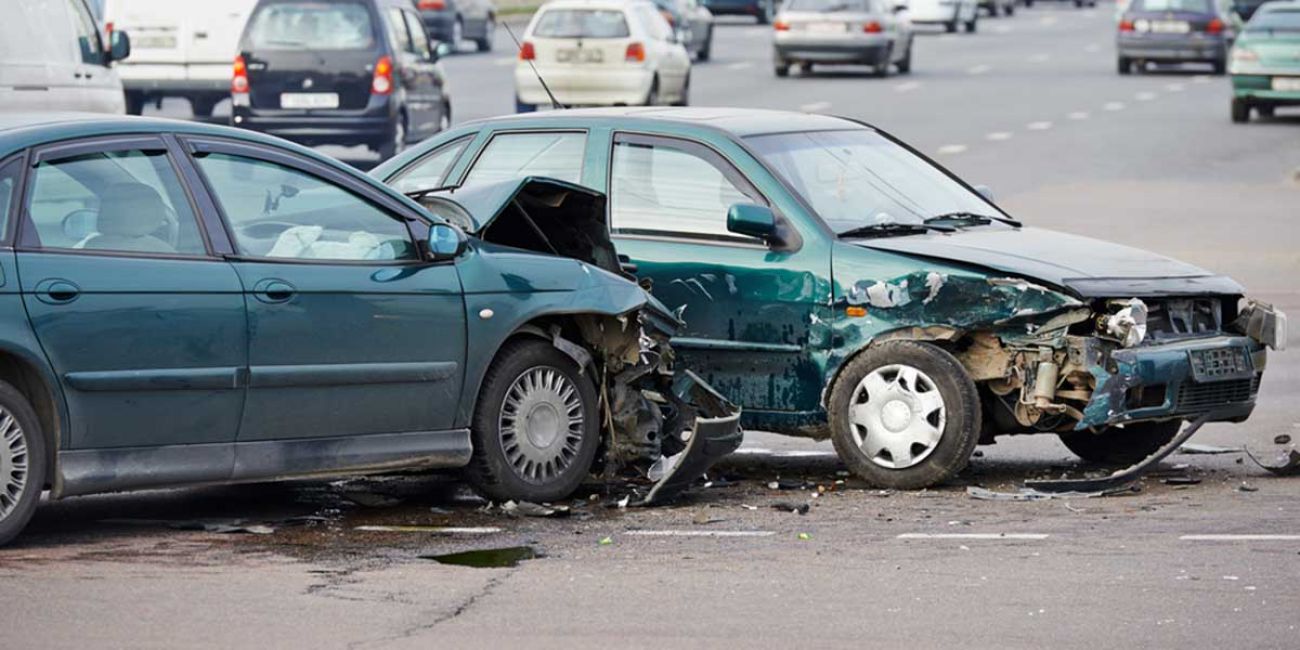 Crushing car insurance costs
Motorists in Detroit and much of the metro area -- as well as those in the Flint area -- are charged substantially more for car insurance because of where they live. All insurers, based on claims histories, opt to charge motorists more for most types of coverage. But in Detroit, costs for personal injury protection -- which in Michigan has no dollar cap, unlike all other states -- generates the biggest extra charges. Here is the map for AAA; other carriers show similar territorial rate differences.
Auto insurance primer
Auto insurance premiums for motorists in Michigan vary wildly depending on a host of rating factors and discounts.
Car owners get discounts or additional charges based on their ZIP code, driving history, distance of daily commute, gender, age, education level, credit score and other non-driving factors.
When it comes to personal injury protection, which is legally required for all drivers, their ZIP code can be the most consequential factor in auto insurance in urban and densely populated suburban areas of Michigan.
Insurance companies use their claims data from prior years based on collision property damage and personal injuries to set rates for those portions of a driver's premium.
But there's no consistency in what rating factors insurance carriers use. For example, some use education level or job title, and others won't.
Auto insurers are required to show the Michigan Department of Insurance and Financial Services only that the pricing behind the rating factors is actuarially justified.
Medical bills for injured Michigan motorists have tripled since 2000 to levels that far outpace normal health care inflation and the average treatment costs in larger states. Indeed, the average cost of a Michigan auto injury claim is over five times higher than the next highest state.
Personal injury protection coverage now accounts for the majority of auto insurance premiums. Repairing people now costs far more than repairing cars.
And despite premiums that are the highest in the country, insurers aren't even making money on auto insurance.
MORE COVERAGE: Detroit isn't the only city with outsized auto insurance rates
These are the findings of an analysis of insurance industry data by Crain's Detroit Business and Bridge Magazine.
That data show total premium dollars collected by insurers for personal injury protection (PIP) soared by 278 percent in Michigan between 2000 and 2013, while medical costs rose by 145 percent to $3.2 billion, even though the number motorists injured annually declined by 20 percent.
The self-reported data from insurance carriers reveal a major shift in the leading cause of the ever-rising cost of auto insurance in Michigan: Premiums that were once dominated by the cost of repairing vehicles are now swamped by the growing cost of treating injured drivers and passengers.
Personal injury protection coverage — which motorists are legally required to purchase — went from one-fifth of all premium dollars collected from vehicle owners in 2000 to more than half by 2013. Collision coverage for fixing damaged cars and trucks declined by nearly 6 percent over a 14-year period in industry premiums, a data analysis shows.
Reducing the medical costs in Michigan's unique and limitless insurance for injured motorists to give drivers premium relief is at the heart of competing legislative proposals that Michigan lawmakers could take action on in the coming weeks.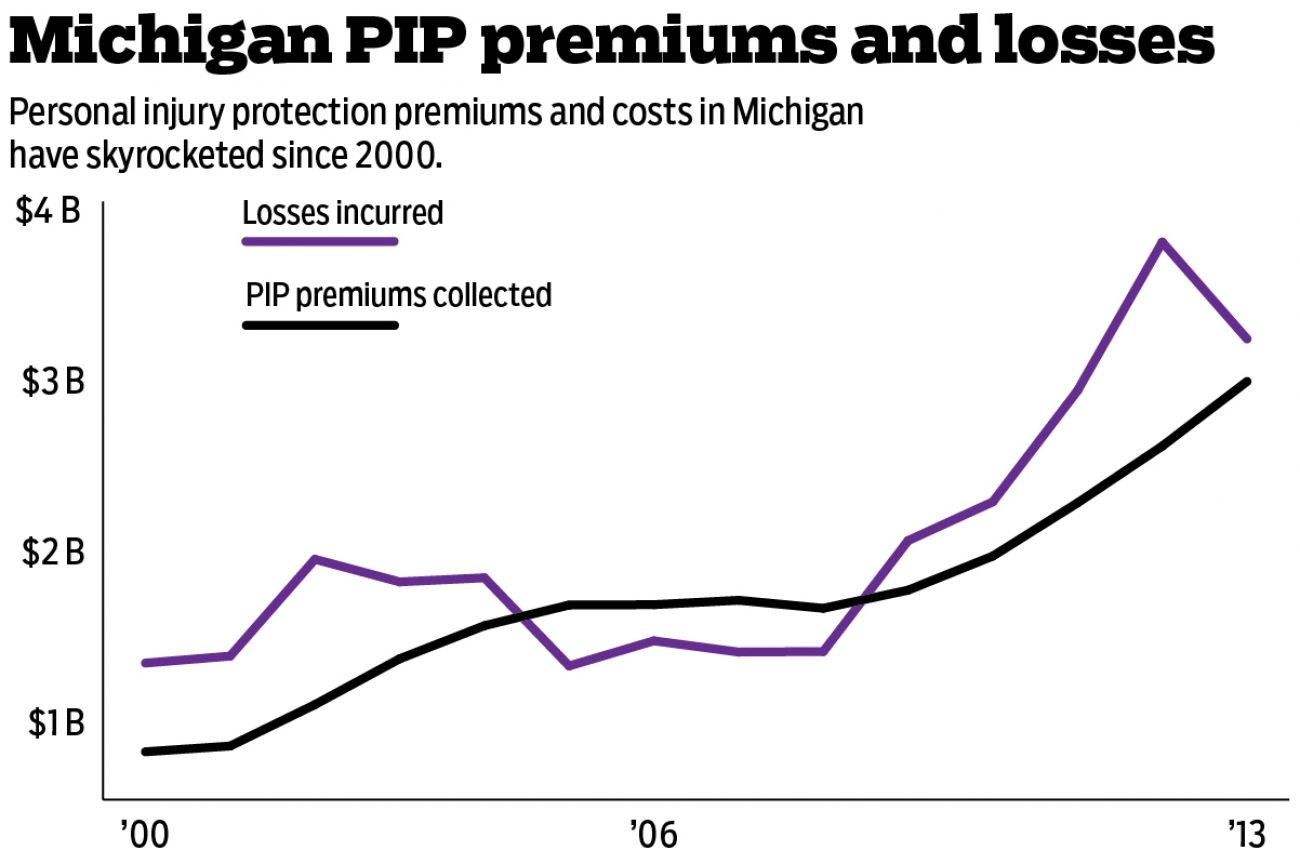 As lawmakers and special interest groups wrangle over reform, recent state filings from several of Michigan's largest carriers show that the cost of personal injury protection continues to rapidly rise and often faster than any other category of car insurance, a review of insurance premiums shows.
Between 2013 and October of this year, AAA of Michigan's base rates for personal injury protection jumped nearly 80 percent and now comprise more than 95 percent of the base rates for mandatory coverages and 88 percent of all coverages, including collision and comprehensive.
For Home-Owners Insurance Co., personal injury protection rates jumped 46 percent from 2013 to 2017 and comprise 88 percent of the mandatory coverage base rate.
"The crisis is undeniable," said Mark Bernstein, a Farmington Hills personal injury attorney who favors Detroit Mayor Mike Duggan's plan to drastically reduce medical costs. "Nobody can say with a straight face that there isn't a problem that needs to be addressed."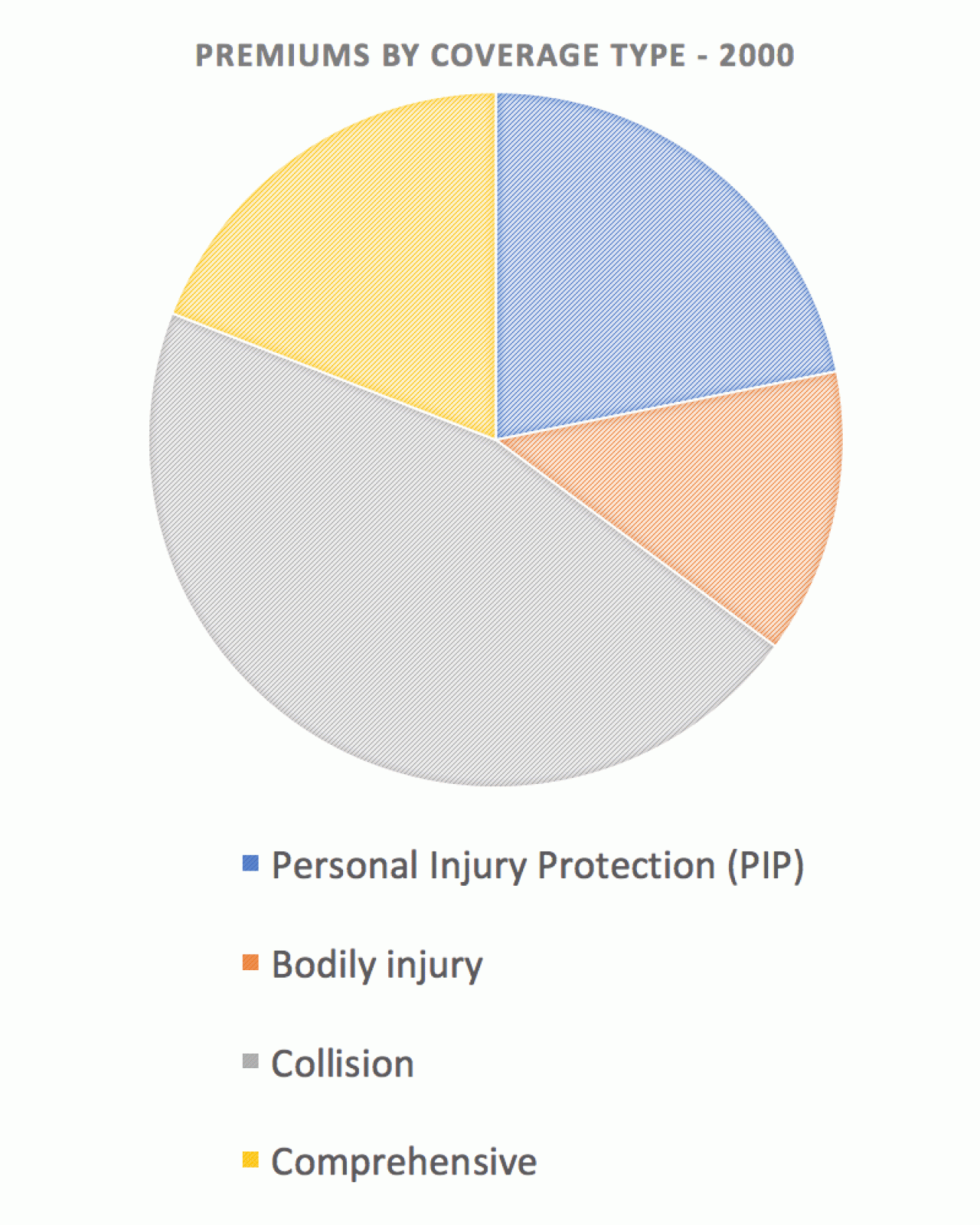 But a political stalemate has hung over the Capitol for years as a term-limited Legislature that loses dozens of members every two to four years has been unable to find a compromise that ensures lower insurance rates without gutting what's regarded as the best medical coverage for auto accidents in America.
"The trouble is, nobody appears to be willing to really put drivers first — because they're all just making way too much money," said Bernstein, a Democrat whose family law firm represents injured motorists in so-called third-party "pain and suffering" lawsuits against at-fault drivers.
With no statutory limits on how much money Michigan hospitals and doctors can charge in a system that's beset by nearly constant litigation, the average cost per auto accident injury claim topped $75,600 in 2013. That's more than five times the next highest state, New Jersey, which recorded a $13,630 average in medical costs for each injured motorist.
"I don't know of anything that has a claim severity that remotely approaches $75,000 per claim," said Jim Lynch, chief actuary at the Insurance Information Institute, a Washington, D.C.-based industry group. "I think that's up there with flood insurance."
Larger no-fault states like New York and Florida, which have set prices for medical care for injured drivers and caps on total costs, had average medical expenses in 2013 of $7,876 and $7,002, respectively, according to the most recent data available from the National Association of Insurance Commissioners.
New York's medical cost per driver decreased by nearly 3 percent from 2000 to 2013, while New Jersey had a 12 percent increase and Florida's costs rose by about 9 percent.
Michigan's average cost per motorist soared by 210 percent during those 14 years, according to industry data.
The tripling of costs per injured driver and passenger between 2000 and 2013 outpaced medical inflation for that period by nearly 90 percent, the data show.
"Medical costs are going up anyway, but when you have a blank check it is not surprising that people are taking advantage of that," said state Rep. Lana Theis, (R-Brighton Township), chair of the House Insurance Committee.
Legislative impasse
Michigan's highest-in-the-nation auto insurance rates have spawned a perpetual state of lobbying war in Lansing between insurers who want to lower their liabilities and become consistently profitable and the hospitals, medical clinics, lawyers and injured drivers entangled in a no-fault auto insurance industrial complex they're fighting to preserve.
"It depends on who you're sleeping with," said Jerry Acker, a personal injury attorney and managing partner of Goodman Acker, P.C. in Southfield. "The hospitals want the money. The insurance companies want the money."
Theis is sponsoring legislation backed by Duggan, a Democrat, and House Speaker Tom Leonard, a Republican, that would greatly curtail medical spending in auto insurance by allowing drivers to opt out of unlimited lifetime personal injury benefits in exchange for a lower-cost plan.
The reform plan in House Bill 5013 would allow drivers to opt out of unlimited medical coverage for two coverage tiers of $250,000 and $500,000 that would no longer give them access to Michigan's catastrophic injuries fund that currently covers medical bills exceeding $550,000.
The $250,000 plan has been widely criticized because just $25,000 could be used for post-hospitalization care, such as outpatient surgery, rehabilitation or reimbursement for lost wages.
To make medical care dollars go further, Republican legislative leaders and Detroit's Democratic mayor want to impose Medicare-level payment rates that could cut medical payments in the auto insurance system for some procedures by as much as two-thirds.
A bipartisan coalition of legislators allied with hospitals, trial attorneys and the most catastrophically injured drivers have proposed less drastic cost-controls.
Lawmakers remain deeply divided over paring back what's considered the best medical care in America that money can buy for injured drivers and passengers while the insurance industry continues to set individual rates based on where a motorist lives, their education level, credit score, marital status and other factors that have nothing to do with driving.
"The right approach is to contain costs and ensure rate relief to Michigan drivers without cutting the benefits people need when they're in catastrophic car accidents," said Rep. Tim Greimel, an Auburn Hills Democrat opposed to Duggan's plan.
The insurance claims data analyzed by Crain's includes the premiums collected and losses incurred by the Michigan Catastrophic Claims Association, which assesses all insured vehicles a $170 annual fee to cover long-term care costs exceeding $550,000.
Critics of the Duggan-Leonard-Theis plan contend that offering drivers the $250,000 coverage option will put financial strain on the catastrophic claims system as drivers flock to insurance plans with lower prices.
"It's going to increase costs there potentially because you'll have less people paying in," said state Rep. Michael Webber, R-Rochester Hills.
Complicating efforts to find compromise in Lansing are divisions among the different businesses involved over putting into state law set payment rates for medical providers and mandated double-digit rollbacks in the premiums insurers can charge in a competitive market.
The Michigan Health & Hospital Association has offered in the past to voluntarily freeze its charges for a set period of years, but has steadfastly resisted a government-mandated fee schedule.
"For the providers, that's like us coming out with a proposal that says auto insurers can't use ZIP codes to set their rates," said Chris Mitchell, senior vice president of advocacy for the hospital association. "It's what I would consider a poison pill."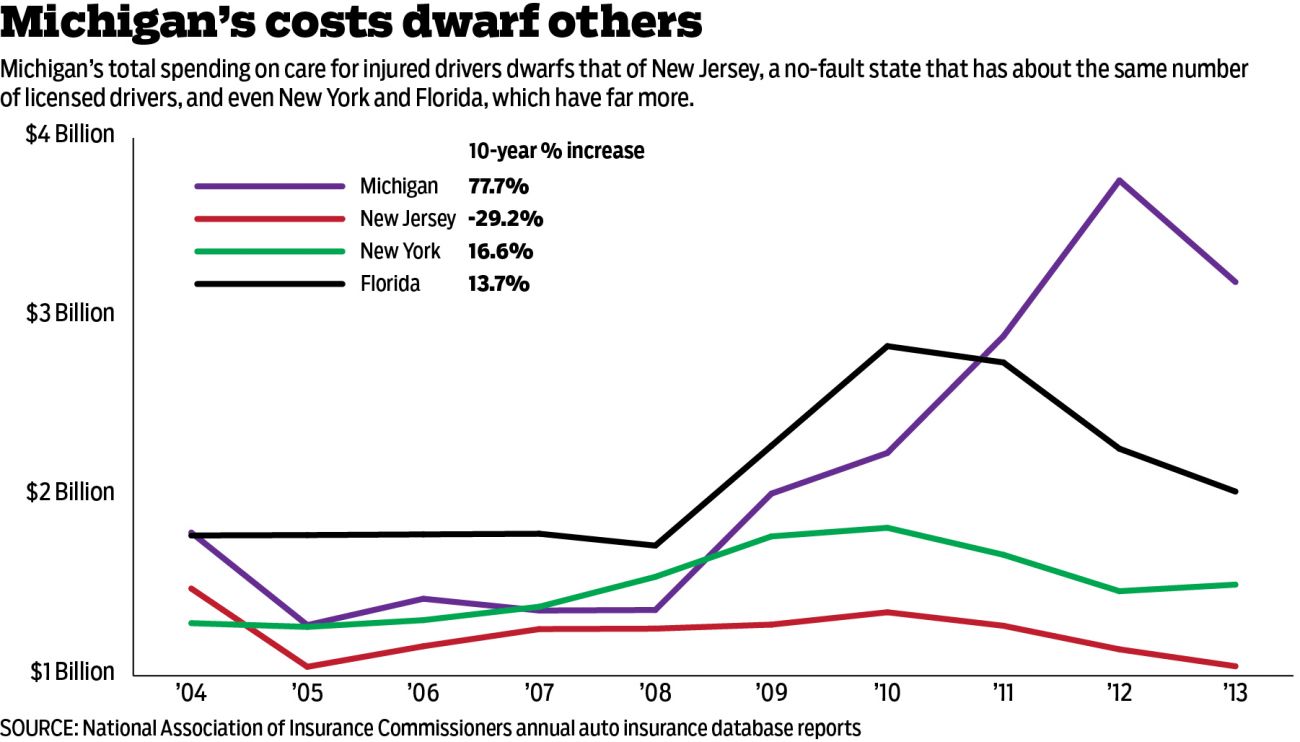 Escalating losses, lawsuits
This report analyzed 14 years of auto insurance industry data and found a dramatic increase in medical expenses, even as the number of drivers and passengers injured decreased by about 10,000 annually between 2000 and 2013.
Auto insurers are required to file their geography-based insurance rates with the state Department of Insurance and Financial Services. Bridge and Crain's analyzed that data to examine how personal injury protection drives up the cost of insurance in Detroit and its surrounding suburbs to some of the highest rates in the country.
Individual companies do not have to publicly disclose their annual claims data, leaving the industry-wide reports as the only publicly available information about how much money insurers collect and spend on damaged vehicles and injured riders.
The industry data lag by three years as insurers adjust their losses based on collision claims and medical bills, an increasing number of which are settled in litigation that now accounts for two out of every five lawsuits filed in Michigan courts.
The skyrocketing premiums collected by insurers and losses incurred for medical costs corresponds with a decade-long 130-percent statewide increase in the number of lawsuits between drivers and their medical providers and auto insurance carriers.
At Bronson Healthcare Group, the Kalamazoo-area hospital system spent $1.3 million in the first six months of this year on lawyers chasing $6.6 million in unpaid bills from insurers that were eventually paid, said James "Chip" Falahee Jr., senior vice president of legal and legislative affairs at Bronson.
"Sometimes insurance companies take positions that are so out there, that the courts say, 'No, that is a specious defense' and they have to pay," Falahee said.
The costly litigation can vary year to year, causing unexpected spikes in losses and subsequent rate increases by insurers.
In 2012, the cost per injured driver hit a high-water mark of $83,800 per claim, as the industry as a whole reported spending $3.76 billion for personal injury protection benefits compared with about $2.6 billion in premiums collected.
By comparison, Florida's costliest year was 2010, when insurers in the Sunshine State shelled out $2.84 billion for eight times as many injury claims as Michigan had in 2012.
Put differently, Michigan insurers spent $1.46 on medical costs in 2012 for every dollar they collected. Florida's insurers spent 75 cents of every dollar they collected for personal injury claims.
"That's not sustainable," said Lynch, the insurance industry actuary. "Insurance companies have other expenses. Agents make commissions. Then you've got your internal expenses."
Auto insurance industry losses
For the overall insurance industry in Michigan, private passenger auto insurance has become a perennial money loser, while other lines of property and liability insurance remain profitable.
The industry as a whole reported an average loss of 2.9 percent on auto insurance between 2005 and 2014, turning a profit in just three of the last 10 years, according to profit-and-loss data all insurers submit annually to the National Association of Insurance Commissioners.
"In Michigan, when it comes to auto (insurance), it's a losing proposition," said Pete Kuhnmuench, executive director of the Insurance Institute of Michigan, the industry's lobbying arm in Lansing.
Between 2005 and 2014, insurance companies posted an average profit margin of 9.6 percent on workers compensation insurance that Michigan employers are required to purchase to cover the costs of workplace injuries.
In 2011, the insurance industry in Michigan reaped a 7.1 percent average profit on workers' compensation, while posting a 13.9 percent overall loss on auto insurance.
Unlike auto insurance, the workers comp system has a state-imposed schedule of rates doctors and hospitals get paid for treating injured workers.
"The reality is, yeah, insurance companies make money — they make money on work comp, for the most part," Kuhnmuench said.
But the largely unregulated nature of Michigan's "file and use" auto insurance system in which the state's insurance commissioner lacks the power to reject rate increases has fueled speculation that carriers are getting rich on the backs of motorists.
"In Michigan, the auto insurers have this cartel-like, wonderful business where we're required by law to purchase no-fault (coverage) but Michigan's insurance commissioner doesn't know what the profit margin is of the companies selling it," said Steven Gursten, a personal injury attorney at Michigan Auto Law in Farmington Hills. "I have a feeling that they're not losing money."
Industry data shows the insurance industry as a whole has softened the blow of medical losses in some years by collecting more premium dollars for collision, comprehensive and bodily injury than they experienced in claims. Michigan's auto insurance companies collectively posted annual profits in all three of those categories in the 14 years of publicly available reports analyzed for this report.
In 2010, for example, the industry reported an overall loss of $317 million on personal injury protection — at a cost of $61,000 per claim — while posting an overall $384 million profit. Before taxes and overhead, profits from collision coverage alone topped $454 million that year, auto insurance data show.
"Clearly, Michigan is a difficult place to do business for auto insurers," Lynch said. "If they were making tons of money, they wouldn't be trying to get the laws changed."
Editor's Note: This story has been corrected to reflect the fact that The National Association of Insurance Commissioners' annual data on Michigan's auto insurance industry includes the per-vehicle annual fee assessed for the Michigan Catastrophic Claims Association for personal injury protection costs exceeding $550,000. The fee is counted as an earned premium by insurers. And medical claims that exceed $550,000 are counted as incurred losses by insurers.
Only donate if we've informed you about important Michigan issues
See what new members are saying about why they donated to Bridge Michigan:
"In order for this information to be accurate and unbiased it must be underwritten by its readers, not by special interests." - Larry S.
"Not many other media sources report on the topics Bridge does." - Susan B.
"Your journalism is outstanding and rare these days." - Mark S.
If you want to ensure the future of nonpartisan, nonprofit Michigan journalism, please become a member today. You, too, will be asked why you donated and maybe we'll feature your quote next time!