Jobless benefits, COVID stimulus likely focus of Michigan lame-duck session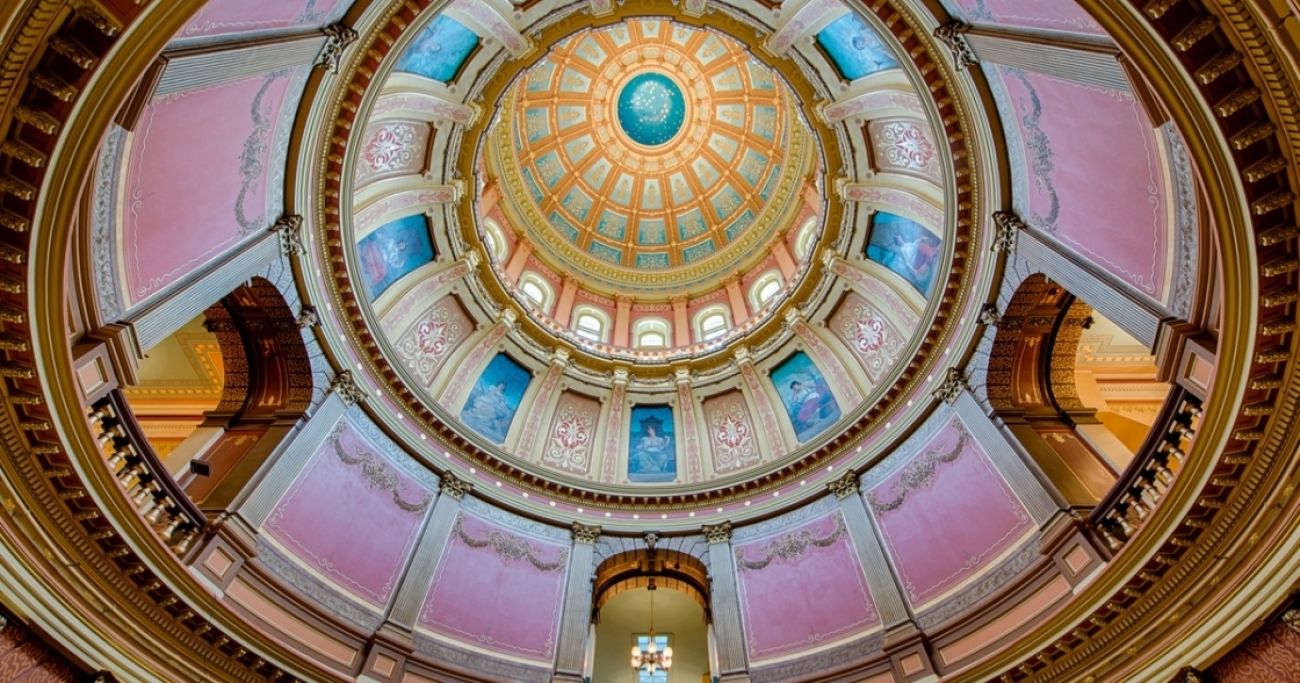 Health care reforms approved by the House received bipartisan support, but were opposed by insurance companies and business groups who said it could have unintended consequences on patients. (Bridge file photo)
Michigan Government
Jobless benefits, COVID stimulus likely focus of Michigan lame-duck session
LANSING — With federal assistance funding running dry, Democratic Gov. Gretchen Whitmer and Republican leaders in the Michigan Legislature are set to begin negotiations Tuesday on a potential state stimulus for residents and businesses struggling through the COVID-19 pandemic.
The governor is proposing a $100 million spending plan, and both sides are hoping for agreement in the next three weeks during the so-called lame duck session, the post-election period that is the last chance to pass bills introduced in 2019 or 2020. The House and Senate are poised to meet for the final time of the two-year term on Dec. 17.
Whitmer hasn't announced many details of her stimulus proposal but last week urged GOP leaders to partner with her to provide "direct financial support to the families and small businesses that have been hit hard by the pandemic."
Republicans say they were already preparing their own relief package, which they expect to unveil soon. House Speaker Lee Chatfield of Levering and Senate Majority Leader Mike Shirkey are set to meet with Whitmer and Democratic leaders on Tuesday.
"We look forward to hearing their ideas on how best to work together," Whitmer spokesperson Tiffany Brown told Bridge.
Whitmer outlined her $100 million stimulus proposal just two weeks after she said Michigan was "strapped" for cash and could not do much to assist workers who may lose their jobs during a three-week state order closing restaurant dining rooms, casinos, movie theaters and bowling alleys through Dec. 8.
Shirkey is "glad to see the governor reverse her position that there is nothing she can do for the workers and businesses impacted by her shut down orders," said spokesperson Amber McCann. But "he is not able to endorse the governor's plan without having access to the details, specifically a funding source."
The Senate GOP leader is predicting a "lame" lame-duck session that should be relatively drama-free. Unlike two years ago, when the GOP-led Legislature rushed through a series of controversial bills while they still had a Republican governor to sign them, the threat of a veto from Whitmer should deter hyper-partisan hijinks.
Still, there could be several big debates, including:
While the state is still bracing for potential tax revenue losses from COVID-19, budget office spokesperson Kurt Weiss told Bridge that collections are higher than projected so far this fiscal year, leaving the state with enough extra money to fund the governor's $100 million stimulus plan.
Senate Appropriations Chair Jim Stamas, R-Midland, told Bridge he thinks the state could afford that kind of a COVID-19 relief package.
While Whitmer and leadership need to negotiate details, Senate Republicans are open to additional relief spending, he said.
"Quite honestly, I'm glad the governor is in agreement with us," Stamas said, "It's about setting priorities, and I certainly think that helping our citizens and our businesses in these times is certainly one of our caucus priorities, so I think that we're able to do something like that."
Waiting for feds
Whitmer and GOP legislative leaders have both petitioned President Donald Trump and Congress to finalize additional federal stimulus funding, but those talks have stalled repeatedly in recent months.
"Michigan families are hurting, and while we must continue to advocate for meaningful support from the federal government, we simply cannot afford to wait," the governor said in a recent letter proposing $100 million in state stimulus spending.
Michigan has already spent nearly all of the $3.1 billion in federal funding it received from the Coronavirus Aid, Relief, and Economic Security (CARES) Act, signed by Trump in late March after bipartisan approval.
The state used the funding to shore up budget holes caused by the pandemic, provide hazard pay to health care workers, cover public health and emergency response costs, expand child-care assistance and give extra funding to schools and local governments.
But the federal government is "refusing to act" on another stimulus even as the pandemic worsens, said Rep. Donna Lasinski, D-Scio Township, who is slated to become House minority leader in 2021.
The potential state relief package "needs to be targeted, it needs to be strategic, it needs to be focused on our small businesses and it needs to be focused on our working families who are struggling right now," Lasinski said.
Earlier this month, when Trump beckoned them to the White House to discuss an election he continues to claim without evidence was "rigged," Shirkey and Chatfield said they hand-delivered a letter to the president requesting additional federal relief for COVID-19.
"We do support federal assistance in the form of aid to healthcare systems and personnel to ensure adequate personal protection equipment, appropriate staffing levels and hazard pay for those individuals on the front lines of the battle against COVID-19," they wrote.
Shirkey and Chatfield also urged continued unemployment benefit enhancements and said they support "providing additional dollars to families in need, especially as we head into the holiday season."
Even as they push additional state spending, GOP leaders and the Whitmer administration both remain cognizant of a potential state budget crunch. Experts say the initial surge in federal stimulus spending helped prop up Michigan's economy and at least delay projected revenue losses that still loom.
"The state is going to face some extremely difficult challenges," said Stamas, the state Senate Appropriations chair. "Even if money from the federal government comes, it depends on what restrictions and how they apply it."
Stamas said he also supports the Whitmer administration plan to borrow $600 million to pay for the state's share of the Flint water crisis settlement. In fact, he plans to sponsor one of the enabling bills himself.
Under a plan outlined in court, a newly created Special Purpose FWC Settlement Entity will obtain a $600 million loan from the Michigan Strategic Fund, which the state will pay back over the course of 30 years. With interest, the settlement may ultimately cost Michigan more than $1 billion, according to court documents.
Republican lawmakers have generally discouraged borrowing and chafed in January when Whitmer announced plans to fund $3.5 billion in highway and bridge repairs through bonding. But the Flint water crisis is another matter, Stamas said.
"It's the right way to go on this issue," he said. "On roads it was more the amount that was being borrowed and very little input on what roads were being done."
We're not just a news organization, we're also your neighbors
We've been there for you with daily Michigan COVID-19 news; reporting on the emergence of the virus, daily numbers with our tracker and dashboard, exploding unemployment, and we finally were able to report on mass vaccine distribution. We report because the news impacts all of us. Will you please donate and help us reach our goal of 15,000 members in 2021?