Michigan AG Dana Nessel keeps Chatfield, Whitmer kidnapping records secret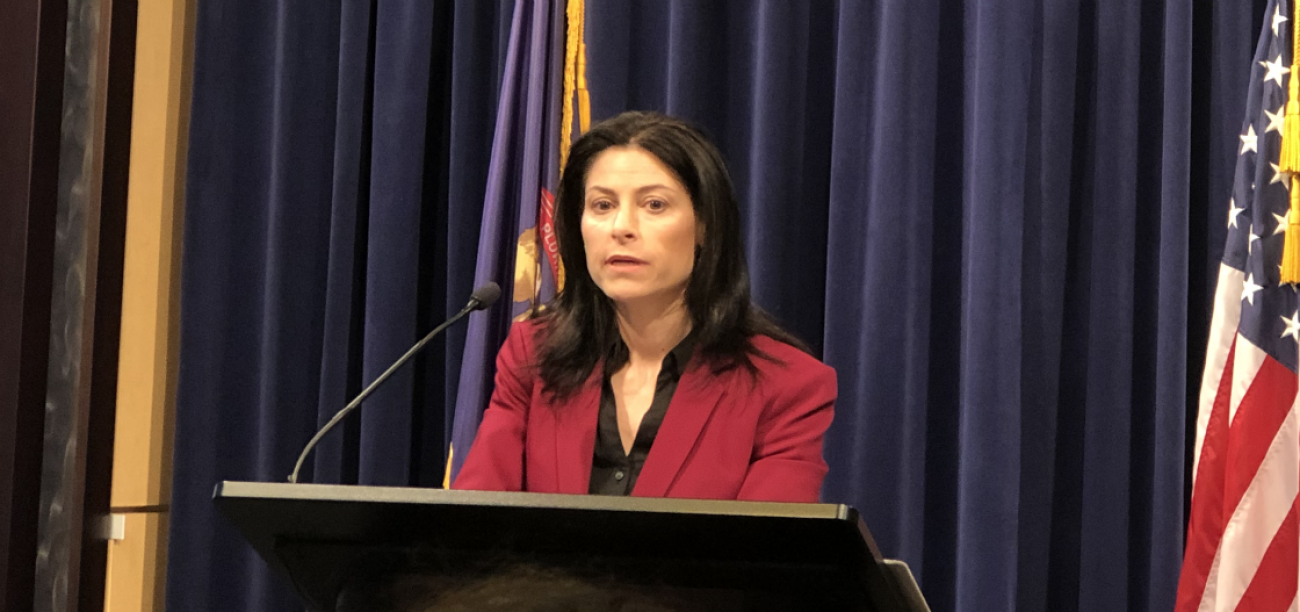 Michigan Attorney General Dana Nessel defends her office's push for secrecy orders during pending criminal investigations, saying they are critical to protecting the integrity of the probes. (Bridge file)
Attorney General Dana Nessel obtained secrecy orders for records on government raids in high-profile criminal cases
State law requires authorities to return to court every 55 days to keep warrant affidavits secret, but it's often ignored
Nessel, who has portrayed herself as a champion of transparency, contends secrecy is needed to protect integrity of probes
---
Michigan Attorney General Dana Nessel, the state's top law enforcement officer, continues to fight the release of key search warrant documents in criminal investigations; records generally made public within months under state law.
Lawyers from Nessel's office repeatedly sought secrecy orders in high-profile criminal cases involving Lee Chatfield, former leader of the Michigan House, and in the prosecution of suspected domestic terrorists in a kidnapping plot against Gov. Gretchen Whitmer.
In both cases, Nessel refused to release search warrant records relating to raids of homes and offices, which typically offer clues about the underlying impetus for the investigation. In at least one instance, her office got a court order to keep documents secret even after they were introduced as evidence in open court.
Related:
This, despite a state law that requires law enforcement to release search warrant affidavits after 55 days unless officials can convince a judge there's a legitimate reason to delay their release. Thereafter, authorities are required to return every 55 days to justify continuing to shield the records from public scrutiny.
The time limits are meant to ensure judges and prosecutors do not abuse their authority on government searches, according to a House analysis of the law at the time it passed.
It's not clear how often Nessel's office employs the secrecy tactic. In a review of court transcripts of two suppression hearings, obtained by Bridge Michigan and the Detroit Free Press, judges approved the requests from lawyers with the Attorney General's office. No attorney for anyone opposing the request was present at the hearings to argue in favor of transparency. As a result, search warrant records, and orders ensuring their secrecy, don't show up in publicly accessible court files.
Staffers for Nessel, who portrays herself as a champion of transparency, say they don't know how often the office seeks to keep warrant affidavits secret. They say the AG's electronic filing system does not allow for searches specific to suppression orders.
The Free Press and Bridge filed a Freedom of Information Act request with her office seeking copies of every suppression order sought for search warrants and affidavits since Jan. 1, 2021.
The AG granted the request but said it would cost roughly $20,000 to track down the documents. The news organizations balked, deciding the charge was inflated and contrary to the spirit of the state's public records law.
Grayson Clary, staff attorney with the Washington, D.C.-based Reporters Committee for Freedom of the Press, an industry group that promotes transparency in government records, called the Attorney General's stance disappointing. He said the public deserves to know why elected officials are being investigated and whether the court system is operating within the bounds of the law.
He gave an example.
"When you've had your congressman's home raided by the FBI, you're entitled to know why they did it so you can evaluate allegations of possible misconduct by your elected officials," Clary said.
Likewise, "the public is entitled to know when courts are offering serious scrutiny or acting as a rubber stamp" for search warrant requests. "That's the bedrock logic of transparency."
Protecting integrity of criminal probes
Nessel has defended the practice, saying the suppressed records protect the integrity of ongoing criminal investigations.
"It's disingenuous to create the impression that maintaining these documents under seal until the investigation is completed is nefarious in nature. To the contrary, it's in keeping with the professional practices of any law enforcement agency," Nessel said in December on Twitter, in relation to efforts by the Free Press and Bridge to obtain search warrant information.
AG spokesperson Kimberly Bush said decisions on when to seek suppression of search warrant records are made on a case-by-case basis, but she would not say whether Nessel's office has an official policy on the matter.
In any event, Bush said, the AG will not release search warrant records before "completion of the legal process," which means, she acknowledged, that some records may not be released for years.
"Disclosing to the suspect, and the public, the actions of law enforcement while an investigation remains on-going jeopardizes every part of the effort," Bush wrote in an email.
"It impacts the cooperation of witnesses, leads to the destruction of evidence, and makes it much more difficult to hold guilty parties accountable or to exonerate those who have been falsely accused," Bush said.
"Whether a case takes 5 days, 55 days, or 5 years to present charges, the trial court process is open to the public and to the media, as is the presentation of evidence throughout the proceedings."
A legal thicket
The vast majority of court documents are generally considered public, but it's typically hard to extract records that are not. State and federal courts are not subject to the Freedom of Information Act, making it more difficult to obtain suppressed records that can shine a light on judicial proceedings.
Nessel's office recently denied multiple Freedom of Information Act requests for records relating to the Whitmer kidnapping plot even after criminal charges were filed. In fact, the information had already been presented in open court in Antrim County, raising questions about Nessel's commitment to open government.
The Detroit Free Press and Bridge Michigan are collaborating on this report, published to correspond with National Sunshine Week. It's a time each year where journalists around the country shine a light on issues surrounding government transparency.
The news organizations spoke with a half dozen prominent criminal defense attorneys in Michigan who said the AG's refusal to release warrants didn't raise alarm bells for them. Indeed, some said they supported keeping search warrant details private because their clients, too, did not want that information released.
A current and former Michigan county prosecutor, both Democrats, said they could not recall their offices seeking to suppress search warrants. But that doesn't mean the process is unnecessary, one said.
Carol Siemon, the former Ingham County Prosecutor, said "prosecutors have an ethical obligation to preserve the integrity of an investigation and not release information that might prejudice the defendant, for example. That definitely could extend to requesting that a court not permit release of a search warrant affidavit or results of execution of a search warrant."
Striking a balance with public interest
Eric VanDussen, a Benzie County-based freelance journalist and videographer, has fought to allow the public to see more documents connected to the Whitmer kidnapping plot criminal cases.
He is working on a documentary film about extremism in Michigan, an issue Nessel has repeatedly said is a key problem facing the state.
The cases stem from a 2020 effort by members of Wolverine Watchmen, a Michigan militia group, to kidnap and hang Whitmer, a scheme sparked by the governor's lockdown policies impacting schools and businesses during the first year of the pandemic. Two ringleaders were convicted of conspiracy in federal court in August 2022.
Three other men were convicted in Jackson County District Court last year in connection with the plot, and five others are awaiting trial in Antrim County.
In Jackson and Antrim counties, the Attorney General's office has requested that various records, including search warrant affidavits and documents entered in court, remain under seal.
In Jackson, the AG's office obtained a suppression order for search warrants and search warrant affidavits in October 2020, when charges were filed in the attempted kidnapping case. More than two years later, neither the district court that issued the order nor Nessel's office will release the search records, despite the state law requiring courts to approve an extension of suppression orders on warrant affidavits every 55 days.
Indeed, the 2020 suppression order has no expiration date. Then-Magistrate Fred Bishop wrote in his order that the documents shall remain secret "until further order of the court."
That open-ended approach runs counter to the intent of the 2002 amendment to Michigan's Public Act 189, which set the 55-day limit to strike a balance between "protecting victims and witnesses and allowing public disclosure."
According to the House's nonpartisan analysis, the law provides the target of the search, news organizations and civil rights groups prompt access to warrant affidavits to ensure government "searches are not used as scare tactics or harassment."
"Even though a search warrant requires judicial review and approval," the analysis said, "public accessibility to affidavits provides another level of protection from potential judicial or law enforcement abuses."
In open court, but still secret
Other records relating to the kidnapping plot are also being shielded in Antrim County, where the Attorney General's office requested the suppression of documents that had already been used in a public court hearing.
The state produced approximately 100 exhibits during a preliminary exam last summer for five men accused in the Whitmer case. According to the Traverse City Record-Eagle, those exhibits included video clips recorded by an undercover officer and a dash camera as some defendants surveilled the governor's vacation home near Elk Rapids; transcripts of phone calls between some defendants and undercover officers, and screenshots of texts and private social media messages.
Both the Record-Eagle and VanDussen filed Freedom of Information Act requests for the documents with the Attorney General's office. Those requests were denied: the AG claimed the documents constituted attorney-work product that was exempt from FOIA.
The Record-Eagle chastised the attorney general's office in a recent editorial, calling its actions "a deliberate attempt to prevent disclosure of evidence that, by right, the public should be allowed to see."
"Yet the way this case is being handled by the state seems as if these prosecutors don't understand some fundamental rules of legal procedure," the Record-Eagle continued. "Maybe it would help for us to explain something to them: First and foremost, the courts belong to the people."
Representatives from Nessel's office did not address questions from the Free Press and Bridge about its withholding of trial records.
The battle frustrates VanDussen, who made the requests for a documentary project.
"I never came across a situation where the government, in this instance the AG office, has attempted so hard to thwart any attempt at obtaining records they've disclosed in open court proceedings," VanDussen said.
The AG's office also fought to keep records sealed in its ongoing probe of former House Speaker Lee Chatfield, who is accused of sexually assaulting his sister-in-law, including when she was a teenage student of his at a family run Christian school in northern Michigan.
Chatfield is also under investigation for potential embezzlement, bribery and campaign finance violations relating to his time in elected office, according to affidavits obtained by The Detroit News.
The News obtained the records from an Ingham County clerk. Nessel's office and a judge later argued the records were still under a suppression order at the time and the release was a mistake.
In 2022, Michigan State Police conducted a search of Chatfield's home, as well as the home of Chatfield's brother, the home of two former staffers, and the Northern Michigan Christian Academy, the school where Chatfield taught before being elected to the legislature. No charges have been brought so far, and the Levering Republican has denied criminal misconduct.
Bridge and the Free Press went to court last fall to gain access to documents, including the search warrant affidavits already released to the News. That motion was opposed by Nessel.
On Nov. 8, Ingham 54-A District Court Judge Stacia Buchanan ordered the Chatfield documents released, citing the 2002 statute. But before they could be turned over, a lawyer from Nessel's office appealed the ruling to circuit court.
In December, Ingham Circuit Judge Wanda Stokes — who previously worked in the state Attorney General's office — sided with the Attorney General and reversed Buchanan's order.
At a virtual hearing, Stokes said she appreciated the news organizations' position "with respect to making sure that they are properly able to inform the public and also the important work our press does for all of our citizens. This court certainly is not interested in trying to create an environment where information is being withheld from the public. That would certainly be a miscarriage of justice."
But Stokes ruled that Bridge and the Free Press did not have legal standing to request the documents.
"We're disappointed that neither the court nor the attorney general recognized that the Legislature intended this information to be available to the public, except in limited circumstances," Robin Luce-Herrmann, a lawyer representing the Free Press and Bridge, said afterward.
Nessel praised the ruling, saying "Judge Stokes appropriately recognizes the importance of maintaining confidentiality during the pendency of on-going investigations."
Nessel's stated commitment to transparency
Since Nessel took office in 2019, she has called for greater transparency and accountability from other institutions and governmental units, including police, utility lobbyists, the Ottawa County Board of Commissioners, Michigan State University and Oxford Community Schools.
In 2019, Nessel spoke to a gathering of the Michigan Press Association about transparency, particularly the Freedom of Information Act, saying journalists were "absolutely committed to finding out what's going on behind closed doors, they need to make certain that officials like myself are compliant because that's the only way the public can have any confidence in the work that we're doing."
Bush, the AG spokesperson, said the office isn't hiding information and said it would be made public eventually.
"Generally, all of the information collected is open and subject to FOIA at the completion of the legal process, which includes information collected but not presented in court — or even evidence gathered in investigations that resulted in no charges," Bush said.
"Therefore, the suppression of evidence should not be interpreted as the withholding of information from the public or interfering with the public's right to know; it is simply postponing the release of said information to the public out of consideration for everyone's constitutional right to due process."
But there's no guarantee it will be released. Investigations can remain open but unsolved for years. Police raids do not always lead to charges. And criminal cases can be tied up in appeals.
When to release investigative records
While there's no nationwide data on police and prosecutor efforts to keep records secret, Clary, of the Reporters Committee for Freedom of the Press. said he's seen an uptick in attempts to suppress records.
"The routine historical practice, in state and federal courts, has been to make search warrants available to the public once the search has been conducted," Clary said.
Briefly withholding information until after a raid "squares with common sense — no one wants the criminal to get away by releasing that information. But once you've completed your search, the interest in concealing the search warrant evaporates and there's a public interest in understanding why you rifled through someone's house."
"But compliance is extremely uneven, at the state and federal level. We've seen more and more aggressive secrecy claims in connection with ongoing investigations."
Washtenaw County Prosecutor Eli Savit, who took office in 2020, said he couldn't recall running into issues in which his office chose to suppress search warrants beyond the time allowed by law. He said he asked others from his office who've served longer and they couldn't recall a case where this came up, either.
John Shea, a civil and criminal attorney in Ann Arbor, said he too was unfamiliar with search warrant affidavits being suppressed, though he added that "even if it happens, it doesn't mean there's anything wrong with it."
"The whole point of the statute is to protect the integrity of an ongoing investigation. The last thing law enforcement wants to happen is to have the information become public," he said.
Mike Cox, a Republican who served as Michigan Attorney General from 2003 to 2010, said the practice of suppressing search warrant information isn't necessarily unusual in "sensitive cases."
But he noted the law's requirement that the records become public after a certain amount of time shows lawmakers realized there were transparency issues at stake.
"The Legislature wanted to have courts to be in a position to review, to make sure that prosecutors were complying with the First Amendment, among other things. Or, that they just bring finality to investigations where they can."
Lawmakers anticipated secrecy concerns when they established the 55-day window. A separate analysis by the Senate Fiscal Agency noted the 55-day limit would discourage authorities from repeatedly searching someone's home without ever having to provide a justification to the public.
"A person's home may be searched and, if there is never a criminal charge or forfeiture proceeding based on the search, the person might never know the reason for the search," the analysis said. That "undermines the public's right to oversight of its government's actions and infringes on Fourth Amendment rights regarding search and seizure."
Only donate if we've informed you about important Michigan issues
See what new members are saying about why they donated to Bridge Michigan:
"In order for this information to be accurate and unbiased it must be underwritten by its readers, not by special interests." - Larry S.
"Not many other media sources report on the topics Bridge does." - Susan B.
"Your journalism is outstanding and rare these days." - Mark S.
If you want to ensure the future of nonpartisan, nonprofit Michigan journalism, please become a member today. You, too, will be asked why you donated and maybe we'll feature your quote next time!