Michigan Democrats in no rush to prioritize 'fixing the damn roads'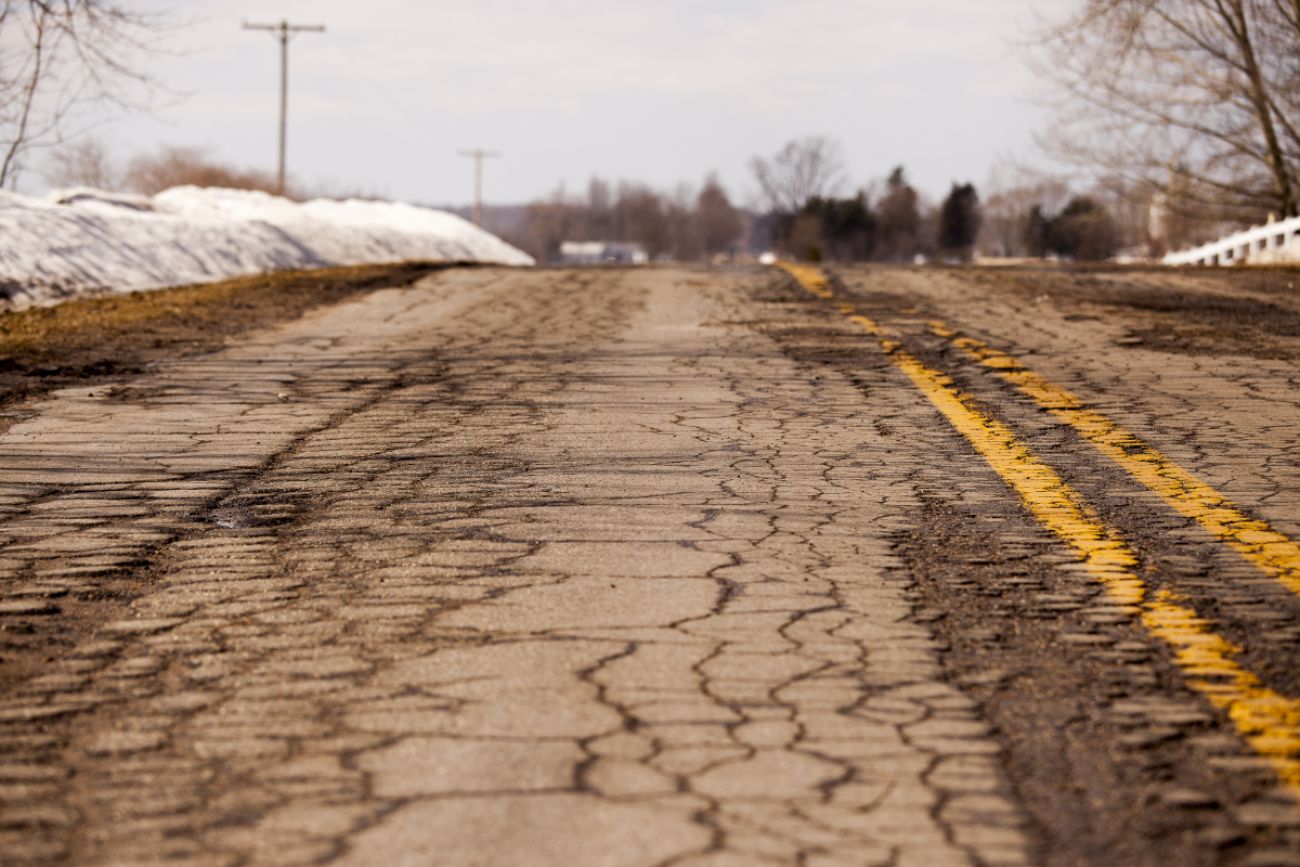 Currently, 33 percent of Michigan state-operated roads and 45 percent of local roads are in poor condition, according to the state's Transportation Asset Management Council. (Shutterstock / Lonny Garris)
Whitmer and fellow Democrats haven't yet taken up fresh ideas for funding the state's crumbling roads
A recent study found Michigan needs up to $3.9 billion more per year to fully fund road repairs
Industry experts say more revenue is needed, but it would be a heavy lift politically
---
Michigan's infrastructure is in bad shape, and recent estimates suggest the state's roads, bridges, water systems and transit are only getting costlier to fix.
But at least for now, the state's Democratic leadership — including the governor who rode into office on a promise to "fix the damn roads" — isn't quite ready to take the oft-traveled, pothole-riddled road toward a long-term funding plan.
Gov. Gretchen Whitmer offered little in the way of new funding ideas for addressing Michigan's infrastructure issues in her state budget proposal.
And Democratic lawmakers, fresh off of three months of tackling a slew of progressive priorities, haven't yet taken up any major policy or spending initiatives that would put a dent into the estimated $3.9 billion-per-year gap between the cost of fixing the state's roadways and how much the state currently spends on road repairs.
Related stories:
"Never say never," Senate Majority Leader Winnie Brinks, D-Grand Rapids, said when asked by Bridge Michigan whether a road funding deal was a realistic possibility this term.
"It's been part of our conversation the entire time that I've been in the Legislature, and they haven't managed to deal with it effectively, so here we are again," Brinks added. "This is not an easy one. But we will give it the attention it needs."
In December, Whitmer told Bridge a fuel tax increase like the 45-cent hike she proposed during her first term — a political nonstarter in the Legislature — is off the table, and instead said she favored a solution that acknowledges the "historic transition" in the auto industry towards electric vehicles.
Whitmer and Democratic lawmakers, who now control the House and Senate, have been open to exploring alternative road funding options, including toll roads and miles-driven fees to capture revenue from electric vehicles not beholden to gas taxes.
Bobby Leddy, Whitmer's spokesperson, said Friday the governor remains "committed to fixing the damn roads and bridges across our state," noting her budget recommendation includes a total of $3.9 billion for roads and bridges.
"During the first term, we've rebuilt or repaired 16,000 lane miles and 1,200 bridges," he said. "We are going to keep moving dirt and getting things done to save drivers time and money."
State gas taxes and registration fees increased slightly under a road funding plan signed by then-Gov. Rick Snyder in 2015, and a 2019 bonding program initiated by Whitmer raised an additional $3.5 billion for state highways. Michigan is also poised to receive $7.3 billion in one-time funding from the federal Infrastructure Investment and Jobs Act.
Industry experts remain optimistic there's still time for Democrats to do something meaningful on infrastructure, especially considering Whitmer's past interest. They insist, though, that the only way to make gains on road repair is coming up with new, ongoing funding.
"We certainly will never give up hope," said Lance Binoniemi, vice president of government affairs for the Michigan Infrastructure and Transportation Association, which represents road and water infrastructure construction companies across the state.
"But make no mistake, it will take political courage to find a long-term, sustainable road funding solution," he continued. "It's as simple as that."
The problem at hand
A March study commissioned by the Michigan Infrastructure and Transportation Association found that Michigan needs up to $3.9 billion more per year to fully fund road repairs, up from the $2.2 billion annual gap projected in a 2016 study of needs commissioned by the Snyder administration.
The new estimate is higher even though it takes into account the additional state and federal funds invested in infrastructure. The report concludes that failing to fix and maintain existing roads before they deteriorate further will continue to significantly increase road funding — potentially up to $11 billion annually.
Michigan's infrastructure is primarily funded by a 27.2 cents-per-gallon tax on gasoline and diesel fuel. The state has the seventh-highest per-gallon tax in the country, in part because the 6 percent sales tax applies to fuel.
Currently, 33 percent of Michigan state-operated roads eligible for federal aid are in poor condition, according to the state's Transportation Asset Management Council. Local roads funded by cities and counties are in worse shape, with 45 percent in poor condition.
"The cost of inaction is not just imagined here — it's real," Brad Williams of the Detroit Regional Chamber of Commerce said at a March 7 press conference on road funding. "If we don't do something soon, you know these costs are only going to go through the roof."
Political complications
Efforts to come up with a better long-term funding mechanism for Michigan's infrastructure have largely fallen flat.
A 2015 ballot initiative to raise new revenue for roads was rejected at the ballot box. The subsequent legislative deal signed by Snyder designed to devote another $1.2 annually to roads through an increase in vehicle registration fees and fuel taxes didn't fully kick in until 2021 and also pulled from the state's general fund.
Getting that deal through took years of negotiations and was still politically controversial — and subsequent efforts by Whitmer to "fix the damn roads" and reopen discussions about gas tax hikes were rebuffed by a then-Republican-majority Legislature.
Whitmer's suggestion when she took office in 2019 was to raise the gas tax by 45 cents per gallon, an idea that was dismissed as ludicrous by Republicans and even made many Democrats wary.
Addressing the state's road funding needs now would be no less politically difficult. The MITA-commissioned study explored several options that would make up the difference, including:
Raising the gas tax by 39 cents per gallon to 74 cents per gallon
Increasing the sales tax by 2 percent to 3 percent to fix roads, which would require a constitutional amendment
Implementing a tax of 3 cents to 5 cents per mile for every vehicle mile traveled
Michigan Democrats now control the Legislature and the governor's office and so could, in theory, make headway on road funding. But their slim majorities in both chambers, which includes lawmakers in politically competitive districts, means any serious effort would need at least some Republican buy-in, said Adrian Hemond, a Democratic strategist and CEO of the firm Grassroots Midwest.
"A road funding package means raising new revenues — that means raising somebody's taxes," he said. "Nobody in a vulnerable seat wants to vote for that. Nobody in leadership wants people in vulnerable seats to vote for that. There's really not a way to make that happen in a politically responsible way without it being bipartisan."
Alternative options
Whitmer told Bridge Michigan in December she won't pursue another major gas tax hike. In her February budget proposal, Whitmer didn't propose any major infrastructure funding overhauls, instead focusing on past bonding investments and proposing setting aside funds to match federal government infrastructure grants that could become available.
She has expressed some interest in alternative ideas, including a fee on vehicle miles, pointing to states like Oregon that reimburse motorists for fuel taxes if they instead pay a tax based on how many miles they drive.
Industry insiders say it's imperative the state consider such options as electric vehicles — which don't rely on gas, but will still cause wear and tear on Michigan roads — become more prevalent.
A report conducted by Anderson Economic Group for the County Road Association of Michigan found that, because Michigan's main source of road funding comes from fuel taxes, the state missed out on an estimated $50 million from 2019 to 2021 from electric vehicle drivers. That shortfall will only grow as more drivers make the switch to electric vehicles.
The Michigan County Road Association wants lawmakers to authorize a pilot project exploring ways to update the state's road funding model to include electric vehicles, including increasing electric vehicle registration fees or fees based on tracking drivers' mileage, units of electricity used or annual odometer readings upon annual registration.
Michigan officials are also mulling a tolling study that in theory could generate up to $1 billion per year for maintaining roads if 14 of the state's 31 highways are converted into toll roads.
Any tolling program would take years to get off the ground in Michigan, however. The study explored charging 6 cents per highway mile for cars and more for trucks. It offered a timeline to launch the tolling program by 2028, beginning with parts of I-94, then continuing over five years on all or parts of I-69, I-75, I-196, I-275, I-696, and M-14.
Tolling revenue could free up much-needed cash, but Michigan would be going where no state has gone before if officials seriously pursued the statewide tolling system as laid out in the study.
States have historically been prohibited from implementing tolls on highways that were built using federal money, though a series of new federal laws and pilot programs have relaxed the rules. Several states studied whether to leverage federal programs to put tolls on existing roads, but none thus far have enacted a statewide tolling system.
House Transportation Committee Chair Nate Shannon, D-Sterling Heights, told Bridge the idea is interesting, but said, "I just don't know if it's going to go anywhere" given that tolls add significant daily costs for Michigan drivers, who would bear the brunt of any tolling changes.
But lawmakers have to do something, Shannon said, noting there's still plenty of time to do it this term.
"We can't keep ignoring it," he said. "I will work hard to try to make something happen…I understand that it's an issue, and we need to address it."
'Not something we'll ignore'
Shannon also has another idea: Revisiting the decades-old mechanism in which road funds are distributed between state and local governments. Revenue from fuel taxes and vehicle fees goes into the MIchigan Transportation Fund, which splits funding as follows: 39 percent to the state highway department, 39 percent to county road commissions and 22 percent to local municipalities.
Officials in urban areas have long been frustrated by the system, which they say short-changes populous communities with heavily traveled roads. A 2018 report from the Citizens Research Council found it's "nearly impossible" to address the funding needs of heavily traveled roads under the current structure without sending more money to areas with roads in decent shape.
"I just want to take a hard look and see where we can find some compromise, because it's just really unfair," Shannon said. "Here in Macomb County, we continue to be a donor county to out-state roads when we have serious issues here."
Lawmakers in rural areas have resisted changes, fearing less-traveled roads would get less money.
Regardless of how funding is divided, the current level of road money isn't enough to make a difference, said Bienonemi of the Michigan Infrastructure and Transportation Association.
"We need to start worrying about growing the pie, rather than dividing it up differently," Binoniemi said. "The pie is not big enough."
Though infrastructure funding hasn't been at the top of initial priorities for Democrats, Brinks, the Senate Majority Leader, said it's "not something we'll ignore" given its importance to Michigan residents and the overall economy.
"It's been part of our conversation the entire time that I've been in the Legislature, and they haven't managed to deal with it effectively," Brinks said. "So you know, here we are again…any solution that will work is going to have to have cooperation and buy-in from both parties."
Only donate if we've informed you about important Michigan issues
See what new members are saying about why they donated to Bridge Michigan:
"In order for this information to be accurate and unbiased it must be underwritten by its readers, not by special interests." - Larry S.
"Not many other media sources report on the topics Bridge does." - Susan B.
"Your journalism is outstanding and rare these days." - Mark S.
If you want to ensure the future of nonpartisan, nonprofit Michigan journalism, please become a member today. You, too, will be asked why you donated and maybe we'll feature your quote next time!