Michigan GOP pushes critical race, transgender bills as school funding in limbo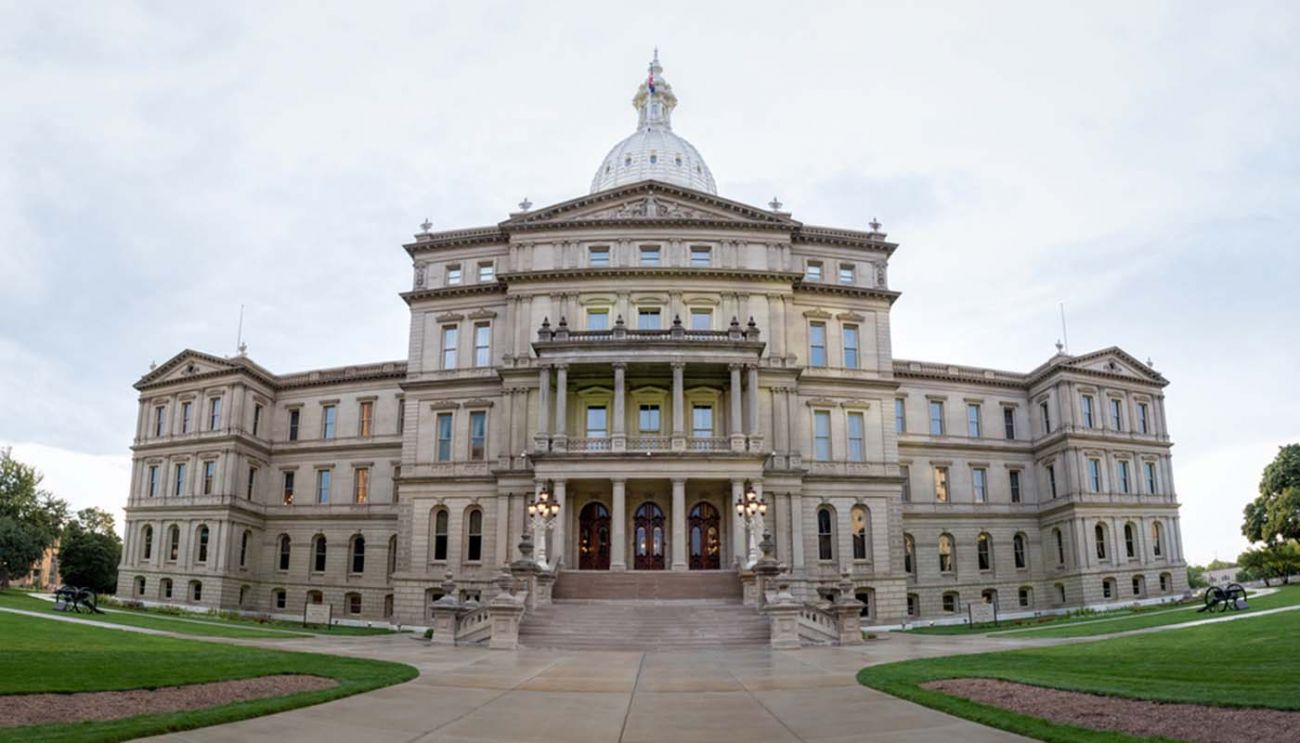 Michigan Republicans want to ban the teaching of critical race theory and require transgender athletes to compete on a team consistent with their biological sex at birth.
Michigan Government
Michigan GOP pushes critical race, transgender bills as school funding in limbo
Nov. 3: Michigan House passes bill Democrats say would whitewash Black history
Sept. 22: Michigan Republicans aim to restrict school discussion of systemic racism
LANSING — An average of two transgender athletes a year ask to play in Michigan high school sports. Educators say critical race theory isn't even taught in high schools. And no government here is trying to require that children get the COVID-19 vaccine.
Yet Republican lawmakers in recent weeks have rushed to bar these rare or non-existent practices, leaning into divisive wedge issues with legislation that may fire up conservative voters but stands little chance of becoming law under Democratic Gov. Gretchen Whitmer.
"A specific example is not a requirement to make a law," Sen. Jim Runestad, R-White Lake, said Tuesday as he hypothesized that tennis superstars Serena and Venus Williams "would never be known" if they had competed against transgender women.
Related:
Runestad is one of 13 Republican Senators backing legislation that would require students who want to participate in high school athletics to do so on a team consistent with their biological sex at birth. They argue the bill would protect female athletes from the prospect of losing records or scholarships if they are beat by a transgender girl born with physical advantages.
While that does not appear to have happened in Michigan, supporters point to Connecticut, where two transgender girls won track competitions and set records, sparking a conservative backlash against inclusive policies there.
Critics contend the legislation — and even the debate — could stigmatize the few transgender students who participate in Michigan athletics each year.
Transgender youth already suffer from higher rates of depression, anxiety and suicide, Dr. Maureen Connolly, a Detroit pediatrician with Henry Ford Health System's school-based health program, told lawmakers recently in the Senate Education Committee.
"This will only add to the marginalization that they may be experiencing at school," she said. "What are we, as adults, doing when we're sending this message to young people?"
Senate Education Committee Chair Lana Theis, R-Brighton, who also sponsored legislation to bar requiring minors to be vaccinated and prohibit schools from teaching "critical race theory," sponsored the transgender athlete legislation. She did not respond to requests for comment from Bridge Michigan about the proposals.
The bills "are a waste of everyone's time," said Bob McCann, executive director of the K-12 Alliance of Michigan, a coalition of education officials.
In May, Michigan missed a deadline to send $3.7 billion in federal COVID-19 relief funds to school districts across the state, a process delayed by the Legislature's refusal to negotiate spending plans with Whitmer until she gave lawmakers a greater say in the state's response to the COVID-19 pandemic.
Whitmer and legislative leaders reached a deal last week to resume spending negotiations, and the Michigan Department of Education has asked the federal government for an extension that would still allow the state to send stimulus money to school districts.
"Can we please focus on what's important right now?" McCann asked.
"There are billions of dollars in federal funding on the table and schools need to know their budgets by July 1."
'A theme around here'
Also in May, Theis introduced legislation that proposes to prohibit MIchigan schools from teaching "critical race theory" or that America is a "fundamentally racist country. The bill posits that such theories are themselves "racist" and "un-American."
"Critical race theory is an invention of the extremist political left that has manipulated academia for decades and is now targeting private businesses, public institutions and, sadly, our K-12 classrooms," Theis said in a statement announcing the bill.
Some schools have used lessons related to the The 1619 Project by The New York Times, which would also be banned under the bill.
But Michigan education officials say they are not aware of any K-12 school teaching "critical race theory," an academic movement that examines laws through the lens of historical racism, most typically at the collegiate and post-graduate level.
"It seems to be a theme around here: finding solutions to problems that don't exist, as well as trying to deny history," Sen. Erika Geiss, a Taylor Democrat who sits on the Education Committee, told Bridge Michigan.
She contends the bill appears to bar any instruction regarding racism or attempts to combat it, including the civil rights movement, Geiss argued. Specifically, the legislation prohibits lesson plans discussing any theory that one race is inherently superior or inferior and that any individual, by virtue of their race, is "inherently racist or oppressive, whether consciously or unconsciously."
"They have been scared by this boogeyman that's been created by conservative think tanks," Geiss said of her GOP colleagues. "They're just going to plop that language into some legislation and think they're not going to get pushback? They're out of their minds."
The 1619 Project, which won the Pulitzer Prize, challenges readers to reframe U.S. history as beginning when the first enslaved Africans arrived in Virginia.
The Pulitzer Center offers middle and high school lesson plans to explore "the legacy of slavery in mass incarceration" through guided reading of a New York Times essay positing the U.S. historically "fostered a view of black people as presumptively criminal."
Whitmer has not yet weighed in on the bills, and her office declined comment on this story.
Michigan joins national GOP push
School curricula have emerged as a flashpoint for conservative activists in recent years. In 2018, then-state Sen. Patrick Colbeck, R-Canton, pushed Michigan to remove references to gay rights, Roe v. Wade and climate change from statewide social studies standards.
Many states already embed racial justice or ethnic studies into their school curriculum, according to the National Conference of State Legislatures. Others have moved to do so recently amid the national reckoning over institutional racism prompted by last year's police officer murder of George Floyd, an unarmed black man.
But in a national movement fueled by former President Donald Trump, Republicans across the country have fought back with legislation seeking to ban instruction related to critical race theory or The 1619 Project, which the Heritage Foundation conservative think tank has criticized as forms of liberal "intolerance."
Idaho has enacted a law barring educators from teaching that any individuals "are inherently responsible for actions committed in the past by other members of the same sex, race, ethnicity, religion, color, or national origin." As of last week, Republican lawmakers in more than a dozen other states had introduced similar bills, according to a CBS News review.
Idaho was also first to enact a law barring transgender athletes from competing on sports teams consistent with their gender identity. Lawmakers in Mississippi, Tennessee and Arkansas have passed similar laws, and bills have been introduced in at least 28 other states this year.
The Idaho law, which also applied to collegiate athletes, has already been suspended because of an ongoing legal challenge, by transgender athletes. A federal judge in August ruled the law was likely unconstitutional, noting that "being subject to a sex dispute is itself humiliating."
The Trump administration had joined a Connecticut lawsuit seeking to ban transgender athletes from participating in high school sports.
But Democratic President Joe Biden's administration withdrew from the case in February.
'We need to be proactive'
The Michigan proposal would likely impact only a small number of students: The Michigan High School Athletic Association, which has called the bill "unnecessary," has received and approved only 10 transgender athlete eligibility requests in the past five years.
But "it's simply impossible not to recognize the biological differences between male-bodied and female-bodied individuals and the effect these differences have on the thousands of girls competing in high school sports across our state," Theis said in committee.
Legislators have in recent weeks also advanced several COVID-19 bills that seek to proactively ban governments from taking steps none have tried to, including prohibitions on vaccine passports and mandatory vaccinations for school-age children.
"If we've learned anything over the past year and a half, it's that we need to be proactive rather than reactive with respect to statute," Theis said in a floor speech after the Republican-led Senate approved her minor vaccination measure.
The bill "plays on unfounded fears of well-meaning parents and puts reasonable public health measures at risk," said Sen. Winnie Brinks, D-Grand Rapids, who voted against the measure.
"This bill is simply another solution in search of a problem, and it joins a growing list."
We're not just a news organization, we're also your neighbors
We've been there for you with daily Michigan COVID-19 news; reporting on the emergence of the virus, daily numbers with our tracker and dashboard, exploding unemployment, and we finally were able to report on mass vaccine distribution. We report because the news impacts all of us. Will you please support our nonprofit newsroom?