Michigan governing goes virtual during coronavirus, posing host of questions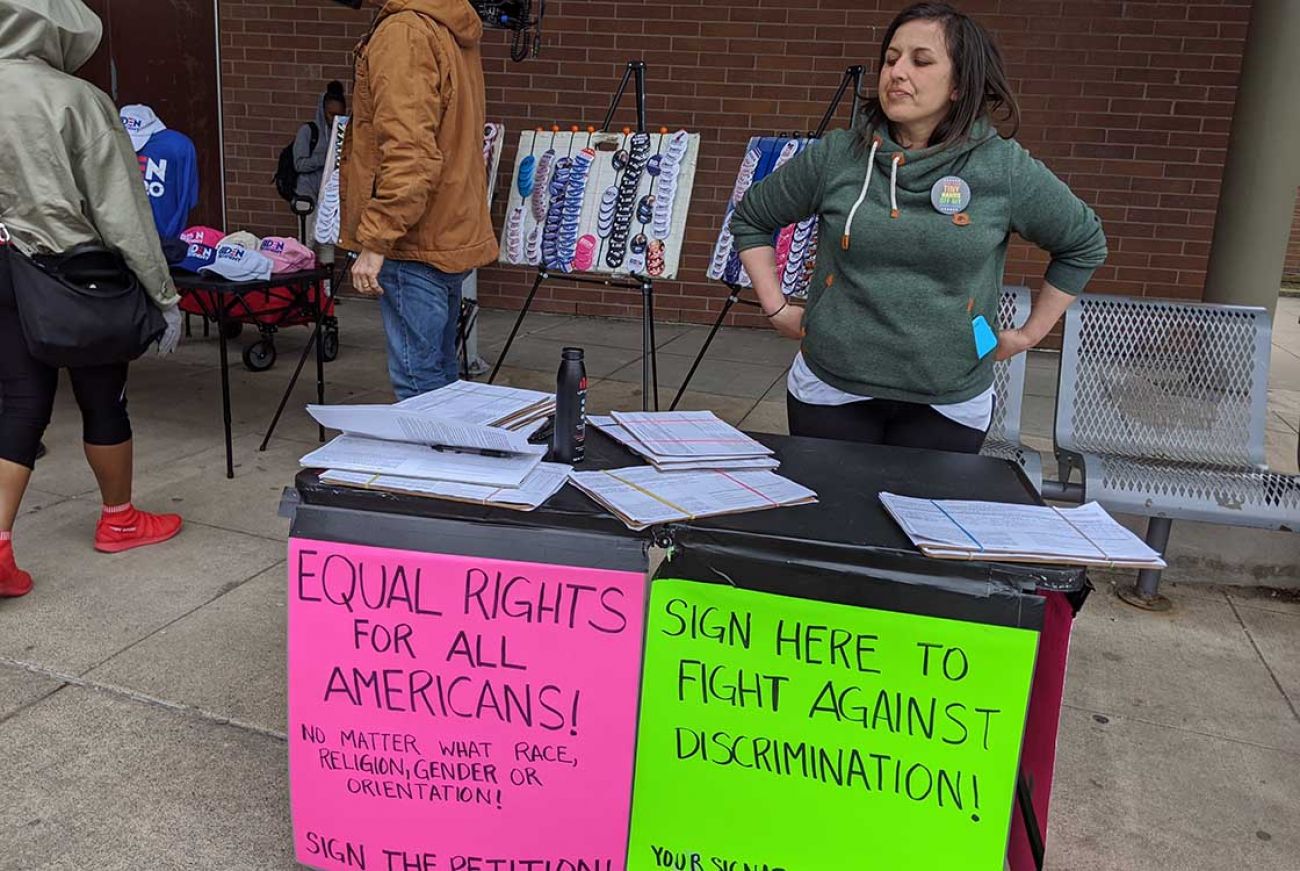 Michigan Government
Michigan governing goes virtual during coronavirus, posing host of questions
LANSING — Earlier this month — but seemingly a lifetime ago — petition circulators swarmed political rallies before Michigan's presidential primary, wading into big crowds to gather signatures for their causes.
That all changed hours after the polls closed on March 10 and Gov. Gretchen Whitmer announced the state's first confirmed case of COVID-19, the novel coronavirus that continues to spread and has upended everyday life, the state economy and government operations.
"Now there's pretty much no events to petition," said Josh Hovey, a spokesman for the Fair and Equal Michigan committee that seeks to put anti-discrimination protections for gay and transgender residents on the November general election ballot.
The group had collected more than 100,000 signatures by March 9. But with more than two-thirds of the required 340,000 signatures still needed by May 27, the petition drive has become "much more of a one-on-one effort," Hovey said.
Now, Fair and Equal Michigan advises volunteers to carry hand sanitizer and wear plastic gloves. And the group on Thursday announced a new strategy to distribute petitions by mail.
"We have to move forward and meet the petition deadline ... so we're forced to keep going the best we can," Hovey said.
It's one of many obstacles about government that has emerged in the week since the pandemic prompted radical changes in Michigan and much of the nation.
In a new age of social distancing, officials have wrestled with how governments should meet to pass laws, how elections should be certified if officials are worried about leaving their homes and whether the public threat will cancel elections planned for May 5.
The global pandemic also presents a major obstacle for Fair Tax Michigan, a new group seeking to put a graduated income tax proposal on the November ballot.
"Democracy shouldn't be compromised because we have this national health crisis," said Eli Isaguirre, campaign manager for Fair Tax Michigan
The committee, which has not yet begun collecting signatures, on Thursday asked legislators to change Michigan law to allow electronic signatures during the coronavirus crisis.
"Democracy shouldn't be compromised because we have this national health crisis," said Eli Isaguirre, campaign manager for Fair Tax Michigan, who sent the request to Michigan Senate Majority Mike Shirkey and House Speaker Lee Chatfield.
The request is a longshot since Republican leadership last year moved to toughen petition drive law. And the tax group was already facing an uphill battle because of a late start.
Organizers need to collect and submit at least 425,059 valid voter signatures by July 6 in order to amend the Michigan Constitution to create a graduated income tax that would cut rates for lower earners but raise taxes on the wealthy.
The campaign is "up and running and ready to execute," but if officials don't do anything to change petition rules, "we're going to have to make some decisions," Isaguirre said.
Virtual governing in the age of coronavirus
The push for electronic petition signatures comes amid a rapid shift in the way state and local governments are functioning.
Whitmer on Wednesday signed an executive order to temporarily suspend strict compliance with the Michigan Open Meetings Act, allowing local government officials to hold public meetings using telephone or video conferencing technology rather than meeting in person.
The order irked state Senate Republicans, who contend electronic meetings are inaccessible for some residents, particularly senior citizens.
"Older Michiganders are most at risk during these times," Shirkey, R-Clarklake, said in a statement. "They are also the least likely to have the technology necessary to access public meetings electronically. In a time of crisis, citizens should have more access to their elected officials, not less."
RELATED:
The Michigan Senate and House met Tuesday despite social distancing recommendations, taking up dozens of bills before approving a $125 million coronavirus response funding plan.The Capitol is closed to tour groups and events through at least May 1.
The Open Meetings Act is designed to promote transparency in government by guaranteeing public access to policy and budget decisions.
But local government groups that celebrated Whitmer's order noted officials had been simply cancelling meetings because public health officials had warned against in-person gatherings.
"It is imperative that local governing bodies continue meeting for the purposes of passing budgets, authorizing emergency spending, and taking other action necessary to conduct essential government business," said Dan Gilmartin, CEO and executive director of the Michigan Municipal League.
Other states, including Texas and Arizona, have allowed government bodies to meet on video conference calls or with similar technology during the crisis.
Whitmer's order requires local governments to have a working system for two-way communication so officials and the public can interact. A city, county or school board must post a memo online explaining why officials are meeting electronically and how the public can participate by telephone, the internet or both.
Those requirements "are incredibly necessary," said Lisa McGraw, public affairs manager for the Michigan Press Association, which lobbies for open access and government transparency.
"While we understand what they're doing, we have concerns," she told Bridge Magazine.
To help keep the public informed, the press association is encouraging local governments to publish meeting information to its Michigan Public Notices website. The Michigan Municipal League is recommending the same.
Election results and voting
The coronavirus could also impact May elections and is posing a challenge for county officials who are trying to certify last week's presidential primary by March 24, as is required by law.
Bridge Magazine has learned that Secretary of State Jocelyn Benson is asking Whitmer to suspend that deadline due to public health concerns from county clerks, who typically gather staffers and canvassers to confirm vote totals before the deadline.
Wayne County Clerk Cathy Garrett this week pleaded with state officials to delay the canvass, noting she sent home her entire team of canvass workers after a doctor ordered one into self-quarantine because a family member had shown COVID-19 symptoms.
"I cannot in good conscience ask canvass workers to come back," Garrett wrote in a Tuesday email to Benson and Elections Director Jonathan Brater.
"It is beyond frustrating people now may have been exposed, while we continue to wait for guidance on how to finish this canvass without endangering people's health, it should have never got to this point."
If Whitmer does not delay the canvass, it's not clear how many counties will be to complete the process by Tuesday's deadline.
Ingham County Clerk Barb Byrum said her local board of canvassers was meeting Thursday to confirm its local canvass. But the process was not easy, she said.
"I can certainly understand how it would be difficult for others," Byrum told Bridge Magazine.
Citing safety concerns, Byrum said she implemented new rules for how her staff worked with Ingham canvassers. When municipal clerks came in to discuss results, they met in a large and open room. Staff used hand sanitizer and did not share pens.
"There were only certain people that were permitted to touch things," Byrum said. "There are only certainly people that were permitted to speak to the canvassers."
Citing a public health emergency and risk of large crowds, Ohio officials on Tuesday shut down that state's presidential primary election just hours before polls were set to open.
Benson said Tuesday she is exploring options for Michigan's May 5 elections.
"I want to ensure Michiganders maintain their democratic right to vote without putting their health or the health of our clerks and election workers at risk," she said. "All options are on the table, including conducting the election by mail."
We're not just a news organization, we're also your neighbors
We've been there for you with daily Michigan COVID-19 news; reporting on the emergence of the virus, daily numbers with our tracker and dashboard, exploding unemployment, and we finally were able to report on mass vaccine distribution. We report because the news impacts all of us. Will you please support our nonprofit newsroom?