Michigan police defend surplus military gear, as debate about force grows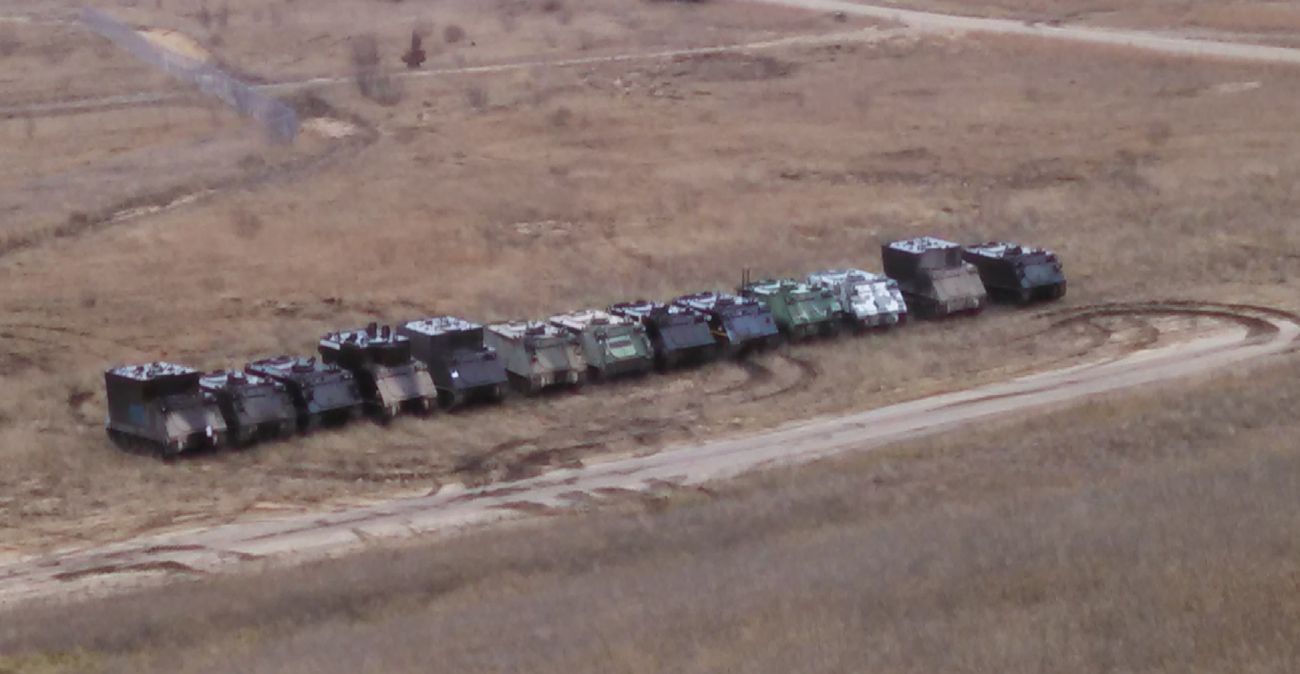 Civil unrest about police brutality nationwide has reinvigorated debate about "demilitarizing" law enforcement agencies, some of whom are equipped with armored trucks and weapons reminiscent of the military.
Protesters who encounter riot gear, military-style weapons and armored vehicles employed at demonstrations say they're further evidence of claims that police are a force for control rather than community service and protection.
Trische' Duckworth, who has organized protests in Washtenaw County and is executive director of the community advocacy group Survivors Speak, told Bridge that arming police with military-grade equipment gives the public the impression officers have a "superiority complex."
"A lot of the reasons that we're seeing what we're seeing [with police brutality] is because police feel that they're superior over an average citizen. That mindset alone is very dangerous in society," Duckworth said. "Couple that with giving them a military weapon — it's just not a good look."
Cataloguing all Michigan police paramilitary equipment is a challenge because it's typically purchased through local budgets or federal grants.
But one federal program, which sends extra or obsolete military equipment to local law enforcement, has sent more than $7 billion in excess military equipment to 8,000 police agencies nationwide. Of those, at least $45.8 million worth of equipment has gone to at least 273 Michigan police departments.
President Obama curtailed the Law Enforcement Support Office program, commonly known as the 1033 program, but President Trump has reversed those restrictions. Now, a bipartisan group of lawmakers in Congress is pushing to change or shut down the program.
The program is the source of riot shields and other equipment in Clayton Township, a community of 7,000 outside of Flint. Township Police Sgt. Troy Belanger said he ordered the gear in 2019 in case the force needs to protect the Flint Islamic Center.
"When things happen internationally there have been threats on that building," Belanger said. "You never know who may come out of the woodwork."
In Michigan, federal records show the program provided:
35 agencies with one mine-resistant vehicle, including police in Battle Creek, West Bloomfield, Troy and sheriff's in Kent, Oakland and Macomb County.

40

unmanned ground vehicles, essentially large robots, worth $2.2 million.

11 armored trucks and 89 utility trucks worth nearly $7 million.

Nearly 3,000 semi- or fully-automatic rifles worth $1.2 million.

Three helicopters worth more than $2 million combined to the Michigan State Police and two helicopters worth nearly $300,000 combined to the Detroit Police Department.
Thousands of rain-proof blankets, hundreds of elastic bandages, and dozens of boots, computers, gloves, office chairs and tables and cots.
Several larger departments, including the Detroit Police Department and Macomb and Kent County Sheriff's offices, could not be reached for interviews.
Officials in none of the departments that spoke with Bridge — including small agencies like Clayton Township and large ones like the Oakland and Wayne County Sheriff's office — said they'd used their equipment during recent protests.
Kenneth Lowande,a political science professor at the University of Michigan who has studied the program, said it is responsible for a small portion of the weapons and equipment used by police that cause some to view them as "militarized."
The federal program likely "contributes to militarization, but it contributes to a lot of other things too. It's sort of like a Goodwill for police departments," he said.
Indeed, among the most-transferred items to Michigan police departments are wet weather poncho liners (essentially a rain-proof blanket), elastic bandage kits, life jackets, cots, tape, flashlights and binoculars. Rifles, pistols, trucks and "non-lethal firing devices" (which usually refers to Tasers) also are also among the most-transferred.
Police who spoke with Bridge said they primarily use the program to save money by picking up necessary supplies for free.
Several departments that have received large amounts of equipment serve smaller communities such as South Haven, Grosse Pointe Farms and Lowell. Some larger departments including Grand Rapids and Lansing have received very little.
A note about the data
The available data on the 1033 program likely represent a portion of the equipment sent to local police departments through the program, said Kenneth Lowande of the University of Michigan. The U.S. Department of Defense began archiving records of transfers in 2014, and most agencies only retain transfer records for up to five years themselves. That means that the records from before 2014 probably indicate only what the agencies had records of at that time. The data also are limited because agencies sometimes destroy or sell equipment they can't use.
Oakland County Sheriff Michael Bouchard said his department uses the mine-resistant vehicle from the program two or three times a year.
The vehicle is used to transfer hostages or officers during active shooter or barricaded gunman situations. He likened the vehicle to "a big safe box" that wouldn't be appropriate to bring to a protest unless there's "a risk to life and property."
In southwest Michigan, the Niles Police Department received a mine-resistant vehicle through the program in 2016. It's only been used once: to help a neighboring county evacuate people from a trailer park where a shooter had barricaded themselves.
The department holds on to it "for the threat of an act of violence" like a mass shooting, said James Millin, police chief of the city of 11,000 residents.
"We proudly and gladly say that we have not had cause to use it that often, but that doesn't make it any less important," Millin said. "So the people that say you can't really justify it… I disagree. If it gives us the ability to save one person's life, then it's well worth the money. Which to the City of Niles is nothing."
Tristan Taylor, a leader of Detroit protests against racism and police brutality, said it is easy for police to justify the equipment's use in emergencies but harder for them to explain how it is used in cities with large populations of people of color.
"We do see [military-style equipment] coming out all too often to maintain peace. Not just against protesters, but in a heavy handed way against people who have minor offenses," Taylor said.
"It's striking to me how much patience police can give to white people even when they're holding hostages than Black and brown people that they just pull over for a random traffic stop."
He said, too often, police resolve conflicts not with "discussions but by saying to Black and brown bodies, and anyone else who dares challenge their authority, 'our guns are bigger.'"
A program under the microscope
The federal 1033 program began in 1997, shortly after two bank robbers in North Hollywood got into a shootout with the Los Angeles Police Department. Officers found themselves out-gunned and had to take cover for nearly 45 minutes while they awaited help from a SWAT team.
It inspired agencies across the country to consider stocking up on higher-caliber weapons so they wouldn't have to wait if caught in a similar situation, Lowande of U-M said.
The program got little attention until the 2014 protests in Ferguson, Missouri, after a white police officer shot and killed 18-year-old Michael Brown.
Videos of police with armored vehicles, combat gear and assault rifles — most of which was not obtained through the 1033 program — sparked backlash against the program. Critics contended it was contributing to militarization that harms police relationships with communities.
Some, including former U.S. Attorney General Jeff Sessions, have cited studies indicating that police having military equipment reduces crime rates, assaults on police officers and complaints against them. Lowande and his student Ayse Eldes argued those studies are based on flawed data and methods and have not been able to be replicated by other researchers.
The Libertarian-leaning Charles Koch Institute has cited statistics suggesting that certain types of military equipment result in reduced crime rates but increased use of force by police against civilians. A 2017 study also indicated the receipt of more military equipment is associated with a higher number of police killings of civilians.
Recent research from Princeton University on SWAT teams indicates that militarized teams are more frequently deployed in communities of color, even after controlling for crime rates, and that creating more SWAT teams and sending them out more often did not significantly affect crime rates or officer safety. The Princeton researcher also found that images of militarized police units in news reports damages public opinion toward law enforcement.
Obama curtailed the 1033 program after the Ferguson protests in 2015, barring and recalling tracked vehicles (armored vehicles that may look like tanks), grenade launchers, bayonets and other equipment.
Larry Goerge, the 1033 program coordinator for Michigan, said state agencies didn't have many of the items Obama banned. But the state once had 13 tracked armored vehicles.
"We took them all up to Camp Grayling, put them on a target range and blew them up," he said.
Trump reversed Obama's order in 2017, but by then, much of that equipment had been permanently destroyed.
Now, Goerge said, those tracked vehicles are hard to get — agencies have to justify why they want the equipment, and none in Michigan would likely qualify. Records indicate that other recalled items have not been sent back to Michigan agencies since Trump reversed the order.
There also hasn't been an uptick in requests for equipment since the protests against racism and police brutality began in late May, Goerge said.
In fact, requests have been down for most of the year due to the coronavirus; departments aren't allowing officers to travel to pick up property, have reduced staff or are focusing on other priorities.
"There isn't anything [police departments are] receiving through us that they wouldn't have the ability to buy on their own" with enough funding, Goerge said. "To say it's the militarization of police departments I feel is unfair. We are assisting departments covering some of their budget shortfalls."
But Lowande said that for activists who are concerned with militarization, this is one of few reform areas with the potential for immediate, top-down change.
"Tomorrow Congress or the president could decide to enact major reforms and take away a lot of this equipment. The effects would be almost immediate," Lowande said. "Nothing else that I've seen that people are talking about as possible reforms have that straightforward an implementation."
Only donate if we've informed you about important Michigan issues
See what new members are saying about why they donated to Bridge Michigan:
"In order for this information to be accurate and unbiased it must be underwritten by its readers, not by special interests." - Larry S.
"Not many other media sources report on the topics Bridge does." - Susan B.
"Your journalism is outstanding and rare these days." - Mark S.
If you want to ensure the future of nonpartisan, nonprofit Michigan journalism, please become a member today. You, too, will be asked why you donated and maybe we'll feature your quote next time!