Michigan restaurants must track customers under new COVID rules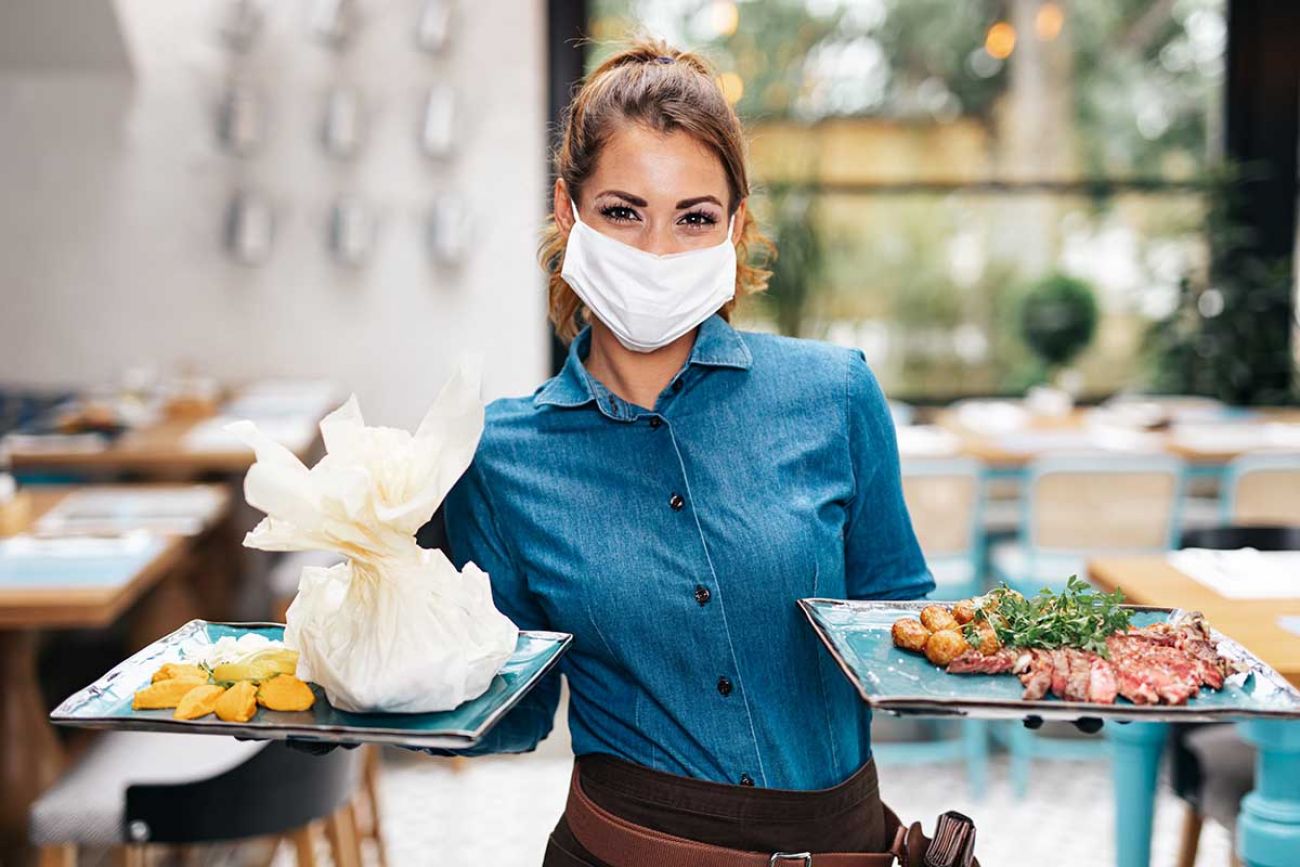 LANSING — With coronavirus cases surging and colder weather beginning to curb outdoor options, the Michigan Department of Health and Human Services on Thursday announced aggressive new rules to try to slow the spread of the virus at indoor social gatherings.
Calling it a "very dangerous time" for the state, director Robert Gordon issued a broad new epidemic order that will limit crowd sizes at indoor events like banquets, weddings and conferences to 50 people, down from 500.
Restaurants and bars will be allowed to seat no more than six people at a table, and they will be required to record the names and phone numbers of patrons for contact tracing purposes should there be a known exposure to the virus.
The health department is also moving the northern Lower Peninsula back into Phase 4 of Gov. Gretchen Whitmer's economic restart plan, which will require all K-12 school children to wear masks and subject the region to the same crowd size limitations as the rest of the state.
Gordon issued his order just over an hour before the state reported 3,675 confirmed coronavirus cases Thursday, a new daily high. The state also reported 41 new deaths and a stunning 8.9 percent positive rate on more than 51,000 tests reported Thursday, an indication of infections spreading more pervasively throughout the community. The statewide positive rate had been below 3 percent in recent months.
The new order represents the most significant tightening of COVID-19 rules since the Michigan Supreme Court on Oct. 2 sided with Michigan's Republican-led Legislature and invalidated an emergency authority law Whitmer had used to issue her own COVID-19 orders.
GOP leaders have demanded a seat at the decision-making table, but the Democratic administration has primarily continued to act on its own, through the state health department. Gordon, a Whitmer appointee, used epidemic authority in the public health code to continue many of Whitmer's orders, including a statewide mask mandate and workplace safety rules. But he had not implemented major new rules – until now.
The move comes amid what Dr. Joneigh Khaldun, the state's chief medical executive, called "incredibly concerning" trends in Michigan. "Cases, hospitalizations and deaths are all increasing, and unless we change our behavior now, that will continue," she said.
Cases and deaths have surged in the state since Oct. 1, with the daily average number of cases nearly tripling from 854 cases a day to almost 2,400. Deaths have risen markedly as well, from nine a day in September to 18 a day in October and with the number of patients with COVID-19 in Michigan hospital beds rising as well, officials fear even more deaths will occur.
The quick rise in cases, deaths and hospitalizations first hit the Upper Peninsula but now is filling emergency rooms and hospital beds across much of the state, particularly in southwest and west Michigan.
Related: 50 men held an Upper Peninsula retreat traced to COVID. No one's talking.
In a media briefing, Gordon told reporters the new order is focused on minimizing the "particular risks" of indoor gatherings at restaurants, bars, weddings and banquet halls where people are "moving around, chatting, dancing, eating and drinking without masks on."
"The more people who are there, the greater the risk that someone has COVID, and the greater the number of people that can be infected," he said.
Violations of the order are considered a misdemeanor crime, punishable by a fine of up to $1,000 or up to six months in jail.
"Our strong preference, and that of our law enforcement partners, is education and voluntary compliance," Gordon said. "Nobody is wanting to punish but penalties are available."
Controlling outbreaks
Michigan is currently reporting 34 ongoing outbreaks related to social events like family gatherings like bridal showers, weddings, funerals, parties and bowling rounds, infecting from three to 22 people. The state has linked another 19 outbreaks to church services, but religious institutions are exempt from the new crowd size rules, as are polling places and other election-related facilities.
The new rules are "well within the epidemic authority of MDHHS," Gordon said. He declined to say if he believes that authority would also allow him to issue the kind of stay-home quarantine order Whitmer issued early in the pandemic.
Case counts are now higher than they were in March and April, but for now, the state is taking "targeted actions" to address areas that "are particularly severe sources of the spread," Gordon said.
"We know so much more than we did in March," he told reporters. "We know about the power of masks, and that enables people to engage in a range of activities that weren't possible then. So I do think we are better positioned by the science and the experience to live more fully in a way that we couldn't in March."
The state's increased case counts are partially attributable to widespread testing. Michigan has averaged over 46,000 tests a day for the past week. Over that same time, about 6 percent of all cases have come back positive, double the state's target of 3 percent, which is considered the level necessary to keep the virus under control.
But when the coronavirus first hit In the spring, even if a person had symptoms, it was hard to get a test. In the first three weeks of April, when Michigan hospitals had as many as 4,000 COVID-19 patients, over 30 percent of 106,000 tests came back positive. That's just 5,000 tests a day, indicating that thousands of other cases were never confirmed at the time.
Gordon's order came two days after Republican legislative leaders requested a meeting with Whitmer, Democratic legislative leaders and medical officials who recently warned that rising hospitalization rates could create "another capacity crisis." That meeting has not yet occured.
"Instead of taking us up on this offer, she has once again chosen to go it alone," Senate Majority Leader Mike Shirkey, R-Clarklake, wrote Thursday on social media.
His office did not have immediate comment on details of the order, but spokesperson Amber McCann said they "will continue to reach out to the Administration to communicate concerns regarding potential confusion caused by DHHS orders."
Shirkey has made clear Senate Republicans oppose a statewide mask mandate but he has encouraged their use. He's also faced criticism from health officials after advocating for "an element of herd immunity" and suggesting Michiganders need to learn "to live" with the virus.
House Republicans earlier this month unveiled a plan that would allow counties to opt out of statewide rules if local virus spread was low.
Restaurants react
The new restaurant contact tracing requirements set to take effect on November 2 drew criticism from the Michigan Restaurant & Lodging Association, whose president and CEO Justin Winslow said the mandate "lacks merit given existing science and data."
With restaurants already stretched thin by the pandemic, Winslow predicted the "well-intended effort is more likely to result in job loss, foreclosure and fewer restaurants than it will prevent transmission."
But Cesar Ochoa, owner of Chapala Mexican Restaurant in Ann Arbor, said he welcomes the requirement to take names and contact information of patrons, which was already required at barber shops, beauty salons, tattoo parlors and other "personal care service" establishments.
The accountability will help restaurants that get caught up in contract tracing to report full and accurate information, Ochoa said. "Going this route gives concrete information that a patron does come into your business."
The Washtenaw County Health Department recently identified his restaurant as one of two in Ann Arbor where at least one person with COVID-19 had recently visited. However, there was little additional information that would have helped him narrow down who else could have been exposed, including staff.
"That's not fair for our employees or the other customers here," Ochoa said. "This [new rule] will clear all of that up."
Staff has been tested, and all of those tests have been negative, he added. But in the meantime, Chapala lost business during a time when restaurants were already struggling.
One remaining concern for Ochoa is the lack of detail on how he and other restaurants should initiate the regulation.
"How easy will it be for a patron to come in and give the wrong information?" he said. "Is there a form? Do we take it as they come in and ask for a table? When they leave? It's so vague."
With the University of Michigan facing Michigan State University in football at noon Saturday in Ann Arbor, the state health department also issued new guidance stressing mask use and other safety precautions at restaurants and social gatherings.
Among the recommendations: "Keep voices down — shouting or cheering can increase COVID-19 in the air by up to 30 times."
"Any time a person is inside with folks outside their family, they should be wearing a mask," Gordon said. "If they take it off they should take it off for the shortest possible time and be aware that while it's off, it's a period of risk."
We're not just a news organization, we're also your neighbors
We've been there for you with daily Michigan COVID-19 news; reporting on the emergence of the virus, daily numbers with our tracker and dashboard, exploding unemployment, and we finally were able to report on mass vaccine distribution. We report because the news impacts all of us. Will you please support our nonprofit newsroom?