Petition drives target Gretchen Whitmer. And she's raising money off them.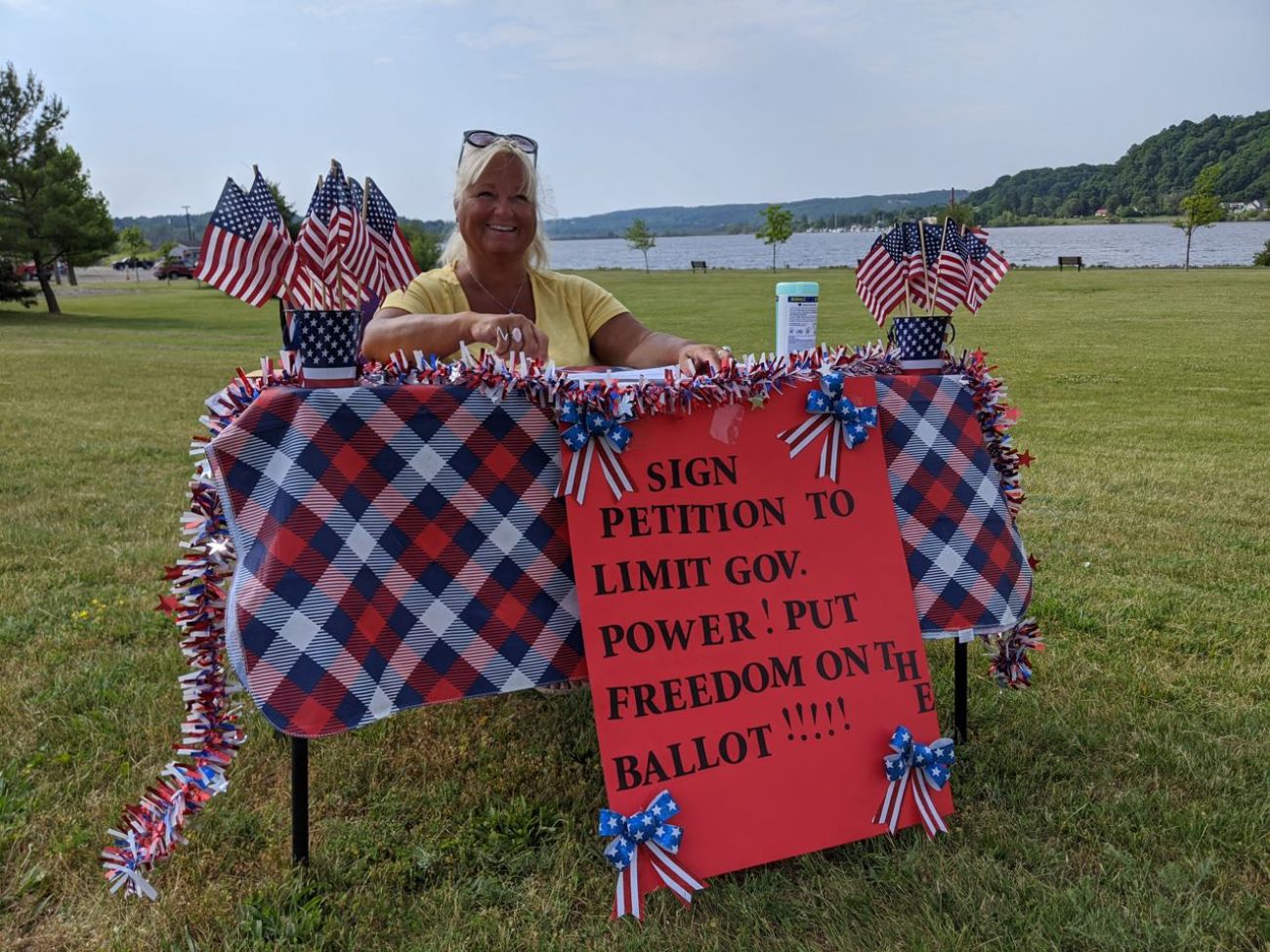 LANSING — Republican activists and organizers attempting to recall Michigan Gov. Gretchen Whitmer or limit her emergency powers are rushing to put petitions before voters this summer and tap into frustration over coronavirus lockdown orders, which she has recently begun to lift.
A GOP state House candidate set to launch a recall petition drive next week faces a daunting task of collecting more than 1 million signatures in 60 days. Experts predict the effort may end up helping the Democratic governor by providing fundraising fodder and temporarily waving donor contribution limits due to an obscure state law.
But a separate petition drive that seeks to "Unlock Michigan" by repealing a 1945 emergency powers law Whitmer has utilized amid the pandemic appears to be far more organized. It's backed by Republican Senate Majority Leader Mike Shirkey and will soon launch with assists from a series of high-profile supporters, including Owosso barber Karl Manke.
A third group, the Restore Freedom ballot committee, has quietly been circulating petitions since late May for a proposal to limit Whitmer's power by amending the Michigan Constitution. But organizers face a tight timeline and could confront legal challenges if they collect at least 425,059 valid signatures by July 7.
Whitmer appears prepared for a fight should any of the petition drives succeed.
"I want to be very clear: Any attempt to strip away the powers of the governor during this crisis is irresponsible, dangerous and foolish," Whitmer said last week as she highlighted a continued decline in COVID-19 cases but urged residents to remain cautious.
The governor this month lifted her stay-at-home order and allowed more businesses to reopen across the state, changes she said were warranted "because of the action we took" early in the global pandemic, which has led to more than 5,800 Michigan deaths since March.
And public opinion polls suggest Whitmer has the public's support in her handling of the pandemic. One recent survey showed 60 percent of voters polled supported the governor's response, while 41 percent approved of the response from President Donald Trump.
An 'extremely high' bar
Whitmer is not up for re-election until 2022 but her campaign has already begun fundraising off the longshot recall effort, with relatively inexpensive Facebook ads and more pricey mailers suggesting "political opponents" are supporting an attempt to drive her out of office.
There's no evidence to suggest establishment Republicans are helping organize or fund the recall effort, which is the brainchild of Chad Baase of Albion, a GOP state House candidate and unemployed water tower painter who served prison time in 2014 after threatening to contaminate a local water supply and kill judges, an act he now attributes to alcohol abuse.
Baase argues Whitmer's coronavirus orders went too far and told Bridge he was personally impacted by her response to the global pandemic, which he said derailed his initial plans to run for Congress instead of state House and made it difficult to access unemployment benefits.
He plans to launch the petition drive July 1 and is hosting a kickoff event at the Michigan Capitol on July 4, when he hopes to collect thousands of signatures.
Baase would need to collect 1,062,647 valid signatures — 1 from every 7 registered voters in the state — in order to trigger a recall election asking voters if they want Whitmer to remain in office.
And he'll have to do it in just 60 days under a 2012 law, signed by then-Gov. Rick Sndyer, that shortened the window from 90 days. Ballot drive petitions get 180 days to collect signatures, and recall campaigns should get the same, Baase said.
"They put the bar extremely high in hopes nobody can actually do it," he lamented, explaining he is nonetheless optimistic.
"We're looking at crowdsourcing on this campaign rather than doing all the petitions and circulating them ourselves," he said. "Having the ability for people to print off their own [petition] and get them to us will make it that much more feasible."
Political experts say it's almost impossible to trigger a recall election against the governor in Michigan, where state law requires signatures from one-fourth of all voters who participated in the most recent gubernatorial election.
And Whitmer may ultimately benefit from the petition drive, they say, because it will provide her with an opportunity to fundraise off the public recall threat, which her campaign is already doing.
"Any digital fundraising team worth their salt will 100 percent attempt to take advantage of a recall effort, even if the recall effort has absolutely no chance in hell of making progress," said John Sellek, a Republican strategist who founded the Harbor Strategic consulting firm after working for Whitmer's 2018 general election opponent, Bill Schuette.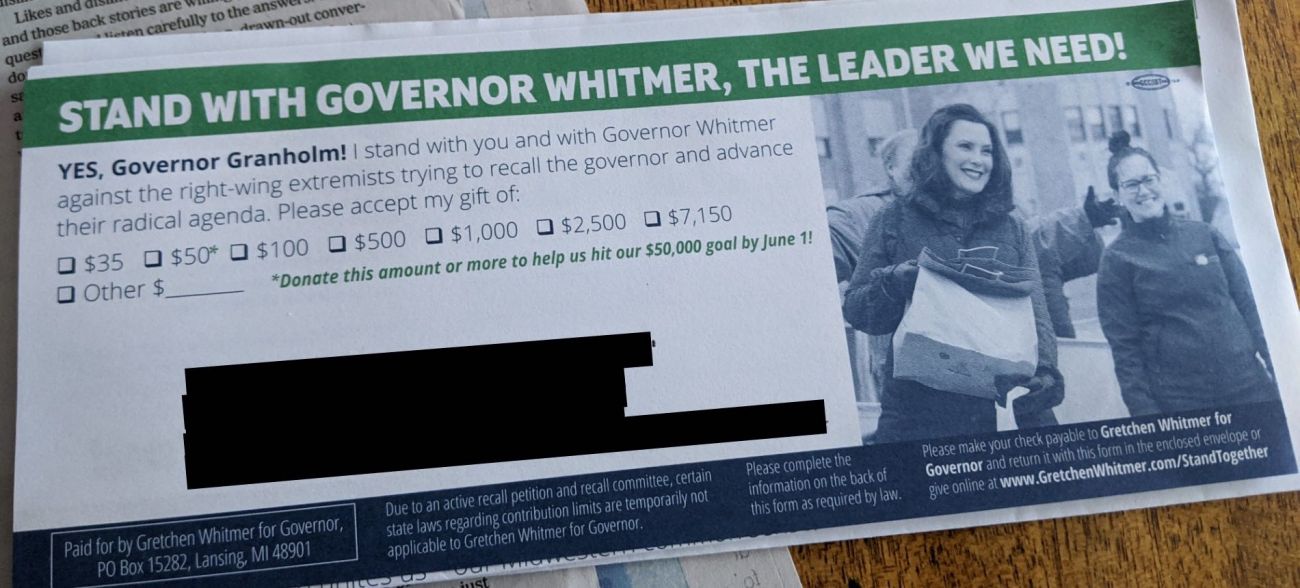 "In the time that it's viable, just by its existence, they will raise money off of it."
When Baase formed his recall committee in April, he triggered a little-known provision in state law that waives traditional contribution limits for Whitmer and allows her to collect unlimited contributions to use as a defense.
Recall committees are not subject to candidate contribution limits, so officials facing recall are not either, then-Michigan Secretary of State Richard Austin ruled in 1984. He pointed out that the Supreme Court has ruled that contribution limits should be applied equally to incumbents and challengers.
Whitmer's campaign highlighted the exception last month in a four-page fundraising pitch mailed to supporters, explaining that "certain state laws regarding contribution limits are temporarily not applicable" because a recall committee had been formed.
"Deep pocketed special interests are trying to use this pandemic to drive us apart — and right-wing extremists are trying to drive Gretchen Whitmer out of office," said the fundraising letter, which was signed by former Gov. Jennifer Granholm.
"They're hoping that a low-turnout recall election will help them overturn the will of the people and undo all the progress Governor Whitmer has already made."
Any funds Whitmer raises specifically to fight the recall must be set aside in an account separate from 2022 re-election funds. And if that money goes unspent, she must return any portion given in excess of the $7,150 contribution limit that would traditionally apply to gubernatorial candidates.
Alternatively, Whitmer's campaign can simply reference the recall in pitches for traditional donations that would be subject to donor limits.
"It's a great fundraising opportunity for the governor — not just in Michigan, but nationally," said Adrian Hemond, a Democratic strategist with the bipartisan Grassroots Midwest firm.
"She's developed a national profile through all the COVID-19 stuff, particularly in light of the current results in Michigan and the downward trend in cases, hospitalizations and deaths. Whether she deserves full credit for that or not, people can debate, but it's an opportunity to go out and raise money because she's under attack."
A repeal effort with better odds
Whitmer faces a more credible threat from Unlock Michigan, a petition committee that seeks to repeal a 1945 law she has used to extend a state of emergency without legislative approval, which would otherwise be needed every 28 days under a 1976 law.
The governor last week extended her state of emergency through July 16, a move that gave her continued authority to issue and enforce executive orders related to the coronavirus pandemic. The Republican-led Legislature has sued to stop her, but courts have so far sided with Whitmer.
The Unlock Michigan petition drive, which has not yet launched, is backed by establishment Republicans including Shirkey, who "believes Michiganders have lived under the rule of executive order for too long," said spokeswoman Amber McCann.
But it's also generating buzz among grassroots activists like Garrett Soldano, a former Western Michigan University football player who founded an anti-quarantine group that had more than 380,000 members before it was shut down by Facebook last month because of inappropriate user posts.
Manke, the Owosso barber who re-opened his shop in defiance of an executive order that Whitmer has since lifted, cut a promotional video for Unlock Michigan explaining how to sign and circulate petitions.
"We have to dot our i's and cross our t's, and when we do, the days of Gretchen Whitmer's rule by decree will end for good," Manke says in the video. "It's our state, not the governor's, and we're taking charge with our pens."
Unlock Michigan has not yet disclosed donors but appears well organized.
Fred Wszolek, a longtime GOP strategist who worked on a super PAC opposing Whitmer in 2018 and is now with the StrategyWorks consulting firm, is serving as a spokesperson for the group, which has also employed the services of Eric Doster, a Republican attorney with a long history of petition drive work in Michigan.
The committee is currently waiting on Michigan Bureau of Elections Director Jonathan Brater to craft a summary that will appear at the top of the petition and hopes to begin circulation soon.
"This should be the easiest decision to make; it's a one-sentence proposal," Wszolek said of the repeal petition. "This isn't about just one governor or one party. This is about whether any governor should ever have the power to rule by decree without end."
Unlock Michigan will need to collect 340,047 valid signatures within 180 days to send its proposal to the Legislature, where organizers anticipate the Republican-led House and Senate would enact the initiative into law this year rather than send it to the 2022 ballot.
That process, allowed under the Michigan Constitution, would bypass a veto from Whitmer, who in May rejected a GOP plan to speed up business re-openings and has promised to veto any bills that attempt to limit her power to respond to the public health crisis.
And while polls may support Whitmer's handling of the pandemic, voters "reserve the right to hold contradictory views," said Sellek, the Republican strategist. He argued some of those same people who approve of Whitmer's overall response may have been frustrated by individual orders and could be persuaded to sign a petition to limit gubernatorial powers moving forward.
And as far as funding, "I think there are a ton of members in the business community who are very frustrated, who are not interested in having a face-to-face conflict with the governor but might be willing to write checks in the background to help fund something like this so they don't have to face it again."
Even with adequate funding to hire paid circulators, pulling off a successful petition drive this summer could be a challenge given the ongoing global pandemic, social distancing guidelines and fears over slowing but continued spread of the virus, Hemond said.
"The chances are not good, but they're better than the recall petition," he predicted.
Political experts say the petition drive could provide Republican organizers with valuable data even if it fails: The names and addresses of voters who are frustrated by Whitmer, who will be up for re-election in 2022.
Restore Freedom
Meanwhile, grassroots activists have quietly been circulating a separate petition since late May that proposes to amend several sections of the Michigan Constitution and "clarify the legal standard required in order for the government to deprive a person of life, liberty or property."
Whitmer has "gone rogue" by issuing 130 executive orders during the pandemic, and the Legislature has failed to stop her, said Katherine Henry, a Hudsonville attorney who is leading the effort.
Henry spoke last month at an anti-Whitmer protest outside the Michigan Capitol, where she discouraged residents from wearing masks despite recommendations from public health experts and the federal Centers for Disease Control and Prevention.
The Restore Freedom proposal would expand public access to government documents and strengthen open meeting requirements for public bodies.
While not spelled out in the petition, organizers say its broad language would also prohibit mandatory COVID-19 vaccinations, which neither Whitmer nor anyone else in state government has publicly proposed.
Organizers aim to qualify for Michigan's Nov. 3 ballot but face significant hurdles to qualify, including an abbreviated timeline.
The petition group must submit at least 425,059 valid signatures to the state by July 6. But because organizers did not begin collecting signatures until late May, they will have fewer than 40 days to collect signatures, far less than the 180 days that would typically be allowed.
The group does not have funding to pay for circulators, but 1,500 volunteers have signed up to distribute petitions, Henry said. She and other organizers are also promoting dozens of "signing events" across the state each day, including Tuesday collection events at Manke's barber shop in Owosso and gun shops in Mason, Taylor and Richland.
"We already have signatures from 79 out of 83 counties," Henry said Monday, expressing confidence in the grassroots effort.
"The way this thing has taken off, I mean, it's crazy to think that we've had really no media coverage about this at all. We haven't paid for advertising. It's just been Facebook live videos on my personal page and just getting the word out there."
The Restore Freedom ballot committee began circulating petitions without form pre-approval from the Board of State Canvassers, an optional step that groups typically take to avoid legal challenges in the future. And it's sprawling proposal, which proposes to amend five articles and 19 sections of Michigan Constitution, could also compel legal challenges as overly broad.
But Henry said she's confident the proposal will stand muster as an amendment — not a general revision — of the Michigan Constitution.
Only donate if we've informed you about important Michigan issues
See what new members are saying about why they donated to Bridge Michigan:
"In order for this information to be accurate and unbiased it must be underwritten by its readers, not by special interests." - Larry S.
"Not many other media sources report on the topics Bridge does." - Susan B.
"Your journalism is outstanding and rare these days." - Mark S.
If you want to ensure the future of nonpartisan, nonprofit Michigan journalism, please become a member today. You, too, will be asked why you donated and maybe we'll feature your quote next time!