Reality check: Whitmer's budget is massive. But so are Michigan's problems.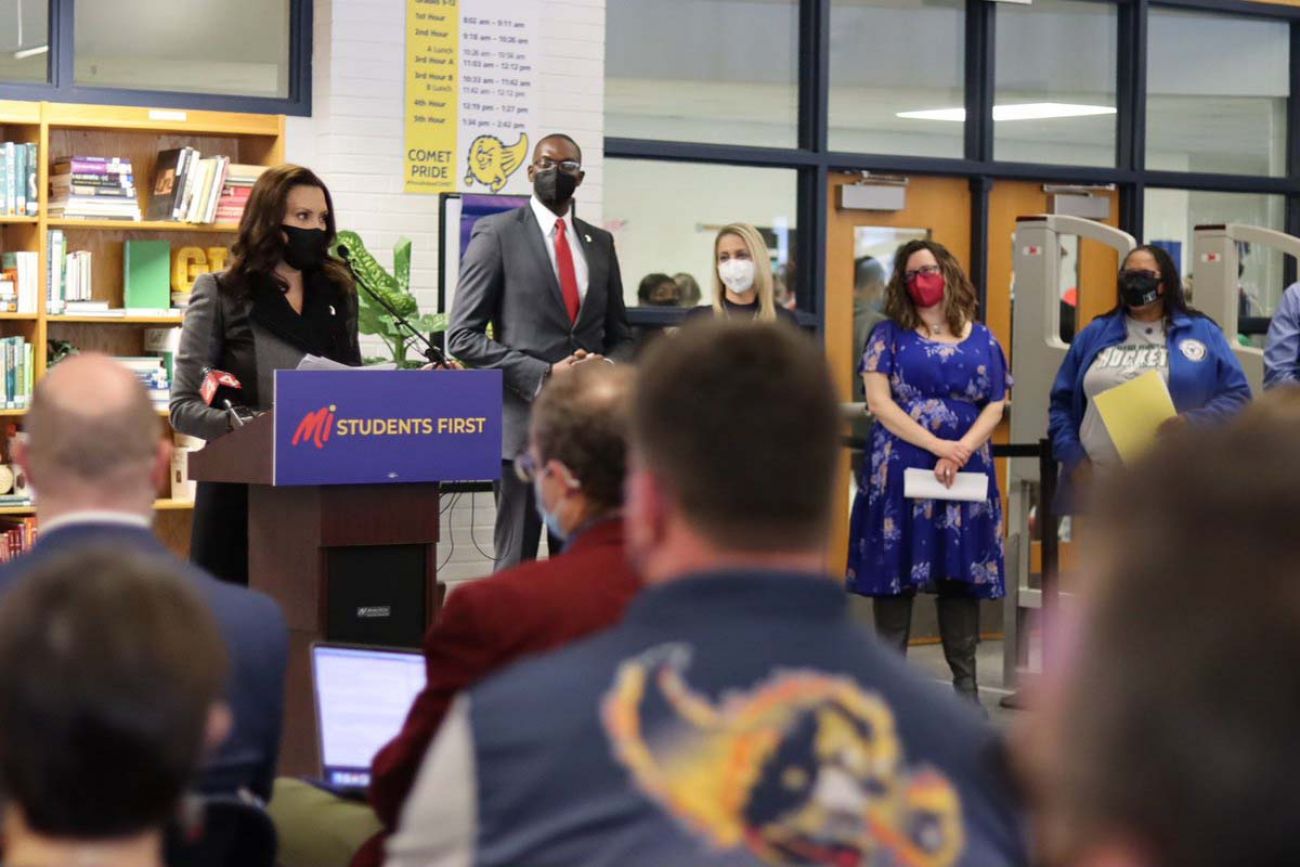 Gov. Gretchen Whitmer speaks about her proposed $74.1 billion budget on Wednesday at Grand Ledge High School, saying 'the plans sound big because they are.' (Courtesy photo)
LANSING — Gov. Gretchen Whitmer on Wednesday proposed the largest spending plan in Michigan history, a $74.1 billion budget fueled by a growing surplus and massive influx of federal stimulus and pandemic relief funding.
Major proposals for the 2023 fiscal year include $1.5 billion in retention bonuses for educators to address school staffing shortages, $500 million in corporate incentives to lure large-scale investments and a $1 billion boost in transportation spending to help the governor fix more of the "damn roads" she promised to address in her 2018 campaign.
"The plans sound big because they are," Whitmer said in a news conference at Grand Ledge High School. "We have to meet this moment."
Related:
The first-term Democrat's latest budget proposal is 10 percent larger than the $67.1 billion plan she pitched last year, before the federal government approved a massive stimulus for state and local governments.
The governor also is seeking a $369 million total tax cut, by expanding the Earned Income Tax Credit for lower-income workers and exempting pensions from the state's 4.25 percent income tax, as well as offering $2,500 rebates for those who buy electric cars and charging stations.
Republicans who control the state Legislature slammed the plan as fiscally irresponsible. They're charged with approving a budget by October, a month before Whitmer faces re-election, and are pushing broader tax cuts of their own.
"There's virtually no intention at saving or paying down debt," House Appropriations Chairman Thomas Albert, R-Lowell, told reporters Wednesday. "What we have here is a good old-fashioned spending spree for the proposal."
The state's outstanding debt stood at $6.2 billion as of September 2020, slightly higher than prior years. Eleven years ago, the state's budget was less than $50 billion, noted Senate Appropriations Chair Jim Stamas, R-Midland.
""All I got to say is, 'Damn," Stamas said. "It looks like we certainly have a task ahead of us."
Whitmer's budget director, Chris Harkins, defended the proposal as "structurally sound" because it uses stimulus and surplus money for "one-time spending" and puts $52 million into the state's rainy day savings fund, bringing its balance to nearly $1.5 billion.
Months of negotiations and deliberations are likely before Michigan adopts a budget. One thing is certain: After decades of stagnant population growth and deferred maintenance, no single budget is going to solve Michigan's many problems.
But this year presents a unique opportunity to make inroads thanks to an unprecedented surplus and federal stimulus. Here's a look at what's proposed, the problems the budget seeks to address and likely obstacles.
$500M for more business incentives
Whitmer request: $500 million more for the newly created Strategic Outreach and Attraction Reserve Fund to try to lure job creators to under-utilized sites in Michigan.
Whitmer and lawmakers created the fund in December with a $1 billion deposit. The state has already committed $666.1 million of that to help General Motors Corp. build a battery plant in Lansing and convert its Orion Township assembly plant to build electric trucks.
The governor wants $300 million for grants and loans to "main street" businesses, $250 million for a "regional recovery fund" to help develop post-pandemic plans and $200 million for "bridge funding" to help businesses redevelop contaminated brownfield sites.
Whitmer's budget also seeks $230 million to build "transformational education infrastructure" by promoting collaboration between Michigan colleges and private health science, medical and electric vehicle companies.
The problem: Michigan is rebounding from economic turmoil caused by COVID-19 and resulting government shutdowns, but that rebound is far from complete.
As of December, the state had so far regained 992,000 of the 1.2 million jobs it lost in April 2020 as the economy ground to a halt, according to federal data. Michigan's 5.6 percent unemployment rate in December topped the national rate of 3.9 percent and remained well above the pre-pandemic rate of 3.7 percent.
Electric vehicles are seen as the next big frontier for the auto industry, which employed 291,000 workers and contributed $157 billion to the state economy as of 2017. But Michigan is in competition for those jobs with southern states such as Tennessee and Alabama.
Reality check: Experts have long disagreed on whether large-scale corporate incentives actually work to spur long-term job creation. Many states offer them, however, and economic development officials contend they are necessary to compete. The early returns from Michigan's new incentive program are promising on paper: GM and partner LG Energy are expected to spend a combined $6.5 billion on the Lansing and Orion Township facilities, which could employ an estimated 4,000 people.
"We've seen significant returns already," said Harkins, Whitmer's budget director.
$1B to fix more 'damn roads'
Whitmer request: Another $1 billion to help repair roads, bridges and support public transit. Her $6.3 billion transportation budget is 20 percent larger than the current year. Whitmer would pay for the increase largely with one-time money, including $378 million in federal infrastructure funding and surplus state budget funds.
The problem: Michigan roads and bridges need help. As of 2020, officials rated 42 percent of the state's roadways in poor condition, along with 50 percent of local roads. Those ratings were worse than 2019, suggesting Michigan roadways have continued to deteriorate despite a 2015 gas tax hike signed into law by Republican former Gov. Rick Snyder.
Reality check: Experts say even more money is still needed to truly fix roads — and on an ongoing basis.
A Snyder task force pegged the need at $2.2 billion a year in 2016, and Whitmer in 2019 proposed a 45-cent fuel tax hike that would have raised $2 billion annually. The last time the American Society of Civil Engineers graded Michigan infrastructure, in 2018, the state got a D+. Meanwhile, roughly 11 percent of Michigan bridges are classified as structurally deficient.
The Whitmer administration has has so far sold $1.6 billion in bonds as part of her five-year, $3.5 billion plan to repair highways. But officials still predict Michigan roadways could be worse a decade from now.
While federal funding and bonding are expected to improve conditions in the next few years, the Michigan Transportation Asset Management Council says that progress will likely be wiped out by 2030, when 44 percent of state roadways could be rated in poor condition.
$1.5B for teacher retention
Whitmer request: $2.2 billion to boost employee pay in some specific sectors and address worker shortages.
Her plan includes $1.5 billion in teacher retention bonuses of at least $2,000 for every educator in the state. School workers, including staff, could earn up to $11,000 in bonuses apiece over the next four years if they stay in the same district.
The governor's plan includes COVID-19 relief bonus payments for other occupations: $135 million total for behavioral health workers, $60 million for nursing home non-direct care workers and $50 million for law enforcement officers and other first responders.
Whitmer also wants $500 million in "hero pay" for essential workers, such as those who work in grocery stores, hospitals, public transit systems and more. Her administration said details of the plan would have to be worked out "in consultation with the Legislature."
The problem: Employers are still struggling with labor shortages exacerbated by the pandemic. In Michigan, the economy is showing signs of rebound but fewer workers are returning. The state labor force participation rate was 59.5 percent as of November 2021, lower than average annual levels in previous years, including 2020.
Some Michigan schools have been forced to revert to virtual learning in recent months because not enough teachers can staff the classrooms. It is a problem that has persisted over the past few years and has been intensified during the pandemic as schools have long struggled to fill vacant posts. Michigan's Superintendent of Schools Michael Rice estimated the shortage would last even after the pandemic.
"In order to ensure that our students are successful, we need to make sure that our teachers and support staff and administrators are successful," Harkins said Wednesday.
Reality check: Michigan workers are making more than they did before the pandemic, up 3 percent since February 2020 to $1,209 per week on average.
But that hasn't kept pace with other states, and Michigan ranks 32nd among states in median household income, $63,829 in 2020 compared to the national average of $67,521, according to the Federal Reserve.
And people still aren't back to work, as retirements, stimulus checks, struggles with daycare and more have reduced the state's workforce by 191,000 to about 4.7 million.
Some Republican lawmakers say they have no qualms offering incentives to teachers, but oppose bonus pay to other workers because they fear it would exacerbate the labor shortage.
Senate Finance Committee Chair Jim Runestad, R-White Lake, said federal assistance programs following economic downturns can "pay people not to work," but he agreed that the government likely will need to "incentivize" teachers and law enforcement.
Albert, who chairs the House Appropriations Committee, told reporters bonus pay should go to all Michiganders, not just so-called essential workers.
"It brings up some hard feelings from a couple years ago with the whole 'Who's essential and who's not essential,'" he said. "I'm more focused on finding a way to have some fair and balanced relief for everybody in the state of Michigan."
More money for schools
Whitmer's request: A nearly 8 percent increase in K-12 education funding for next fiscal year, building on a "historic" spending plan she and GOP lawmakers agreed to last year.
The new $18.4 billion plan includes $580 million to increase the basic per-pupil funding allowance by $435 to $9,135. Additional dollars would be available to schools with more economically disadvantaged, special education and technical education students.
The governor also wants $66 million for school safety programs following November's mass shooting at Oxford High School, $1 billion to create an "infrastructure modernization fund" to help school districts pay for facility upgrades and $50 million for before and after school programs to help students recover from learning losses.
The governor also seeks more than $600 million in stipend and fellowship programs to help recruit new teachers and encourage college students to enter the field.
While Whitmer ordered schools to close early in the pandemic, she has more recently begun urging all districts to return to in-person learning, which most have done.
While the governor's budget proposal does not mandate in-person instruction, her plan to boost per-pupil funding is part of a "big push to ensure that our students, our kids, our teachers, our staff are back and person and in school," said Sen. Curtis Hertel, D-East Lansing, ranking Democrat on the Senate budget committee.
The problem: Michigan schools received an infusion of federal funding last year to help them re-open after COVID-related closures. But many schools continue to struggle with teacher shortages exacerbated by the pandemic and student learning losses associated with remote learning.
Schools also are experiencing staff shortages, as Michigan's overall workforce is down by nearly 200,000 total workers since the pandemic, exacerbating a problem that led several districts to cancel classes for days in January.
Reality check: Some Michigan schools were struggling before the pandemic, with both student achievement and staff shortages. Those challenges were exacerbated by the pandemic, and a true recovery could be a years-long effort.
Water, broadband infrastructure
Whitmer's request: $250 million to expand broadband access in Michigan and $500 million to improve water infrastructure across the state, including lead service line replacement and failed septic systems. Whitmer has made similar requests before but not yet struck a deal with legislators.
Each proposal would be funded through the American Rescue Plan Act approved by Congress, which encouraged states to spend their stimulus funds on both water and broadband infrastructure. Senate Republicans have already approved a larger $3.3 billion water infrastructure plan, which is awaiting consideration in the House.
The problem: The pandemic laid bare Michigan's continued "digital divide," as school students and parents were forced to work despite a lack of uniform internet broadband access across the state. Michigan's aging water infrastructure, meanwhile, has been a problem for years. Underground lead service lines, which the state wants fully replaced in the next two decades, have led to water contamination crisis in Flint and Benton Harbor.
Reality check: A surge in federal funding could help Michigan upgrade aging water infrastructure, and more money is on the way after President Joe Biden approved a separate infrastructure spending stimulus in November.
Experts say rebuilding aging water and sewer systems across the state could cost billions of dollars, requiring both one-time and ongoing spending. A state panel estimated adequate maintenance alone would cost $800 million per year, a price tag that has likely grown since.
Closing the broadband gap is also a huge undertaking that will require private companies willing to extend fiberoptic lines to rural areas with few potential customers. In other areas already wired, affordability remains a hurdle for some families.
Only donate if we've informed you about important Michigan issues
See what new members are saying about why they donated to Bridge Michigan:
"In order for this information to be accurate and unbiased it must be underwritten by its readers, not by special interests." - Larry S.
"Not many other media sources report on the topics Bridge does." - Susan B.
"Your journalism is outstanding and rare these days." - Mark S.
If you want to ensure the future of nonpartisan, nonprofit Michigan journalism, please become a member today. You, too, will be asked why you donated and maybe we'll feature your quote next time!