Oct. 31, 2018: Here's who has endorsed the 2018 Michigan Attorney General candidates
Oct. 31, 2018: Here's who endorsed the 2018 Michigan Secretary of State candidates
In an election year with predictions of a coming "blue wave" in Michigan that would propel Democrats into office, it was Republicans who held a fundraising edge over the last month.
GOP candidates for Attorney General, Secretary of State and Michigan Supreme Court raised more money in the most recent campaign finance reporting period concluding Friday (generally Sept. 16 through Oct. 21), state records show.
But in all three statewide races, Democrats have more cash on hand, which could give them a boost in the closing days before the Nov. 6 vote — even as candidates continue to raise money since this week's filing deadline.
And in two races, Democrats have a fundraising lead over Republicans over the entire campaign to date — with Secretary of State nominee Jocelyn Benson and Supreme Court candidate Samuel Bagenstos, both Democrats, thriving.
Benson also has been the beneficiary of more spending from outside groups attempting to sway voters in favor of her candidacy, though such outside spending has helped candidates from both parties.
Related: $75 million thrown into Michigan governor's race. Here's who's spending
Related: Michigan redistricting group brings in whopping $13.9 million
Among the highlights of campaign finance filings Friday with the state:
Aside from late contributions, the reports are the last financial disclosures before the Nov. 6 general election.
Bridge Magazine and the Michigan Campaign Finance Network teamed up to review the reports for candidates seeking statewide offices, and for committees supporting and opposing three statewide ballot proposals. Here's what we've found: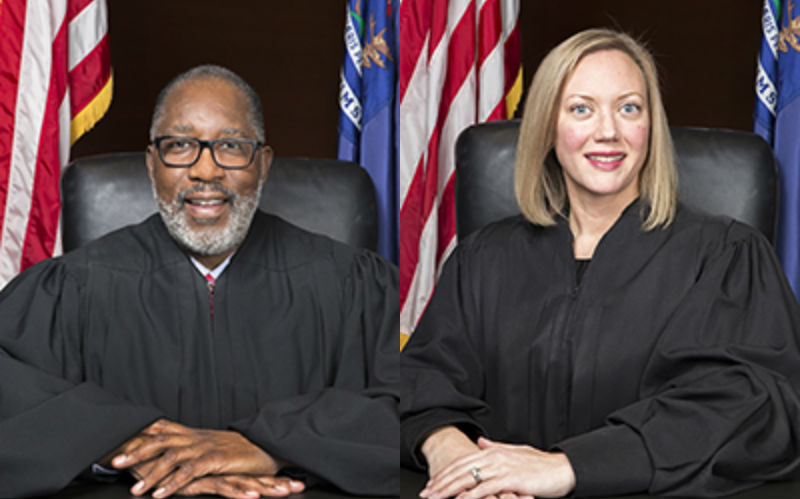 Republican-backed Michigan Supreme Court incumbent justices Kurtis Wilder and Elizabeth Clement have the fundraising edge over Democratic-backed candidates Megan Cavanagh and Samuel Bagenstos. Clement's campaign has faced pushback from Republicans over her votes in Supreme Court cases involving guns and a ballot proposal to create a redistricting commission.
Michigan Supreme Court
Clement started her campaign to retain her seat on the Michigan Supreme Court by barely surviving an attempt within her own party to disown her.
Wilder, her fellow Republican-backed incumbent, stopped fundraising with her. The Michigan Republican Party left her off local campaign literature in an apparent effort to appease grassroots activists after Clement's rulings in a couple of consequential cases (on redistricting and gun rights) upset the Republican base.
Of the four major party candidates for two open seats on the high court, Wilder led them all, taking in $236,695 in direct contributions, state campaign finance records show. The biggest single prize in his money haul: $100,000 in contributions from the Michigan Republican Party.
The state GOP contributed zilch to Clement's campaign. Yet Clement, who was appointed by Republican Gov. Rick Snyder and recently told Bridge her campaign raised more than 60 percent of its cash in the two months since the August state party convention, managed to pull in the second-highest fundraising total behind Wilder.
That may suggest that Republicans' political payback may be working to Clement's advantage, with contributors apparently attracted by her political independence while on the bench.
Clement's campaign reported Friday that it raised $223,736 in the most recent period, from Sept. 15 through Oct. 21, according to state records. She has attracted support from moderate Republicans and some Democrats. The Michigan Education Association endorsed her along with the two Democratic-backed candidates, Megan Cavanagh and Samuel Bagenstos.
The MEA and Michigan Realtors both gave $10,000 to Clement's campaign, records show. She also took in $6,800 from several individual donors, including Daniel Loepp, president and CEO of Blue Cross Blue Shield of Michigan, and Grand Rapids businessman Peter Secchia. Geoffrey Fieger, a Southfield personal injury attorney and a former Democratic nominee for governor, gave $5,000 to Clement, as did the Michigan Bankers Association PAC.
Among Democratic-backed candidates for the state's high court, Cavanagh, an appellate attorney and a shareholder at Garan Lucow Miller PC in Detroit, was the second-highest fundraiser. She took in $199,606 in direct contributions, records show.
The Michigan Association for Justice, a Lansing-based trade association, was Cavanagh's largest donor, giving $20,000 to her this filing period, and $29,000 overall.
The Michigan Regional Council of Carpenters and the Michigan Education Association both gave $10,000 to Cavanagh's campaign, and she raised another $129,635 in in-kind donations, nearly all of it from the Michigan Democratic State Central Committee in the form of digital ads.
Cavanagh's father is former Michigan Supreme Court Justice Michael Cavanagh, and her uncle, Jerome Cavanagh, was Detroit's mayor in the 1960s.
Bagenstos, a professor at University of Michigan Law School and civil rights attorney, raised $221,714 in direct contributions from Sept. 16 through Oct. 21, records show. He leads all Supreme Court candidates in total fundraising during this election cycle, at nearly $792,000, and has the most cash on hand
The Michigan Education Association and the Michigan Association for Justice each gave $10,000 during the period, with the latter contributing $25,000 overall. The UAW gave $15,000 in two separate contributions.
Bagenstos brought in another $131,145 in in-kind contributions, nearly all of which was related to digital ads by the Democratic State Central Committee.
Outside groups spent more than $137,000 in the Supreme Court race to influence voters for or against a particular candidate.
In particular, Americans for Prosperity, a conservative-leaning group backed by the billionaire Koch brothers, spent nearly $65,000 in support of Wilder's campaign. Progress Michigan Political Action Fund, which backs progressive candidates, spent more than $50,000 in support of Cavanagh and Bagenstos, while the Michigan Republican Party spent $22,000 to oppose the Democratic-backed justice candidates.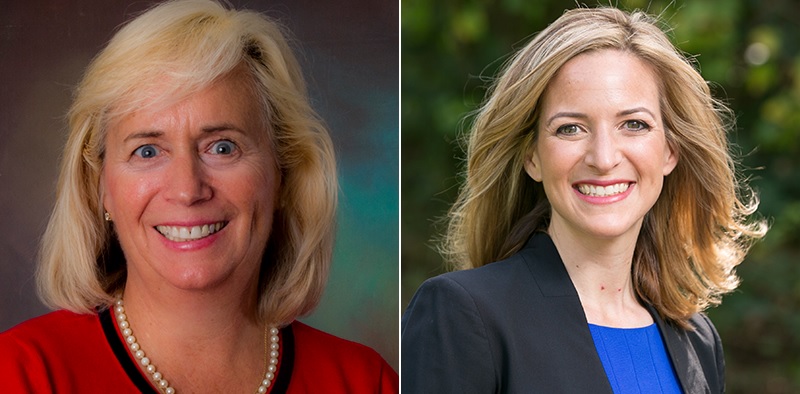 Mary Treder Lang, a CPA from Grosse Pointe Farms, outraised Democrat Jocelyn Benson in the most recent campaign finance filing period, though Benson, a former Wayne State University Law School dean, has raised more overall in this election cycle.
Secretary of State
Republican Mary Treder Lang, a CPA from Grosse Pointe Farms, outraised Benson, her Democratic challenger, $351,990 to $263,134 in the most recent reporting period, records show.
Benson, however, has raised more than $1.4 million to date this election cycle, more than twice as much as Treder Lang's $671,165. Benson has nearly $200,000 more in her campaign coffers leading up to Election Day.
Benson, former dean of the Wayne State University Law School and currently CEO and executive director of the Ross Initiative in Sports for Equality, has taken $68,000 from both the United Auto Workers and the Michigan Carpenters PAC so far this campaign cycle. The UAW gave $18,000 during the most recent filing period, while the carpenters chipped in $13,000.
Her largest individual contributions all came from out of state — notably, $6,800 apiece from California billionaire and Democratic activist Tom Steyer; his wife, Kathryn Taylor, co-CEO of Beneficial State Bank in Redwood, Calif.; and Apple founder Steve Jobs' widow, Laurene Powell Jobs. Actor Amanda Seyfried gave Benson's campaign $5,600.
Most of her more than 6,500 direct contributions, however, amounted to $500 or less.
Treder Lang received $100,000 from the Michigan Republican Party. The Michigan Farm Bureau, Michigan Realtors and Auto Dealers of Michigan PAC each gave $10,000 during the most recent filing period, records show.
Her largest individual donors, at $6,800 each, include Compuware founder Peter Karmanos Jr., who now owns a firm called Mad Dog Technology, and his wife, Danialle, founder of a Wayne State University program called Kids Work it Out; Grand Rapids businessman and GOP donor Peter Secchia; and executives with Belle Tire and a Detroit-area auto dealer.
Attorney General
Republican Tom Leonard has the fundraising lead over Democrat Dana Nessel, $521,909 to nearly $484,000 this filing period.
Leonard, who is serving his third and final term in the state House as speaker, is challenging Nessel, a Plymouth attorney who is known for serving as the lead attorney in the case that overturned Michigan's same-sex marriage ban.
He took in nearly $2 million to date in the campaign, compared to Nessel's nearly $1.6 million. "Momentum continues to build behind our campaign," Leonard said Friday in a news release.
Leonard took in $48,000 from Michigan Realtors, which has given $71,000 to date, records show. His second-largest contribution this filing period came from the Chatfield Majority Fund, which is affiliated with state Rep. Lee Chatfield, a Republican from Levering.
His largest individual donations, $6,800, include Meijer Inc. CEO Hendrik Meijer and President Mark Meijer, Consumers Energy CEO Patti Poppe and members of the West Michigan-based DeVos family, who are frequent GOP donors.
Nessel raised nearly $484,000 from Sept. 16 through Oct. 21, state records show. Her largest contribution, $68,000, came from the UAW. Several attorneys are among her largest individual donors, at $6,800.
Chris Graveline, an independent candidate who sued to appear on the Nov. 6 ballot, reported contributions of $67,826 from June 4 through Oct. 21. He took in another $15,348 in in-kind contributions, largely from himself and his wife, Colleen.
Former U.S. Attorney Barb McQuade gave Graveline's campaign $1,000 in June. She reportedly backed his campaign early before endorsing Nessel.
He has just slightly more than $12,000 on hand for the remainder of the campaign.
Related: 2018 Bridge Michigan Voter Guide: Links to our relevant election coverage
Following the money in Michigan
Bridge Magazine and the Michigan Campaign Finance Network teamed up to examine Friday's campaign finance filings from candidates for statewide office and committees working to support and oppose three statewide ballot issues.