Whitmer: GOP lawsuit adds a 'constitutional crisis' to coronavirus crisis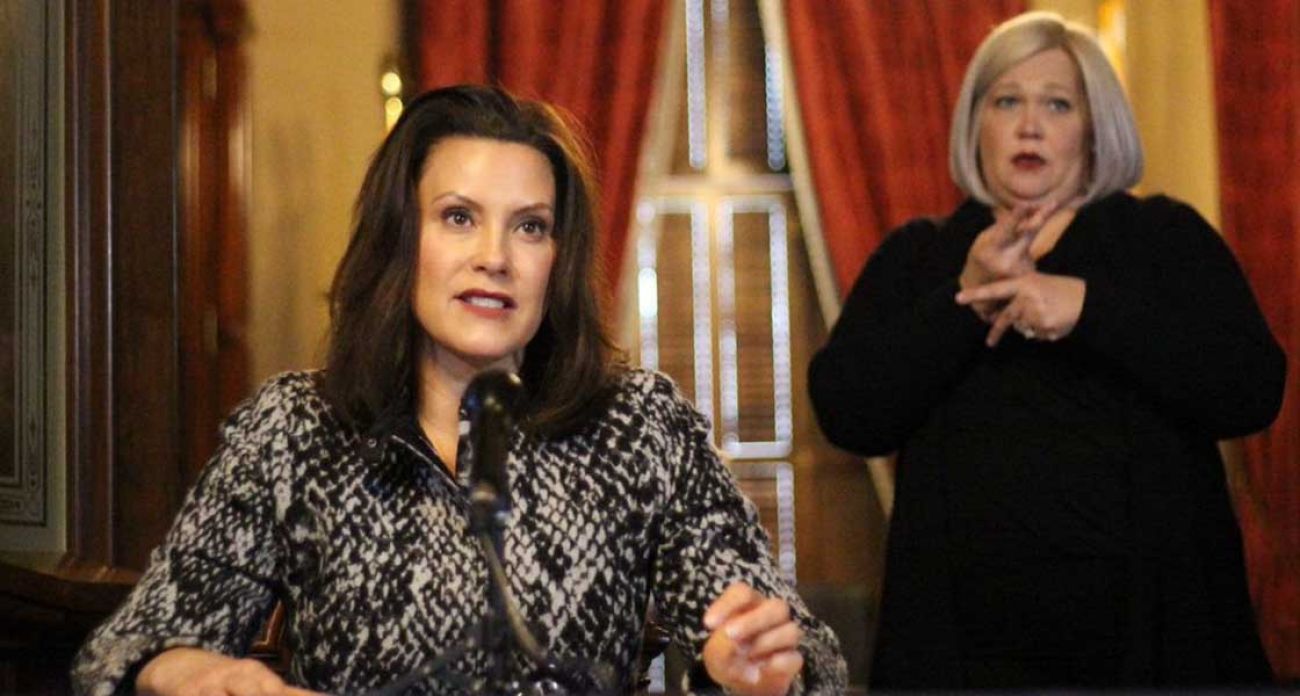 LANSING—Michigan's Republican-led Legislature is attempting to "build a constitutional crisis atop a public health crisis" by challenging Gov. Gretchen Whitmer's emergency authority during the coronavirus pandemic, her attorneys said Tuesday in a court filing.
The first-term Democrat is asking Court of Claims Judge Cynthia Stephens to reject a lawsuit from the Legislature, which alleges Whitmer violated state law and the Michigan Constitution by issuing new emergency declarations after the GOP majority refused to extend a prior version.
Legislative leaders are asking the court to declare Whitmer's executive orders, including her stay-at-home and business closure mandates, "invalid and unenforceable."
But doing so would "sow confusion," undermine public health and "work grievous harm on the state and its citizens," Assistant Solicitor General Christopher Allen said in a new court filing.
"The end of the beginning of the ongoing pandemic is not the end of the governor's authority to protect the health and safety of everyone in Michigan," he wrote.
Stephens, appointed to the bench by Democratic Gov. Gretchen Whitmer, has fast-tracked the case by scheduling oral arguments for Friday. Experts say the suit, which tests the limits of a governor's emergency powers, may eventually end up before the Michigan Supreme Court.
Allen and other lawyers from Attorney General Dana Nessel's office who are representing Whitmer in the case argue the Legislature does not have legal "standing" to challenge her emergency declarations. And they contend the Legislature cannot claim direct harm from her actions because lawmakers can, and have continued to, pass bills in response to the pandemic.
Whitmer two weeks ago issued new emergency declarations under both a 1945 law that does not require legislative approval and a 1976 version that requires a legislative extension every 28 days. Her legal team concludes she followed the law by terminating earlier declarations to issue new ones.
The emergency laws show past Legislatures "have thought better of putting a slow and fractious multi-member body in charge of responding to public health emergencies that demand a rapid, coordinated, and nimble response," Allen wrote.
If legislators don't like the statutes, they can change them rather than asking the court to "referee this political disagreement and do their legislative work for them," he added.
Whitmer has vowed to veto any legislation curtailing her emergency authority, but Allen noted the Legislature could override a veto with a two-thirds majority vote. That appears unlikely, however. Republicans do not have supermajorities in either the House or Senate, and House Democrats on Tuesday filed their own legal brief supporting the governor's position.
Senate Majority Leader Mike Shirkey, R-Clarklake, has floated the possibility of a petition drive to repeal the 1945 law, and Republican Congressman Paul MItchell of Dryden has formed a ballot committee that could lead that effort. Mitchell has also filed his own lawsuit challenging Whitmer's emergency orders.
The Legislature's lawsuit alleges that Whitmer's move to extend her emergency authority without legislative approval is illegal, "absurd," unconstitutional and "nonsensical."
Shirkey and House Speaker Lee Chatfield, R-Levering, claim the governor has ignored their input on plans to re-open the economy, which they have pushed her to do at a faster pace. GOP leaders have called Whitmer's executive orders, including her stay-at-home mandate, "legally questionable" but have so far shied away from describing the legal dispute as a "constitutional crisis."
"You guys are experts at putting headlines on things, and so I'm not going to opine on limiting your ability to do so," Shirkey told reporters last week.
The Legislature's complaint contends Whitmer violated the 1976 emergency law and, by continuing to issue and enforce executive orders, has also violated the separation of powers clause of the Michigan Constitution and encroached on legislative authority by effectively passing laws on her own.
The 1945 law that does not require legislative extensions was designed for responses to local emergencies, not the kind of statewide emergency Whitmer continues to cite in her response to COVID-19, attorneys for the Legislature said last week. That statute gives Whitmer the authority to act "within" the state, not "throughout" it, they said, noting the law references areas, zones and sections that appear consistent with a localized response.
Allowing Whitmer to proceed without legislative approval would place "no meaningful limits on the governor's power at all" and is therefore "nonsensical," according to the complaint. And letting her simply issue a new declaration every four weeks would produce "absurd results."
But the Republican lawmakers' lawsuit amounts to a "power grab cloaked in the fineries of unfounded legal reasoning," Allen wrote in Whitmer's official response to the complaint, arguing the governor acted within her authority to slow the coronavirus and saved "countless lives" in the process.
As of Tuesday, MIchigan health officials had confirmed 48,021 cases of COVID-19 since March 10 and reported 4,674 related deaths.
"The Legislative Plaintiffs frame the governor's actions — particularly her new declarations — as unprecedented," Allen wrote. "But that flips the conversation on its head. The pandemic that Michigan is facing is unprecedented, as is the Legislative Plaintiffs' refusal to ratify the declarations the governor lawfully issued in response to this ongoing and deadly crisis."
We're not just a news organization, we're also your neighbors
We've been there for you with daily Michigan COVID-19 news; reporting on the emergence of the virus, daily numbers with our tracker and dashboard, exploding unemployment, and we finally were able to report on mass vaccine distribution. We report because the news impacts all of us. Will you please support our nonprofit newsroom?