Who is funding the fight over a redistricting proposal in Michigan
Bridge series on ballot issues
Bridge Magazine is providing an in-depth look this week at three statewide ballot proposals Michigan voters will decide Nov. 6.
Throughout this crucial election year, Bridge and the nonprofit Center for Michigan are providing fact-based, data-driven information to voters about the elections for governor, Attorney General, Secretary of State and other statewide and legislative offices. This includes ballot initiatives. Our ballot issue coverage began Tuesday continues through Thursday.
Proposal 2 (redistricting)
Proposal 3 (voting access)
Proposal 1 (legalizing recreational marijuana)
MORE RESOURCES:
Citizens Protecting Michigan's Constitution, an opposition group, says Prop 2 would create an unchecked branch of state government and is trying to raise doubts about the motives behind the measure, noting the Democratic ties of some petition leaders.
Two groups in combat ‒ each drawing financial support from vastly different sources.
While VNP won a big donation from a national group with Democratic Party ties, it has received more than 16,000 individual donations in its unlikely campaign to place redistricting on the state ballot. CPMC, the opposition group, receives its funding from only a handful of donors, most linked to the Michigan business community.
Here are the details:
National footprints on both sides
National redistricting groups affiliated with both major parties have added fuel to the redistricting firefight in Michigan.
Voters Not Politicians had raised $1.67 million by July 20th with just over 16,000 donors contributed $981,950 to VNP, an average donation of about $60.
But in September, VNP received a huge boost with the announcement of a $250,000 donation from the National Democratic Redistricting Committee (NDRC), a group headed by Eric Holder, U.S. Attorney General in the Obama administration. IRS filings show NDRC's mission is "to build a comprehensive plan to favorably position Democrats for the redistricting process through 2022."
But the group denies partisan intent. Holder wrote on Twitter the group's donation is so "the citizens of Michigan will have the chance to decide their own fate in redistricting. All we ask for is fairness ‒ not partisan advantage. Take the power away from politicians and give it to the people of Michigan."
National Republicans aren't sitting this ballot measure out, either. The nonprofit Fair Lines America donated $50,000 to Citizens Protecting Michigan Constitution (CPMC), the Michigan group fighting the initiative. As of July 20th, CPMC had raised $392,351.
Fair Line's website says it supports "fair and legal redistricting through" a variety of means, including "strategic investments in redistricting-related reforms and litigation." In addition to its donation, it submitted a friend of the court brief in support of CPMC in an effort this summer to remove the Voters Not Politicians initiative from the ballot. Ultimately the Michigan Supreme Court approved the proposal's appearance on the November ballot.
While Fair Line calls itself nonpartisan, an article on the National Republican Redistricting Trust's (NRTT) website refers to Fair Line as an affiliate. Both Fair Lines and the NRTT, according to Politico, are lead by Adam Kincaid, a longtime Republican operative.
Neither Fair Lines America nor the National Republican Redistricting Trust responded to Bridge Magazine's inquiries about its funding.
Bankrolled by business
Other donations to the opposition campaign are dominated by Michigan business interests. As of July campaign finance disclosures, Citizens Protecting Michigan's Constitution had a $392,351 budget.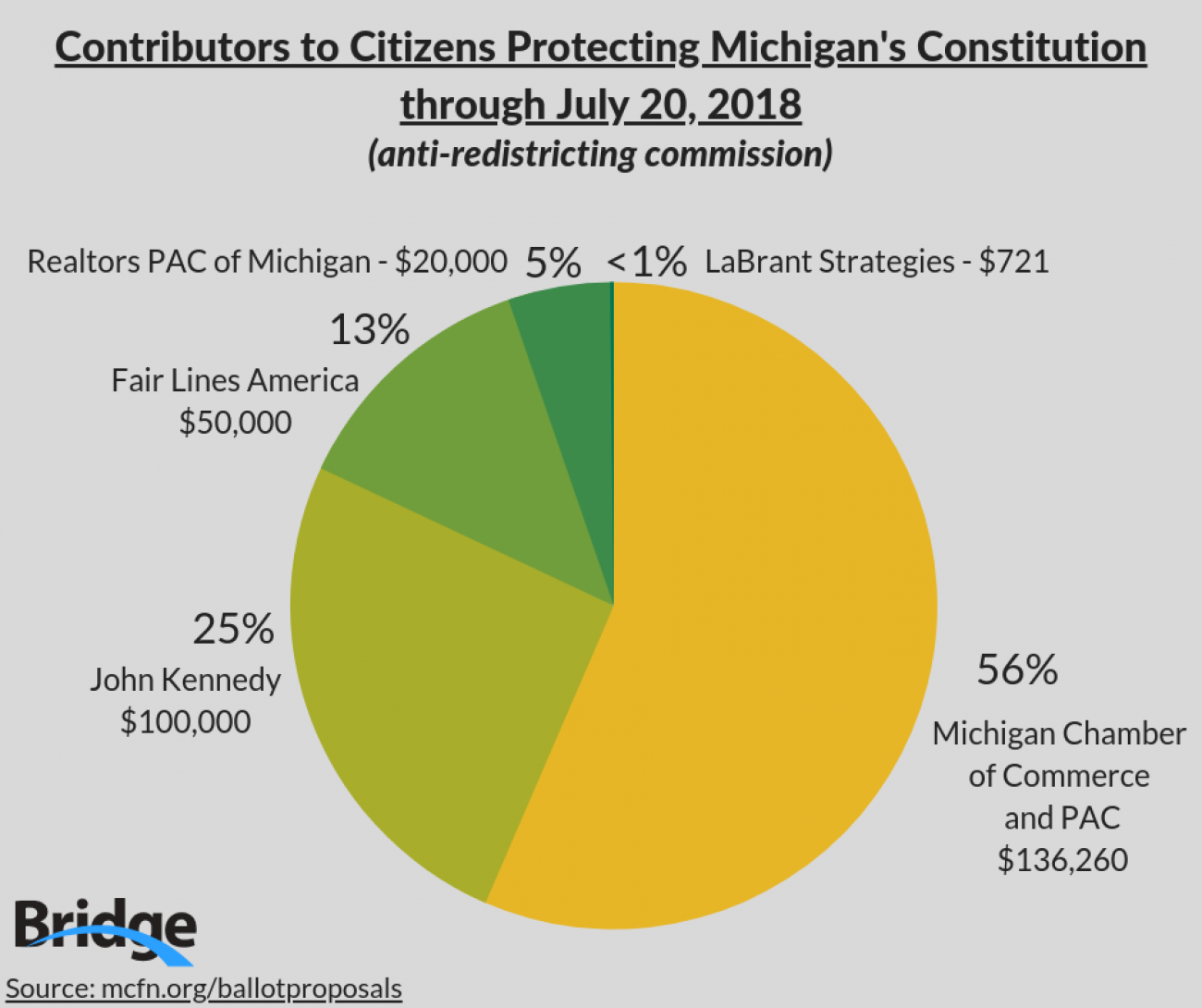 The Michigan Chamber of Commerce is its largest supporter, providing money directly, through one of its PACs, and by donating legal work. In total, the Chamber and one of it's PACs gave $221,630, or 56 percent, of CPMC's funding as of July 20th. Chamber involvement in past redistricting cycles had come under Bridge Magazine scrutiny with the publication of emails indicating Chamber executives helped to mold district lines in favor of Republicans, most recently following the 2010 Census. The Chamber did not respond to Bridge inquiries regarding its support of CPMC.
Retired Chamber executive Bob LaBrant also provided $721 of in-kind services through his consulting firm LeBrant Strategies. LeBrant has been heavily involved in Michigan redistricting on Republicans' behalf for decades.
John Kennedy is the sole individual contributor to CPMC, as of July 20th donating $100,000. Kennedy purchased Autocam Corporation, a precision parts manufacturer based in Kentwood, in 1988. He remains with the company as President and CEO of Autocam Medical, a subsidiary to Autocam Co., after selling Autocam Co. in 2014.
In 2012, Kennedy made headlines for his legal fight for exemption from the Obamacare mandate that companies provide birth control coverage to employees. Citing his Catholic faith, Kennedy won the suit in 2015 following the Supreme Court decision in favor of Hobby Lobby. Kennedy could not be reached for comment on his contribution to CPMC.
Rounding out support for Citizens Protecting Michigan's Constitution is the Realtors PAC of Michigan II, which contributed $20,000. The Michigan Realtor's PAC is also one of the largest financial contributors to the Michigan Chamber of Commerce, with the Michigan Campaign Finance Network reporting the PAC donated $10,000 to the Chamber last year. Michigan Realtors also did not respond to Bridge's request for comment.
Grassier roots
Voters Not Politicians (VNP) funding draws from a wider base, reporting 16,212 individual contributions totalling $1.67 million dollars as of July 20th. Over half of its funding came from individual donations below $16,000.
At $262,000, the Action Now Initiative (ANI) in Texas was VNPs largest single contributor. According to campaign finance records, ANI provided $12,000 in "consulting services" in June, then donated $250,000 in July.
Founded by energy hedge fund billionaires John and Laura Arnold of Texas, ANI works in conjunction with an Arnold family foundation on issues such as reforming public pension funds and the criminal justice system, and ensuring that public policy decisions are based on reliable data. Action Now Initiative also made a major donation to a redistricting group in Utah promoting a similar ballot measure. ANI emailed Bridge: "We believe that all citizens deserve a government that is open and accountable to the people, and we are proud to support grassroots initiatives such as Voters Not Politicians that seek to increase integrity, responsiveness, and accountability from our elected representatives."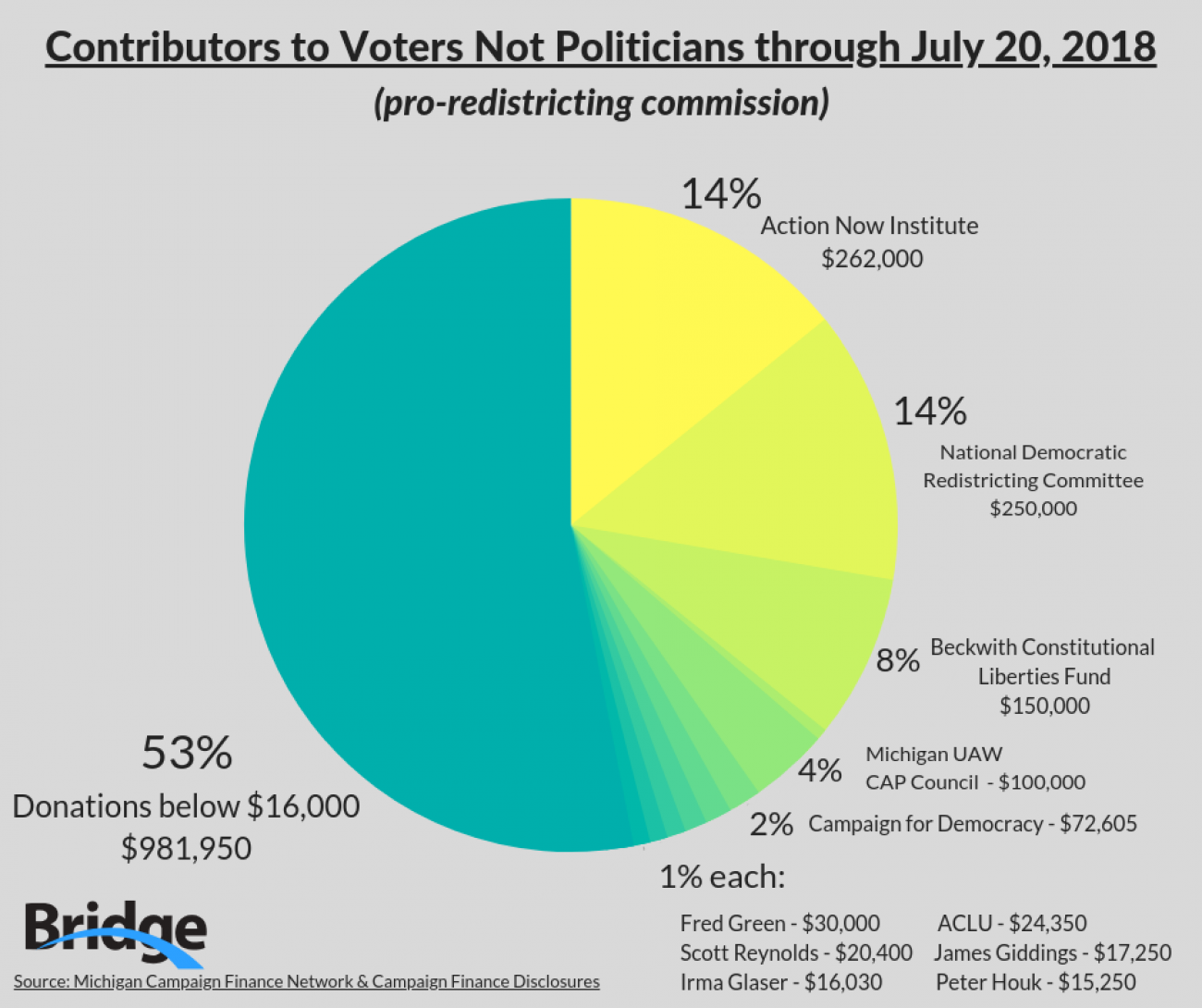 Beckwith Constitutional Liberties Fund gave the redistricting group $150,000. Formerly affiliated with the ACLU, the East Lansing nonprofit says it works toward the "elimination of prejudice and discrimination."
Other major donors include the Michigan United Auto Workers CAP Council (Detroit, $100,000) and Campaign for Democracy (California nonprofit, $72,605). The largest individual donor to VNP is Irma Glaser, who contributed $16,030. Campaign finance disclosures identify her as a retired homemaker in West Bloomfield.
Five other top funders of Voters Not Politicians contributed in-kind donations by helping draft the ballot petition:
Fred Green, attorney in Royal Oak - $30,000

American Civil Liberties Union - $24,350

Scott Reynolds, attorney in Douglas - $20,400

James Giddings, attorney in Williamston - $17,250

Peter Houk, attorney in DeWitt - $15,250
We're not just a news organization, we're also your neighbors
We've been there for you with daily Michigan COVID-19 news; reporting on the emergence of the virus, daily numbers with our tracker and dashboard, exploding unemployment, and we finally were able to report on mass vaccine distribution. We report because the news impacts all of us. Will you please support our nonprofit newsroom?