On-demand primary care doctors only served Michigan's wealthy. Not anymore.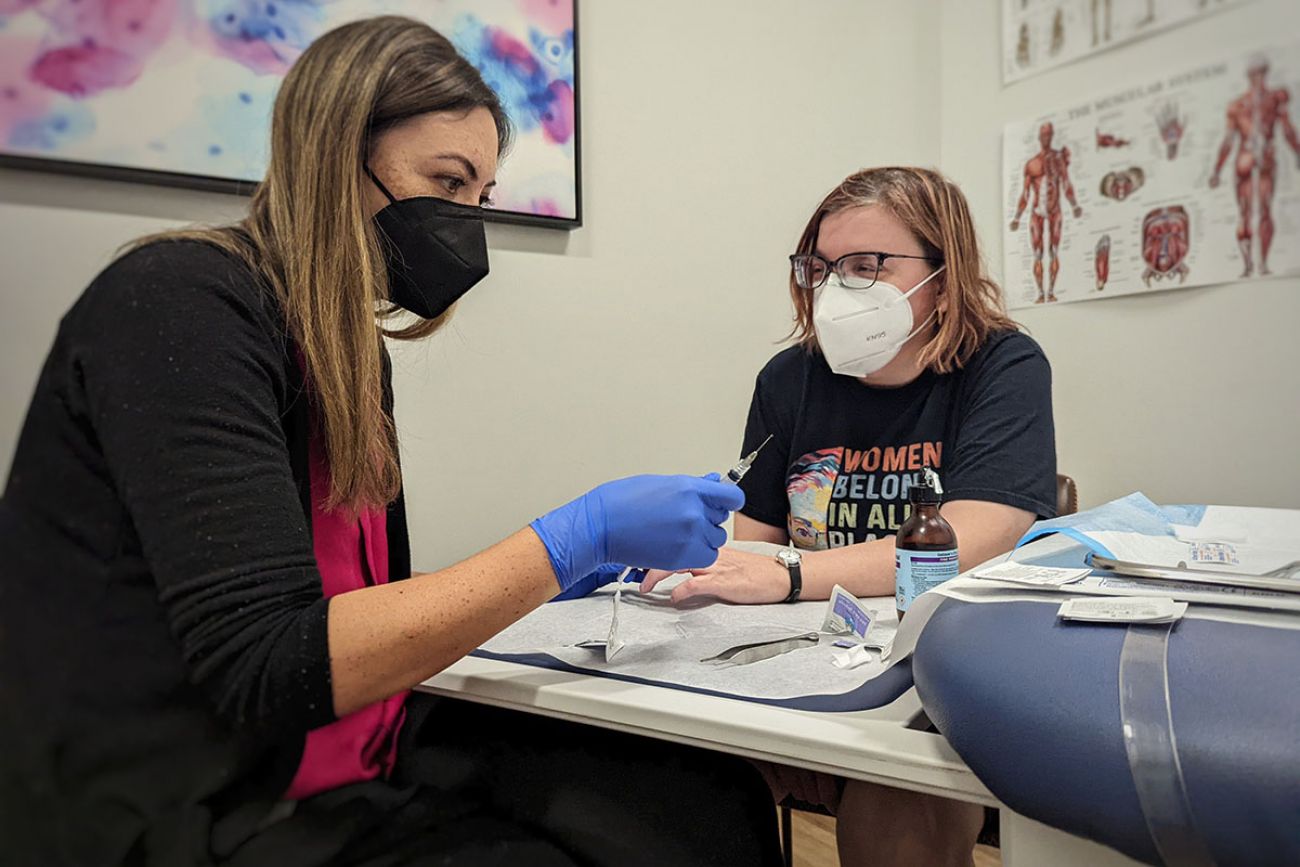 Direct primary care doctors like those at Plum Health in Detroit say they keep costs down by bypassing insurance and charging a monthly fee instead. (Bridge photo by Robin Erb)
DETROIT—It took a patient's 16-word text to get Dr. Raquel Orlich's attention.
Three hours later, the family physician was hunched over Jamie Boudrie's inflamed finger under the bright lights of an exam room at Plum Health in Detroit, tugging a splinter no larger than the tip of a pen from under her nail.
"I only regret not signing up sooner" for this kind of care, said Boudrie, 45 of Warren after leaving with a bandage and no bill.
Related:
Once thought limited to only wealthy patients, this form of on-demand medical care — no-wait appointments, a doctor's cell phone number, even house calls when needed — is becoming more affordable to everyday Michiganders.
For some people, it may be more affordable than traditional medical care with insurance.
"It's concierge medicine for blue-collar" patients, said Dr. Adriana Raus, a direct care primary physician based in Okemos, east of Lansing. "It's a fee that's affordable for everybody — less than a cell phone bill."
Orlich and Raus are among a growing number of family physicians stepping away from large practices, breaking ties with employer hospitals and thumbing their nose at insurers to provide a new kind of "direct primary care."
Under the model, patients pay a monthly fee — usually less than $100 — for unlimited access to primary care services: routine physicals, behavioral health support, and management of complex, multiple chronic conditions.
By refusing insurance, direct primary care doctors say they can strip out the cumbersome insurance-related paperwork and extra staff and time that stand between them and patients.
Moreover, they say, they can buy many of the most commonly used medications at pennies a pill sometimes, passing the savings along to patients with no mark-up to cover administrative insurance and pharmacy costs.
For $75 a month, Boudrie said she receives free, or nearly-free primary care. It includes regular check-ups, helps Boudrie manage stress and muscle pain, and offers rapid appointments for minor emergencies.
She also gets 24-hour access to Dr. Orlich's cell phone.
"She always responds," Boudrie said.
And Boudrie's medications, including an antidepressant and a muscle relaxer, are less than $10 for a three-month supply.
As a part-time usher at Little Ceasar's Arena, the Warren woman said she makes less than $15,000 a year and doesn't carry insurance. Nor has she tried to get Medicaid.
For now, Dr. Orlich provides everything she needs, she said.
"You don't feel like you're being ripped off when you leave here," she said.
Inside Plum Health last month, founder Dr. Paul Thomas began pulling meds off the shelf recently, rattling off the cost of each.
He rolled a large, white bottle of metformin, a common drug to help patients control Type 2 diabetes, in his hands. Even with insurance, a month's supply is usually a $10 copay at the pharmacy, he said.
But by buying 1,000 tablets wholesale at about a penny a piece, he can offer them to patients — no mark-up — for roughly "90 cents for a three-month supply."
He slipped the metformin back into the shelf, grabbing a smaller bottle to replace it.
"My last patient has high blood pressure and diabetes. We set him up with lisinopril," he said, noting that the pills are less than one cent per pill. "When we give him 90 tabs, it's 80 cents."
"If we wanted to, we could have a 20 or 30 or 50 or 100 percent markup on meds, and they still would be really inexpensive," Thomas said. "But we don't. We only make money on the memberships."
Direct primary care offices also contract with lab and imaging centers, again bypassing insurance and saving patients 50 to 90 percent on meds, labs, and imaging services, Thomas told Bridge.
Comprehensive blood work can cost hundreds of dollars through "big box" medical providers, Thomas told doctors Friday at a Michigan Academy of Family Physicians conference on Mackinac Island.
"About $30 gets (patients their) annual lab work" at Plum Health, he told the doctors.
Dr. Srikar Reddy, chair of the Michigan Academy of Family Physicians, said the direct primary care model gives doctors more autonomy by allowing them to control their patient loads.
But he said he worried some patients who can otherwise afford insurance will use direct primary care as a replacement for health coverage — which even doctors practicing this new model warn against. More serious emergencies are impossible to predict, Reddy said, making some form of health insurance critical.
Direct primary care raises plenty of questions.
No mark-up on prescription medicine?
No administrative fees?
No copays?
And doctors on-call 24 hours?
Thomas said he is used to the inquiries.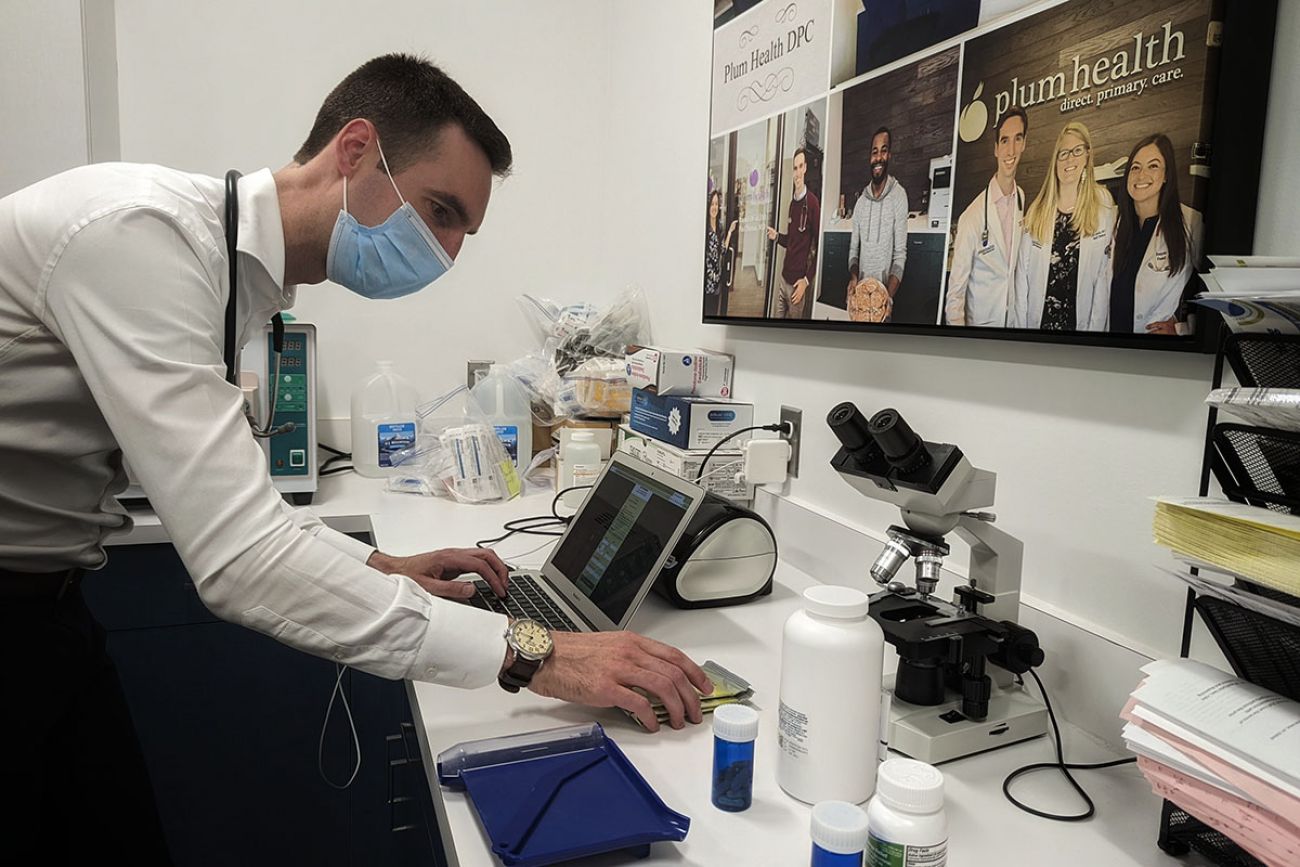 Dr. Paul Thomas said he often can buy common medications for pennies a pill, offering them at the same price and saving patients hundreds of dollars a year. (Bridge photo by Robin Erb)
At his office last month, Thomas grabbed a dry erase marker and began scribbling on a whiteboard nearby, explaining the office's business model.
At Plum Health, on Michigan Avenue in the city's Corktown neighborhood, monthly fees are $15 for children, increasing by age to $89 for patients 65 and older.
For every 500 patients (what they call "members") each doctor sees, the practice pulls in about $30,000 a month — enough now that Plum employs three primary care doctors and a medical assistant. Take off $10,000 for overhead, and that leaves about $20,000 a month for each doctor.
Concierge medicine for the masses.
The model has been called "concierge medicine for the masses," but it differs in fundamental ways from true concierge medicine.
Concierge medicine generally caters to the wealthy, fully insured patient, offering additional services. Fees can run up to $20,000 yearly.
And concierge doctors bill insurers for the services — a critical difference from the kind of direct primary care that Plum and other direct-care providers provide.
Thomas and Raus cut out insurance altogether, which they say dramatically reduces overhead costs and the subsequent need for high patient volumes to turn a profit.
That, in turn, closes the gap between them and patients, allowing more patient interaction and giving doctors the ability to offer round-the-clock access.
Direct primary care physicians generally have far less than half the number of patients as doctors in a traditional doctor's office. On average, direct primary doctors have 600 to 800 patients in their care, versus 2,000 to 2,500 patients assigned doctors in traditional settings, according to the American Academy of Family Physicians.
Another report found an even wider difference: Direct primary care doctors typically limit themselves to just 200 to 600 patients, compared to an excess of 2,500 patients for traditional primary care physicians, according to a 2020 report by the Society of Actuaries, an international industry group. The report also found that more than half of direct primary care doctors reported doing house calls.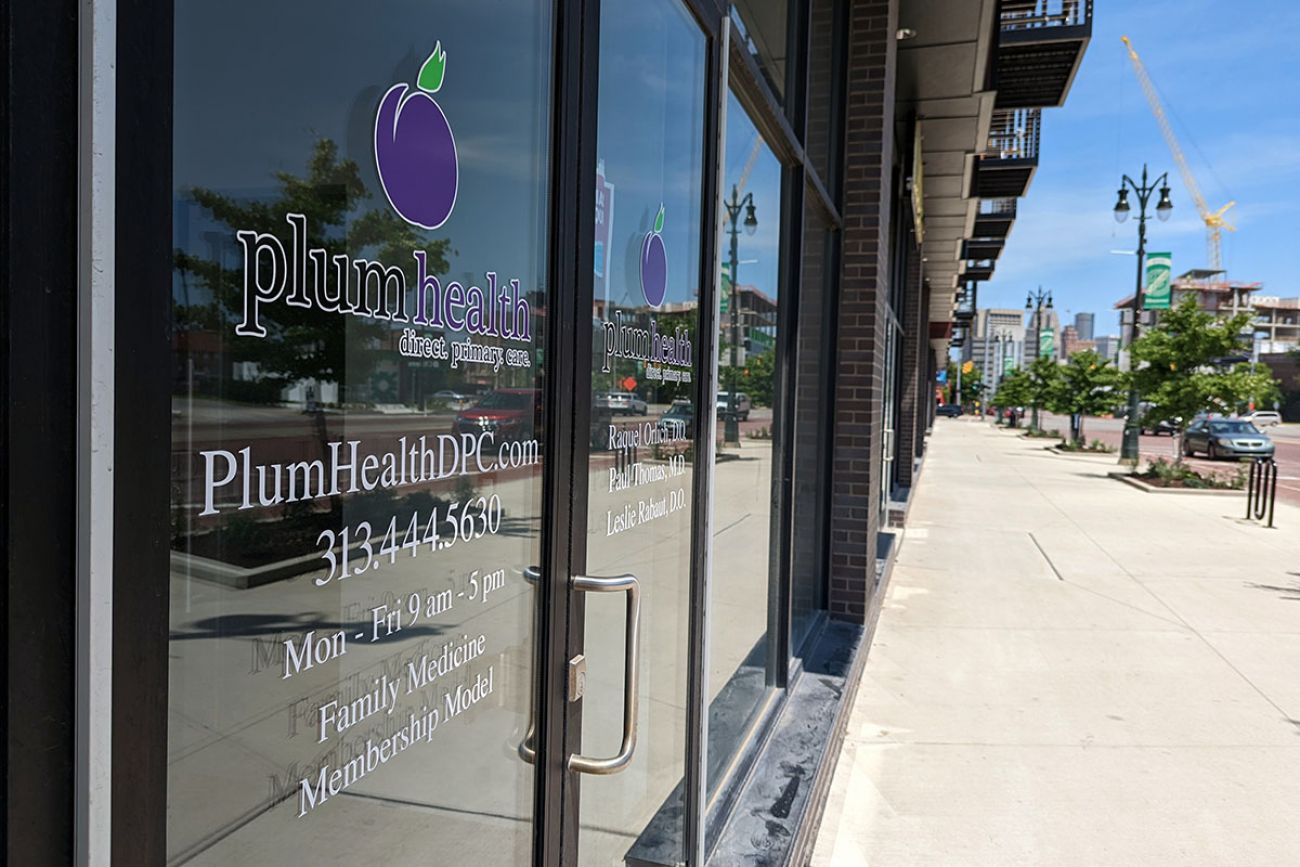 Plum Health, located on Michigan Avenue in Detroit's Corktown neighborhood, offers care to people of all incomes, said founder Dr. Paul Thomas. (Bridge photo by Robin Erb)
Insurance paperwork has long been a major complaint among physicians.
Family practice doctors reported spending about 17 hours a week away from patients — on paperwork and other administrative tasks, according to a 2021 survey of nearly 18,000 physicians,
A 2020 study found that doctors, on average, spent more than 16 minutes on electronic health records for each patient visit. And a 2016 Annals of Internal Medicine study found that, for every hour with a patient, doctors spent nearly two on paperwork.
Much of that administrative work disappears when insurance is eliminated, Thomas and others said.
And that means little to no wait times.
"I'm in and I'm out, and I can get on with my life," said Michael Johnson, a. 29-year-old race car driver from Okemos and one of Raus's patients.
On her honeymoon in Italy in 2019, Autumn Juhasz recalled that her ring finger began swelling painfully. Juhasz, a digital designer, texted Detroit's Thomas. He responded within an hour advising 1 percent hydrocortisone cream, an antihistamine and some ice.
Thomas also offered advice for sleeping if the itching got so bad it kept her awake.
"Having that access to text him, even that far away, was great," she said.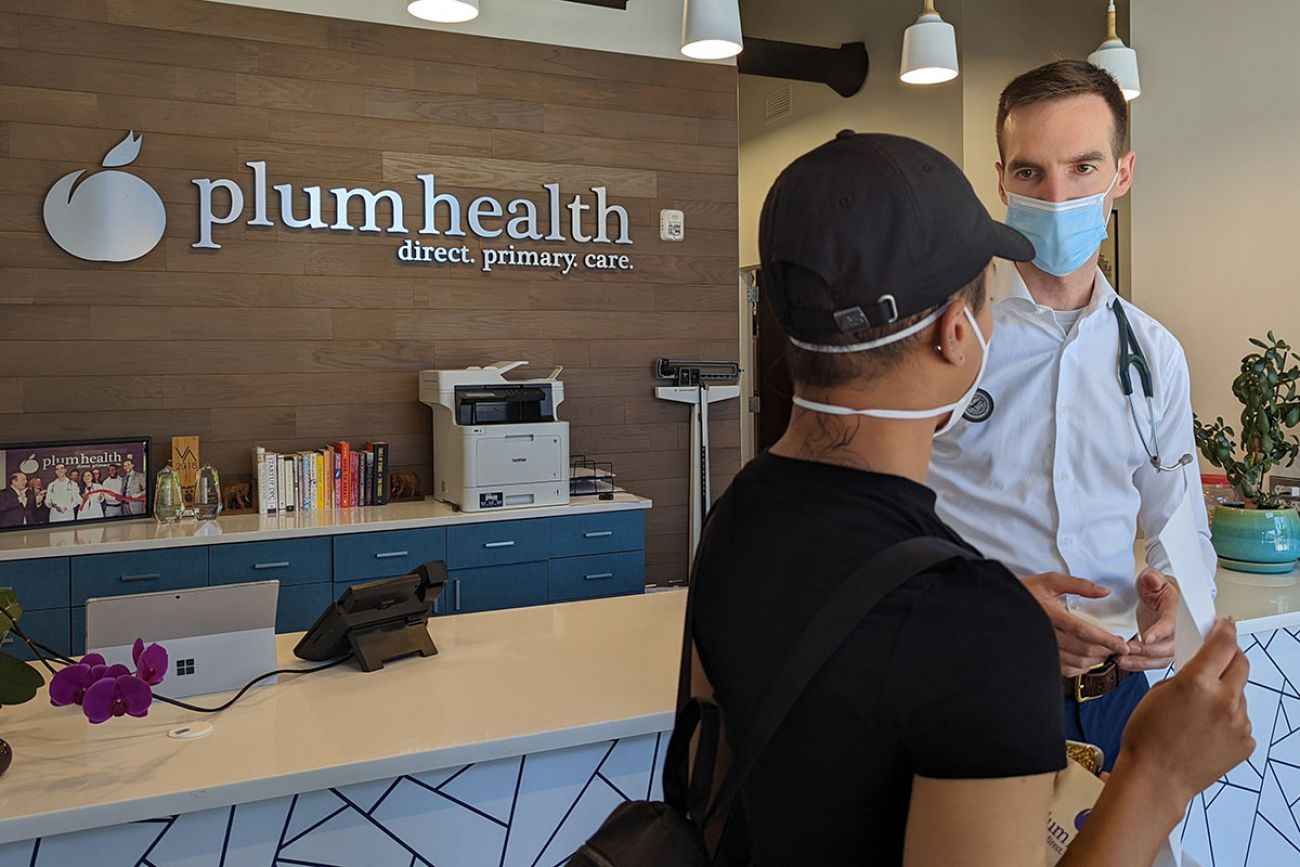 As part of his desire to be a "Main Street doctor," Dr. Paul Thomas often greets patients at the front door, and schedules each patient's appointment for a half-hour, he said. (Bridge photo by Robin Erb)
Raus and other direct primary care doctors who talked with Bridge Michigan are clear: It's crucial that patients carry insurance for care outside of the primary care office.
"We wouldn't be able to help you in case of a heart attack, a stroke or cancer care, or a severe emergency," he said. "That's why you need to have insurance, and I unequivocally recommend that everyone has some form of insurance."
But the reality is that many people don't have insurance, he said.
Many are in the "messy middle," he said.
They include patients who make too much to qualify for Medicaid (which has an income threshold of about $16,000 for an individual or $33,000 for a family of four), but not enough to afford commercial insurance if their employer doesn't provide it.
Others can only afford medical plans that have smaller monthly premiums, but high deductibles and out-of-pocket expenses.
In 2022, an insurance plan on the medical insurance marketplace can carry out-of-pocket expenses, which include deductibles, of more than $7,000 for individuals and more than $14,000 for a family. Since these high-deductible plans won't kick in until that patient spends thousands in out-of-pocket expenses on copays, for example, it makes more sense to pay a monthly fee to direct primary care, Thomas said.
At Plum Health, a $60 monthly fee "averages $720 a year — much less than that deductible," Thomas said.
"You take somebody who was neglecting their high blood pressure and diabetes for a long time. They were shut out of the traditional insurance-based system because it was cost prohibitive," he said.
"They're uninsured — a truck driver between jobs or a waitress, a bartender, et cetera. Or they have a high deductible," Thomas said, still holding the bottle of lisinopril.
Indeed, Thomas estimated 50 to 60 percent of his patients have some insurance.
In Okemos, Raus compared direct primary care's role outside the insurance world as comparable to shopping for home insurance options.
Home insurance is there to cover "catastrophic things like a tornado or fire," she said, "but you do not use it to replace a faucet or paint the living room."
In the same way, she said, primary care is more fundamental maintenance for good health and well-being, periodic appointments to help patients manage complex, chronic diseases, and the occasional office visits to tend to sickness or injury. An insurance policy provides a backstop for more serious illnesses, surgeries and hospitalizations.
All incomes
Some worry, too, that — by limiting their practice to a few hundred patients — direct primary care doctors are contributing to a doctor shortage in many parts of Michigan.
The national family physicians' group notes that a doctor's transition to direct primary care "often results in patients losing access to their personal physicians if they elect to not participate in the DPC contract or if their physicians cannot take on new" patients.
Dominick Pallone, executive director for the Michigan Association of Health Plans, which represents most of the state's largest insurers, said he questions whether most patients with insurance truly need direct primary care.
"In our minds, it's always been somewhat of a duplication of coverage," he said. "If you're buying health insurance … that basic health benefit package includes primary care services," Pallone said.
Thomas is used to raising — and answering — that question, too.
"Why would someone pay over and above their insurance?" he said. "They're using our service for convenience. They text me at 8 or 10 in the morning, and I can see them at 1 or 2 in the afternoon."
Reddy and Pallone said direct primary care does fill at least two niches — providing primary care for people who don't have insurance but who can afford the monthly fees, and providing extra attention for those with insurance who want more support and time with their doctor to manage their health.
In Owosso, west of Flint, Doug Edwards credits Raus with helping him lose 100 pounds.
He has been Raus' patient for years and says she is filled with compassion. So when she made the move to direct primary care, he followed her to her new practice.
Without feeling rushed, the two of them discussed the kind of lifestyle changes he needed to make to lose weight — avoiding certain foods, for example. Those incremental changes worked, but only after years of guidance, encouragement and patience, he said.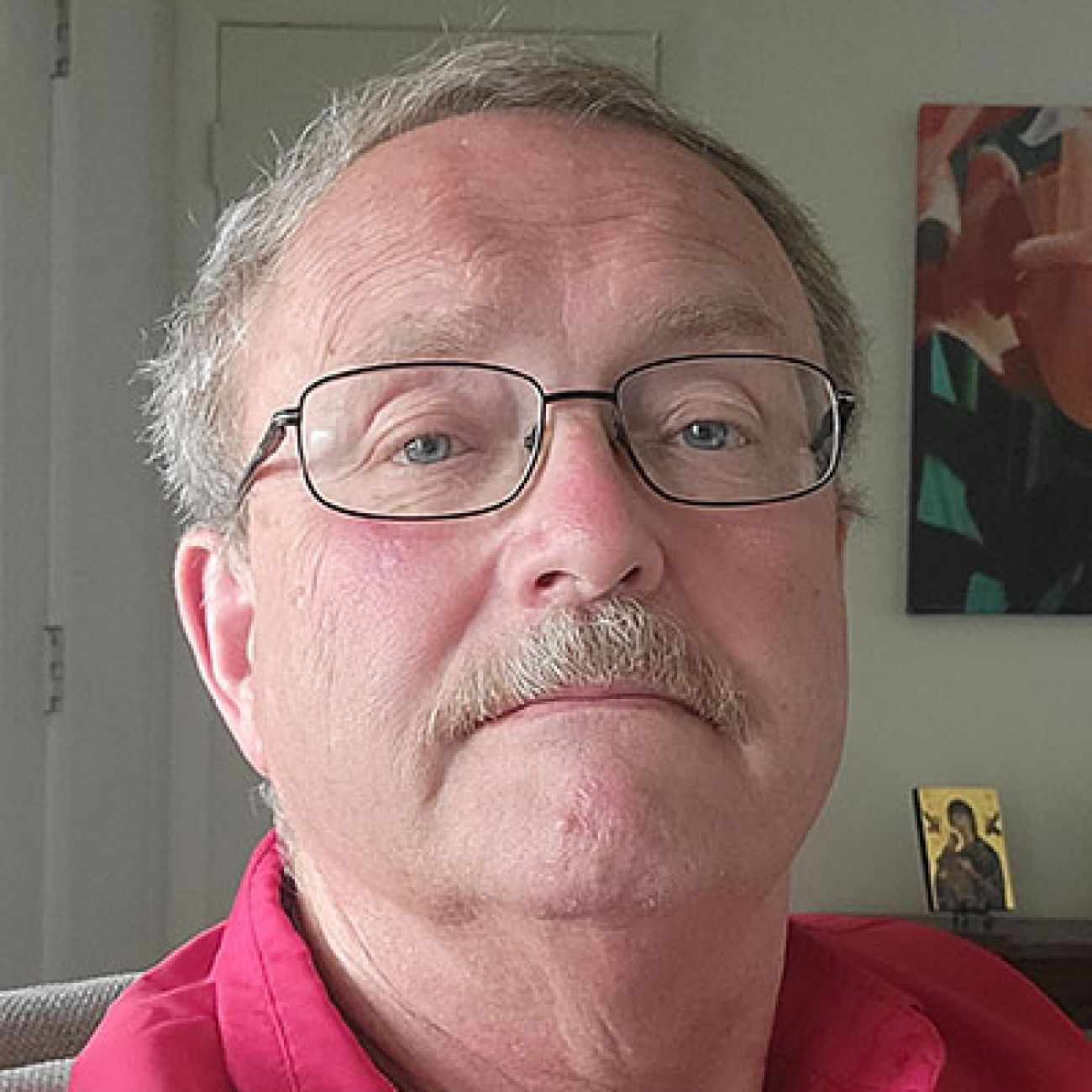 With direct primary care, "you don't sit there waiting for 45 minutes, then see a doctor for five minutes," said small business owner Doug Edwards, of Owosso. (Courtesy photo.)
"You don't sit there waiting for 45 minutes, then see a doctor for five minutes while they stare at a computer screen and then send you away with a prescription," he said.
Not check-the-box.
When doctors are able to spend more time, patients are more likely to follow medical advice and take better control of their health, said Dr. Sarah Wilson.
Fewer patients allow doctors time to develop relationships — time Wilson said is difficult in what she described as rushed, "check-the-box medical care" that insurance and large health care systems have created.
Wilson spent nine years in family medicine and teaching at Beaumont Health, and she remembers visiting with doctors in other practices when she began rethinking her own career. One day, she watched a doctor at another practice fill out paperwork for a patient who had refused information about colon cancer screening.
The doctor "literally and figuratively checked the box" on the patient's medical records, having never really discussed screening, Wilson said: "She didn't explain the options to the patients. She didn't explain why screening was important. She didn't ask the patient why they didn't want to be screened."
Wilson understood: There were other patients waiting.
"It's so hard to be present for a patient when you're always rushed," she said.
Wilson moved to Troy-based Premier Private Physicians, where patients pay $225 a month — a "premier" type of direct primary care for "high net worth" patients.
Premier markets itself as a kind of "concierge medicine," but like other forms of direct primary care, it doesn't bill insurance for office care. Rather, patients in the practice can afford the higher monthly membership cost and still carry insurance for emergencies, said founder Dr. John Blanchard.
In recent years, Blanchard said, he expanded the model to something more affordable for others. For $90 a month, patients can access doctors through Salta, a separate practice based in Troy with Premier, of which Blanchard is CEO. Patients 25 and under pay $45 a month.
Salta's lower monthly prices mean patients may see a nurse practitioner or a physician's assistant at times rather than a doctor. And they will be one of about 800 patients at Salta, instead of one of 500 patients per doctor at Premier.
Most Salta patients have insurance. Some, however, can't afford it but nonetheless "need access to good care," Blanchard said.
A Main Street practice
Norman Rockwell captured a kind of stripped down simplicity in medicine captured in his iconic painting titled "Before the shot" — a copy of which hangs in one of the patient rooms at Detroit's Plum Health.
It shows the intimacy of a doctor preparing a syringe at the counter as the patient, a young boy, stares at the doctor' credentials on the wall as he awaits a shot.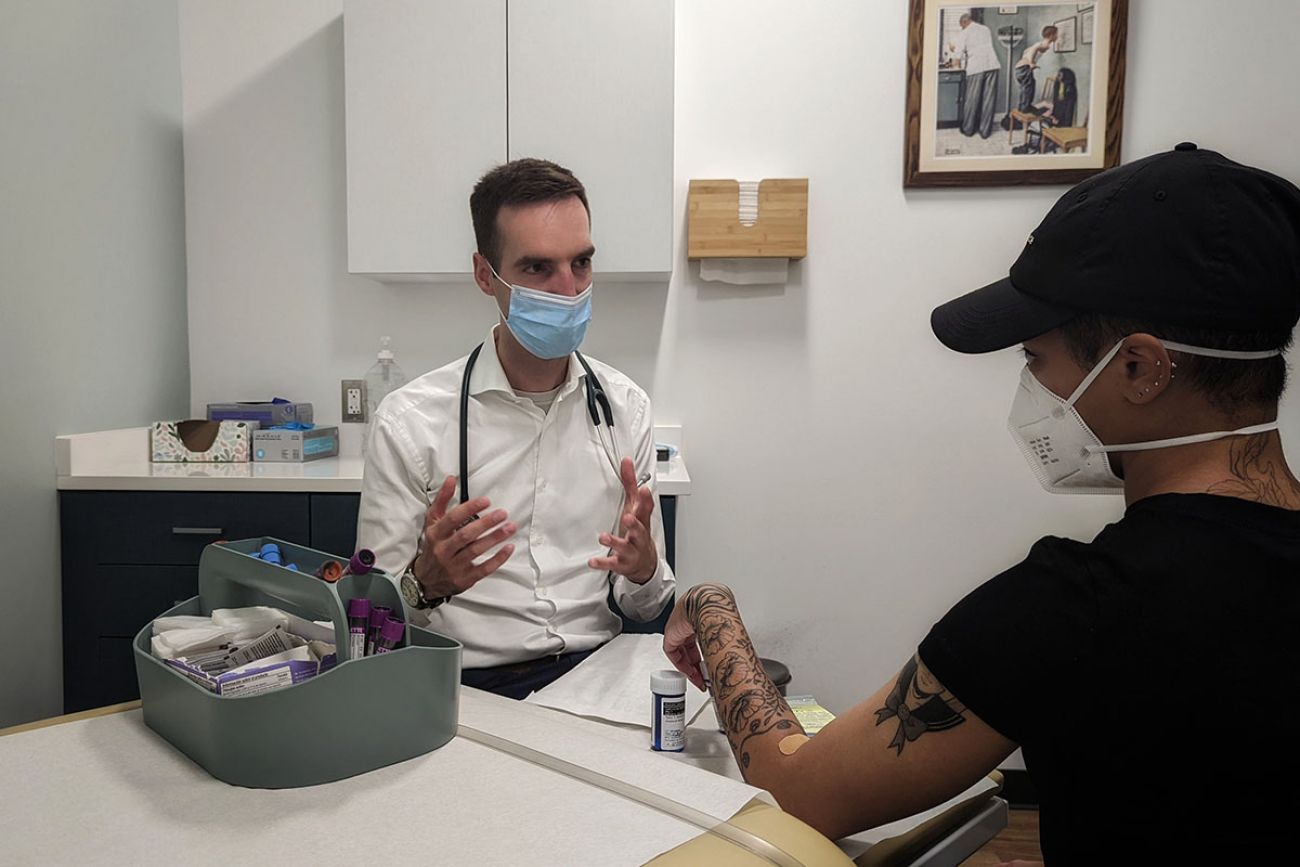 Dr. Paul Thomas in Detroit said direct primary care physicians practice unhurried medicine like physicians depicted in a Norman Rockwell painting — without extra paperwork and bureaucracy.
There are no insurers to be seen in the painting. No extra staff, either.
Thomas stood in the practice's lobby last month along a newly renovated stretch of Michigan Avenue. Outside were trendy sandwich shops, a ballpark, and construction cranes redrawing Detroit's downtown skyline.
"I always envisioned myself as being like a Main Street doctor, and here we are with a brick road in front of our office and it completes the picture of being the doctor that's accessible — with the bus lanes and bike lanes the different kind of mobility that people will use to get to our office," he said.
Just then, the door opened. A woman stepped inside, bringing with her the woosh of vehicles rumbling by and the sounds of air hammers and construction equipment.
"I'm here again, here to pick my prescription," she said. Thomas mirrored her smile, disappearing behind the front desk.
"Great to see you again," he said, handing her the bag and opening the door for her.
The entire interaction — from the door opening to closing behind her — took no more than 25 seconds.
This is the value of direct primary care — "an entrepreneurial, new way of thinking" that closes the gap between patient and physician, said Reddy at the doctor's association. (A map of Michigan direct primary care doctors can be found here.)
"This may not be the future of medicine for everyone," he said, "but it is a good option for some."
Only donate if we've informed you about important Michigan issues
See what new members are saying about why they donated to Bridge Michigan:
"In order for this information to be accurate and unbiased it must be underwritten by its readers, not by special interests." - Larry S.
"Not many other media sources report on the topics Bridge does." - Susan B.
"Your journalism is outstanding and rare these days." - Mark S.
If you want to ensure the future of nonpartisan, nonprofit Michigan journalism, please become a member today. You, too, will be asked why you donated and maybe we'll feature your quote next time!