Facing COVID vaccine mandates, these Michigan residents just said no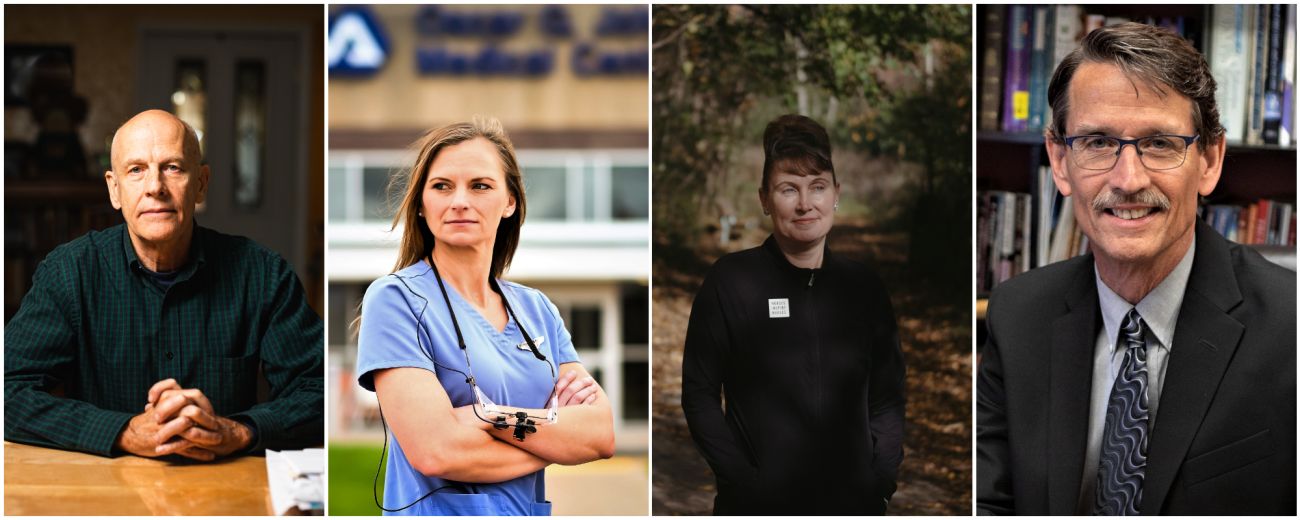 Four Michigan residents — TV weather forecaster Karl Bohnak, dentist Angela Hall, nurse Candice Rock and Pastor Michael Smith — have refused vaccines, saying it violates their principles. (Bridge photos by Ryan Stephens, Erin Kirkland and courtesy photos)
The order impacts at least 2 million workers in Michigan and 84 million nationwide.
Related:
If past mandates are any indication, things could get messy.
Hundreds walked off the job in recent months at Henry Ford Health System rather than get a mandated shot for the coronavirus. A group of soccer players at Western Michigan University filed suit when their application for a religious exemption from the university's vaccine mandate was denied.
Those are the high-profile cases.
Others profiled today by Bridge Michigan are bonded by what they call deeply held beliefs of personal liberty ─ that it is up to individuals, not government or business, to decide what they inject in their body.
And they are hardly alone in Michigan, where nearly 40 percent of people 16 and older have not been vaccinated, despite months of cajoling, pressure, enticements and overwhelming scientific evidence that approved COVID vaccines are safe and effective.
The resistance underscores just how difficult — if not impossible — it will be to achieve herd immunity from the coronavirus, which just months ago was the national goal to ending the pandemic.
A recent national survey by KFF, a nonpartisan health policy site, found that one fifth of American adults do not plan to be vaccinated for COVID-19.
Political ideology, age and education levels are factors in U.S. vaccine hesitancy.
In a previous poll, KFF found that two-thirds of unvaccinated adults were under age 50, with six in 10 identifying as Republican or leaning Republican. Almost half of unvaccinated adults have a high school education or less, with a third having completed some college, and about a fifth with a college degree or more.
The rate of vaccination lags among rural adults, at 58 percent, compared to that of urban adults, at 75 percent, and of suburban adults, at 73 percent.
These are some of the stories of those who said 'no.'
The conscientious objector
Twice in his life, Karl Bohnak felt compelled to take a stand he realized might come with a price.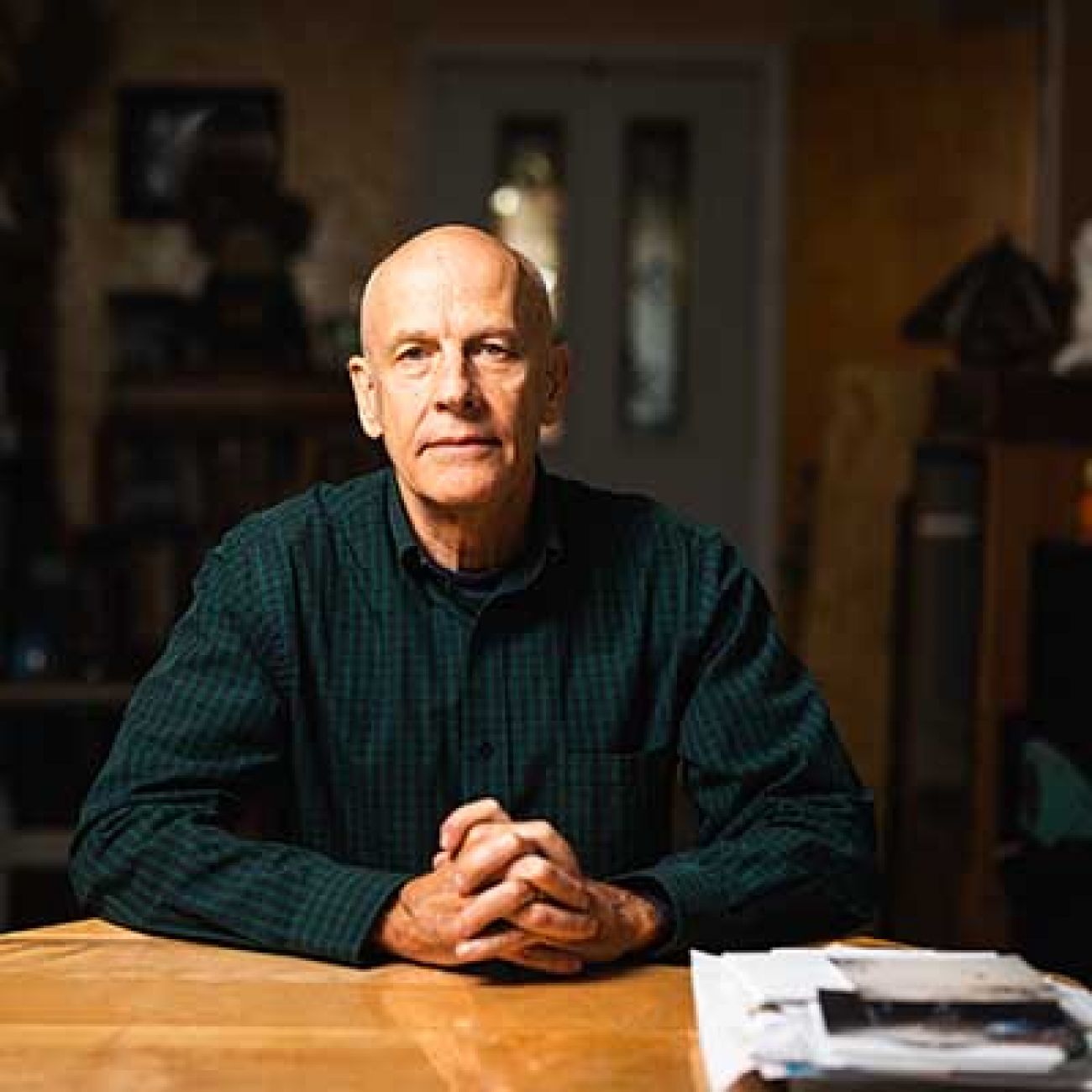 Karl Bohnak, a TV weather forecaster in the Upper Peninsula for more than three decades, was fired for refusing a COVID-19 vaccine. (Bridge photo by Ryan Stephens)
The first came nearly 50 years ago, when he fought being drafted into the military as a conscientious objector to the Vietnam War. That battle he won, when a draft board in Milwaukee granted his appeal in 1973.
"I felt we had no business trying to shove our way of life on somebody else," he explained to Bridge Michigan.
A couple months ago, the veteran Upper Peninsula TV meteorologist stood up again. He defied a mandate at WLUC in Marquette that employees be vaccinated for COVID-19 — and paid for it with his job.
"I made the decision that I would have to be fired," Bohnak told Bridge. "I made it clear that I was not resigning, I was being forced out."
And while he loved his work at the station that had been his home for more than 30 years, Bohnak said a set of deeply held principles made his decision clear.
"This is America, where we have choice. We as human beings have the right to choose what we put in our bodies," Bohnak said.
The station's owner, Gray Television, owns 162 stations nationwide, and it required all employees be fully vaccinated by Oct. 1, noting in a memo that "the increasingly rapid spread of the coronavirus poses an unfair risk to fellow employees and their family members who are not eligible to get vaccinated."
Bridge reached out to WLUC for a response to Bohnak's account, but a station spokesperson said it "does not comment on employee matters."
Over the years, Bohnak also publicly expressed skepticism about climate change despite scientific consensus to the contrary.
With COVID-19, he said he grew increasingly wary over the government's response to the pandemic, beginning with emergency approval by the U.S. Food and Drug Administration of vaccines.
"This is not something that's been approved with the usual FDA process. That takes several years. This is experimental gene therapy," Bohnak said.
Health officials say the vaccines weren't rushed and the vaccine was quickly developed because the virus that causes COVID-19 had been studied for a decade before the pandemic.
The FDA gave emergency approval for the vaccines because of the health crisis and full approval of the Pfizer vaccine in August, following submission of evidence that the vaccines are safe and effective for most people who get them, and after review of vaccine manufacturing processes and facilities. Research found that unvaccinated people are 11 times more likely to die of COVID than those who are vaccinated.
Nonetheless, Bohnak said he believes the risks from the virus have been blown out of proportion and doubts government accounting of COVID-19 deaths, which exceed 700,000 in the United States, according to the CDC, and 22,000 in Michigan, according to Michigan's Department of Health Human Services.
"This was all engineered to scare us," Bohnak said.
Studies in fact show there are likely far more deaths from COVID-19 than have been reported — and deaths from all causes in the United States in 2020 jumped to 3.3 million, up by more than 400,000 than in 2019.
At age 68, Bohnak falls into an age group that continues to be at high risk from the virus. He said he's taking doses of zinc, and Vitamin C and D, a regimen he's convinced will help protect him.
But to Bohnak, the greater threat remains a government he says is bent on controlling the population.
The day after he was fired, he posted a letter on Facebook.
"Our way of life, our freedom and liberty, is collapsing before our eyes" it read in part.
The Catholic dentist
A couple decades ago, Angela Hall was immersed in a bioethics course at Central Michigan University. It left a lasting impression.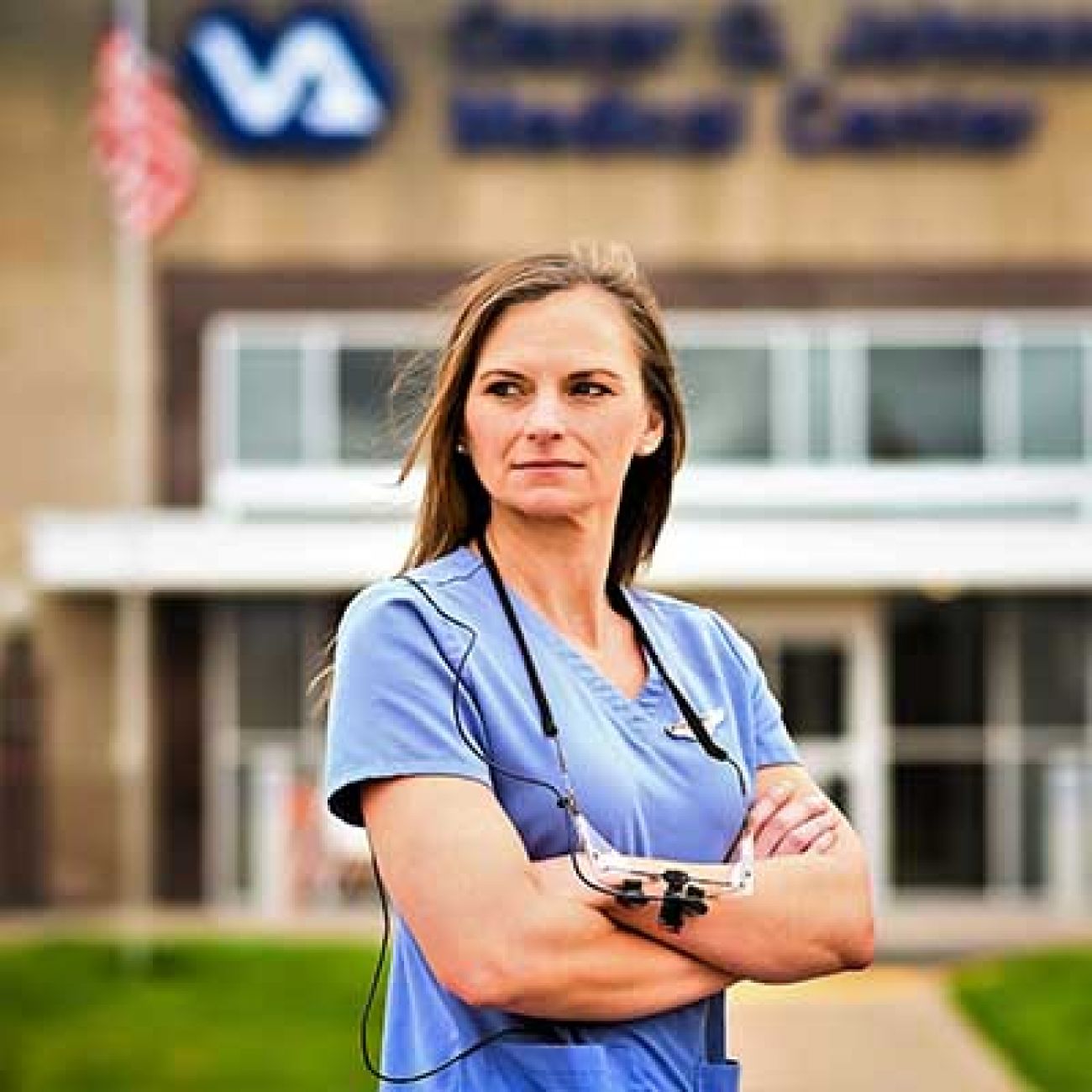 Angela Hall, a dentist at an Upper Peninsula VA hospital: "I would rather they terminate me" than be forced to take a COVID-19 vaccine. (Courtesy photo)
"We spent four weeks talking about autonomy, and an individual's right to choose for themselves. The professors incorporated the slippery slope phenomenon, that once you get going down that hill, you can't stop it. That stuck with me."
Now a dentist at the U.P.'s Oscar G. Johnson VA Medical Center in Iron Mountain, Hall recalled an email in late July informing VA employees they had eight weeks to be vaccinated for COVID-19 or risk losing their job.
A mother of four young children, the 42-year-old Hall said she's by no means opposed to the principles behind most vaccines ─ they provide "herd protection" against the spread of diseases like measles, mumps and rubella.
"I'm certainly not an anti-vaxxer. My kids have had all the recommended vaccines," Hall said.
She feels otherwise about vaccines for COVID-19, starting with her religious faith.
"I am a practicing Catholic. I have an ethical issue with a fetal cell line being used experimentally to develop these vaccines. I don't want any aborted baby cell lines being used in medicines or therapeutics being injected in my body."
The United States Conference of Catholic Bishops issued a statement in January that found neither Pfizer nor Moderna used an abortion-derived cell line in development or production of the vaccine, but that "such a cell line was used to test the efficacy of both vaccines." (Some vaccines required for attendance in school, though, such as chicken pox and rubella were developed using fetal cells.)
Hall filed for ─ and was granted ─ a religious exemption from the vaccine mandate at her hospital. And while the number of religious exemptions granted through the VA system was not immediately available, officials at Henry Ford Health System in southeast Michigan said it granted about 1,900 vaccine exemptions out of 33,000 employees, most for religious reasons.
Had she been turned down for religious exemption to the vaccine mandate, Hall was prepared to lose a job she loves ─ caring for veterans who served their country, including many, now in their 70s, who fought in the Vietnam War.
Hall said she never brings up the topic of vaccines or vaccine mandates to her patients. But some, strongly opposed, raise it themselves. She said that only reinforces to her what's at stake.
"This is scary for me, standing for my freedom," Hall said. "But this is nothing compared to the fear that my patients felt when they were fighting for our freedom in the jungles and swamps of Vietnam."
The nurse who said 'No'
Candice Rock was a raw recruit with the U.S. Army more than three decades ago, when she rolled up her sleeves more times than she can count for a series of mandatory vaccinations.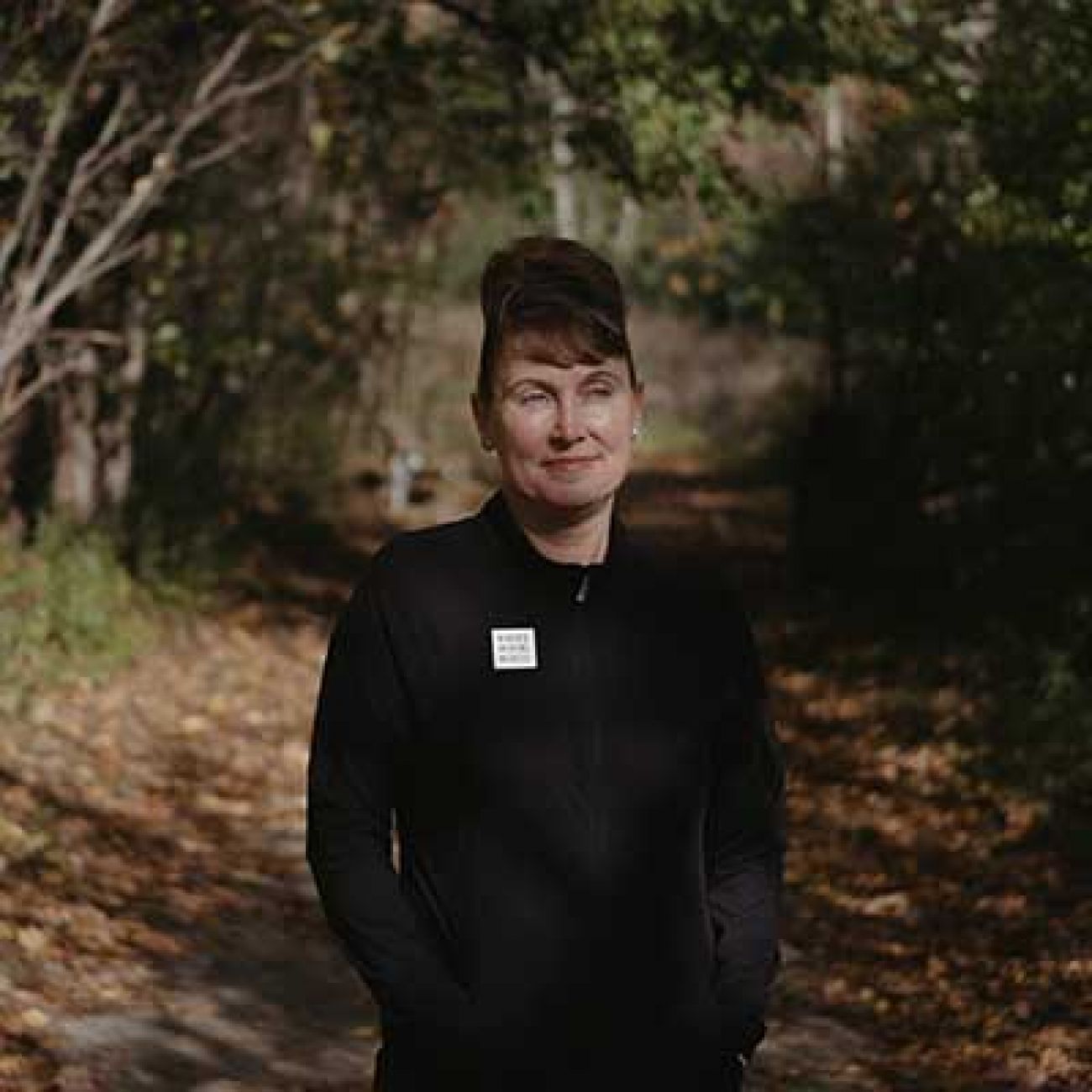 Candice Rock, a nurse at a suburban Detroit hospital, said she worries where vaccine mandates will lead. (Bridge photo by Erin Kirkland)
"I had a million injections pumped into me," she joked, recalling her service from 1987 to 1994. "I'm probably a little glow worm inside."
But Rock, 53, now a registered nurse at St. Mary Mercy Livonia Hospital in Livonia, drew the line when hospital officials in July notified employees that they would have to be vaccinated for COVID-19 or face termination.
Trinity Health, the corporation that owns and operates the Livonia hospital, issued the same mandate at seven other Michigan hospitals.
"I've been in nursing 20 years," Rock told Bridge.
"But I was 1,000 percent willing to walk away from my job. I'll drive a bus if I have to rather than take that shot."
Instead, Rock filed for a religious exemption ─ to her mind, the best option she had to keep her job.
"I kind of put stuff in there (on the exemption form) that my body is a temple and I don't want unseen stuff in my body. I'm a Christian, but I'm not one of those Bible thumpers. I'm not going to church every weekend, but I knew what I had to do to save my job, if you know what I mean."
And while Rock was granted her exemption, she remains furious that workers are being forced to take these vaccines to keep their job. In October, Trinity Health Michigan reported that 80 of its workers resigned rather than be vaccinated, out of a workforce of 24,000.
"I have real trust issues about our government," Rock said. "I feel that these vaccines were rushed, and you are hearing about these side effects that don't get reported."
The vast majority of side effects from the vaccine are mild, including fever, fatigue and muscle pain.There have been reports of increases in cases of inflammation of the heart muscle, particularly in male adolescents.Those cases are rare, as one study identified 15 cases of heart inflammation out of 2.3 vaccinated adults age 18 and over.
At the same time, Rock sees the medical establishment ignoring treatments she believes can beat this virus. She cited hydroxychloroquine, a drug used for decades to treat malaria, and ivermectin, a medication to treat parasites.
The U.S. Centers for Disease Control and Prevention issued a health advisory in August warning against ivermectin's use to treat COVID-19, while research has found that hydroxychloroquine does not benefit patients hospitalized for COVID-19.
Rock said a relative in Texas was "definitely sick" with COVID but immediately improved after taking ivermectin and hydroxychloroquine — leading her to believe the medical establishment is covering up treatments for the virus.
More and more, Rock said she wonders if the greater threat might be the government itself, likening vaccination cards to forcing Jews to wear the Star of David in Nazi Germany, a comparison the Anti-Defamation League and other groups have said trivializes the Holocaust.
"People need to know their history," she said.
The activist pastor
Pastor Michael Smith is a busy man these days.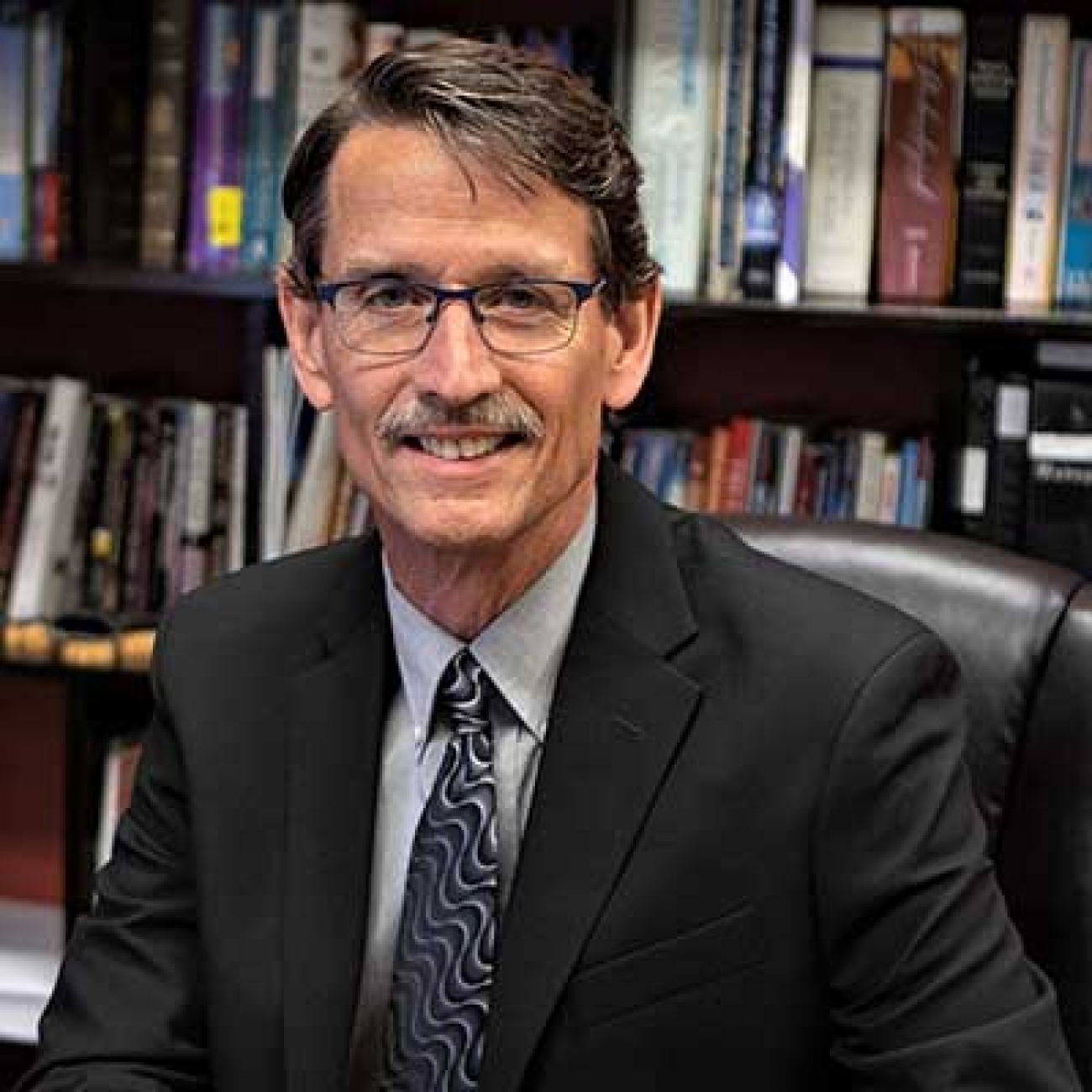 Michael Smith, a pastor based in the Thumb, travels the state warning of vaccine mandates and government overreach. (Courtesy photo)
He's got preparation for his Sunday sermons at Life Song Church, in the rural Sanilac County community of Snover about 50 miles east of Saginaw. Then he's got his mission through We The County, a grassroots organization he founded about a year ago.
"I felt if I didn't do something we were going to lose our freedoms," Smith, 64, told Bridge.
His website says the group is dedicated to opposing "progressive ideologies that instill hostility towards patriotism" in local schools and to exposing "the Deep State and stand(ing) up for our Constitutional Rights."
He's also the author of "The Final Battle: America is Divided and the End-of-Age Final Battle has Begun."
And front and center to Smith these days is a battle against vaccine mandates, which he views as a troubling step by the government toward controlling its populace. He's traveled the state warning of this perceived threat, most recently to several counties in the U.P.
He also counsels individuals facing vaccine mandates, estimating he's issued a couple dozen letters on their behalf for a religious exemption if he's convinced their faith is genuine.
"People will contact me. But I need to know, 'Are you born again? Are you a believer in Jesus Christ?' I'm not going to give them (letters) out, just to give them out."
The vast majority of Christian denominations have no theological opposition to vaccines, except for the Dutch Reformed Church and Church of Christ, Scientist, according to research from Vanderbilt University.
White evangelical Christians, however, are the least likely faith to be vaccinated, as 1 in 4 refuse, according to a July survey from PRRI, the Public Religion Research Institute.
In a video on We the County's website, Smith lays out what he sees at stake when individuals are forced to take a shot against their will.
"Hey, I want to ask you a question," he says to the camera.
"If someone puts a gun at your head and said, 'You have a choice. You are going to take this vaccine or I am going to pull the trigger.' Does that really give you a choice? Listen, wake up America, look at this, use your brain, open your eyes."
Smith vows to continue preaching this message of individual freedom, in church, or on the road, as he travels the state to plant new chapters of We The County.
"Once you open the door to mandates in medicine, where does it stop? Forced sterilization? Just look at China ─ they have forced abortions, supposedly for the greater good. What about the greater good of the individuals?"
Only donate if we've informed you about important Michigan issues
See what new members are saying about why they donated to Bridge Michigan:
"In order for this information to be accurate and unbiased it must be underwritten by its readers, not by special interests." - Larry S.
"Not many other media sources report on the topics Bridge does." - Susan B.
"Your journalism is outstanding and rare these days." - Mark S.
If you want to ensure the future of nonpartisan, nonprofit Michigan journalism, please become a member today. You, too, will be asked why you donated and maybe we'll feature your quote next time!