Lethal, highly addictive methamphetamine again stalking rural Michigan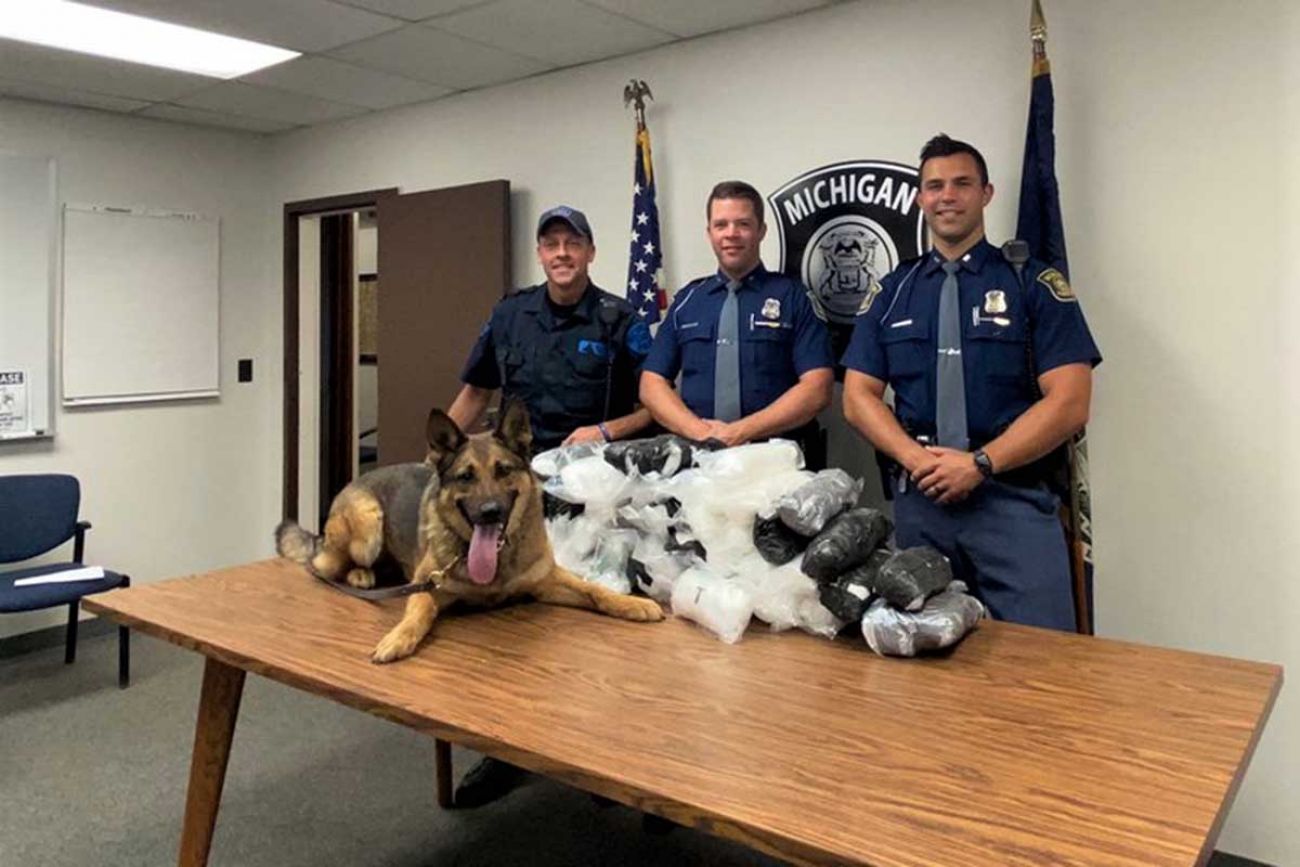 In June, state police troopers seized more than 100 pounds of methamphetamine in rural southwest Michigan. (Photo credit Michigan State Police.
In an Upper Peninsula courtroom, Circuit Court Judge Brian Rahilly leafed through the pages of his Sept. 22 criminal docket in Alger County. The defendants scheduled to appear before him fit a familiar pattern.
Nine of 20 cases that day involved charges tied to methamphetamine ─ from possession to delivery or manufacture of the drug, including one case that also charged an assault.
"Just off the cuff," the judge said, "I would say most days half of my criminal docket is meth and it's probably higher than that."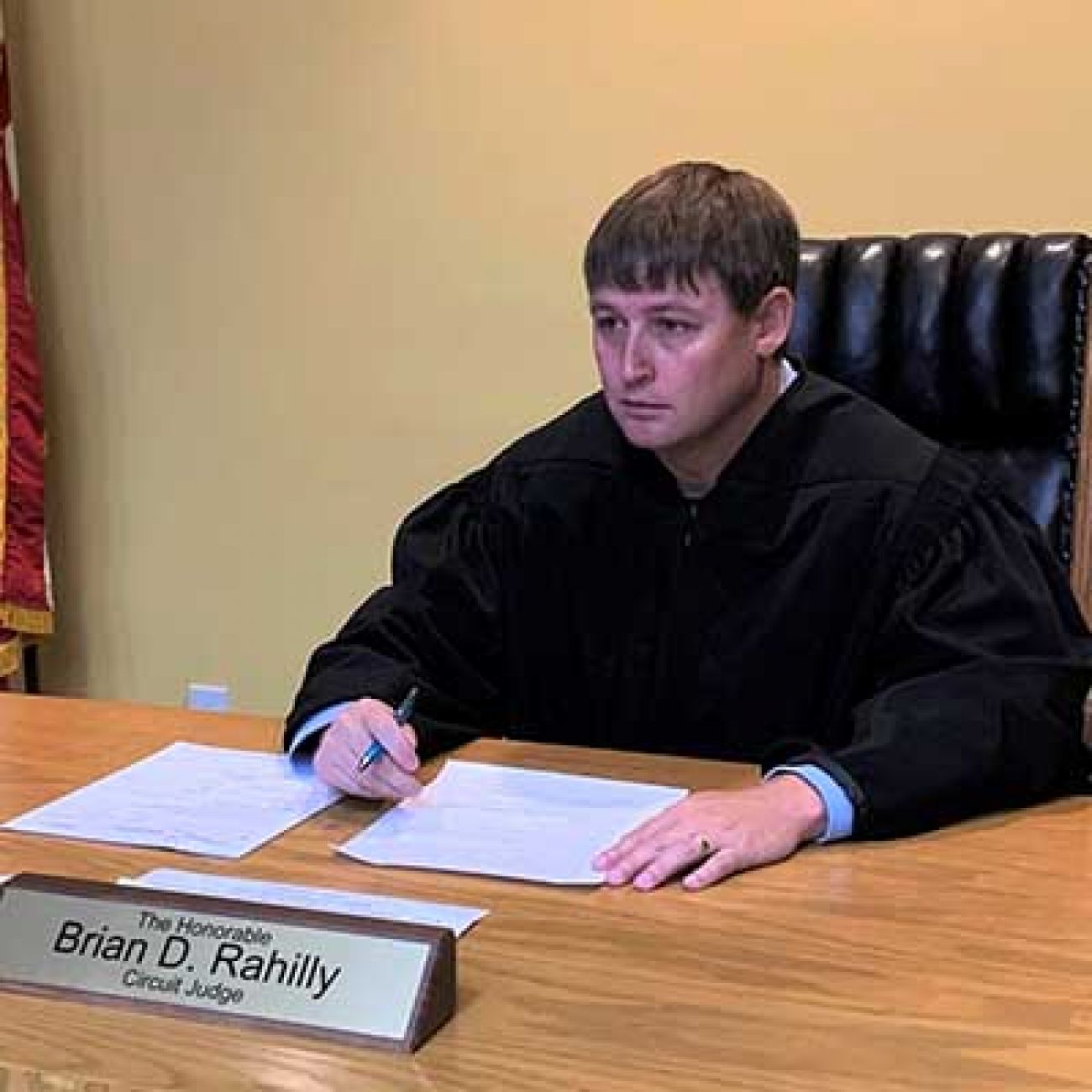 Michigan 11th Circuit Court Judge Brian Rahilly: "Most days, half of my criminal docket is meth." (Courtesy photo)
Rahilly has been on the bench since January, following his election last year to the circuit court, which spans four rural counties.
"For every 10 cases involving meth, I might get one involving another substance; it's not even close," he said.
Related:
"I would say meth is the most critical issue we face at this time in our local communities."
Easily overlooked amid a high-profile opioid epidemic, experts say a resurgence in methamphetamine abuse poses a renewed threat to Michigan — especially in wide, rural swaths of the state where treatment is scarce and the drug is anything but. The coronavirus pandemic has raised even more barriers to helping those addicted to this potent drug.
"Meth has never really stopped being a problem, especially in rural Michigan," said Liz Lenz, coordinator of the Barry County Substance Abuse Task Force, south of Grand Rapids. "It certainly is of growing concern now."
A 2020 report on overdose deaths in 12 largely rural counties in the west side of lower Michigan recorded 289 overdose deaths – a 35 percent rise over 2018. Methamphetamine was found to contribute to a third of those deaths.
Michigan health officials don't yet have a detailed breakdown of overdose deaths across the state for 2020, in which deaths by all types of drugs reached an all-time high of 2,743 deaths, a 17 percent rise from 2019, according to preliminary data released in July by the U.S. Centers for Disease Control and Prevention.
But overdose deaths tied to methamphetamine over the past decade point to an ominous trend, as deaths from psychostimulants including meth skyrocketed: from 11 in 2010 to 210 in 2019.
And those on the treatment frontlines say that death statistics reflect but part of the damage wrought by methamphetamine — wrecked families, children pried from their parents, destroyed futures.
At the same time, treatment advocates say, gaps in rehabilitation support systems continue to plague much of rural Michigan, whether it's treatment for opioids or methamphetamine. Added to that, and perhaps related, is that much of rural Michigan — which has seen high levels of persistent poverty, unemployment and falling population — leads the state in the rate of suicide.
"I think it's unconscionable that somehow we have so few resources in northern Michigan," said Kevin Fischer, executive director of the Michigan chapter of the National Alliance on Mental Illness, a grassroots advocacy organization.
"We don't have a good plan to address these issues. It's as if we cut these people loose and told them, their behavior doesn't matter."
A 2019 study found that more than 500,000 Michigan residents with a substance-use disorder (about 1-in-5) went untreated.
Commissioned by the Michigan Health Endowment Fund, an independent healthcare foundation that receives funds from Blue Cross Blue Shield of Michigan, the analysis noted acute shortages of mental health and substance abuse providers in rural stretches of the state, concentrated in the northern Lower Peninsula and the Upper Peninsula.
It noted 25 counties had no psychiatrist and 10 counties — all rural — had no psychiatrist or psychologist. Sixteen rural counties did not have a substance use disorder treatment center, and seven rural counties lacked the trifecta of a psychologist, psychiatrist and substance abuse center.
President Biden's proposed $3.5-trillion social-safety-net plan — its prospects for passage anything but certain — contains modest plans to address this issue, including offering scholarships for 1,000 U.S. medical students who agree to serve in rural and underserved areas.
In August, the federal Department of Health and Human Services awarded $7.5 million to 15 agencies across 13 states to strengthen treatment programs for methamphetamine users, including $500,000 over three years to the Michigan Center for Rural Health at Michigan State University.
Robert Mellin, chief clinical officer for the U.P.'s Great Lakes Recovery Centers, said the chemistry of methamphetamine makes treatment a particularly steep challenge, even with support. Great Lakes manages nine outpatient drug treatment offices across the U.P., as well as four residential treatment centers and three recovery houses.
But he said traditional outpatient treatment — which constitutes the bulk of methamphetamine intervention — has a spotty success record for people with addictions.
"Their no-show, cancellation rate is painful," he said. "It's kind of like they are here and they are not."
Mellin said no-show rates grew worse during the pandemic, when Great Lakes switched from in-person counseling to remote digital sessions. Clients simply disappeared.
"We lost 40 percent of our outpatient business," he said.
Methamphetamine yields a high akin to cocaine, as it floods the brain with dopamine, a chemical tied to feelings of pleasure. But repeated use also raises the threshold for that initial rush, which means meth users need to take more to reach the same high. Highly addicted users can enter a manic state where they're awake and on edge for days, and prone to hallucinations and paranoia.
While there are three medications approved for opioid addiction, there are none for methamphetamine. Though an outpatient behavioral strategy with a proven track record has earned legislative support for California's Medicaid system. (See accompanying Bridge story on "contingency management treatment.")
Michigan law enforcement officials say methamphetamine's grip in the state grew in recent years as the supply shifted from home-brewed meth labs to a purer ─ and cheaper ─ industrial-scale product.
In the early 2000s, meth made from pseudoephedrine, the decongestant in cold medicines like Sudafed, poured out of homemade Michigan labs in the woods, in kitchens, garages and trailer homes. Accidental meth lab explosions became all too common around the state.
State lawmakers responded, with GOP Gov. Rick Snyder signing a bill package in 2011 that clamped down on the sale of pseudoephedrine and required retailers to keep products containing the drug in a locked case or behind the counter.
But as the supply of home-cooked meth began to dry up, another source took its place, much of that in the hands of Mexican drug cartels. Law enforcement took notice.
Over two years, In 19 largely rural northern Michigan counties, authorities nearly doubled methamphetamine arrests, from 226 arrests in 2018 to 542 in 2020.
"A lot of it is coming from south of the border," Michigan State Police Lt. Derrick Carroll told Bridge. "It's higher grade, a lot cheaper than heroin and it is more readily available."
In June, state police pulled over a car with expired Georgia plates in Van Buren County in rural southwest Michigan. Troopers found more than 100 pounds of methamphetamine, one of the largest seizures in recent years.
State Police Lt. Richard Pazder, regional commander of the Southwest Michigan Enforcement Team, a nine-county multijurisdictional task force, said that bust is a sobering reminder of the rising threat posed by the drug.
"These cartels have flooded the market with a product that is potentially lethal," Pazder said. "People are using more meth and they are using it more often."
Paul Olson, an outpatient counselor at the Great Lakes Recovery Centers since 2013, said his recent caseload charts meth's relentless toll on the families and small communities west of Marquette.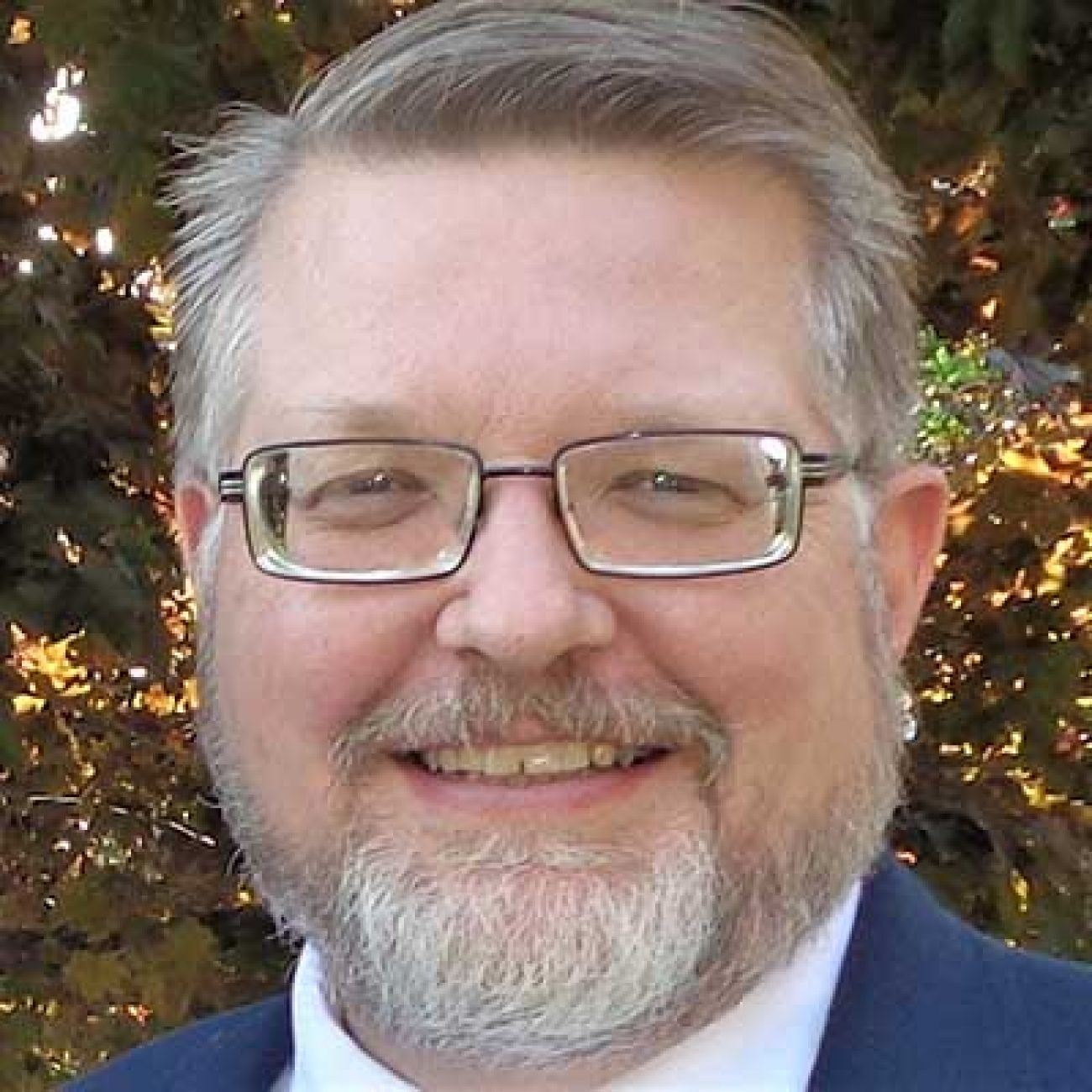 Upper Peninsula drug counselor Paul Olson: "Out here, in our small town of Ishpeming, meth has started to eclipse every other drug except alcohol." (Courtesy photo)
"Out here in our small town of Ishpeming," he said, "meth is eclipsing every other drug, except alcohol.
"People lose their jobs, that's the first thing that happens. It's very hard for a person to maintain any kind of job when they are using methamphetamine," he said.
"I've seen people who had their kids taken away because they started using. They were having one of those episodes and the police get involved and they find out they have children with them."
Olson recalled the recent downward spiral of a single mother of three young children. She had become addicted to prescribed opiate pain medication while holding down a clerical office job, switched to heroin after her prescribing doctor's practice was shut down, then to methamphetamine when the local underground supply of opiates dried up. She lost her job. She began injecting the drug to get a faster and more potent high.
"She was pulled over by the police when she was impaired by meth and she had the kids in the car. The kids were eventually taken away."
By this time, Olson said, the woman's family had severed ties with her.
"It's that way with a lot of families around here. If you are using meth, they say you are dead to me."
Olson said he saw the woman perhaps three times in counseling and she seemed sincere in her desire to beat this drug.
But more than a year ago, she abruptly quit coming, a court-imposed condition for her to regain custody of her children. Olson never saw her again.
"They just kind of drop off the face of the earth," he said.
Only donate if we've informed you about important Michigan issues
See what new members are saying about why they donated to Bridge Michigan:
"In order for this information to be accurate and unbiased it must be underwritten by its readers, not by special interests." - Larry S.
"Not many other media sources report on the topics Bridge does." - Susan B.
"Your journalism is outstanding and rare these days." - Mark S.
If you want to ensure the future of nonpartisan, nonprofit Michigan journalism, please become a member today. You, too, will be asked why you donated and maybe we'll feature your quote next time!