As Mackinac Island empties for winter, COVID arrives for a stay
MACKINAC ISLAND — Michigan's Mackinac Island locked down its 2020 tourism season on Sunday under steely cold skies.
And though the season was largely successful despite pandemic disruptions this spring and early summer, the island is hanging onto an unwelcome inhabitant: the novel coronavirus.
After skirting large outbreaks through the heart of summer, COVID-19 cases climbed to 53 Friday among the island's year-round residents and what's left of its seasonal workforce. On this small island community, which has a year-round population of roughly 500, the numbers are ominous.
Related stories:
"I never knew a soul from the health department," Tim Hygh, executive director of the Mackinac Island Tourism Bureau, said of the virus. "Now I talk to them at least once a week.
In retrospect, it's "amazing" that the island, which draws more than a million visitors a year, escaped a surge this long, said summer resident Melanie Libby, who opened a small business in June, Great Turtle Brewery and Distillery, with co-owner Ira Green.
"We knew it was out there, and when we have hundreds of thousands of visitors each summer, I'm sure one or two of those folks had COVID, and maybe they didn't even know it," Libby said.
Keeping the island COVID-free, she said, "can be a goal and a hope, but it was probably unrealistic."
Autumn alerts
Mackinac remained relatively COVID-free until fall.
But in a series of alerts in late September, the four-county LMAS District Health Department found COVID exposure at several island sites: on ferry trips and a handful of shops and restaurants. Officials released no details about the cases, leaving Mackinac's regulars to wonder whether those infected were island visitors, workers or year-round residents.
Health authorities said they were not able to trace infections to a single event or person. Rather, Mackinac Island was the victim of "community spread" that was probably linked to growing "pandemic fatigue," as island residents and guests set aside social distancing and other safety protocols.
"It's not that people were forgetting, they were just tired of it," said Carlos Villegas, 28, a barista at the Lucky Bean Coffeehouse.
By mid-October, there were 26 cases among temporary and permanent residents on the island, before jumping to 53 confirmed infections Friday, LMAS spokeswoman Kerry Ott said.
Mackinac may be an island, but it was not immune to trends in the wider region. The four counties covered by the health agency (Luce, Mackinac, Alger, Schoolcraft) had seen infections climb 167 percent between Oct. 1 and Friday, to 358 cases.
For island residents, the timing is not fantastic. The virus is surging just as ferry service scales down on Sunday, and as the island's only medical clinic cuts down to part-time hours on weekdays only.
If Mackinac's first goal — to remain COVID-free — seemed unrealistic, the second is just as nerve-racking for those whose businesses, like Libby's, survive or perish based on how they perform in the six-month tourism window.
"The second goal was 'Let's make it to 2021,'" said Hygh of the tourism bureau. As COVID-19 bore down on the state, he said, "we had no idea what was in front of us."
Would there be a summer?
Early this spring — a time when merchants are usually cleaning and stocking up for summer — island business owners and managers were in lockdown like the rest of Michigan. All but essential businesses were shuttered as COVID-19 ripped through southeast Michigan then spread through the state, ultimately killing thousands, triggering an ugly and angry political divide, and disrupting the economy.
Gov. Gretchen Whitmer announced in May that bars and restaurants in northern MIchigan and the Upper Peninsula would be able to open on Memorial Day weekend. Great news, though some folks on Mackinac wondered: Would anyone even come?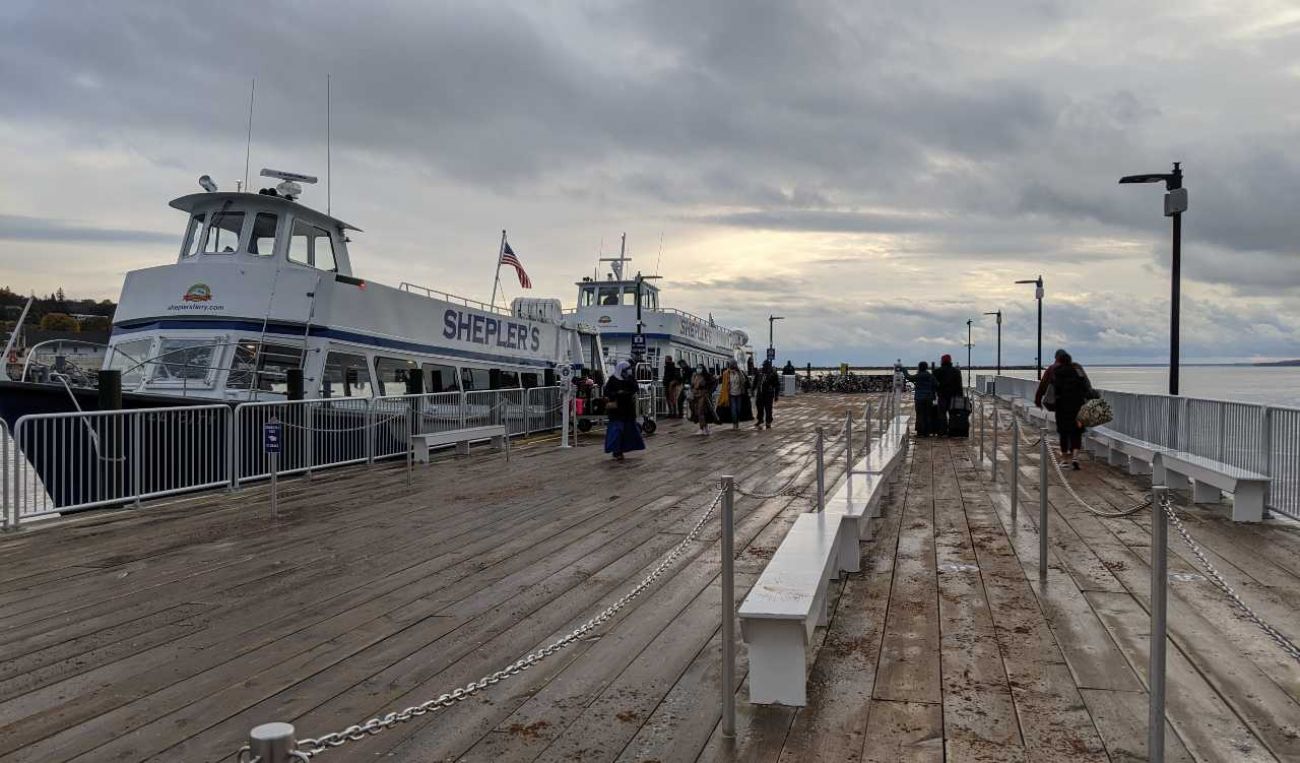 Spring school tours to the island had been canceled. Tour groups of retirees dried up. Weddings and convention business – gone.
"Going into the season, there was a lot of uncertainty. It was scary," said Dominick Miller, marketing manager at Mackinac State Historic Parks.
Under the new summer rules for northern Michigan, dining rooms were limited to half capacity and tables were to be spread out to ensure at least 6 feet between parties. Masks were required.
"We're a secluded island with limited medical resources, and we didn't know how tourists would react to the rules in place," Miller said. "We didn't know if they'd even come. We'd lost almost two months of revenue."
"April, May, June — all disasters," said Chris Shepler, a third-generation member of the popular ferry service, now in its 75th year. Shepler's unveiled its newest fleet member this year, the $4.5 million, 210-passenger, jet-powered vessel called the William Richard.
But with COVID?
"I said, if we are still here in 2021, it will be a success," he said.
But by July Fourth, cooped-up, pandemic-weary Michiganders were on the move again, and Mackinac offered just what they needed: family-friendly, wide-open spaces.
"We had full boats coming over every single day," said Todd Callewaert, owner of several restaurants and island fudge shops.
Business owners put out calls to locals, such as Heather Alzner, 29, who drove horse-drawn carriages this summer, and plans to stay through the year.
"It began to boom and it didn't stop. It didn't matter if you worked in a bank, or what, they were 'We need you,'" she said.
On Sunday morning, as some of the season's last guests wandered past "closed for the season" signs and end-of-season sales, Alzner hauled final loads of customer luggage from the island. By next weekend, most island workers will be gone as well.
An island transformed
Even as the sun shone warm and bright this summer, visitors arrived to a different Mackinac.
Plexiglass shields separated tour groups. There were fewer horse-drawn carriages and bike racks on the streets to allow visitors to space out as they wandered off sidewalks.
Masks were required nearly everywhere in public, as they were elsewhere in Michigan.
In keeping with the horse-drawn carriage theme, signs reminded guests to "wash your hooves."
Behind the scenes, the island's ubiquitous rental bikes were wiped down each time they were returned, and then again when they went out, said Green, who is also in the bike shop business.
Hotels invested in cleaning equipment – special electrostatic disinfectant sprayers that cost nearly $1,000 each, Libby said. Business leaders and community health leaders were in regular communication.
The pandemic also aggravated worker shortages.
Before the Fourth of July rush, businesses had been unable to hire a full staff. With the uncertainty of businesses opening and closing, employers found it difficult to woo seasonal workers to northern Michigan.
Those workers traditionally lived in dormitories where they often lived two or more in a room. But to limit the spread of COVID, Miller said, each staff worker had to have his or her own room, adding to business costs.
The parks system cut staff by about 40 percent. The iconic Grand Hotel cut its capacity to just 50 percent, said Hygh at the tourism bureau.
The cozy, 80-seat Winchester's, a Main Street restaurant owned by Libby, remained shuttered. Cozy is usually a lure for visitors.
But "no one wanted quaint this summer," Libby said.
There were a few tense moments.
Shepler said there was an occasional ferry customer that didn't want to wear a mask. Shop owners had similar tales. "We'd get someone unhappy every day about having to wear a mask, and they'd just walk out," said Greg VanDusen, who owns three island souvenir and clothing shops.
His stores, packed with T-shirts, stuffed animals, trinkets and people, made some employees nervous. One quit, saying it was simply too much.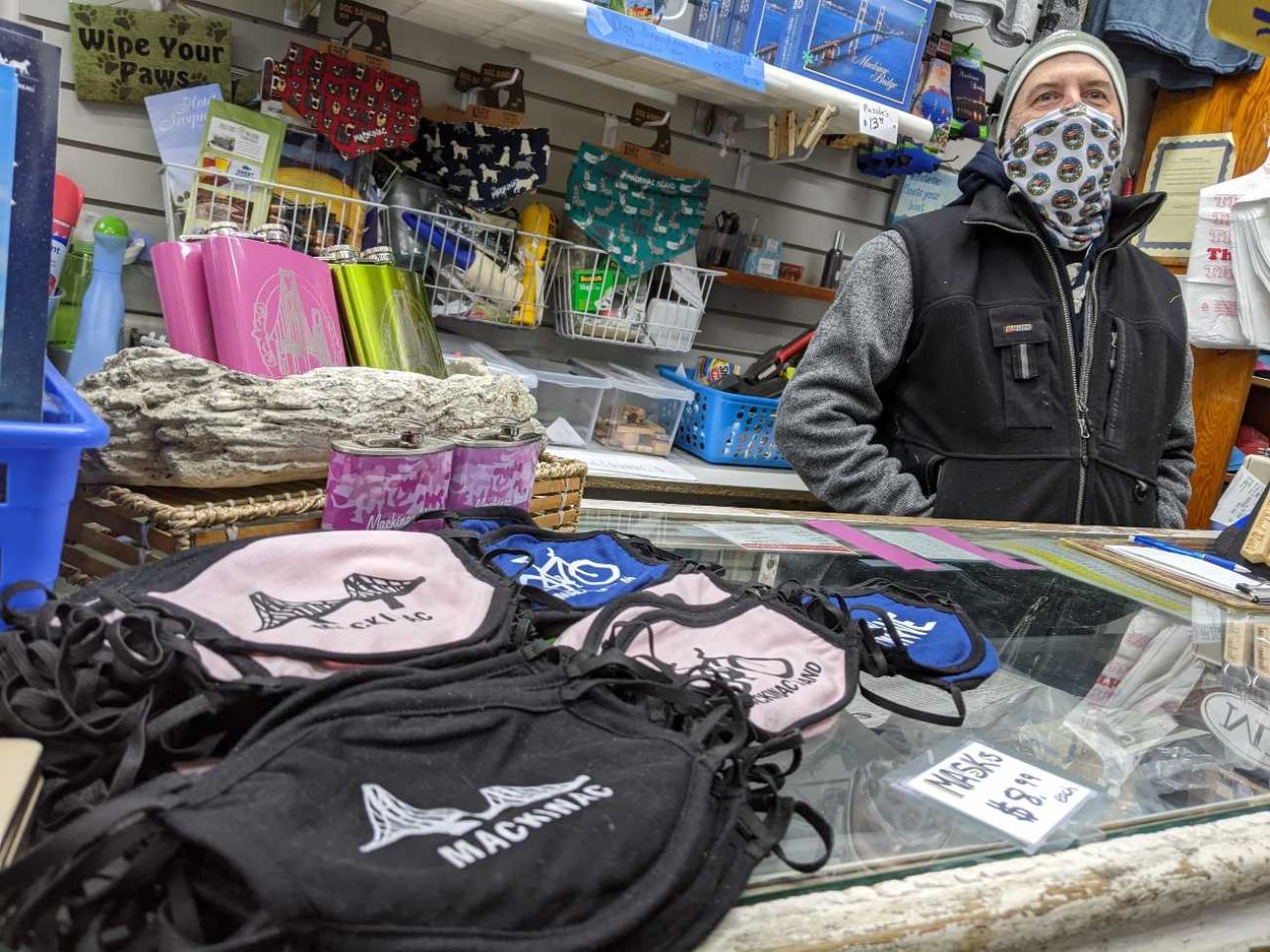 But for the most part, guests followed social distancing and other safety protocols without complaint, VanDusen and others said.
Green said his bike shop business had fewer customers for much of the summer, but guests kept their bikes longer. Open spaces and quiet, he said, offered a reprieve from the anxiety of the pandemic.
"I think we might have saved a lot of marriages," he quipped.
The tourist resurgence in the second half of the summer helped boost visitors to more than 70 percent of a normal year, Hygh estimated. But anxiety was never far from the surface.
Musician Mark Bowen, 45, said business owners did their best to enforce rules and guests, for the most part, were agreeable. Still, he was nervous.
"I was leery about working over there this summer, but the money is good, so it's hard to say no," Bowen said.
He was routinely tested for COVID and they always came back negative. But in late September, Bowen said he started "feeling weird." He tested positive Sept. 30.
Callewaert, owner of the restaurants and fudge shops, had kept two of his eateries closed through the season, unable to hire enough staff. On Oct. 11 he said he was forced to close another after a worker was infected with COVID-19.
A more distant island
On Sunday, the sun laid low — a toggle switch of sorts on the island.
The last large batch of seasonal workers were leaving; the two main ferry services wrapped up their weekends.
Many of the hotels, restaurants and fudge shops — businesses that rely on warm-weather tourists — were locked away, as were the Fort Mackinac Visitors Center and dozens of other island mainstays — some had closed early after the pandemic canceled traditional Halloween bashes.
What happens now is unclear.
As tourism and summer commerce dry up, island residents hope COVID transmission will fade with it. But those remaining will now have less readily available transportation off the island as the lakes freeze, locking boats into place. The island's medical clinic will be open for limited weekday hours.
The nearest hospital is in St. Ignace, accessible in the dead of winter only for emergencies. There's an airport or rescue boat in those cases. A ferry boat transported an ambulance to the island last spring — before the tourist season — for a patient struggling to breath from COVID-19, Shepler said.
Bowen, the musician, said he never became seriously ill from the virus, but he's fatigued these days and sometimes experiences "brain fog."
From the warmth of the Lucky Bean coffee shop, Villegas said that he is not overly worried about what will come. He's from southern California, but said he will remain on the island this year — his first winter.
During a deadly pandemic, why not?
"I figure," he said, "what better place to get away from it all than a frozen island?"
Only donate if we've informed you about important Michigan issues
See what new members are saying about why they donated to Bridge Michigan:
"In order for this information to be accurate and unbiased it must be underwritten by its readers, not by special interests." - Larry S.
"Not many other media sources report on the topics Bridge does." - Susan B.
"Your journalism is outstanding and rare these days." - Mark S.
If you want to ensure the future of nonpartisan, nonprofit Michigan journalism, please become a member today. You, too, will be asked why you donated and maybe we'll feature your quote next time!