Nearly every day, Michigan reports about as many new coronavirus cases as there were in mid-May, when much of the state was shut down, schools were closed, hospitals were swamped and funeral homes were overrun.
Colleges are battling outbreaks as they open, and counties like Macomb in metro Detroit are amid spikes in cases.
Gov. Gretchen Whitmer on Thursday cited the caseloads and risks of outbreaks among students in extending her state of emergency until Oct. 1. 
Time to panic? Not at all, public health officials tell Bridge Michigan.
In fact, the numbers instead suggest that increased testing has changed the arc of the pandemic and is finding more asymptomatic patients, say epidemiologists and health officials who prefer a glass-half-full view of elevated caseloads.
Compare, for instance, the first two weeks of May (when there were 600 cases per day) to the past two weeks of August and September (when there were 670 per day.): 
In early May,

hospitals treated 1,875 people daily for COVID-19, and 1,036 died in the first two weeks of the month. Statewide, 13,000 people were tested per day and 7 percent were positive.
In the past two weeks, daily hospitalizations are down a third to 633, and there are six times fewer deaths, 164. Testing averages 29,000 per day, and the positive rate is just above 3 percent, a metric Gov. Gretchen Whitmer has often cited as a guide for reopening parts of the economy.
Understanding the numbers is important because they undergird so many policy decisions as classes resume at school districts and colleges statewide and Whitmer considers reopening more of the economy.
In the early days of the pandemic, Michigan had among the highest caseloads nationwide, but it now is 18th nationwide among states with about 115,000 confirmed and suspected cases.  
Whitmer has moved slower than peers nationwide, saying she is guided by science and numbers (which she hasn't always made clear) and on Thursday ordered the reopening of gyms in lower Michigan, one of the last segments of the economy to remain closed. 
How to view cases
At its peak in late March and early April, the pandemic brought more than 1,300 cases per day to Michigan in late March and early April, before numbers began to fall. 
They declined to an average of 300 cases or fewer for much of June before lurching back up again as the lockdown eased. Since July 1, the state has averaged just over 630 cases per day. The current seven-day avage is 650.
That's a two-month plateau despite modest swings. Good news or bad?
"When I look at this information, I'm looking at trends: Are we going up or going down?" said Derel Glashower, senior epidemiologist of the Ottawa County Health Department,  who spoke to Bridge about trends before Whitmer extended the emergency.
By that measure, the relative stability of the numbers is positive, he said. If there are quick spikes, that can indicate community spread — the biggest fear of public health officials because it can require dramatic responses like March's stay-at-home order.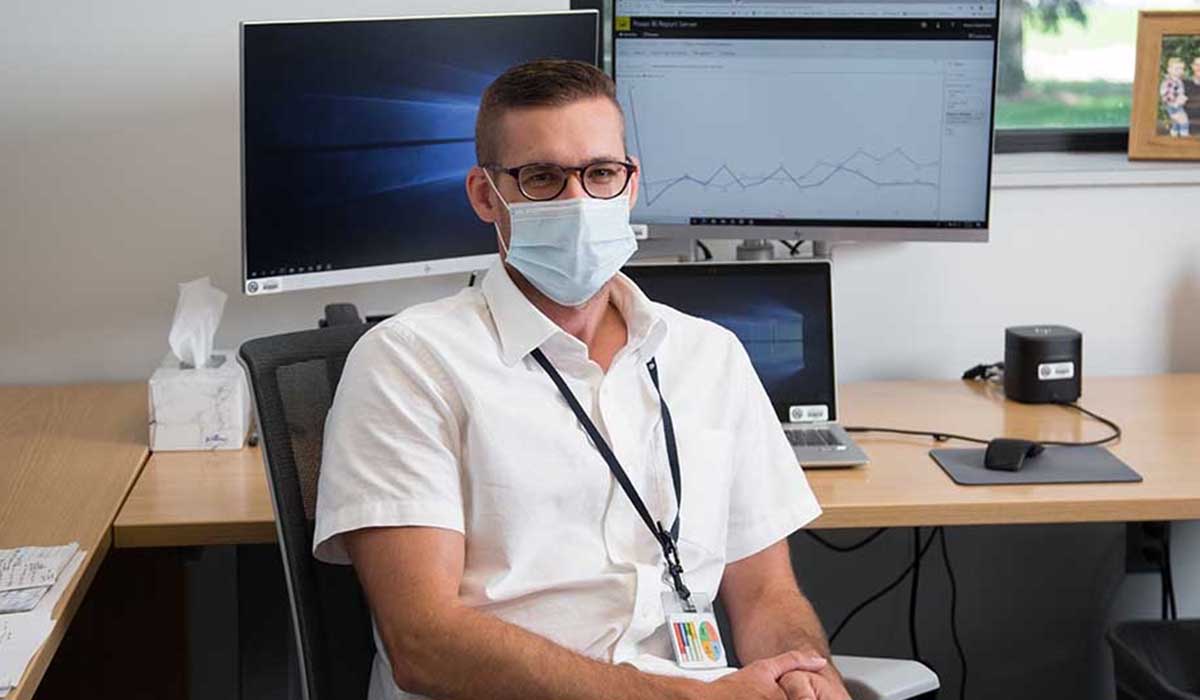 Though the state has seen coronavirus case counts remain steady, Derel Glashower, senior epidemiologist for Ottawa County, says there are positive signs. (courtesy photo)
But cases alone do not tell the entire story. It also matters who they are, where they are, and the rates per 100,000. 
Early in the pandemic, the highest number of cases were in metro Detroit, and struck two groups particularly hard: African Americans (more than 40 percent of cases) and the elderly (1 in 3 deaths are in nursing homes).
Now the disease is found throughout the state, from the bigger cities to the sparsely populated counties in the Upper Peninsula. And increasingly, it's infecting younger people who are typically more resilient to the disease.
In the first three months of the pandemic, 36 percent of the infected were over 60 years old and just 8 percent were under 30. 
Since then, just 17 percent are older than 60, while 43 percent are under 30.
"It's younger, more spread out than it used to be," said Dr. Matthew Sims, the director of infectious diseases research at Beaumont Health, the Southfield-based health system that is Michigan's largest.
Those changes in who's getting infected and where they live changes how to view the total number of cases. 
Glashower said "700 cases in April would be an eyebrow raiser." 
Now, it is not.
How to view hospitalizations and deaths
Those geographic and demographic changes have had a positive effect on outcomes.
Matthew Sims, director of infectious diseases research at Beaumont Health in metro Detroit, said Michigan residents should remain cautious and practice social distancing, mask wearing and good hygiene. (courtesy photo)
On April 9, at the height of the pandemic's rampage in southeast Michigan, Beaumont Health had 1,206 COVID-19 patients. On Aug. 31, that number was 177 and as of Tuesday, there were 617 across the state.
Looking back at April, Sims said the impact on Beaumont was incredible. 
"It was hell. We had high deaths and we had high admissions rates."
Those bad days receded as the stay-at-home order had an impact, minimizing contact among people and, therefore, transmission. 
By June, admissions were rare. Now, the overall patient numbers are lower than April but a few are admitted every day at a steady, though low, rate.
"It's not like it was in April but it's not like it was in June," Sims said.
Without a vaccine or known therapeutic treatment to assist those who fall ill, Michigan, like much of the world, locked down large parts of the economy.
The goal was to "flatten the curve," to create the "possibility of our health-care organizations to be able to meet demand," Glashower said.
That's largely happened: There is plenty of space in most Michigan hospitals and COVID-19 census counts have stabilized. In Ottawa County, for example, fewer than 5 of the three hospitals' 206 beds are currently occupied by a COVID-19 patient, data shows.
The disease is still deadly, however, and it was blamed for 286 deaths in August. That's less than 10 percent of the 3,500 who died in April from COVID-19. 
But it would still equal over 3,400 a year, much higher than the number of deaths caused by pneumonia or the flu every year, which are classified as the same and are the ninth leading cause of death with 1,700 and 1,900 deaths annually from 2015 to 2018.
Overall in 2020, COVID-19 has been blamed on 6,500 deaths statewide, which would make it the No. 3  cause of deaths after heart disease and cancer.
How to view testing
Early in the pandemic, it was hard to get a test. You had to have symptoms — and have known contact with someone who had the coronavirus because there were so few tests available.
But now, it is far easier to get a test across the state. Most counties are testing at rates that would allow public health officials to quickly identify an outbreak.
The large volume of tests has also come as the rate of positive tests has fallen and stayed at roughly 3 percent statewide for over two months.
"I think the test positivity is a really great metric," said Glashower.
In Ottawa County, Grand Valley State University reported this week that 123 students and staff tested positive, just over 2 percent of the more than 2,200 people who were teste. Hope College had earlier said 38 students or staff had tested positive.
 But Glashower said many of those infected are asymptomatic and have been quarantined away from others.
And the county's overall test-positive rate is still below 2 percent.
"I'm not concerned about the increase in cases because I don't have evidence of wider transmission," he said.
Both Glashower and Sims stressed Michigan remains vulnerable, despite some encouraging signs. Some populations are still getting hard hit, people are still dying and there is no cure or vaccine yet.
Caution remains important, they said, as only known defenses against the spread of the coronavirus are social distancing, facial coverings, hand hygiene and cough etiquette.
Sims said he finally got a vacation to west Michigan a few weeks back after many seven-day weeks and long hours. 
He was surprised how many people were not wearing masks, not following the common-sense approach that has been almost universally accepted.
"It was frightening," he said.