As Michigan COVID vaccine rates ebb, pop up clinics and casino cash appear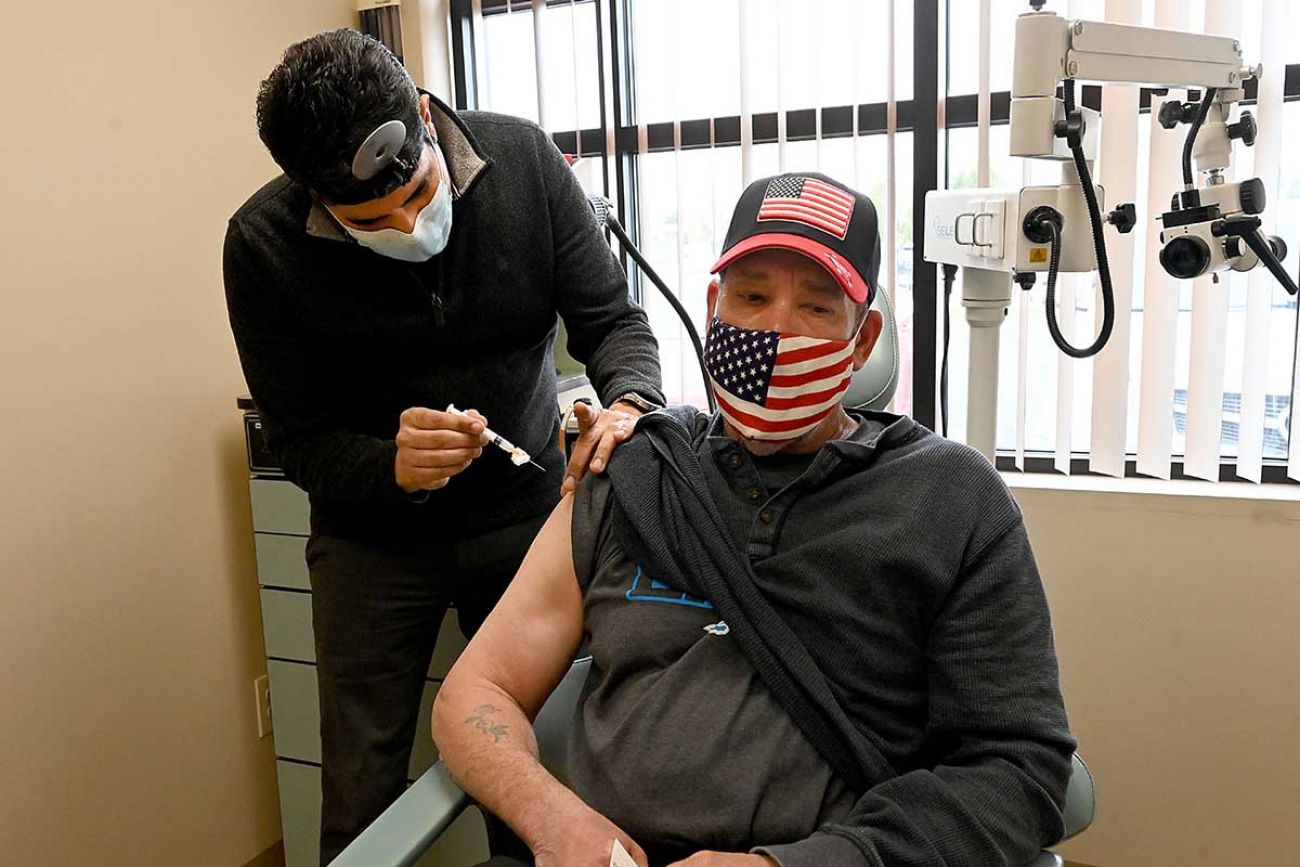 Patient Dale gets his poke, as Dr. Bobby Mukkamala injects patients with the Covid 19 vaccine in his Flint office on April 21, 2021. His wife, Dr. Nita Mukkamala, is an OB-GYN and administered the vaccine to some patients too. (Bridge photo by Dale Young)
May 5: Michigan may not hit 70% vaccination rate until August, as demand falls
April 29: Michigan Gov. Gretchen Whitmer links easing COVID rules to vaccines
From hospital emergency rooms to dollar stores, high schools to doctors offices, laundromats to casinos, public health authorities are getting creative in trying to get COVID-19 vaccines into more Michigan arms as vaccination efforts enter a critical and perilous stage.
After months in which a frenzy for vaccines far exceeded the state's limited supply, officials are beginning to see a softening in demand, with weekly vaccination numbers in parts of the state beginning to slacken. And so begins the hard work of reaching residents who have been reluctant or indifferent to getting shots.
Related:
That may mean that mass vaccination clinics and drive-throughs will soon fade, giving way to pop-up clinics at neighborhood centers, high schools, churches and mosques, or being offered a vaccine at a doctor's office during a routine visit.
"We've kind of hit all those people who wanted it, who were fighting to get their vaccines, who were jumping in front of everyone else," said Sarah Oleniczak, deputy health officer at District Health Department, which covers 10 central Michigan counties. "Now we can take a breath and we can go off-site."
Getting Michigan to herd immunity by having at least 70 percent of its population vaccinated or otherwise immune won't be easy. Few thought it would be. The strategy now shifts to a more arduous ground game into the nooks and crannies of Michigan.
The messaging becomes more complicated, too, as health officials attempt to connect with the vaccine-hesitant, the marginalized, the homebound, or those who just haven't yet taken the time, including many younger adults.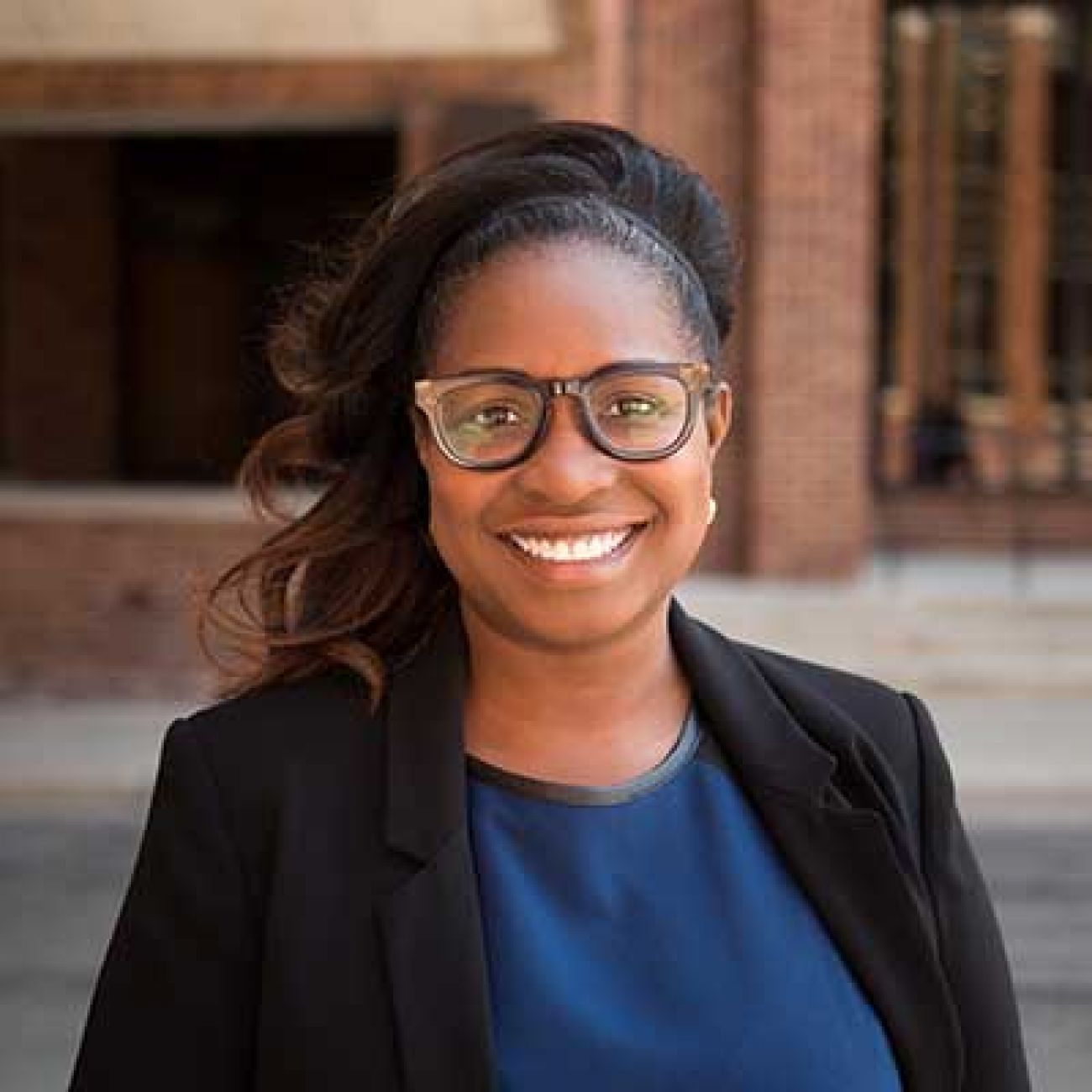 Messaging must be precise. What fuels vaccine reluctance in a conservative, white counties is different than among urban communities of color, said Dr. Melissa Creary, of the University of Michigan. (Courtesy photo)
Some haven't yet rolled up their sleeves because they don't trust healthcare. For others, politics have nurtured a distrust in science or government, said Melissa Creary, an assistant professor of Health Management and Policy at the University of Michigan.
"The hesitancy that happens in Detroit is going to be different than the kinds of hesitancy that happens in Petoskey," she said.
Roughly 1-in-5 Michigan residents are considered vaccine hesitant, based on federal data that relied on vaccine surveys and then applied the results to state and county-level demographics. Michigan now ranks as the 18th most hesitant state, with 19 percent considered reluctant to get the vaccine, according to the U.S. Department of Health and Human Services analysis.
On the whole, the estimates mirror current vaccine trends — many of the same Michigan counties that have seen a lower rate of vaccinations are also those with higher estimates of hesitancy.
More than 3.7 million Michigan residents have received at least one dose of a COVID-19 vaccine. But there are huge disparities among regions. More than 57 percent of people aged 16 or older in Grand Traverse, Emmet and Leelanau counties have received their first dose, while 26 other counties having rates below 40 percent, which suggests that, for a lot of people, the issue is not vaccine supply but their desire to get a shot.
Dr. Bobby Mukkamala, a Flint-based ear, nose and throat doctor and president of the Michigan State Medical Society, has assisted the Genesee County Health Department in giving vaccines at mass vaccination sites.
At the beginning, a mass vaccination clinic with appointments for 1,300 would draw that many and more.
But on a recent Saturday, he said, "we had the capacity to do 1,300, and we ended up doing about 800."
And when he arrived at a small church clinic recently, "everyone was sort of sitting around. Nobody was really doing any vaccinating."
Mukkamala flipped open his Facebook page: We have extra vaccines, he posted.
"We got another maybe 20 people to come in," he said. "If I had I done the exact same thing in January, my phone would have blown up, and everybody and their brother would have" shown up.
All of this means Michigan must now get more creative.
As of Wednesday, 31.5 percent of the state had been fully vaccinated — far short of the 70 percent goal. The state ranks 27th in the percentage of people fully vaccinated.
State health officials are working on plans to address hesitancy and have already reached out to some communities to answer questions about the vaccines, said Lynn Sutfin, a spokesperson for the Michigan Department of Health and Human Services.
Sutfin said other campaigns are also being devised, including some relying on social media apps like Tik Tok, Instagram and Snapchat in an effort to reach younger state residents. Sutfin did not say when those campaigns will be ready.
The state is also working on reaching other hard-to-reach populations, including the homebound and more transient groups such as agricultural workers and the homeless, she said.
Certainly, enthusiasm for vaccines has not flagged everywhere.
Oakland County officials continue to work through a waiting list of more than 150,000, said Health Officer Leigh-Anne Stafford, of the Oakland County Health Division. As of Tuesday morning, more than 1-in-3 county residents — 347,710 — had received both doses of the Moderna or Pfizer vaccine or the single-dose Johnson & Johnson vaccine.
Those residents who earlier adopted a "wait-and-see" approach continue to register now that they've watched loved ones and friends be vaccinated with no serious effects, Stafford said.
In some Michigan communities, the shift to smaller sites — with plans to create more — is well underway.
Here are some of their efforts and ideas.
Doctors offices
Doctor's offices are familiar and their staff are more trusted, said Mukkamala, echoing the findings of U.S. public surveys.
He ordered up 100 doses of the Moderna vaccine to offer patients at his Flint practice and to patients next door, where his wife, Dr. Nita Mukkamala, is an obstetrician-gynecologist.
All of this is necessary, but it takes time to reach those who aren't ready to roll up their sleeves at a mass vaccine clinic, he said.
"Mostly, people want the opinion of their doctor and that requires a conversation," he said. "That's why we're doing, you know, a dozen a week in my office. Months ago, if I were to open it up for this, we'd be doing hundreds a week."
Emergency services
Some Michigan hospital systems have begun discussing offering vaccines in emergency rooms, said Dr. Mustafa "Mark" Hamed, medical director of the emergency department at McKenzie Health System in Sandusky, and medical director for health departments covering eight Michigan counties stretching from Michigan's Thumb to the northeast.
Emergency rooms is another route, he said, to reach those who don't have primary care doctors.
Vaccines would be offered on a case-by-case basis, though certainly not in life-threatening emergencies when minutes count. Rather, stabilized patients could be offered a vaccine as they are discharged, he said. They'd simply wait the extra 15 minutes or so for observation, he said.
Likewise, Hamed said, emergency medical crews also could have a supply of vaccines on hand.
That would work particularly well in rural areas, he said, where crews provide "paramedicine," in which they assist local health in routine, non-emergency visits — giving oxygen to a COPD patient, for example.
Many plans to reach the hard-to-reach had to be put on hold, though, when the one-dose Johnson & Johnson vaccine was suspended after reports of rare cases of blood clots developing, Hamed said.
Employee incentives
It's not just about caring for your staff; it's about keeping the workday uninterrupted, so Michigan's employers began discussing offering vaccine incentives to employees earlier this year, Wendy Block, vice president of business advocacy and member engagement for the Michigan Chamber of Commerce, told lawmakers in February.
She told Bridge Michigan at the time that businesses had not yet moved forward with the plans.
That might be changing.
In Ludington, Floracraft will convert a training room to a half-day vaccine clinic for employees and family members next week.
To up the ante, the craft and floral foam manufacturer is offering $50 gift cards to any of the estimated 225 employees who get a vaccine at the clinic, said James Morkert, director of Floracraft's human resources department.
Many employees already have their vaccine, and they're eligible for a gift card, too, he said. But others have been hesitant, and their personal and work lives mean they're busy, too.
"We hope those individuals who are on the fence now will see that 'it's here,' and 'it's easy,'" he said.
Casinos, hotels, stores?
Building partnerships with local businesses is critical, said Oleniczak, the health officer for the 10 central Michigan counties.
The Little River Casino Resort in Manistee, collaborating with the Little River Band of Ottawa Indians and Munson HealthCare, will offer vaccines next week to employees and visitors.
To sweeten the deal, the casino is offering $10 in free play to those who get vaccinated.
And the Double JJ Resort in Rothbury is opening as a vaccine site next week, so that public health nurses can offer to vaccine staff, family members and guests, Oleniczak said.
They'll get at least a first dose, she said, before the start of the tourist season on Memorial Day weekend.
Meanwhile, health department interns are being trained to ask individuals at dollar stores, food pantries and laundromats about their interest in a vaccine. If they don't have internet access, the interns can help them get scheduled on-the-spot.
Or, if customers are not interested, the interns can glean information about what might change their minds.
All of this is person-by-person, ground-level work to better understand how to reach out to hesitant Michiganders, Oleniczak said.
"It's really a survey to find out: 'What do you think it would take to encourage people to get a vaccine?' and 'If we had one out here in your community, would you think people would come?'" she said.
High school clinics
Some health departments are working with local high schools, again leveraging the angle of making vaccines more convenient.
Working with rural Kingsley High School, south of Traverse City, Thursday, public health nurses were scheduled to offer the Pfizer vaccine — the only one of the three approved COVID vaccines authorized for 16- and 17-year-olds.
They're racing against a school calendar. Individuals must wait three weeks before getting a second dose.
Superintendent Keith Smith said public health authorities understandably made vaccines available earlier this year where they could give out the most — in Traverse City and other towns, he said.
But now they're reaching bedroom communities like Kingsley, Smith said, and it's the school district's "responsibility" to help make the vaccines available as soon as possible.
Required? Maybe later.
While some colleges and universities are requiring or plan to begin requiring in the fall vaccines among students who live on campus, employers for now have stopped short of mandating vaccines. That includes hospitals that require staff to get other vaccines, such as for the flu.
"When this first started, there was not enough (COVID) vaccine for everyone," Dr. Christine Nefcy, chief medical officer at Munson Healthcare, noted this week during a news conference.
"It would have been inappropriate for us to require something that we didn't have enough of," she said.

Moreover, the approved COVID-19 vaccines are still not fully approved by federal regulators; rather the U.S. Food and Drug Agency gave the three vaccines "emergency use authorization' during a pandemic and after less than a year of clinical trials.
That puts any vaccine mandate on shaky legal ground, Nefcy and others have said.
Still, as supplies increase and if the vaccines get full approval from the FDA, mandates for school or for employment "could be in the realm of possibility" for some employers or schools in the future, said Lisa Peacock, the health officer of Benzie-Leelanau District Health Department and the Health Department of Northwest Michigan.
Only donate if we've informed you about important Michigan issues
See what new members are saying about why they donated to Bridge Michigan:
"In order for this information to be accurate and unbiased it must be underwritten by its readers, not by special interests." - Larry S.
"Not many other media sources report on the topics Bridge does." - Susan B.
"Your journalism is outstanding and rare these days." - Mark S.
If you want to ensure the future of nonpartisan, nonprofit Michigan journalism, please become a member today. You, too, will be asked why you donated and maybe we'll feature your quote next time!