The promise, and limits, of coronavirus antibody tests to reopen Michigan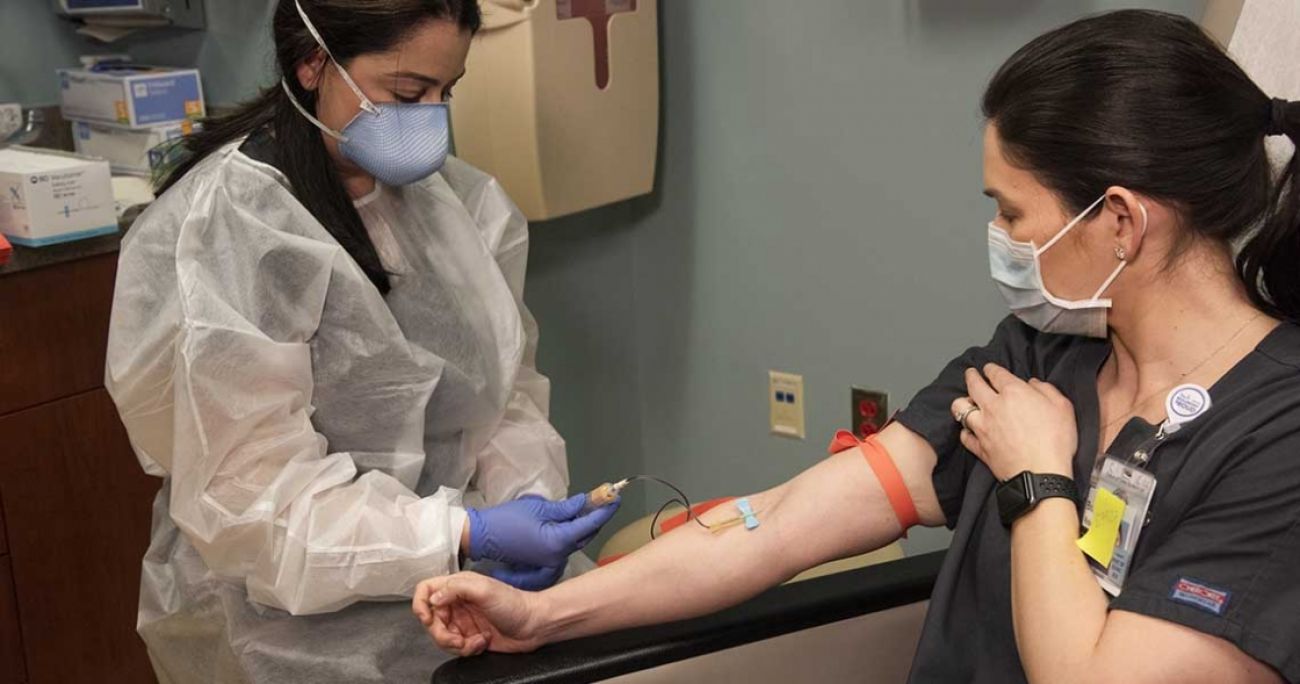 As tests that detect the novel coronavirus remain in short supply across Michigan, doctors, patients and the worried well are looking for other ways to provide an answer to an urgent question during the pandemic: Have I been exposed to COVID-19?
For 35-year-old Kalamazoo resident Danielle, who believed her family had all been sickened by COVID-19 in March, finding out was worth over an hour's drive to Douglas on Thursday for an antibody test.
"I just wanted to confirm what I already knew," said Danielle, who asked that her last name be withheld to protect her family's medical information.
"Obviously, there's going to be a continued risk going forward so knowing if we have some kind of immunity would be good. It was worth it just for the peace of mind."
The blood test, which detects the presence of antibodies created by the immune system's response to the virus, revealed that the illness that swept the family of four in March was most likely COVID-19, said Dr. Laurie Birkholz, the family medicine physician who administered the test and confirmed Danielle's account to Bridge.
The tests, of which there are more than 90 versions, have the advantage of being relatively cheap, easy to read and easy to administer. Most only require a drop or two of blood from a finger stick and provide a yes or no answer in minutes. Proponents, including Michigan Gov. Gretchen Whitmer, say they may play a key role in how soon states can reopen their economies.
"We want to know who possibly has antibodies, who can be safely out in the public or back to work," Whitmer told reporters in an April 6 coronavirus response briefing.
Last week, Dr. Anthony Fauci, director of the National Institute of Allergy and Infectious Diseases and the most visible authority on the federal government's coronavirus response, told CNN's "New Day" that "immunity certificates" for people who have positive antibody tests are being discussed. The theory is that people who survive COVID-19, as most do, will be resistant to reinfection, at least for a time.
There are a few important cautions. On Friday, the World Health Organization (WHO) raised some concerns echoed by other experts, including that the antibodies may not provide full protection against COVID-19.
And to date, only four of the dozens of commercially available antibody tests have been granted emergency use authorization by the U.S. Food and Drug Administration. Doctors and experts warn that until all such tests are more closely regulated and scrutinized by the FDA, people who use them are relying on the word of the manufacturer as to the test's reliability.
Case in point: the United Kingdom paid $20 million for at-home antibody tests from China that turned out to be inaccurate and unusable.
What we know
Antibody tests look for proteins in the blood called immunoglobulin M (IgM) and immunoglobulin G (IgG), which are the body's weapons against infection by bacteria, viruses and other foreign substances. Antibodies, which lock onto the invader and alert the body to come and destroy it, are specific to each infection; the IgG and IgM antibodies for influenza are different from the ones for the virus that causes the common cold, for example.
IgM antibodies arrive first, usually within just a few days of infection. Later, IgG antibodies appear. In coronavirus, it's thought IgG antibodies appear between six and 10 days post-infection, said Dr. Matthew Sims, director of infectious disease research at Beaumont Health, Michigan's largest health system. "[IgG] is the memory antibody," he said. "It's the one that sticks around, hopefully long-term, and keeps infections away."
So in theory, a blood test that picks up IgM and IgG antibodies to the novel coronavirus should be able to tell if a person has been exposed, and even something about how recent the infection was.
What these tests can't determine with certainty is whether you're immune to the virus, or how long the antibodies in your blood may last, said Sims. "I would not rely on any test right now to tell you you're 'positive,'" he said, because "we don't know yet whether having antibody means being immune."
What we don't know
Whether antibodies to the novel coronavirus confer protection against reinfection is one of many remaining questions researchers and public health officials are scrambling to answer.
Knowing whether those who've been infected are immune, and how long that immunity might last, is key to guiding policy decisions about when and how to loosen the restrictions on social distancing and reopen shuttered businesses, which is why antibody testing figures prominently in many coronavirus "exit strategies."
In the best scenario, a person who is known to be immune could safely return to the workforce. But recent experience in South Korea suggests that making any assumptions about the novel coronavirus may be foolhardy, or even dangerous.
At least 173 people who were infected with the novel coronavirus in that country and recovered have again tested positive for the virus, according to the Korea Centers for Disease Control and Prevention (KCDC), a number which has grown significantly over the past week. It's not yet clear if the virus was re-activated, if tests are picking up an inactive, dead virus, or if the people, some of whom have had returning symptoms of the disease, were re-infected.
Several Michigan hospital systems are trying to answer questions about coronavirus immunity and antibody testing with their own studies. At Beaumont Health, Sims and other doctors are launching a long-term study of thousands of volunteers from among the system's patients, doctors and other employees with the Southfield-based health system to see who has antibodies to the virus and how they fare over the long-term. Participants will have their blood drawn and tested at least twice over several weeks, and some will be followed and tested again over a course of years, Sims said.
Henry Ford Health System will soon launch a similar study, and Memorial Healthcare in Owosso is also developing its own antibody testing. Results from the studies, and any potential treatments they uncover, are likely weeks or months away, however.
Another big question to answer is whether antibodies to the coronavirus could help treat patients with COVID-19, a strategy that has worked in other viral illnesses such as measles, mumps and, to a certain extent, Ebola virus.
The Mayo Clinic is leading a nationwide study collecting donated plasma from people who have recovered from the illness and using it to treat hospitalized COVID-19 patients, a treatment called convalescent plasma therapy, said Dr. Michael Joyner, a Mayo anesthesiologist who is coordinating the effort.
About 1,200 hospitals have signed up to test the therapy, Joyner said, and about 200 units of donated plasma have been administered. About 7,000 potential donors have signed up via the program's website, which was created in part by Michigan State University.
Accuracy of many of the antibody tests on the market is another unknown. Due to the urgency of responding to the pandemic, the tests have been allowed to go to market without the FDA's normal vetting and validation process. They vary widely in their ability to accurately detect the antibodies to the novel coronavirus, and the FDA has issued a number of warnings about their use, including:
negative results don't rule out infection with the novel coronavirus, so follow up diagnostic testing should be completed;

Results "should not be used as the sole basis to diagnose or exclude [novel coronavirus] infection or to inform infection status," and

Positive results could indicate current or past infection with another type of coronavirus, including many common coronaviruses that cause cold-like symptoms.
'Best tools available'
Unfortunately, it will take time (months, and even years in some cases) to fully answer the questions surrounding antibodies and immunity in COVID-19.
For many doctors and patients, that timeline is unacceptably long.
Dr. Paul Thomas, a primary care doctor with Plum Health Direct Primary Care in Detroit, is not waiting for a perfect antibody test. He's ordered tests from two sources and hopes to offer them to all his patients.
"There really isn't a perfect answer, so I think we're all using the tools at our disposal to be the best of our ability," he said. "If this is what we have available to us, and we think it's reasonable, we should try to use it to help patients."
Thomas said he hopes widespread antibody testing will soon be available across the state, and believes there should be a coordinated effort, by the state, federal government or local health departments to administer the tests to the entire population.
"My belief is that we can't wait," said Birkholz, the family medicine physician who is offering antibody testing in Douglas. "If we wait, we're going to be waiting a long time to get the information we need."
Birkholz said she had tested about 140 patients as of Friday, and four have tested positive for antibodies to the novel coronavirus. Most, like Danielle in Kalamazoo, had been ill with symptoms consistent with COVID-19 and wanted to know if they'd been exposed.
Most of those she's testing are patients at her concierge practice, Birkholz said, but she's heard from many from out of the area who are willing to travel to get results, and she's doing about 25 tests a day.
This was true for Danielle from Kalamazoo and her husband, who traveled together to Birkholz's office for the quick blood test, which cost $75 each. Both tested positive. Three other members of their family had COVID-like symptoms beginning in March, Danielle said, and all have recovered.
Birkholz said all four of the people with positive antibodies thus far had illnesses consistent with COVID-19 and had traveled to a known hotspot of infection within the state. For Danielle it may have been Canton Township in western Wayne County, where she picked up a bed from Ikea a few days before she began to show symptoms, she said.
Birkholz said she's careful to counsel those with negative results that they could still be infected with the novel coronavirus
and aren't yet making antibodies, and that they need to continue all the recommended social distancing practices to remain safe.
For Danielle, the test was helpful, even if the result won't change much about her or her family's behavior.
"I feel a little more confident knowing that I've been exposed to it and that I at least have some antibodies that hopefully lowers any response if I get it again," she said, but the family will continue to follow recommendations for social distancing and infection prevention. "There's just still so much research to be done."
She also plans to donate plasma for other COVID-19 patients if she's eligible, she said.
To Birkholz, that's one of the biggest potential benefits of antibody testing.
"These four people can potentially save some lives," she said, and I think that's really valuable information to have."
RESOURCES:
Only donate if we've informed you about important Michigan issues
See what new members are saying about why they donated to Bridge Michigan:
"In order for this information to be accurate and unbiased it must be underwritten by its readers, not by special interests." - Larry S.
"Not many other media sources report on the topics Bridge does." - Susan B.
"Your journalism is outstanding and rare these days." - Mark S.
If you want to ensure the future of nonpartisan, nonprofit Michigan journalism, please become a member today. You, too, will be asked why you donated and maybe we'll feature your quote next time!