From TikTok to school clinics, Michigan ramps up young teen vaccinations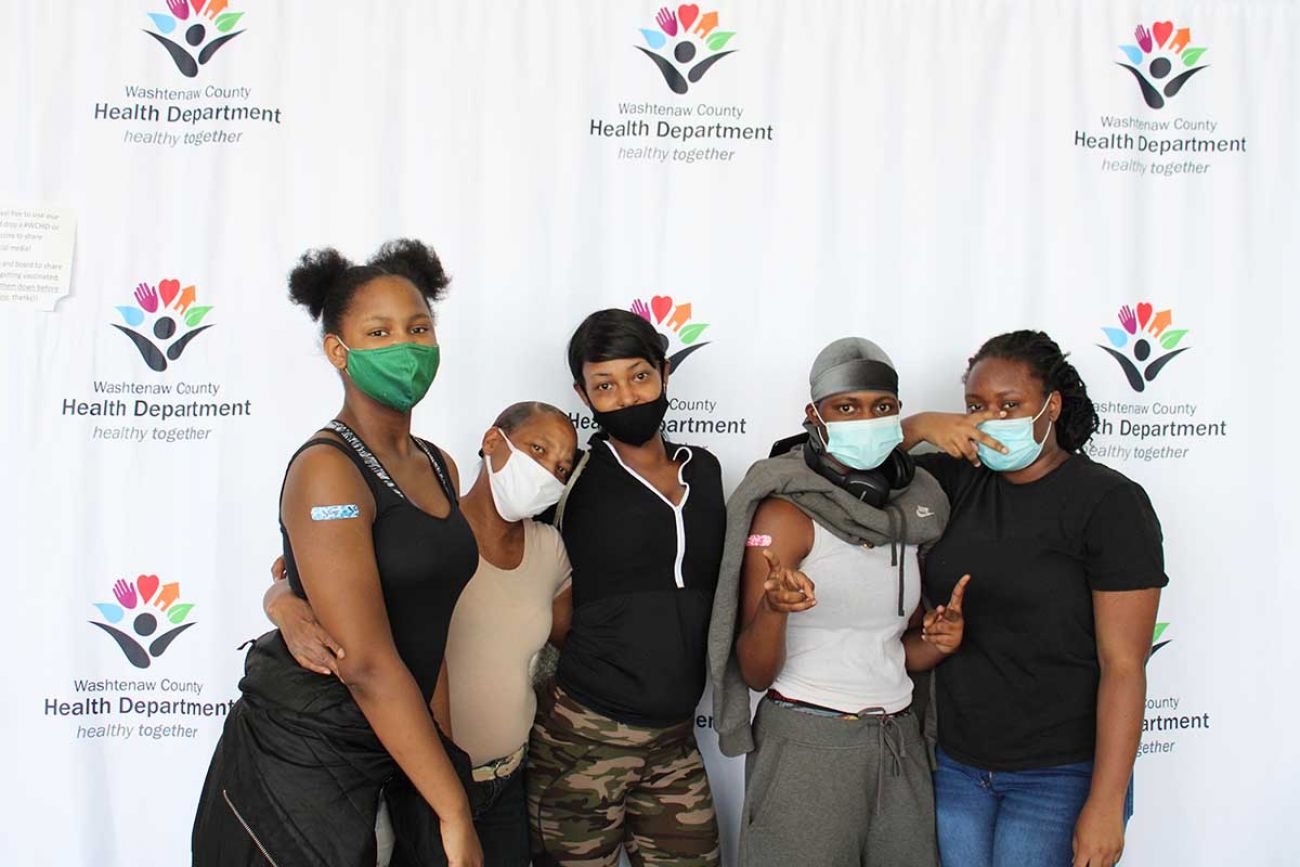 Teens show off their vaccination shot bandages at a pop-up clinic in Washtenaw County, which leads the state in vaccination rates for those aged 12 to 15. (Courtesy photo)
Brandess Wallace didn't hesitate to make an appointment to vaccinate her two children at East Lansing High School last Thursday, the first day 12-to-15-year-olds were eligible to receive the Pfizer vaccine.
Wallace, whose children attend school in Okemos, drove her 12-year-old son Miles and 13-year-old daughter Olivia to the high school ten minutes early for their 2:30 p.m. appointment. Thirty minutes later – including the 15-minute waiting period after receiving their first dose – they were done.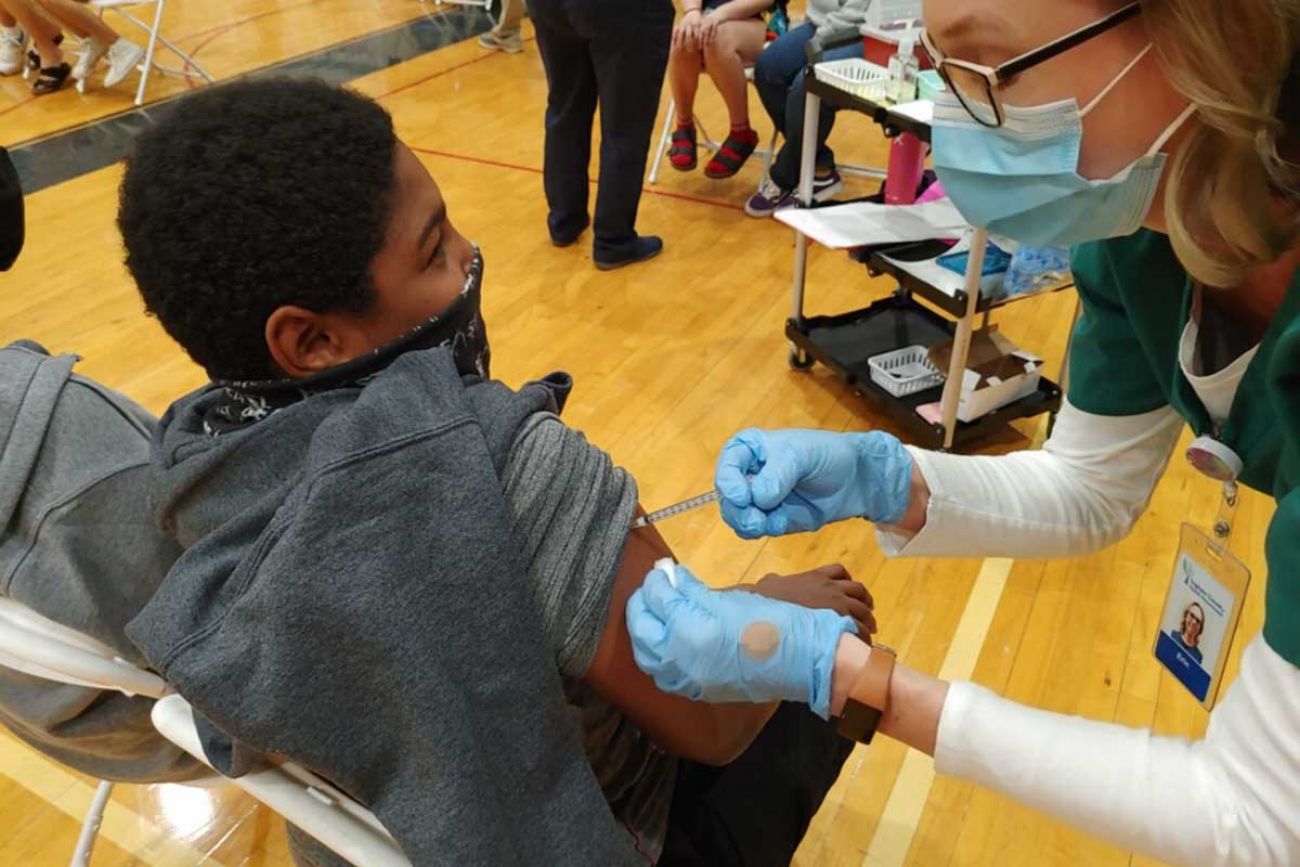 12-year-old Miles Wallace gets his first COVID-19 vaccination shot at a clinic set up at East Lansing High School (Courtesy photo)
"It was just a sense of relief," Wallace said. "It was nice to have a sense of normalcy and (we are) looking forward to being able to do some of the normal things that children do after they're fully vaccinated."
With nearly a half million 12-to-15-year-old Michiganders now eligible to be immunized against COVID-19, communities across the state are ramping up efforts to help young teens get back to normal.
Some schools are hosting vaccination clinics as they previously did for high school students. The state is rolling out an advertising campaign to promote the vaccine among adolescents. And hospitals and local health departments are working to make vaccinations as accessible as possible to the parents and children who want them.
Related:
It's likely to be a long process. According to the state's COVID-19 Vaccine Dashboard, 37,336 Michigan residents between the ages of 12-15 have been vaccinated against the virus as of Tuesday, about 7.5 percent of the state's adolescent population. Washtenaw County is currently the county with the highest share of newly eligible adolescents who are vaccinated, with 23.2 percent of its 12-to-15-year-olds having received at least their first jab of the Pfizer vaccine. Among those 16 and up, 56 percent have had at least one shot of COVID vaccine.
Even though young people tend to suffer serious health consequences from COVID-19 at lower rates than their parents and grandparents, health officials still say it's important for adolescents to get vaccinated.
So far, the 104,108 confirmed cases of COVID-19 among Michigan's 10- to 19-year-olds account for about 11.9 percent of the state's total 876,854 confirmed cases.
A record number of pediatric patients were hospitalized for COVID-19 treatment during the spring 2021 surge in Michigan, according to John Karasinski, spokesperson for the Michigan Health & Hospital Association. There were 70 pediatric patients hospitalized on April 20, double the number who were hospitalized in late November 2020 during the previous surge.
The increased hospitalizations of pediatric patients may indicate that coronavirus variants are spreading more prominently among the state's adolescent population, according to the hospital association.
While the state only lists 12 deaths for this age group, many children have also been affected by the rare condition called multisystem inflammatory syndrome after contracting the virus. An open letter from the MHA written as the state's spring surge in COVID-19 cases began to decline warned that cases of the syndrome could grow even amid decreasing case numbers.
For some young teens, though, COVID vaccinations have less to do with safety and more to do with a return to activities.
Dr. Mona Hanna-Attisha, the pediatrician who helped to expose the Flint water crisis in 2015, told journalists at a press conference May 13 that her two daughters were excited to get immunized.
"They're literally jumping up and down in excitement," Hanna-Attisha said. "They've never asked me before to get a shot, they're not usually fans of shots, but they've been begging to get the shot."
But officials aren't relying on eagerness alone to get adolescents vaccinated. Schools in Grand Rapids and Kent County are hosting pop-up clinics to immunize the newly eligible. Jason Mellema, superintendent of the Ingham Intermediate School District, said most school districts in the county that includes a portion of Lansing are collaborating with the county health department to organize vaccination clinics in schools to reach 12-to-15-year-olds. The response to these clinics has been positive, Mellema added.
Mellema said superintendents in Ingham County were working to spread awareness within their districts of the pop-up clinics and the required materials parents or guardians would need to vaccinate their children. He emphasized the vaccination process is treated the same as any other medical procedure, and he compares vaccinations to the use of health physicals to allow students to participate in extracurricular activities.
"This has been a political issue that has divided some communities around whether or not people will be taking the vaccination," Mellema said. "We don't look at this as a political issue. We're not trying to make this divisive."
Mellema said he volunteered at the Michigan State University Pavilion, which serves as a mass, drive-through vaccination clinic in East Lansing. While some kids had arm soreness after receiving their dose, Mellema said, he also observed parents and children who were cautiously optimistic about the prospect of an end to the pandemic.
"I really think that kids want to get back to that sense of normalcy," he said. "And so this is an opportunity to get closer to normal."
John Helmholdt, spokesperson for Grand Rapids Public Schools, said the district hosted vaccination clinics last Thursday and Friday for students ages 12 and older and their parents or guardians. Since the clinics were open to more than just the newly eligible population, the district does not have information about how many students in this age group were vaccinated last week.
Helmholdt said vaccinations remain optional and that while some have been concerned about the effort, the district has not faced significant obstacles to its vaccination campaign.
"While we have encouraged our stakeholders to take advantage of the testing and vaccination sites, it is strictly voluntary and not required," Helmholdt said. "We have not encountered any challenges with the exception of a few emails or social media posts expressing concern that we as a district are promoting vaccinations."
Lynn Sutfin, spokesperson for the Michigan Department of Health & Human Services, said the department is attempting to reach teenagers and younger populations through social media advertising, including content on Snapchat, Instagram and TikTok. Several ads are also being developed that specifically focus on parents and children to encourage them to get immunized.
Local health departments have also been involved in organizing vaccine distribution for the young teens. Susan Ringler-Cerniglia, spokesperson for the Washtenaw County Health Department, said the county is organizing pop-up clinics with school districts that will be open to everyone in the community. Washtenaw County is also planning clinics to occur during the school day, offering a greater opportunity to immunize students.
More doses also are on the way to pediatricians and primary healthcare providers to administer to young teens, Ringler-Cerniglia said. That allows parents to ask questions of pediatricians during the vaccination.
Ingham County Health Officer Linda Vail said the response to initial vaccination efforts among adolescents initially has been positive, but she expects excitement among this group to decline as it has for other age ranges.
"The response has been great, quite honestly," Vail said. "There have been many many happy parents and happy 12- to 15-year-olds to finally be vaccinated."
Among them was the 14-year-old son of Kate Powers, a member of the school board of East Lansing Public Schools, who was among those getting a first dose at the MSU Pavilion recently.
"We were absolutely thrilled," Powers said. "The last almost year and a half have just been very difficult for everyone. I think especially for kids and teenagers, it's proven to be very challenging, both for concern about family members … and also just the inability to do the things that they love to do."
We're not just a news organization, we're also your neighbors
We've been there for you with daily Michigan COVID-19 news; reporting on the emergence of the virus, daily numbers with our tracker and dashboard, exploding unemployment, and we finally were able to report on mass vaccine distribution. We report because the news impacts all of us. Will you please support our nonprofit newsroom?