What do you want? she asked her hubby in MI nursing home. 'You,' he said.
Suffering, neglect and social isolation in Michigan's nursing homes and other long-term care facilities continue to grow, according to the state agency tasked with advocating for residents.
Among recent allegations tied to the COVID-19 lockdown in the state's nursing homes, according to the Michigan Long Term Care Ombudsman program:
Residents who, confined to their rooms, haven't showered for months because they are unable to use their facilities' shared showers

A woman, 86, whose foot might have been amputated after her podiatrist was

, for a time, unable to visit and her toe became infected.

A resident who wasn't allowed to attend her mother's funeral

A 100-year-old resident who may be forced to leave a facility because of poor "behaviors." Outgoing and used to frequent visitors, the man

had been isolated in his room for months. Because the staff has not cleaned his ears, he can't use his hearing aids.

Residents who report waiting a half-hour or longer for staff to help them go to the bathroom.
Next week, the roughly 32,000 people living in Michigan long-term care facilities will enter their sixth month of being cut off from friends and families who, for the most part, are unable to visit them due to strict COVID-19 rules enforced by these facilities.
Many complaints filed with the state don't focus on outrageous acts by facility staff. Rather, they reflect the grinding isolation and boredom endured by residents cut off from loved ones, with limited access to specialists, and even less to the kinds of people who add spark to life: beauticians and barbers, volunteers who bring music and games, or a therapy dog.
"We've heard some residents say the staff don't even have time to talk to them. They're isolated in their rooms all alone, and many of them have said 'It feels like I'm in prison' and 'What did I do [wrong]?'" said Salli Pung, who heads the ombudsman program, a federally and state-funded network of about two-dozen advocates in Michigan for the state's some 32,000 residents of licensed long-term care facilities.
In a three-month period ended in June, the agency received 2,637 calls from residents, family members and nursing home staff with questions and concerns about nursing homes and other long-term care facilities. In the same period last year, there were 1,835 calls, Pung said.
Long-term care facilities don't dispute the hardship that rigid visitation rules place on residents and families, even as they defend policies meant to guard against COVID-19 — a virus that's been brutal on seniors with underlying health problems. In Michigan, roughly 1 in 3 deaths from COVID-19 involved nursing home residents, according to state data.
Turning away visitors is "devastating," Cortney Banker, registered nurse and administrator at Reflections Memory Care in Battle Creek, told Bridge Michigan.
"It hurts your soul, and it rips you to shreds. But as an administrator of a building, I also am responsible for more than 100 lives counting my residents and my staff, and that mama bear mode kicks in and I have to protect them," she said.
So Michigan families and friends try their best to connect with residents through window panes, glass doors, computer tablets and other technology.
Here are a few of their stories.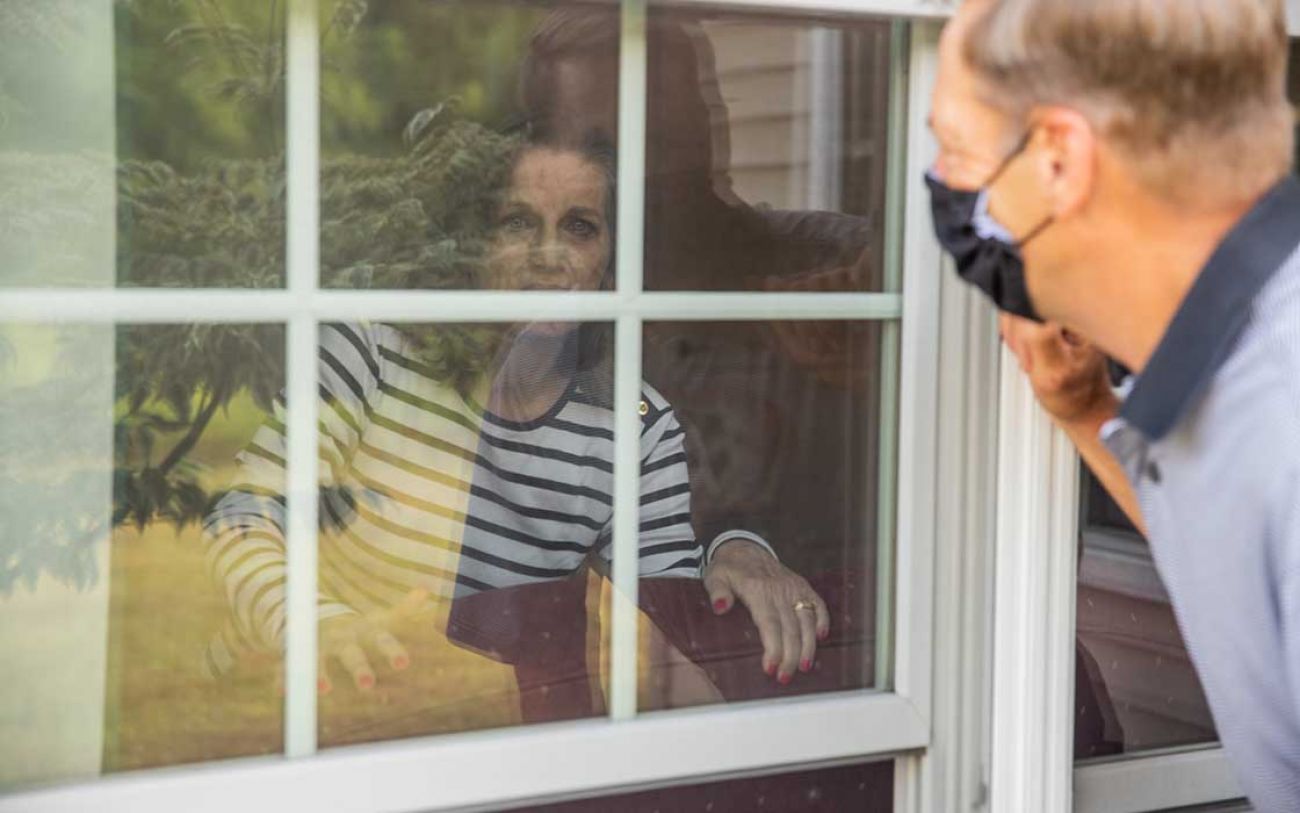 Staying connected with new routines
Tom Harris, visits his wife, Sharon, each morning just after 7.
It's then — after she has had a good night's sleep — that she seems less bewildered by the window in her bedroom at Reflections Memory Care in Battle Creek, which separates Sharon from her husband of 46 years.
Frontotemporal dementia — diagnosed in Sharon's 50s — has stripped speech from this former dental hygienist, mother, fan of yoga and whiz at playing bridge.
Still, each morning, Tom carries with him his Spartans green lawn chair and coffee. He presses his phone against the glass to show Sharon the latest photos of their grandchildren; she peers at them wordlessly.
"I talk to her, I show her pictures on my phone of the kids. I play music for her — country rock, Old Dominion — and every now and then she'll bop her head up and down," he said.
Each day, he said, she wears the same expression — one that seems to ask: Why are you out there?
"It's hard," he said. "But how do I keep my two daughters, my grandchildren and myself connected to her? If we don't see her every day, you worry about her losing that connectivity. She'll lose us."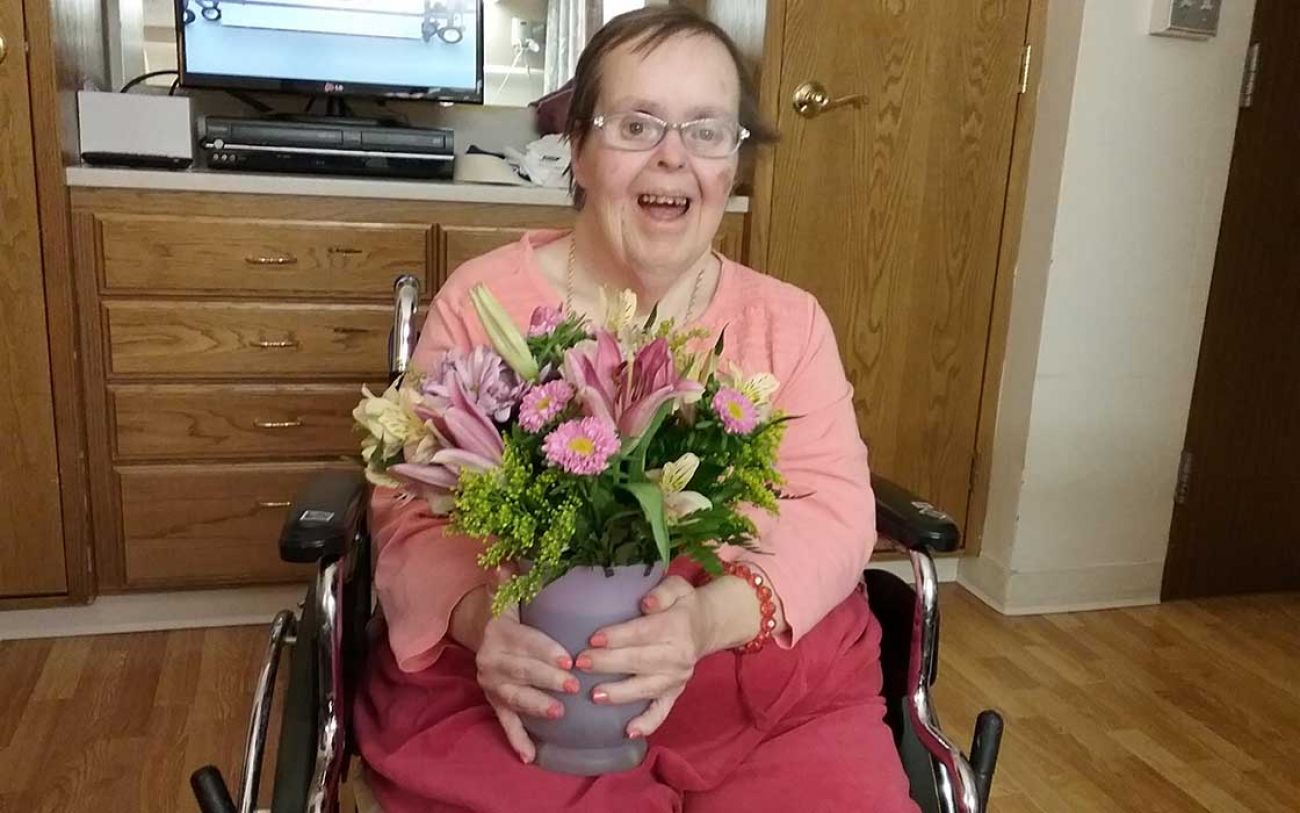 'Frustration for both of us'
Margaret Andersen was, until March, bubbly. A 65-year-old woman with Down syndrome, her smile was as big as her love for family and adventure, said her younger sister, Barb Hackett.
But what is there to talk about when your daily activities dry up?
At the Edison Christian Health Center in Grand Rapids, weekly music programs, balloon volleyball — even the primping and attention Margaret loved when she got a haircut — ended abruptly in March as COVID-19 ripped through Michigan.
So did all the visits with family members and trips to their homes, said Hackett, 62, who talks with her sister by phone.
That leaves little to chat about beyond: How was your day? Have you eaten well? Or, what did you watch on TV?
Not surprisingly, the answers are short on detail.
"She says 'I love you.' She says that a lot," Hackett said.
Hackett said she unsuccessfully asked Edison for permission to visit her sister despite the facility's no-visitation policy. As a woman with Down syndrome, Margaret Andersen doesn't understand the complexities of COVID-19.
"There was a level of frustration for both of us," her sister said. "I got the impression they've had this conversation [with others] before."
Family members send cards and letters. They call several times a week, said Hackett. While window visits might be sufficient for some; Hackett worries they would do more harm than good for her older sister — a woman who loves to give and receive physical contact.
"She wants to hug all the time, and she won't understand," Hackett said of talking through a window.
It's an impossible situation, she said, "and I couldn't possibly do that to her."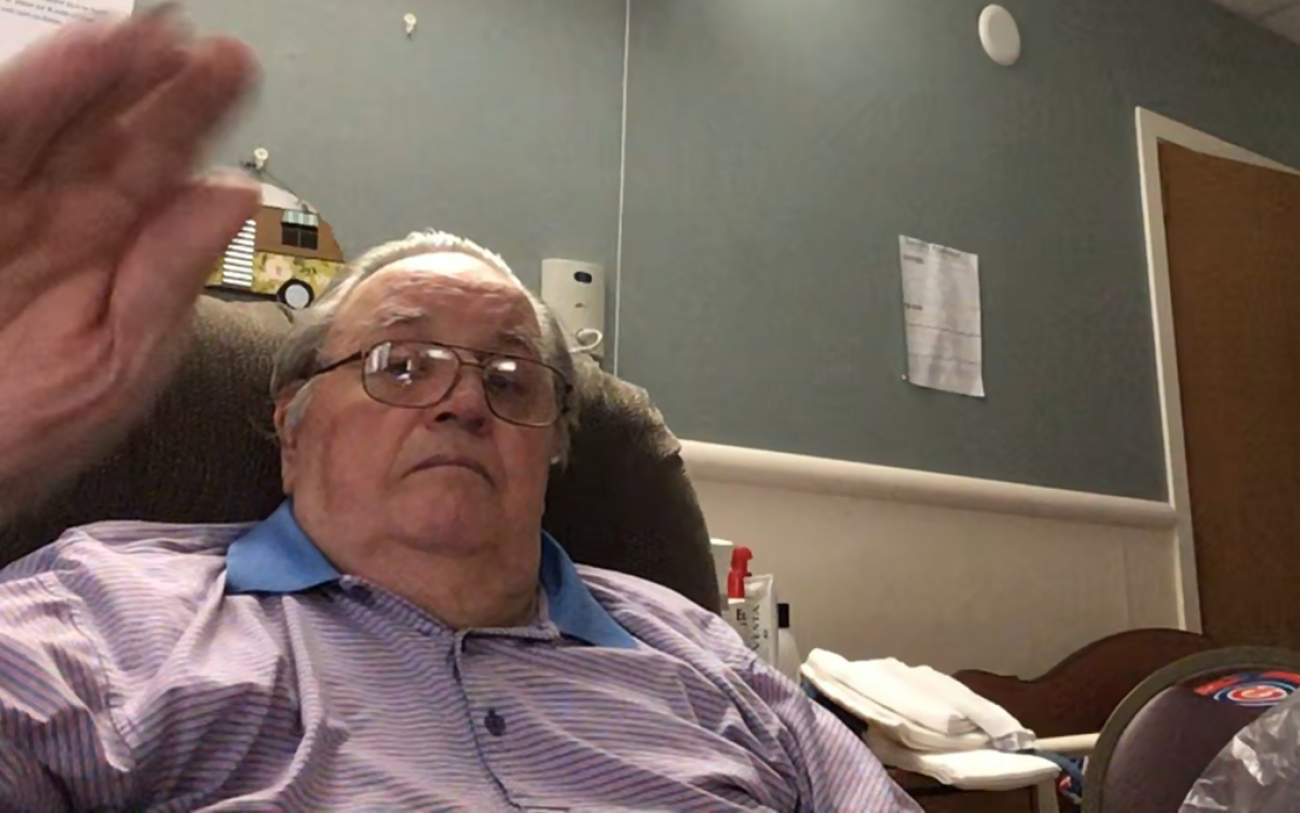 'I'm getting robbed.'
For more than a year, first-grade teacher Anita Haak drove to her husband, Don's, nursing home each afternoon to tidy his room, wipe water spots from his table and help him eat. Together, they prayed and would play Don's favorite hymns on the dining hall piano.
On weekends, Anita, 63, sometimes napped in his bed.
Now, the Haak marriage has been reduced to a tiny computer tablet screen enabled by staff at Edison Christian Health Center, or an occasional window visit.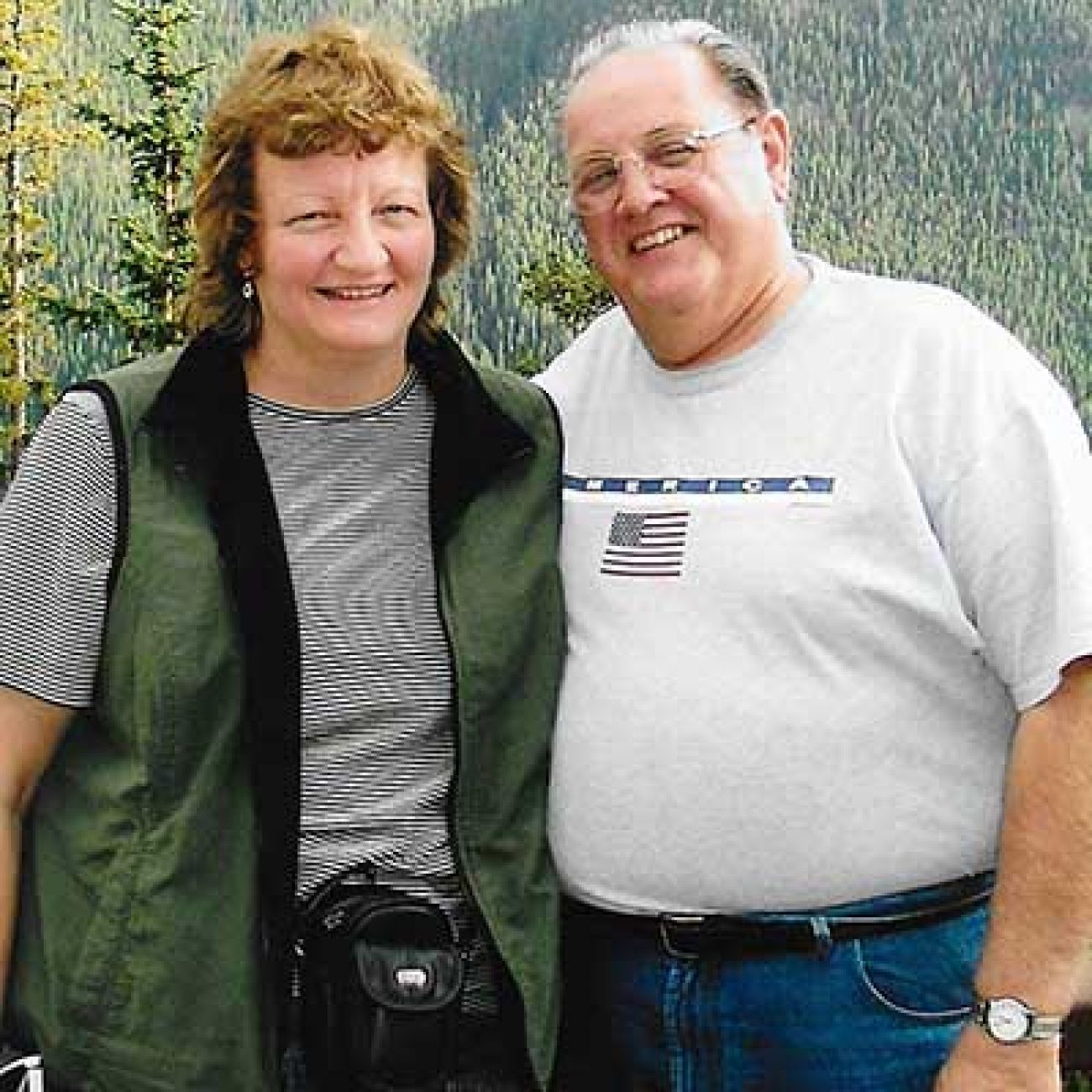 Anita said her 81-year-old husband — a man she met later in life after she had pretty much given up hope of marriage — is fading. It's as though his words wither before he can voice them. He repeats the phrases she uses, occasionally answering in single words.
"What do you want?" she recently asked him, half-expecting his usual one-word reply, which would be peanuts, one of his favorite foods.
You, he said.
"It warmed my heart and broke it at the same time," Anita said.
"You look and you might say 'How do you know it's not regular decline'" in his health? "But that's not the point. I'm getting robbed of not being there in this decline; of not being able to hold his hand."
Loved ones can feel helpless, said Haak, who is the administrator of a Facebook page, Michigan Caregivers for Compromise, where frustrated families have shared concerns and advise about visitation policies.
She has learned to let some things slide, like when she has seen chocolate on Don's face. His diet restricts it.
Yet the staff at the care center tend to Don's daily routines, make sure he eats, measure his meds, and fire up his tablet each night.
The staff is undoubtedly worried about COVID-19, and they're picking up tasks she and other family members and volunteers used to do, Haak said.
"It's a good nursing home and it has good people running it," she said. "I'm not out to get them in trouble. I just really want to see my husband."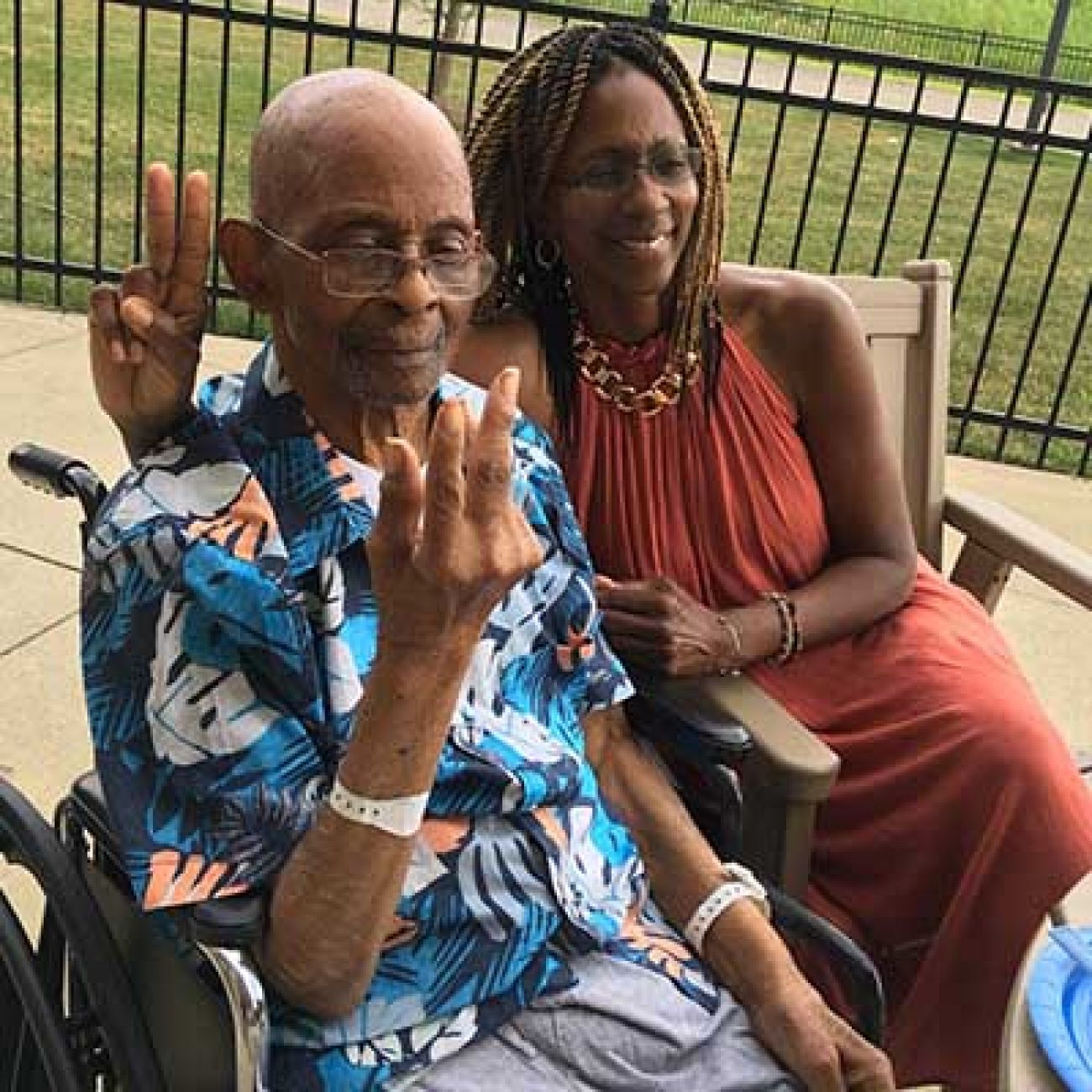 Unanswerable
Alzheimer's disease loops Leroy Williams questions in never-ending circles.
The 93-year-old retired pastor once taught others about faith in seemingly unanswerable questions. But now his daughter has become the guide as they peer at each other from opposite sides of glass doors at his nursing home, talking through phones.
"He's a people person, but now he's in his room almost all the time," said the daughter, Latrina Wiliams, a retired prison guard.
She, her siblings and extended family used to visit several times a week. Theirs is a demonstrative family that hug and hold hands and sit close.
Such intimacy is banned now throughout the state. So too are the things that the elder Williams relished — movies, bowling, bingo and the string of activities that attracted the Williams family to this nursing home, Notting Hill of West Bloomfield.
When she can't see her dad, Latrina tries to call to check on him.
"It's hard. When he doesn't see us, when we can't hug him and kiss him and be with him, he thinks we don't love him," she said. "He'll ask why. I'll say 'It's the coronavirus, and it kills.'
"And he'll say, 'How do you say that? And I'll say 'The co-ro-na-virus.' And then he'll say 'Oh, yeah."
"'Isn't that gone yet?' he'll say, and 'When will it be over?'
"And I'll say 'I can't tell you that,'" the younger Williams said.
"And a few minutes later, we do it all again."
'Heart-wrenching'
That's the worst feeling of all — the thought that a loved one may feel abandoned, said Melanie Zeiger.
"I'll just have to be strong for him, and for both of us," said Zeiger, who was featured in a Bridge Michigan story in June after she hadn't seen her husband, Jerry, for 100 days at that time.
In July, the facility Jerry Zeiger calls home began to allow in-person visits with strict rules of masking and staying apart six feet. Melanie resumed her six-mile car ride from her Portage home, stopping every other day at the Sweetwater's Donut Mill drive-thru for a blueberry muffin and cinnamon donut for the man who, now deep into dementia, still can make her laugh.
And every day for 10 days in the pretty courtyard of New Friends Community, Melanie slipped out a photo album so he could reread the captions to her — a little more mental adhesive, she hoped, for memories that are becoming unstuck with each passing day.
After months talking by phone and tablet, the in-person visits last month seemed to reinvigorate his speech and his joy, Melanie said.
"He got to the point he was at the window every morning at 10 o'clock waiting for me," she said.
But last week, the facility again suspended in-person visits — a "heart-wrenching" but necessary decision, according to an email. Too many guests were breaking rules, including "kissing, hugging, sitting side by side, back rubbing, hand holding and removal of face masks," it read.
Three days after the return to virtual visits, Jerry asked his wife via tablet, "Mel, where are you? Mel, when are you coming?"
By the end of last week, he had stopped using her name.
"Today, I'm not sure he knew it's me," she said Monday.
"I said, 'It's Melanie, your wife.' He said, 'Oh really?' I don't think he knew. Everything I gained from those 10 days seeing him on a regular basis, it's gone."
'Worse than COVID'
Faiza Najar is an ombudsman, a role that makes her an advocate for nursing home residents. She's also a wife whose 71-year-old husband, Ihsan Jabero, has been in a Detroit-area nursing home since last year with kidney failure and Parkinson's disease.
Over several months, she said she has watched her husband, a former civil engineer, withdraw into himself. Mostly, she has seen him only through his window; though in July, she was able to step inside to feed him meals.
She's grateful for those visits, but her husband no longer experiences the joy from the once-everyday visits of extended family and friends. The man who won her heart back home in Iraq 42 years ago no longer holds her gaze, she said. His eyes close. He looks away.
Some days, he takes only a bite or two of the rice and soup and other meals she brings from home.
The nursing home where he stays — Notting Hill of West Bloomfield — has caring staff and she has learned to place her trust in them when she's not there. She worries, though, about other nursing homes.
In her role as an ombudsman, Najar hasn't been allowed into any nursing home since March. There is no oversight for many of those residents — from ombudsmen, volunteers, family members, and others, she said.
"There's no bad guy in this, really. Everybody has good intentions," she said of strict visitation policies enacted during the pandemic.
But, Najar said, "To me, the isolation, the depression — it's worse than COVID at this point."
Only donate if we've informed you about important Michigan issues
See what new members are saying about why they donated to Bridge Michigan:
"In order for this information to be accurate and unbiased it must be underwritten by its readers, not by special interests." - Larry S.
"Not many other media sources report on the topics Bridge does." - Susan B.
"Your journalism is outstanding and rare these days." - Mark S.
If you want to ensure the future of nonpartisan, nonprofit Michigan journalism, please become a member today. You, too, will be asked why you donated and maybe we'll feature your quote next time!