Michigan Truth Squad: Patrick Colbeck ties Right to Work to 500,000 jobs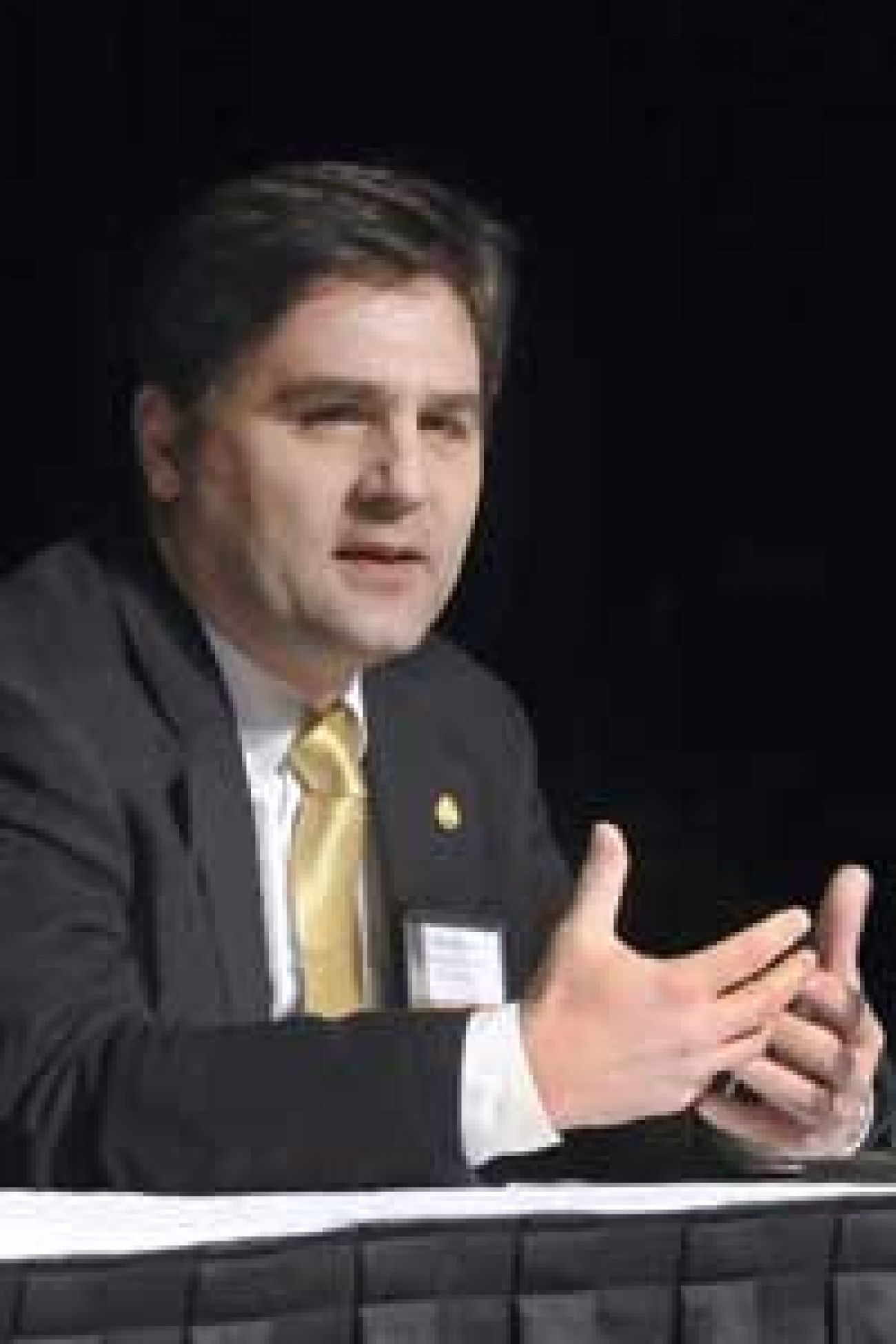 The facts
On Dec. 11, 2012, Snyder's signature made Michigan the 24th state to prohibit requiring workers to pay union dues or fees as a condition of employment. The bill was sponsored in the Senate by Meekhof, with Colbeck joining 21 other Republicans in supporting the measure, which passed 22-16.
Did Colbeck lead the effort to pass Right to Work? Press accounts credit him with helping lay the groundwork for passage, along with Mike Shirkey, R-Clarklake, who was then in the House and is now in the Senate. In a Dec. 13, 2012, account in Reuters Colbeck and Shirkey are portrayed as nourishing a Right to Work movement that they "built from the grassroots, bottom up, rather than from Snyder and top leaders in the legislature."
That article also credits the pair, and other activists, with creating the "Michigan Freedom to Work" coalition to drive support for Right to Work as it held press conferences in June 2011 and September 2011 in favor of it.
But Colbeck's claim that "in the wake of passage" of Right to Work the state has "created 540,000 private sector jobs" looks like fuzzy math at best.
According to the U.S. Bureau of Labor Statistics, Michigan added about 336,000 private jobs from the fourth quarter of 2012, just before Right to Work took effect, to the second quarter of 2017, the most recent data available.
The claim of 540,000 added jobs only works if the starting point is at the end of 2010, just before Snyder took office. That was nearly two years before passage of Right to Work. According to BLS data, the state added 533,000 private sector jobs from the last quarter of 2010 to the second quarter of 2017.
Colbeck's implication that Right to Work generated more than a half-million jobs is hard to justify. When the law took effect March 2013, a Snyder spokesperson said "multiple companies" expressed interest in locating in Michigan as a result of Right to Work but said those discussions were "best kept private."
Colbeck's campaign sent a statement to Truth Squad saying "Right to work created a climate that paved the way for job and salary growth in Michigan. Economies are complex systems and no one can ever say that one thing caused something over another, and in my statement I was referring to the correlation."
There have been plenty of studies on Right to Work and their results carry a similar theme: While RTW laws can create a more positive economic climate, it is difficult to separate the policy from other factors that affect hiring.
A study from Illinois found RTW laws had no significant impact on employment, and hurt other aspects of the economy. A UCLA study found private workers in RTW states earned anywhere from 1 to 6 percent less than similar workers in non-RTW states. A third study found RTW led to more manufacturing jobs in Idaho, but no discernible effect on employment or wages in Oklahoma.
Truth Squad asked the Michigan Economic Development Corporation if the agency could cite examples of companies locating in Michigan because of RTW. The agency would not publicly respond.
Colbeck's office referred Truth Squad to a report from the Heritage Foundation, a conservative think tank, that among other assertions said: "Companies consider right-to-work laws a major factor when deciding where to locate."
Colbeck's third claim, that Michigan job growth has been accompanied by a growth of $10,000 in income per resident, is also problematic, and for some of the same reasons as the job numbers.
It's true that when comparing raw numbers, per capita income in Michigan has grown by about $10,000 - from $35,188 at the end of 2010 to $45,211 at the end of the third quarter of 2017. (When adjusted for inflation, it's just under $5,600.) However, income growth since Right to Work became law is more modest: At the end of 2012, per capita income was $38,699, which means that income has grown about $6,500 since (roughly, $3,600 when adjusted for inflation).
Colbeck issued a general statement which read: "My press release reacting to the Governor's State of the State showed how much the state's economy has greatly improved from 2010 in a variety of ways, and disproves the assertions of others that the passage of Right to Work would somehow lead to lowered incomes and shrinking union rolls. For those that wanted to make such claims, it is clear that the opposite has occurred."
The rating: MOSTLY INACCURATE
Colbeck can rightly claim credit for taking an early grassroots role in pushing passage of Right to Work.
But his assertions on job and income growth miss the mark. He overstates private jobs gained "in the wake" of Right to Work by 200,000 jobs. And his campaign provides no persuasive evidence RTW was responsible for the state's job growth since 2012. He also overstates how much per capita income has grown dating to the passage of Right to Work.
Michigan's growth since 2012 coincides with the state's broad recovery from recession as Snyder took office. Economists cite several factors, including the rebound of the state's critical manufacturing base, as pent-up demand for cars and durable goods drove sales and hiring upward. By 2013, U.S. dealers were on track to move 15.6 million cars and trucks – up 50 percent from 2009. By 2014, it was 16.5 million. In a state where manufacturing "remains the backbone of the economy," according to the W.E. Upjohn Institute for Employment Research, that, as much as anything, accounts for the state's economic turnaround.
TRUTH SQUAD RATINGS
Truth Squad assigns five ratings to the political statements we review, in descending levels of accuracy:
ACCURATE ‒ No factual inaccuracies in the statement and no important information is missing
MOSTLY ACCURATE ‒ While the statement is largely accurate, it omits or exaggerates facts, or needs some clarification
HALF ACCURATE ‒ Truths are interspersed with mistruths, or the speaker left out significant facts that render his/her remarks misleading in important respects
MOSTLY INACCURATE ‒ The major point or points made are untrue or misleading, even while some aspects of the claim may be accurate
FALSE ‒ The statement is false, or based on false underlying facts
We're not just a news organization, we're also your neighbors
We've been there for you with daily Michigan COVID-19 news; reporting on the emergence of the virus, daily numbers with our tracker and dashboard, exploding unemployment, and we finally were able to report on mass vaccine distribution. We report because the news impacts all of us. Will you please support our nonprofit newsroom?