Truth Squad: Abdul El-Sayed says rival Gretchen Whitmer opens door to 'dark money'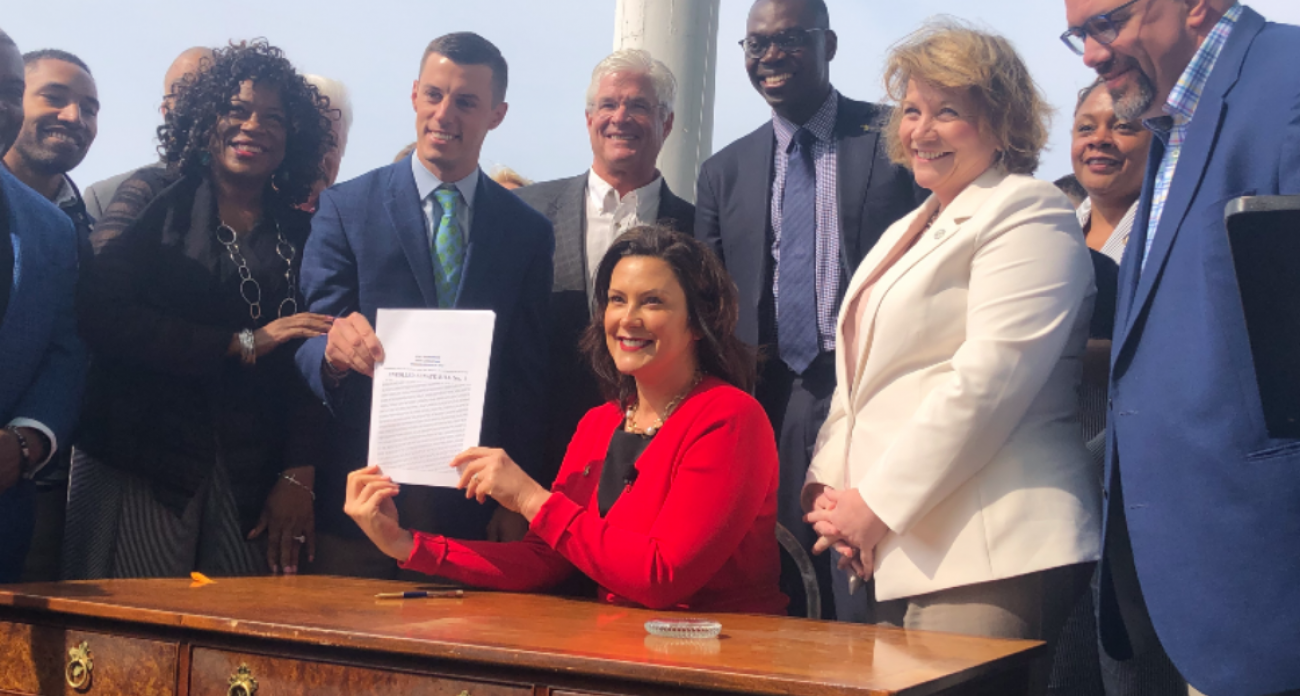 Michigan Truth Squad
Truth Squad: Abdul El-Sayed says rival Gretchen Whitmer opens door to 'dark money'
Oct 2018: Truth Squad | Ads unfairly attack Whitmer on healthcare, missed votes
Oct. 2018: Gretchen Whitmer's plan for Michigan: $3B of promises and wishful thinking​
Sept. 2018: Turning Gretchen Whitmer into Granholm, a Republican gamble in governor race
August 2018 update: Gretchen Whitmer wins Democratic primary for Michigan governor
Editor's note: This is an update to a Truth Squad piece published June 21.
Abdul El-Sayed, a former Detroit health director who is running as a Democrat to be Michigan's next governor, has claimed this summer that one of his primary opponents, Gretchen Whitmer, is using a "corporate dark money PAC" to help her win an election.
El-Sayed's statement came in response to a $1.8 million ad campaign launched by Build a Better Michigan, a political organization formed under federal law and backed by Whitmer supporters. It's considered an "issue ad," one that doesn't specifically endorse or reject individual candidates.
In a series of ads, Whitmer, a former state Senate Minority Leader and the presumed Democratic frontrunner for governor, tells viewers that Michigan needs to invest in such things as skills training, and repeal a Snyder-era tax on some pension income.
Build a Better Michigan, which is legally independent of the Whitmer campaign, in July publicly released details of its contributions and expenses. Labor and Democratic groups are among the group's main donors. But $550,000 of it — or roughly a quarter of the group's $2.2 million in contributions in the most recent quarter — comes from groups whose donors state campaign finance experts say can't be traced.
When Truth Squad first addressed this issue June 21, we concluded that it was too early to determine whether El-Sayed's claim was supported. At that point, the deadline for Build a Better Michigan to disclose its donors and spending was still several weeks away. At that time, Truth Squad rated El-Sayed's statement half accurate for that very reason. Now that Build a Better Michigan's disclosures have been made public, Truth Squad changes that rating to mostly accurate. We do so because the group's disclosures reveal at least two organizations whose donors can't be traced back to the source, leaving an "open door for corporate money" into the campaign even as it remains difficult to discern whether any of the dark money comes from corporations, as El-Sayed contends.
The claim
"Build A Better Michigan, Sen. Gretchen Whitmer's dark money PAC, is an open door for corporate money into our politics," El-Sayed said in a statement released June 12 by his campaign.
"Her corporate backers are using Build a Better Michigan to reward her with a $1.8 million dark money TV buy to help her get a promotion. We're watching a Democrat use Republican tactics. It's everything that's wrong with our politics," El-Sayed continued, adding: "I'm not asking a corporate dark money PAC to buy me political office — and neither should anyone seeking this office."
The facts
Build a Better Michigan is what's known as a 527 political organization, organized under Section 527 of the federal Internal Revenue Code.
It was formed March 23. In its initial IRS filing, Build a Better Michigan says its purpose is "to engage in political activities; to influence the selection, nomination, election, appointment or defeat of candidates to federal, state or local public office; and to conduct all lawful activities necessary or desired to operate the corporation in connection therewith."
It's led by Mark Burton, who was Whitmer's chief of staff during her tenure in the state Senate. Burton said the group's top issues include skills training, K-12 education and access to affordable health care. Whitmer's campaign does not manage it, but she has appeared in the group's ads.
Craig Mauger, executive director of the Michigan Campaign Finance Network, a nonpartisan nonprofit, has said political organizations that fall outside of Michigan's campaign finance laws — like 527 organizations — can coordinate with candidates if they don't directly advocate for or oppose their candidacy.
In Michigan, a federal 527 organization is not required to report finances to the state if its ads avoid telling voters who or what to vote for, said Fred Woodhams, a spokesman for the Michigan Secretary of State. (Republicans in Michigan have filed complaints against Build a Better Michigan with the state, contending the group has broken state campaign finance law. The complaints are being investigated and a resolution isn't expected for months, Woodhams said.)
Federal requirements are different: 527 groups generally have to report details of their donors and spending to the IRS, though they're only required to list names and addresses of donors who give at least $200 in a calendar year.
Burton in July released the organization's first quarterly report to the IRS, covering the three-month period from April 1 to June 30. Its top donors include:
$300,000 from the Progressive Advocacy Trust (listed as an "admin account" of the Ingham County Democratic Party)

$250,000 from the Philip A. Hart Democratic Club, of Mount Clemens (same address as the Macomb County Democratic Committee)

$250,000 from Emily's List (promotes pro-choice female candidates)

$250,000 from the DRIVE Committee of Washington D.C. (Teamsters PAC)

$250,000 from UAW V Cap of Detroit
Adam Joseph, El-Sayed's campaign spokesman, did not immediately respond to a message for comment from Truth Squad. But the campaign issued a statement in July that said, in part: "The disclosure reveals a mangled web of dark money funding sources and front groups, like the (Philip A. Hart Democratic Club)."
The El-Sayed campaign called the club "a secretive federal PAC that raises millions of dollars to attack other Democrats, and has been repeatedly sanctioned for improper activities including excessive campaign contributions, bad bookkeeping, misuse of their gambling license, and other violations."
(The club has found itself in trouble with the state over its bingo activities in the past; the Michigan Democratic Party was fined $500,000 last year for bingo-related activities.)
The Philip A. Hart Democratic Club has disclosed some of its donors to the Federal Election Commission. In June, it reported receiving $126,285 and spending nearly $121,713 — less overall than the amount it gave in a single donation to Build a Better Michigan. In addition, Build a Better Michigan is not included on the club's federal spending disclosure; most of its spending in June was related to bingo prize payouts.
It's not clear where the Phil Hart club's $250,000 contribution to Build a Better Michigan originated.
When Truth Squad contacted the Philip A. Hart Democratic Club's treasurer, Roger Holtslander, he declined comment and referred a reporter to club President Julie Matuzak. A phone message left for Matuzak, who also is a Democratic member of the Board of State Canvassers, was not returned.
"One-quarter of the money that Build a Better Michigan raised in its report came from other organizations that don't have to disclose where they got their money," Mauger told Truth Squad, referring to the Philip A. Hart Democratic Club and Progressive Advocacy Trust, which is affiliated with the Ingham County Democratic Party.
Michigan Truth Squad contacted Ingham County's party chairman, Chris Swope, who is Lansing's city clerk. Swope declined comment and referred a reporter to Mark Fisk, a partner with Byrum & Fisk Advocacy Communications in East Lansing and a spokesman for Progressive Advocacy Trust.
Fisk told Truth Squad via email that Progressive Advocacy Trust is a 527 political organization, but it is not required to file the same financial disclosures as Build a Better Michigan, which also is organized under the IRS' Section 527. He said "527s affiliated with local (and state) parties have different reporting requirements and are exempt from reporting under the code."
A spokeswoman for the IRS could not immediately confirm the exemption Fisk cited. But Fisk cited statute language that suggests that requirements of 527 groups to disclose spending and contributions do not apply "to any state or local committee of a political party."
Fisk would not disclose the names of donors to Progressive Advocacy Trust, saying only that they are "a diverse group of like-minded individuals, organizations and businesses who support the PAT's work and vision."
"The Progressive Advocacy Trust chose to participate in Build a Better Michigan's effort because both organizations are non-political organizations that share similar core values," Fisk told Truth Squad via email. "The PAT believes — like BBM does — that affordable health care, improving our infrastructure, making sure we have safe drinking water, and repealing the retirement tax need to be priorities. Once BBM began its effort in earnest, it was decided we should support it."
Burton told Truth Squad that he could not speak on behalf of the donors when asked about the funding sources behind Build a Better Michigan's contributions.
Neither Progressive Advocacy Trust nor Philip A. Hart Democratic Club is a registered committee that discloses donors or spending to the state under Michigan campaign finance rules, Woodhams said.
Michigan and national campaign finance experts previously told Truth Squad that political groups such as 527 organizations are not inherently dark-money organizations. As noted, they are required to report their contributions and spending. But there are ways these groups can be used to funnel dark contributions, notably through 501(c)4 social welfare nonprofits as classified by the IRS.
Pete Quist, research director for the Helena, Mont.-based National Institute on Money in Politics, said that party clubs have to disclose their donors in some states, though not all. And since Michigan does not consider issue ads to be political spending, the state does not require 527 organizations to disclose their donors.
Quist said he was not familiar with the Philip A. Hart Democratic Club or the Progressive Advocacy Trust and was not able to comment on the source of the groups' funding.
Mostly Accurate
Abdul El-Sayed
Says a pro-Whitmer political group is fueled by dark money.
Build a Better Michigan is not in itself a dark-money group because it is required under federal law to disclose its finances. Yet its recent public disclosures show it has taken money from at least two organizations whose donors remain veiled.
El-Sayed has criticized Build a Better Michigan for "creating an open door" for taking "corporate dark money," though it can't be determined whether donors to Progressive Advocacy Trust or the Philip A. Hart Democratic Club include corporations. Build a Better Michigan did disclose receiving donations from labor groups, corporations and individuals.
A 527 that accepts money from a donor that won't disclose its funding is less transparent and raises questions about who might, through their checkbooks, be influencing the election ads we see on TV.
Truth Squad now boosts El-Sayed's claim to mostly accurate.
TRUTH SQUAD RATINGS
Truth Squad assigns five ratings to the political statements we review, in descending levels of accuracy:
ACCURATE ‒ No factual inaccuracies in the statement and no important information is missing
MOSTLY ACCURATE ‒ While the statement is largely accurate, it omits or exaggerates facts, or needs some clarification
HALF ACCURATE ‒ Truths are interspersed with mistruths, or the speaker left out significant facts that render his/her remarks misleading in important respects
MOSTLY INACCURATE ‒ The major point or points made are untrue or misleading, even while some aspects of the claim may be accurate
FALSE ‒ The statement is false, or based on false underlying facts
Only donate if we've informed you about important Michigan issues
See what new members are saying about why they donated to Bridge Michigan:
"In order for this information to be accurate and unbiased it must be underwritten by its readers, not by special interests." - Larry S.
"Not many other media sources report on the topics Bridge does." - Susan B.
"Your journalism is outstanding and rare these days." - Mark S.
If you want to ensure the future of nonpartisan, nonprofit Michigan journalism, please become a member today. You, too, will be asked why you donated and maybe we'll feature your quote next time!