Truth Squad | Abdul El-Sayed says rival takes 'corporate dark money'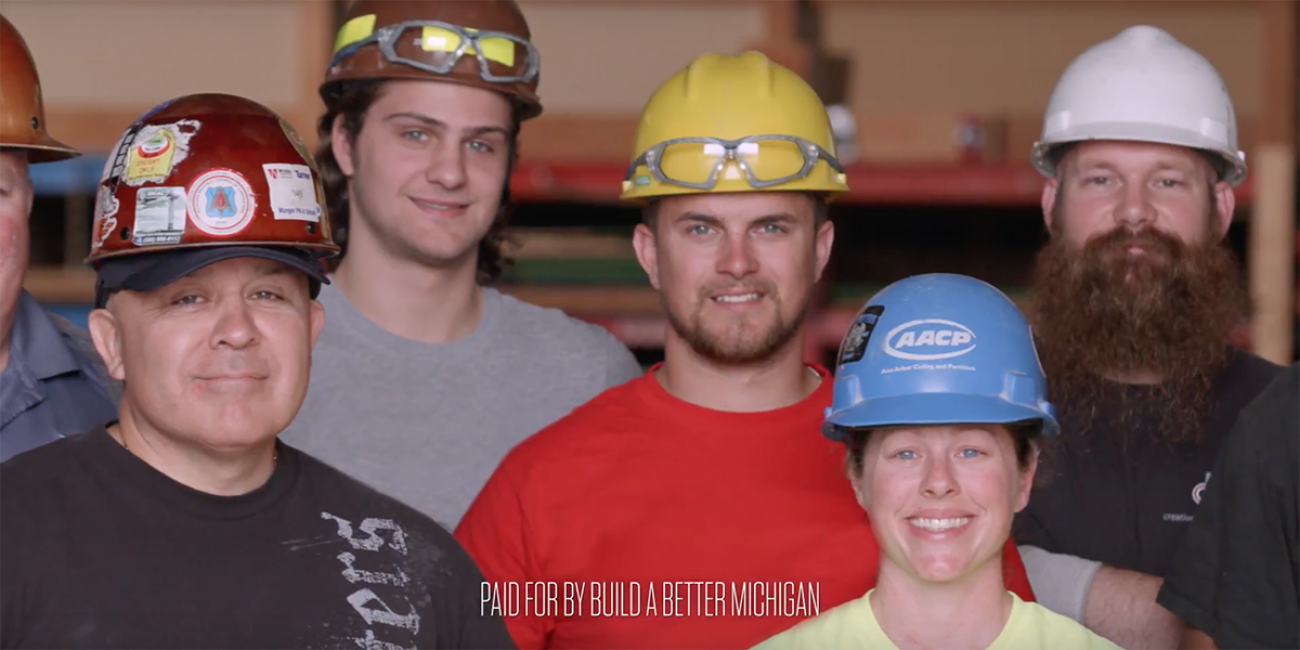 August 2018 update: Gretchen Whitmer wins Democratic primary for Michigan governor
August 2 update: This claim has been re-examined in a new Truth Squad article
July 23 update: Group tied to Michigan governor candidate Gretchen Whitmer reveals donors
Abdul El-Sayed, a former Detroit health director who is running as a Democrat to be Michigan's next governor, has issued a statement alleging that one of his primary opponents, Gretchen Whitmer, is using a "corporate dark money PAC" to help her win an election.
El-Sayed's statement came in response to a $1.8 million ad campaign launched by Build a Better Michigan, a political organization formed under federal law and backed by Whitmer supporters. It's considered an "issue ad," one that doesn't specifically endorse or reject individual candidates.
In the new ad, Whitmer, a former state Senate Minority Leader and the presumed Democratic frontrunner for governor, tells viewers that Michigan needs to invest in skills training and repeal a Snyder-era tax on some pension income.
Michigan Truth Squad rating categories
Build a Better Michigan, which is legally independent of the Whitmer campaign, will have to release details of its contributions and expenses to the federal government, not to the state. But the committee's first filing deadline is not until next month, meaning that no data are yet publicly available about its donors.
Michigan Truth Squad finds El-Sayed's claim to be half accurate.
The claim
"Build A Better Michigan, Sen. Gretchen Whitmer's dark money PAC, is an open door for corporate money into our politics," El-Sayed said in a statement released June 12 by his campaign.
"Her corporate backers are using Build a Better Michigan to reward her with a $1.8 million dark money TV buy to help her get a promotion. We're watching a Democrat use Republican tactics. It's everything that's wrong with our politics," El-Sayed continued, adding: "I'm not asking a corporate dark money PAC to buy me political office — and neither should anyone seeking this office."
The facts
Build a Better Michigan is what's known as a 527 political organization, organized under Section 527 of the federal Internal Revenue Code.
It was formed March 23. In its initial IRS filing, Build a Better Michigan says its purpose is "to engage in political activities; to influence the selection, nomination, election, appointment or defeat of candidates to federal, state or local public office; and to conduct all lawful activities necessary or desired to operate the corporation in connection therewith."
It's led by Mark Burton, who was Whitmer's chief of staff during her tenure in the state Senate.
Burton said the group's top issues include skills training, K-12 education and access to affordable health care.
Build a Better Michigan plans its ad buy over a five-week period, starting with the Detroit, Flint and Grand Rapids markets, Burton said. Nowhere in the initial 30-second spot does the group explicitly encourage viewers to vote for Whitmer in the Aug. 7 primary.
Why does the ad tiptoe around endorsing Whitmer?
In Michigan, a federal 527 organization is not required to report finances to the state if their ads avoid telling voters who or what to vote for, said Fred Woodhams, a spokesman for the Michigan Secretary of State.
Craig Mauger, executive director of the Michigan Campaign Finance Network, a nonpartisan nonprofit, said political organizations that fall outside of Michigan's campaign finance laws — like 527 organizations — can coordinate with candidates if they don't directly advocate for or oppose their candidacy.
That could explain why Whitmer is appearing in Build a Better Michigan's ad.
Federal requirements are different: 527 groups have to report details of their donors and spending to the IRS, though they're only required to list names and addresses of donors who give at least $200 in a calendar year.
Burton told Truth Squad the organization will make its first quarterly report to the IRS, covering the three-month period from April 1 to June 30, by July 15.
Adam Joseph, El-Sayed's campaign spokesman, said the campaign has not yet seen details of Build a Better Michigan's finances.
But he contends the organization was created to promote Whitmer as a candidate. (A claim also made by the Michigan Republican Party, which filed a complaint Wednesday with state election officials.) And Joseph notes that a 527 allows candidates like Whitmer to benefit from unlimited amounts from corporations that wouldn't otherwise be allowed to donate directly to a candidate's campaign, while also shielding from public view the original source of some contributions.
Corporations can't donate directly to candidates for office in Michigan, though they can give to super PACs supporting a candidate. State campaign finance law limits donors to individual candidates running for governor to a maximum of $6,800 for each election cycle.
"Campaigns like Sen. Whitmer's use 527s for two reasons: first, to take unlimited amounts of corporate money, and second, to launder donations through other PACs, dark money accounts, and other sources," Joseph told Truth Squad in an email. "And because we don't know where any of the $1.8 (million) 'Build a Better Michigan' is spending to advertise for Whitmer is coming from — it is dark money.
"We have invited Sen. Whitmer to disclose her contributions — to bring light to a dark money situation — but she seems less interested in transparency or accountability than in playing by Republican rules and letting corporations buy her campaign."
Whitmer's campaign notes, correctly, that it is a separate legal entity than Build a Better Michigan. The campaign also takes the position that Whitmer was invited to appear in its ad to promote various issues, not her candidacy.
"Neither she nor anyone on the Whitmer campaign has any authority to direct the activities of Build a Better Michigan," campaign spokesman Zack Pohl said in an emailed statement. "Gretchen believes every outside group and independent PAC should fully comply with campaign finance and IRS disclosure laws."
Burton declined to voluntarily disclose the group's donors ahead of the July filing deadline.
"Our intent has always been, and will continue to be, to follow the letter of the law regarding both contributions and expenditures," Burton said.
August 2, 2018 update: The filing deadline has passed, the Truth Squad re-examines this claim
"We haven't begun filling out a report of any kind, but it's a lot of organizations and some individuals from across the state who care about the particular issues that we're talking about in this ad," he said. "Gretchen Whitmer obviously is concerned about similar issues, so she makes a great spokesperson in that regard for us. But I don't want to name any names right now."
Michigan and national campaign finance experts told Truth Squad that political groups such as 527 organizations are not inherently dark-money organizations. As noted, they are required to report their contributions and spending. But there are ways these groups can be used to funnel dark contributions.
One example is nonprofit social welfare groups, such as civic groups organized under Section 501(c)4 of the Internal Revenue Code, said Pete Quist, research director for the Helena, Mont.-based National Institute on Money in Politics. Because the IRS doesn't recognize social welfare groups as a political organization, they don't have to publicly disclose their donors.
Yet 501(c)4 organizations can get involved in politics, usually through ad campaigns, and are unlimited in both who can give to them, and how much, he said.
If a 527 political organization accepts money from a 501(c)4 nonprofit that doesn't have to disclose its donors, Quist said, "the trail pretty much runs cold from there." The civic group will be listed as a donor to the 527, but that doesn't tell the public much about who is funding that civic group.
Quist said El-Sayed's statement that Build a Better Michigan is a vessel for dark money "may not be technically accurate" because it hasn't yet disclosed its donor list. It's simply too early to tell.
But, Quist added, "the point is well taken. Because it is a 527 organization, it will have to disclose where it's getting its money. And until it does that, we don't know if it's taking its money from dark-money groups."
Half Accurate
Abdul El-Sayed
Says a pro-Whitmer political group is paying for a TV ad campaign with dark money.
Build a Better Michigan is not in itself a dark-money group because it is required under federal law to disclose its finances. Whether it has taken money from organizations that don't disclose their donors remains unclear.
The group says it won't voluntarily list its contributions ahead of its first IRS filing deadline in mid-July, and notes correctly that it's not required to do so earlier.
Yet campaign finance experts say 527 political organizations, like Build a Better Michigan, often take contributions that can't be traced back to the source. So while El-Sayed's statement may be unsupported (at least for now), the criticism often leveled at 527s has merit.
August 2, 2018 update: Truth Squad re-examines this claim of Gretchen Whitmer's 'dark money'
A 527 that accepts money from a donor that won't disclose its funding is less transparent and raises questions about who might, through their checkbooks, be influencing the election ads we see on TV.
El-Sayed's campaign would have been on firmer ground had it said a pro-Whitmer organization could be used to take in dark-money contributions, rather than asserting — before data has been publicly released to back it up — it already has done so.
To summarize:
El-Sayed calls the Whitmer-linked 527 a "dark money PAC" without waiting to see who gave it money.

The 527 fuels that suspicion by declining to provide donor names until legally required to do so.

Whitmer's campaign, meanwhile, says with a straight face that an ad she narrates that highlights her legislative history is all about the issues, and has nothing to do with her race for governor.
Truth Squad calls this statement half accurate. This rating will be reevaluated in July when the 527 donors are revealed.
Only donate if we've informed you about important Michigan issues
See what new members are saying about why they donated to Bridge Michigan:
"In order for this information to be accurate and unbiased it must be underwritten by its readers, not by special interests." - Larry S.
"Not many other media sources report on the topics Bridge does." - Susan B.
"Your journalism is outstanding and rare these days." - Mark S.
If you want to ensure the future of nonpartisan, nonprofit Michigan journalism, please become a member today. You, too, will be asked why you donated and maybe we'll feature your quote next time!