Trump demonizes refugees. Biden wants more. Whose plan will Michigan back?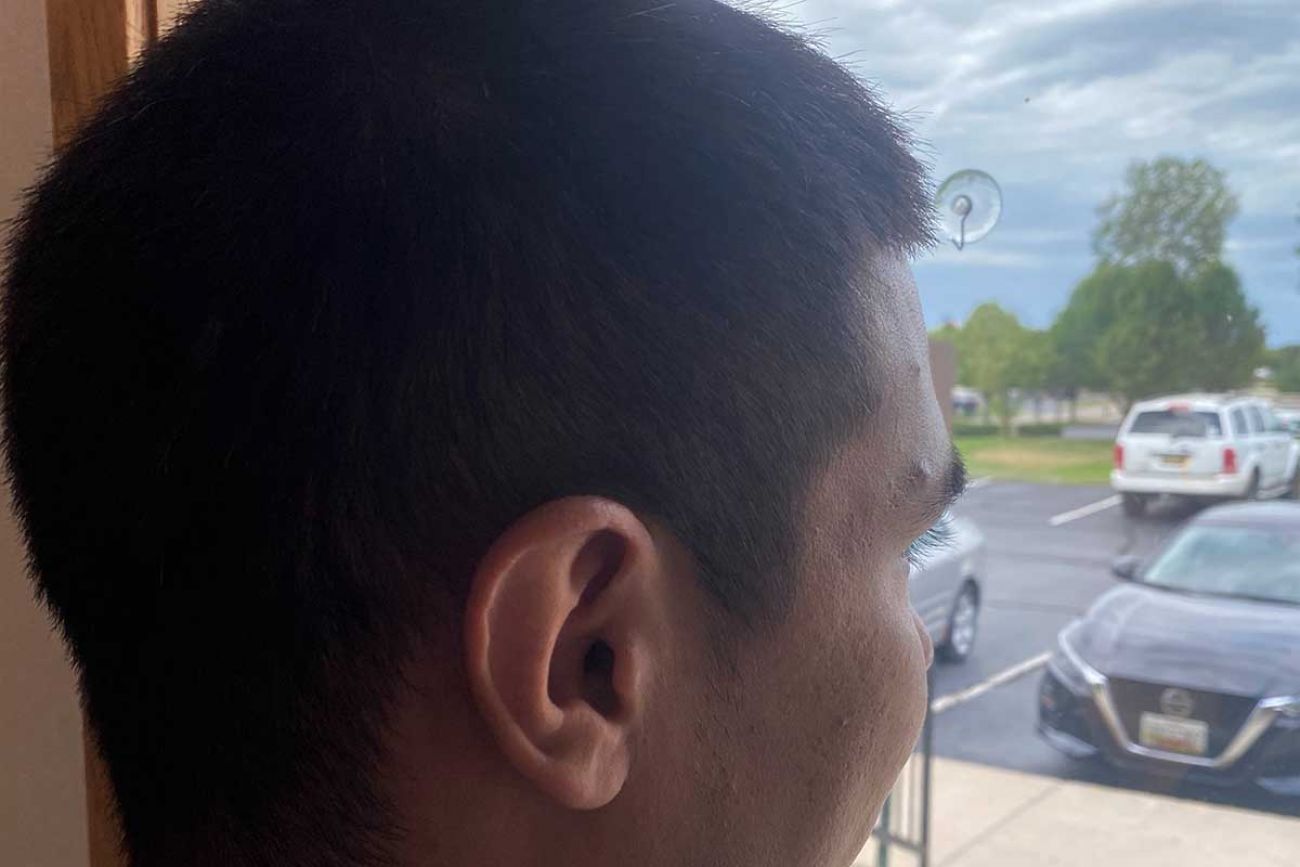 KALAMAZOO ─ Eight years after a bombing in Afghanistan that killed his parents and left him an orphan, Ali is still coming to terms with his newly adopted country.
Now 18, Ali is living in a group home with other refugees in Kalamazoo and adapting to digital platforms like Zoom. He still wrestles with English after seven months in the United States. And he's trying to make sense of what he hears about the campaign for president.
"Joe Biden and Donald Trump," he said, summing up nearly all he knows about the upcoming election, during a recent interview aided by a translator. They were among a handful of words he spoke in English over the course of an hour. He asked that his last name not be used to protect his privacy as a refugee.
But as he begins virtual fall classes at Plainwell High School in Kalamazoo County, people like Ali could be easily left to wonder if this country still wants him, a refugee who is also a Muslim.
Days after he spoke to Bridge Michigan, Trump appeared at an airport rally Thursday near Saginaw and sought to raise fear about refugees, and about Biden.
"He's promised to flood your state with refugees," the president said. "And you know that as well as I do. And you see it all the time, from terrorist hot spots around the world, including Syria, Somalia and Yemen."
Biden, Trump said to scattered boos, wants "a 700 percent increase in the flow of refugees."
The candidates' opposing views on refugees — Biden welcoming, Trump disdainful — underscores their divergent views on the larger issue of immigration, an issue important to Michigan's business community as well as many residents.
Biden pledged in June to increase the annual number of people fleeing persecution who are allowed to resettle in America to 125,000, bringing it close to the 130,000 once approved under President Barack Obama, who Biden served as vice president.
Related:
"The United States has always strived to serve as a beacon of hope — a role model in resettling refugees and leading the humanitarian response abroad," Biden said in his June 20 statement on World Refugee Day.
That's 180 degrees apart from the "America First" priority Trump has consistently set on immigration. He launched his campaign for the presidency in 2015 with a warning that Mexico is sending drugs, crime and "rapists" across the southern border, then put in place policies as president that separated more than 2,000 foreign children from parents crossing the border illegally. He called for a halt on immigration from Muslim nations and raised the specter of foreign guest workers stealing American jobs.
Presidential clash on refugees
President Trump and Joe Biden are polar opposites. Here is what they've said or done on the subject:
Biden on refugees:
Proposes annual U.S. refugee target of 125,000
Would establish a minimum admission number of 95,000 refugees
"I believe that resettling refugees helps reunite families, enriches the fabric of America, and enhances our standing, influence, and security in the world."
"Restoring America's historic role as leader in resettlement and defending the rights of refugees everywhere will take concrete action."
"We will not, and we cannot, allow hate and rage to divide us further."
Trump on refugees
Lowered admission ceiling successively from 110,000 refugees set by President Obama 50,000 for fiscal year 2017, 45,000 for fiscal year 2018, 30,000 for fiscal year 2019 and to 18,000 for fiscal year 2020
"The United States will not be a refugee holding facility."
"Many refugees come from countries that are known sources of terrorism or lack the modern recordkeeping to help us identify their nationals."
"The United States spends billions of dollars resettling refugees that could be invested in our citizens here at home."
"The United States can only admit so many refugees while ensuring we maintain a high standard of screening."
While refugee admissions into the United States mostly declined in recent decades, beginning with President Reagan, Trump's stance is more overtly hostile than previous presidents, who at least outwardly embraced the nation's standing as a haven for the persecuted.
In contrast, Trump vowed in 2018 that "the United States will not be a migrant camp and it will not be a refugee holding facility…not on my watch."
Cut after cut
Trump scrapped Obama's refugee ceiling of 110,000 after taking office in 2017 and set the cap at 50,000. He lowered it to 45,000 in fiscal 2018, 30,000 in fiscal in 2019 and 18,000 for fiscal year 2020, which ends Sept 30. Last year, administration officials considered dropping refugee admissions to near zero.
Michigan settled more than 4,200 refugees in the federal fiscal year that ended in September 2016, near the end of President Obama's second term. As Obama gave way in 2017 to Trump, that number fell to 2,536 in fiscal year 2017, 651 in fiscal year 2018, before climbing to 1,146 in fiscal 2019.
That's still a drop of nearly 75 percent from where it stood in Obama's final year in office.
Bridge reached out to a spokesperson for Trump's campaign and asked if Trump planned to continue to limit refugee admissions in a second term, but did not hear back.
Under U.S. law, a refugee is a person who is unable or willing to return to his or her home country because of a "well-founded fear of persecution" due to race, membership in a certain social group, political opinion, religion, or national origin. Refugees to the United States undergo extensive background checks before they are cleared by the U.S. Department of State for entry.
That includes an initial interview, a layer of at least two, sometimes three background checks, a search of the applicant's name through law enforcement and intelligence databases for terrorist or criminal history, three fingerprint screenings, a health screening, an interview by a U.S. Department of Homeland Security official and a final multi-agency security check before the refugee departs for the United States.
Unlike asylum seekers at the border with Mexico, refugees enter the United States only after obtaining prior legal permission to do so.
The United States for decades led the world in the number of refugees settled. But in 2017, for the first time since passage of the 1980 U.S. Refugee Act, the United States took in fewer refugees than the rest of the world.
Beyond the squeeze on refugees, Trump has also discouraged the entrance of highly skilled and seasonal foreign guest workers that many in the Michigan business community say are critical to future economic growth.
In June, Trump issued a sweeping executive order that blocks visas until the end of the year for a variety of jobs, including computer programmers and engineers who enter the country under H-1B visas. It also suspends visas for foreign specialty workers who transfer within companies.
Backers of limited immigration applaud Trump's suspension of guest workers as a jobs saver for American citizens during the economic upheaval of the coronavirus pandemic. U.S and Michigan business advocates, however, warn that the limits will damage the economic recovery under COVID-19 as manufacturers struggle to find skilled specialists.
"The underlying issue is we do need immigration," said Steve Tobocman, executive director of Global Detroit, a regional economic development organization which supports expansive immigration policies.
"For the auto industry, it boils down to talent for drawing workers from around the world," Tobocman said. "The drive for talent is the No. 1 agenda item for business developers around the country."
National business groups, including some reliable Trump allies, denounced the measure as well.
"As the economy rebounds, American businesses will need assurances that they can meet all their workforce needs. To that end, it is crucial that they have access to talent both domestically and from around the world," said Thomas J. Donohue, CEO of the U.S. Chamber of Commerce.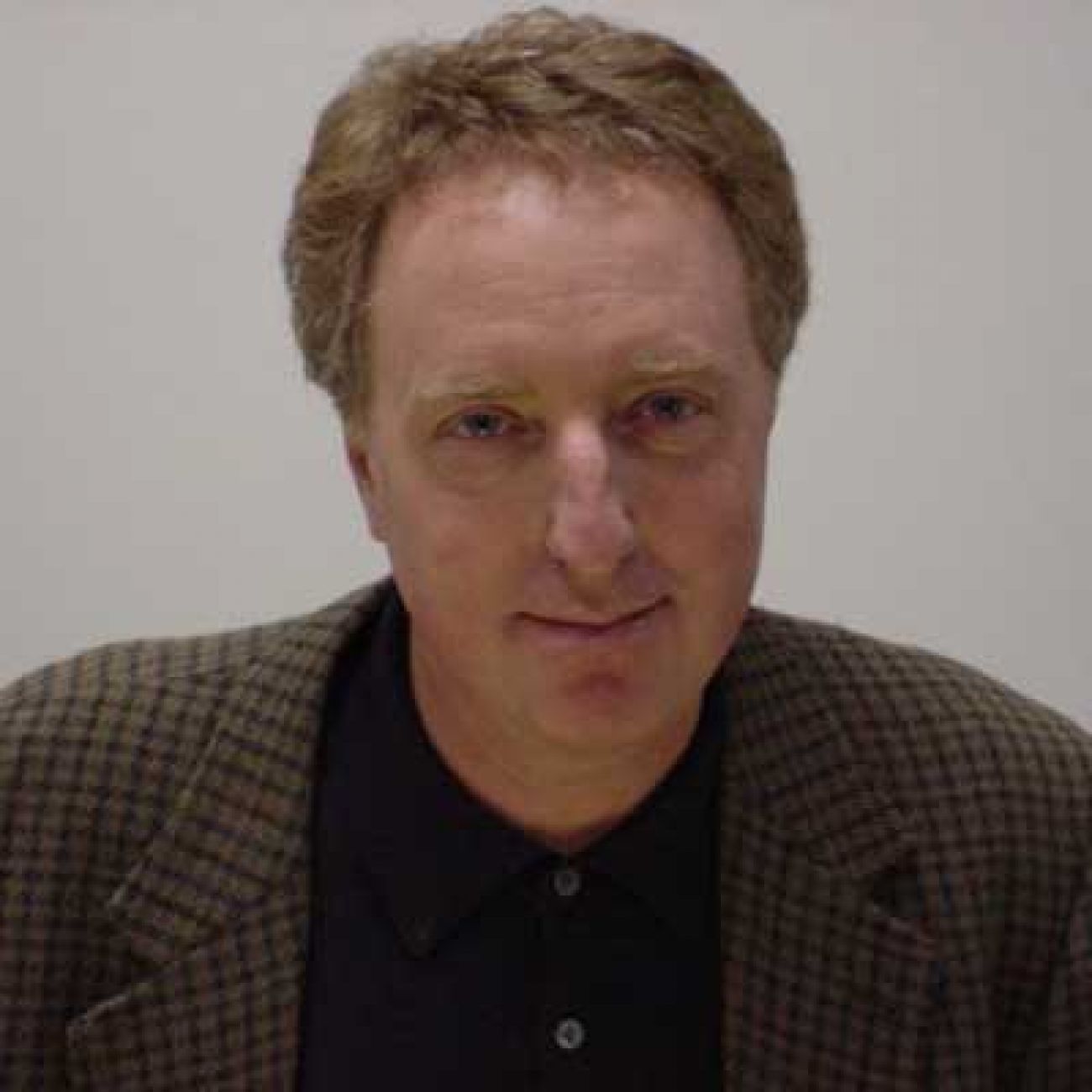 But groups like the Federation for American Immigration Reform, a Washington, D.C., nonprofit that pushes for limits on immigration, aren't buying the business perspective on specialized guest workers.
"There is no shortage of skilled American workers in the United States, even in the STEM (Science, Technology, Engineering, Math) field," FAIR spokesman Ira Mehlman told Bridge.
"The guest worker system has been turned into a system where they bring in [foreign] workers with average skills. [Businesses] have great control over these workers and it does keep down the labor costs."
Mehlman pointed to recent events at the Tennessee Valley Authority, which announced this year it would outsource a fifth of its technology jobs to companies based in foreign countries. According to the White House, that could have caused 200 American technology workers to lose their jobs to foreign workers hired on H1-B visas.
The TVA is a federally owned utility created by congressional charter in 1933 to provide economic development in the south.
On Aug. 3, Trump fired the chair of the TVA and a board member, declaring: "Let this serve as a warning to any federally appointed board: If you betray American workers, you will hear two words: 'You're fired.'"
A few days later, the TVA announced reversal of its outsourcing plan.
'Get our country back'
There are parallel clashes over the relative cost – and value ─ of refugees.
In 2018, FAIR released a study that asserted that resettlement of refugees and asylum seekers cost U.S. federal taxpayers approximately $1.8 billion a year and $8.8 billion over five years. It said that amounts to $15,900 per refugee a year, or nearly $80,000 over their first five years in America.
"The U.S. must remain committed to its role as a world leader in helping refugees, but we must also recognize that relocating refugees to this country is by far the most expensive alternative, and a financial commitment that lasts decades or more," FAIR President Dan Stein said.
A Michigan advocate for reduced immigration echoed FAIR's concerns over the cost of refugee resettlement.
"We had to get our country back," Tamyra Murray, of Michiganders for Immigration Control and Enforcement, a nonprofit opposed to expanded immigration, said of Trump's limits on refugee admissions.
Murray, a Saginaw County resident, spoke out in 2014 against plans to house child refugee immigrants fleeing violence and poverty in Central America in the small community of Vassar, east of Saginaw. "I agree with Trump dropping the ceiling on refugees. We are paying for their food stamps and their job training," Murray said.
But the FAIR study is contradicted by a leaked 2017 draft report by the U.S. Department of Health and Human Services, which found refugees brought in $63 billion more in government revenues over the past decade than they cost, through the payment of federal, state and local taxes.
The White House rejected the report, saying its conclusions were politically motivated, and it was never released.
The University of Notre Dame released a report the same year that estimated that over the course of 20 years U.S. refugees paid an average of about $122,000 in taxes versus $100,000 in resettlement and social program costs ─ a net benefit of more than $21,000 per refugee.
It also found that refugees entering the United States as children graduate high school and college and rates similar to or higher than their U.S.-born peers. They were also just as likely as U.S.-born peers to be employed, the report concluded.
From refugee to productive worker
Grand Rapids-based Bethany Christian Services, an adoption and refugee resettlement nonprofit agency, has helped settle approximately 7,000 refugees in Michigan and Pennsylvania since the 1970s. According to Bethany, employment rates among its adult refugees exceed 90 percent six months after their resettlement.
Its numbers included nearly two dozen Vietnamese refugee children settled in 1975, part of a humanitarian effort known as Operation Babylift that brought approximately 3,000 refugee children to the United States following the collapse of the South Vietnamese government.
In 1983, an orphan refugee named Phillip Nguyen landed in West Michigan after fleeing a small Vietnamese village at age 14 in a 25-foot wooden fishing boat packed with nearly 60 people, according to a personal account of his journey. He counts himself lucky that he survived a perilous 600-mile voyage through storms across the South China Sea to a refugee camp in Hong Kong, where he spent several years until his approval to come to a place he never heard of ─ Grand Rapids.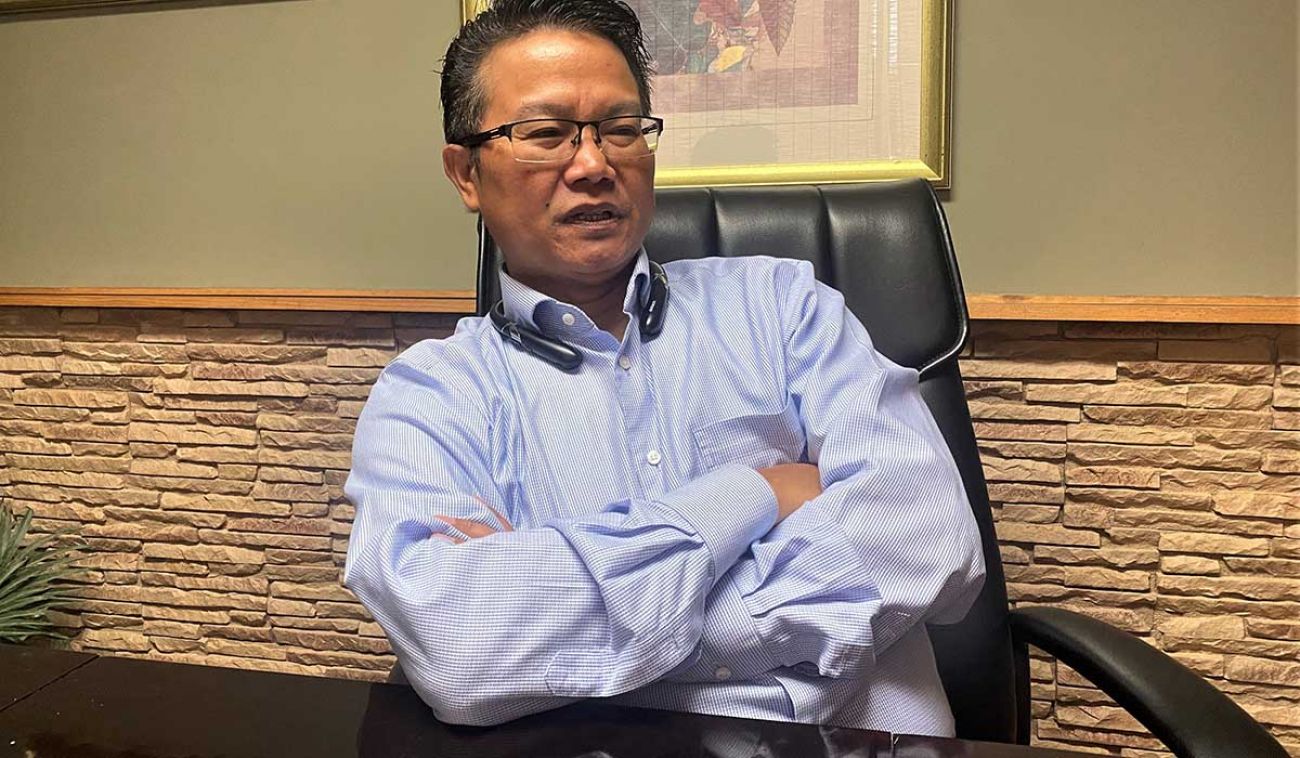 To his former case manager at Bethany, he's living proof of what refugees add to this country.
"Refugee youth like Phillip are incredibly resilient. Despite all the obstacles in their way, they still manage to get an education, find work, start a family, and give back to their community," Dona Abbott, now Bethany vice president of refugee and immigrant services, told Bridge.
Nguyen, who had just a second-grade education in Vietnam, went on to earn a master's degree in computer science from Grand Valley State University. A husband and father of three, he now owns a Grand Rapids digital marketing business.
As their adult children left home, Nguyen decided to return something of what he felt he was given, as he and his wife, Kim, have become foster parents over the past couple of years to six refugee children from Africa and Central America.
"I'm the kind of person that believes, you owe something, you return it back," Nguyen told Bridge.
Long road to Kalamazoo
It was Bethany that supported the arrival of Ali in Kalamazoo. The agency runs a group home Ali shares with several other refugees who came to the U.S. as minors.
He did so after a 2010 afternoon bomb attack on a mosque outside the Afghan capital, Kabul, that killed both parents, sparing him as he stood about 50 feet away. He was their only child.
"When I woke up in the hospital, they told me both my parents were dead," he said in his native language of Dari.
Ali recalled spending a few years with a neighboring family that took him in, then more than two years at a refugee camp in Malaysia before he was approved for U.S. resettlement.
Until about three years ago, he said, he still had nightmares about the bombing. He described a constant faint "noise" in his ears he attributes to the explosion.
But Ali said he's determined to stand on his own, preferably work other than the hired manual farm labor his father performed in Afghanistan.
"I'd like to use my brain. I don't want to be a charity case," he said, adding that envisioned a job in business.
A visitor asked if he could express how he feels about the opportunities now before him.
This time, he tried it in English: "Thank you for taking a chance. I can give back here by working."
Only donate if we've informed you about important Michigan issues
See what new members are saying about why they donated to Bridge Michigan:
"In order for this information to be accurate and unbiased it must be underwritten by its readers, not by special interests." - Larry S.
"Not many other media sources report on the topics Bridge does." - Susan B.
"Your journalism is outstanding and rare these days." - Mark S.
If you want to ensure the future of nonpartisan, nonprofit Michigan journalism, please become a member today. You, too, will be asked why you donated and maybe we'll feature your quote next time!