Lack of school counselors hobbles Michigan college enrollment efforts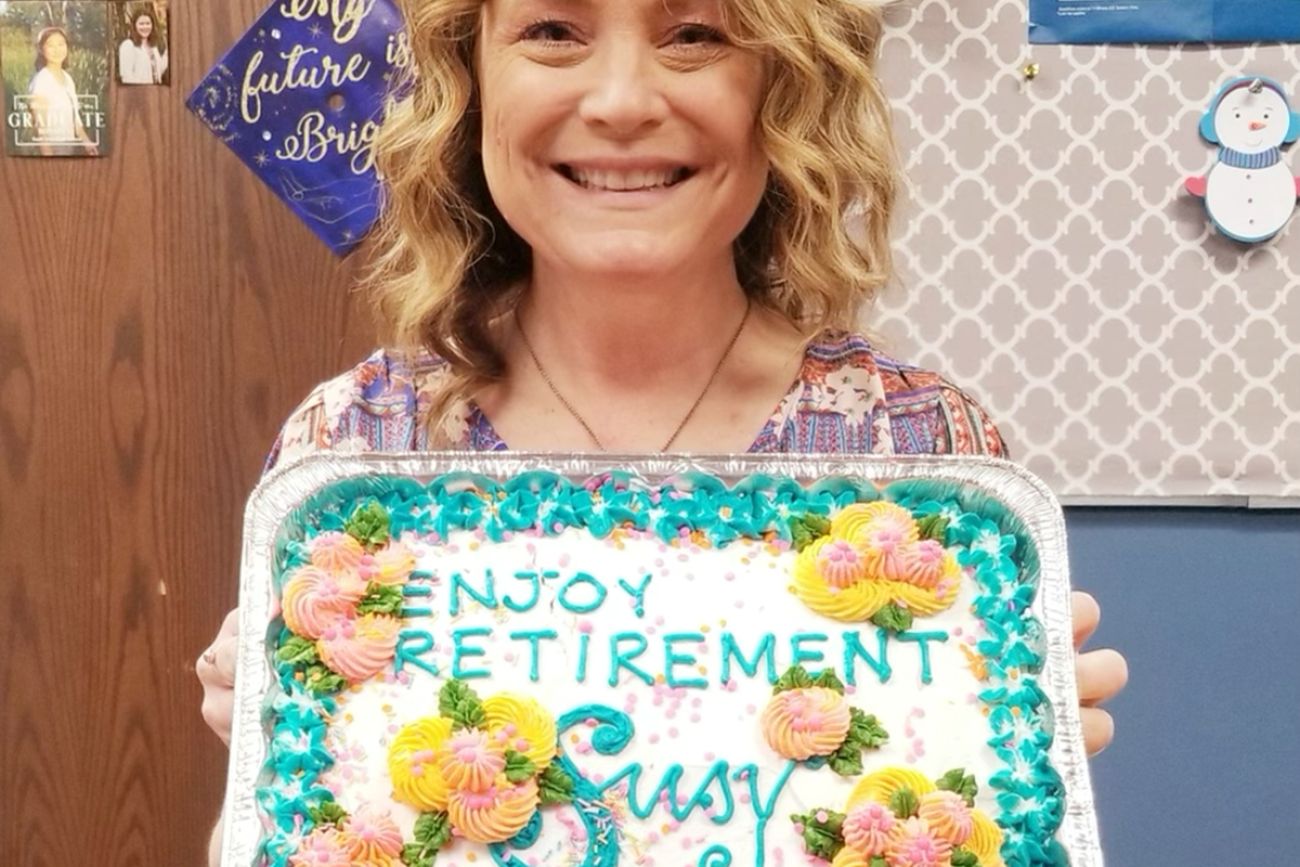 Susy Talentino retired from her post as a counselor at Sault Ste Marie Public Schools last year, but was asked to come back because of a school counselor shortage. (Bridge courtesy photo)
There is a shortage of licensed school counselors in Michigan
That shortage, along with a shortage of college advisors, could hobble efforts to increase college enrollment
Michigan is trying to increase the share of adults with post-high school credentials
---
Susy Talentino's retirement isn't going as she'd planned.
The veteran high school counselor left Sault Ste Marie Public Schools in 2022, but is already back advising students. The district that presented her with a teal-bordered cake with the words "Enjoy retirement Susy" just a year ago asked her to come back this fall.
The reason was simple, and has resonance far beyond her Upper Peninsula community: "There aren't enough qualified counselors," Talentino told Bridge Michigan.
Related:
A shortage of licensed school counselors is forcing an already stretched-thin workforce to supervise more students at some schools, with other schools turning to non-licensed replacements.
Adding to the advising crunch, AmeriCorps programs that place recent college grads into Michigan high schools as college and career advisors are similarly short of staff, with one out of five positions in Michigan schools now vacant.
Those worker shortages put a crimp in Michigan's desperate efforts to increase the number of adults with post-high school credentials, be it trade certifications or college degrees.
"Kids need step-by-step help in getting to college," Talentino said. "There are so many hoops to jump through."
Many industries in Michigan are struggling to find workers, and the state's public education system is no exception, with school leaders reporting difficulty filling positions ranging from math and science teachers to bus drivers.
But a Bridge Michigan survey of intermediate school district superintendents found there is also a critical shortage of counselors, who in many schools do everything from student scheduling to social work and mental health screening.
One critical role of counselors in high schools is college and career advising. Michigan is below the national average in college education attainment, with 32.1 percent of adults having a bachelor's degree or higher (34th in the nation in 2022).
That matters because, on average, income increases with education, and that higher median income can mean more state tax revenue to fix roads and fund schools. Increasing the number of college grads also helps Michigan attract businesses.
Gov. Gretchen Whitmer has set a goal of having 60 percent of working age adults with a skills certificate or college degree by 2030. Currently, that rate is 50.5 percent.
But Michigan public universities have struggled with student enrollment in recent years with both declining birth rates and a declining share of high school graduates choosing to enroll in college. Before the pandemic, an average of 63 percent of high school grads enrolled in a two- or four-year college within six months of graduation. For the class of 2022, that figure had plummeted to 53 percent.
In the face of those headwinds, Whitmer has expanded scholarship programs to help pay for college, including the Michigan Reconnect program that allows most residents to go to community college for free, and the Michigan Achievement Scholarship that provides annual scholarships up to $2,750 at community college, $4,000 at private college or university, and $5,500 at public universities.
Those efforts could be hobbled by a shortage of the counselors charged with promoting those programs and explaining the application and financial aid processes to high school seniors.
Michigan already has one of the worst student-to-counselor ratios in the nation, ranking 48th in the country with an average of one counselor for every 615 students, according to data from the 2020-21 school year. The national average is 408 students per counselor. The American School Counselor Association recommends a counselor for every 250 students.
School leaders say there is a growing shortage of licensed school counselors, partly because of an industry-wide shortage of education workers, and partly because the college credits required take more time and money than most jobs in K-12 schools. There are about 7,000 licensed school counselors in the state — educators who have completed a counseling master's program. It's unclear how many of those licensed counselors are actually working in counseling roles, or how many openings there are currently, though superintendents report the positions are becoming harder and harder to fill.
There are about 70 small school districts without any school counselors, said Ryan Fewins-Bliss, director of Michigan College Access Network, a group that works to increase college access, particularly among low-income students, students of color and first-generation students
Some districts have filled counseling positions with employees who aren't licensed yet but are working to fulfill the college credit requirements, and others have transitioned counseling positions to other titles, Fewins-Bliss said.
"We think that licensed, trained counselors are the gold standard for this kind of work," Fewins-Bliss said. "We hear from principals and superintendents that they agree in concept, but they've been frustrated that when they post for a counselor, they get few applications."
When counselor positions are filled with people without counselor training, "that's a red flag for us," Fewins-Bliss said.
"(Licensed) school counselors have a variety of tools to help students with attendance, trauma issues and career and college planning. Rarely is a non-licensed person able to offer all of that."
Even for licensed counselors, the workload can lead to a triaging of duties that de-prioritizes college advising, said Talentino, the Sault Ste Marie counselor called back from retirement.
"Helping kids struggling with anxiety and depression increases every year and took most of my time," Talentino said. "That takes priority because it's a crisis. And those crises were happening on a daily basis."
Without enough counselors, student college and career advising can fall by the wayside, Talentino said, which could lead to fewer students going to college and trade schools.
College advisor jobs go vacant too
The school counselor shortage is an example of an industrywide worker crunch in Michigan's K-12 schools. Far fewer college students are graduating with education degrees than in the past, and those with education degrees may choose to go into fields that are more lucrative.
A school counseling license requires the completion of a master's degree — a program that takes more credits (and thus more money) than a master's in education administration, which can lead to students to choose the cheaper administration degree, Fewins-Bliss said.
The school counselor shortage is exacerbated by vacancies in three AmeriCorps programs that place recent college grads in high schools to serve as college and career advisors. Those advisors, who receive four weeks of training, offer guidance in college enrollment and financial aid, as well as information on trade schools and the military.
This year, programs run by Michigan State University, the University of Michigan and the Michigan College Access Network offer a total of 101 advisor positions to high schools, primarily in rural or low-income districts. As recently as 2020, advisor corps positions were typically filled in the summer, Fewins-Bliss said. This year, about one in five (20 advisor positions in the three programs) remained vacant in late September.
One reason: the pay — the equivalent of $14.42 an hour — is similar to what some fast food restaurants offer, and much less than most college grads can earn in full-time jobs, particularly when Michigan's unemployment rate is a near record low 3.7 percent.
"The labor market plays a role in" vacancies, said Cody Jonaitis, a second-year college advisor at Flint Southwestern Classical Academy. "The compensation for what we do is not the best."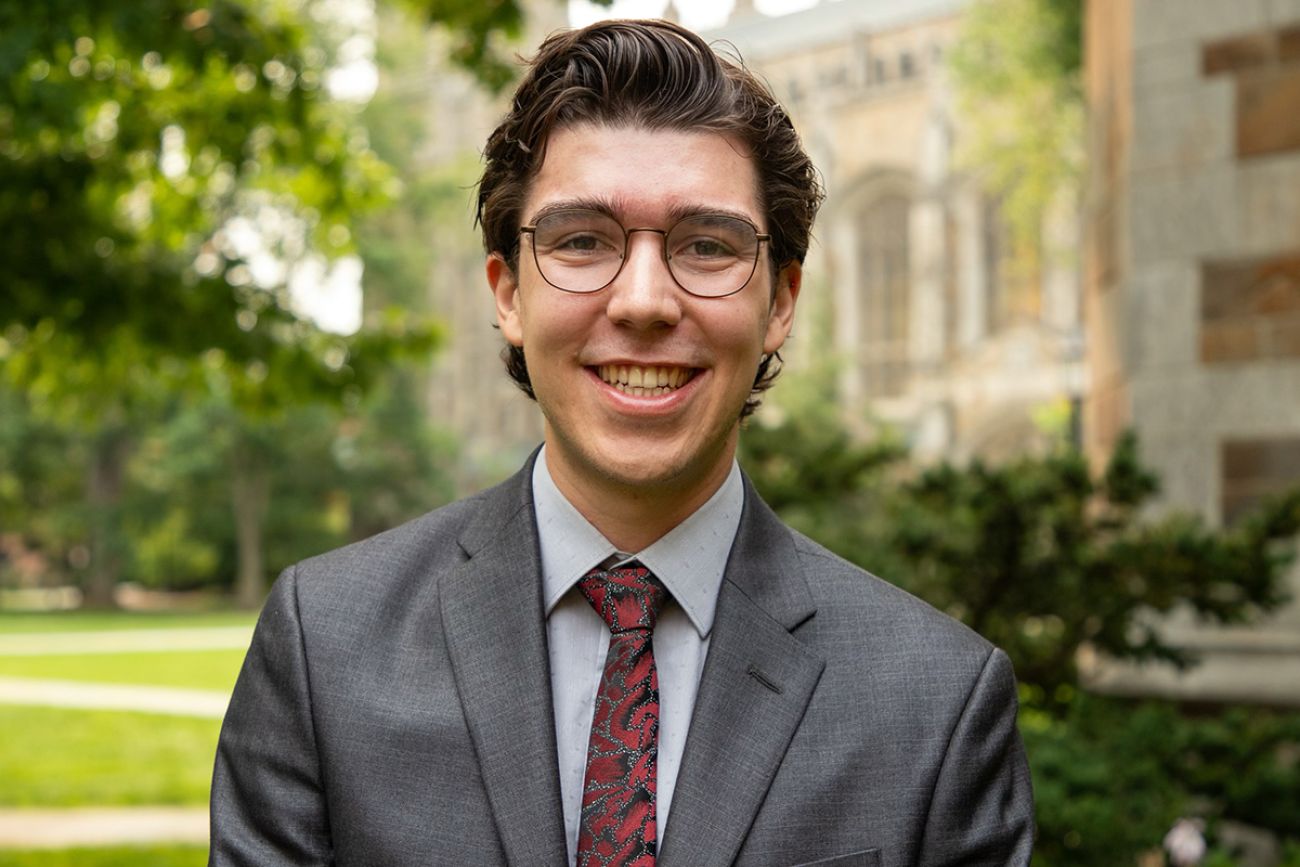 Cody Jonaitis, a second-year college advisor at Flint Southwestern Classical Academy, said low pay is one reason there is a shortage of advisors. (Bridge courtesy photo)
Michael Turner, associate director of the Michigan College Advising Corps at the University of Michigan, said the school recently expanded the program to include graduates of Eastern Michigan University and Wayne State University, partly to try to fill vacancies. Even with the expansion, the program has four of its 16 advisor positions vacant.
Alpena Public Schools has had a college advising corps member at its high school for eight years, but the spot is vacant this year. It's a position that has been valuable for students, "especially someone who can make connections with kids," said Lee Fitzpatrick, the district's director of communications. "Counselors are stretched everywhere. There are shortages of employees in all levels in all businesses."
The shortage of college advisors who could help offset the shortage of licensed counselors "has vast ripples throughout the communities," said Angela Magbag, associate program coordinator for the Michigan State University College Advising Corps. "Sometimes you need somebody to have a hands-on approach, (and) there aren't enough adults there to motivate students."
3,700 more counselors
A bill introduced in the Michigan House of Representatives would require school districts and public charter schools to employ a counselor for every 250 students, to match the recommendation of the American School Counselor Association.
Lower counselor-student ratios "leads to better outcomes," bill sponsor Felicia Brabec, D-Ann Arbor, told the House subcommittee on behavioral health Sept. 14. "They get to know the students better and are able to help them in a much more comprehensive way."
Research, though, has cast doubt on the recommendation of 1-to-250 counselor student ratio, pointing out that no studies have shown that ratio to produce better college enrollment results than other ratios. One national study, though, found that college advising efforts in high schools increased enrollment of low-income students to two-year colleges.
Both Republicans and Democrats on the House committee expressed doubt about how such a mandate would be funded. The House Fiscal Agency estimated that Michigan schools would have to hire an additional 3,700 counselors to meet that standard, at a cost to local districts of about $400 million. Of the state's 888 traditional districts, intermediate school districts and charter schools, 834 would need to hire additional counselors.
The bill does not include state funding to meet the mandate.
Even if money were available, it's unclear where schools would find 3,700 additional counselors when there is already a shortage, Kathy Schmaltz, R-Jackson, said in the hearing.
"We can't find teachers right now, we can't find bus drivers, we can't find resource officers," Schmaltz said. "How are they ever going to find counselors to do this?"
Changing lives
Kristina LaBarge can't answer how to find more counselors and college advisors, but she's a walking example of what's at stake.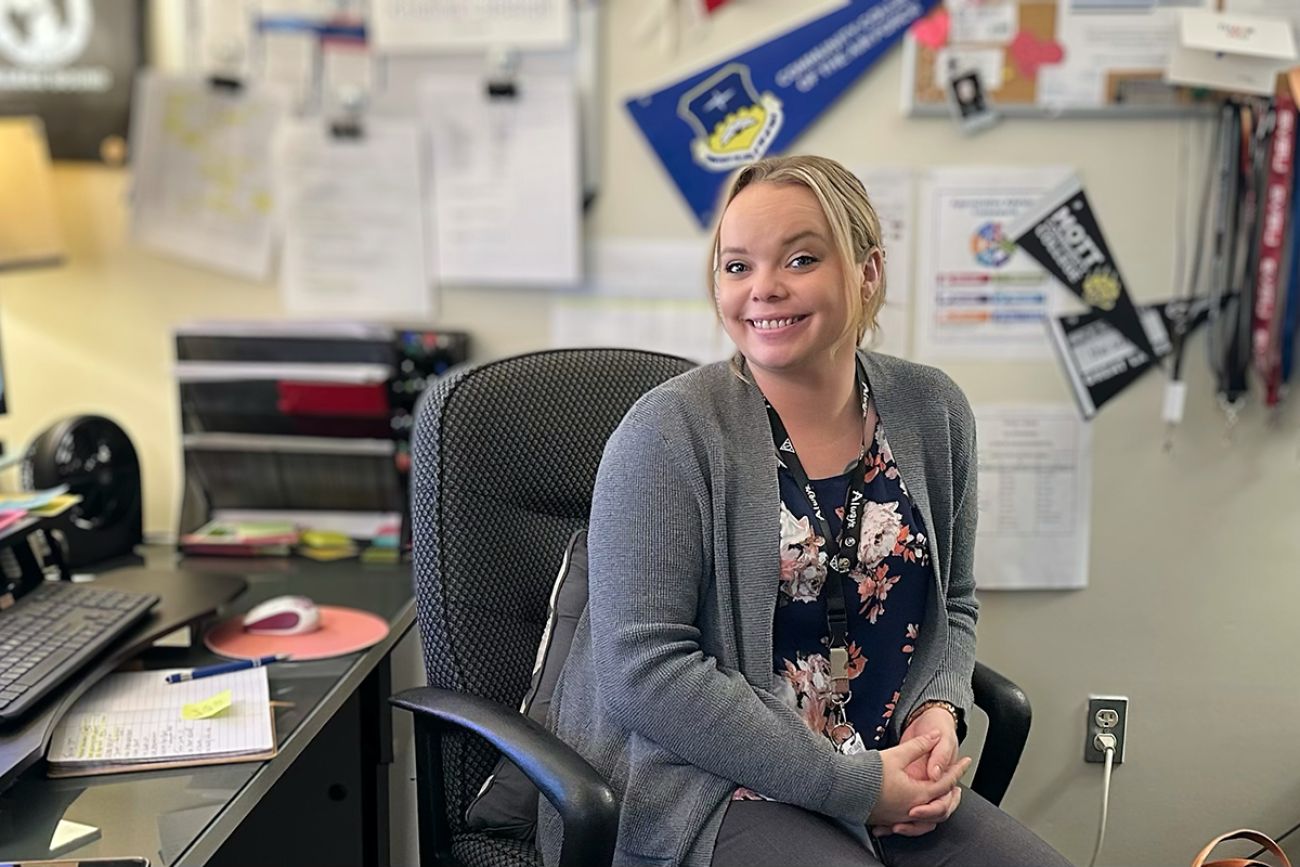 Kristina LaBarge, a college advisor at North Branch High School, said school counselor and college advisor vacancies could lead to fewer students going to college. (Bridge courtesy photo)
LaBarge graduated from a rural high school in the Thumb 15 years ago. She doesn't recall any teachers or counselors discussing college options with her, in a community where she said many 18-year-olds got their diploma and went to work on a farm or factory. About 18 percent of adults in her home of Lapeer County have a bachelor's degree or higher, significantly lower than the state average of about 29 percent.
Today, the 33-year-old recent Baker College graduate works at North Branch High School in Lapeer County as a college advising corps member.
"Without this guidance, they'd be going into the adult world blindly," LaBarge said. "I show them all of these things that are available to them, and they're 10 steps ahead of where I was when I was in school."
The advisor position at North Branch was vacant for the first semester of the 2022-23 school year before LaBarge was placed there. And though she was only there for one semester of that school year, "I get seniors who graduated in the spring still calling me, asking me how to go about things now," said LaBarge, who is now in her second year of the two-year advising program.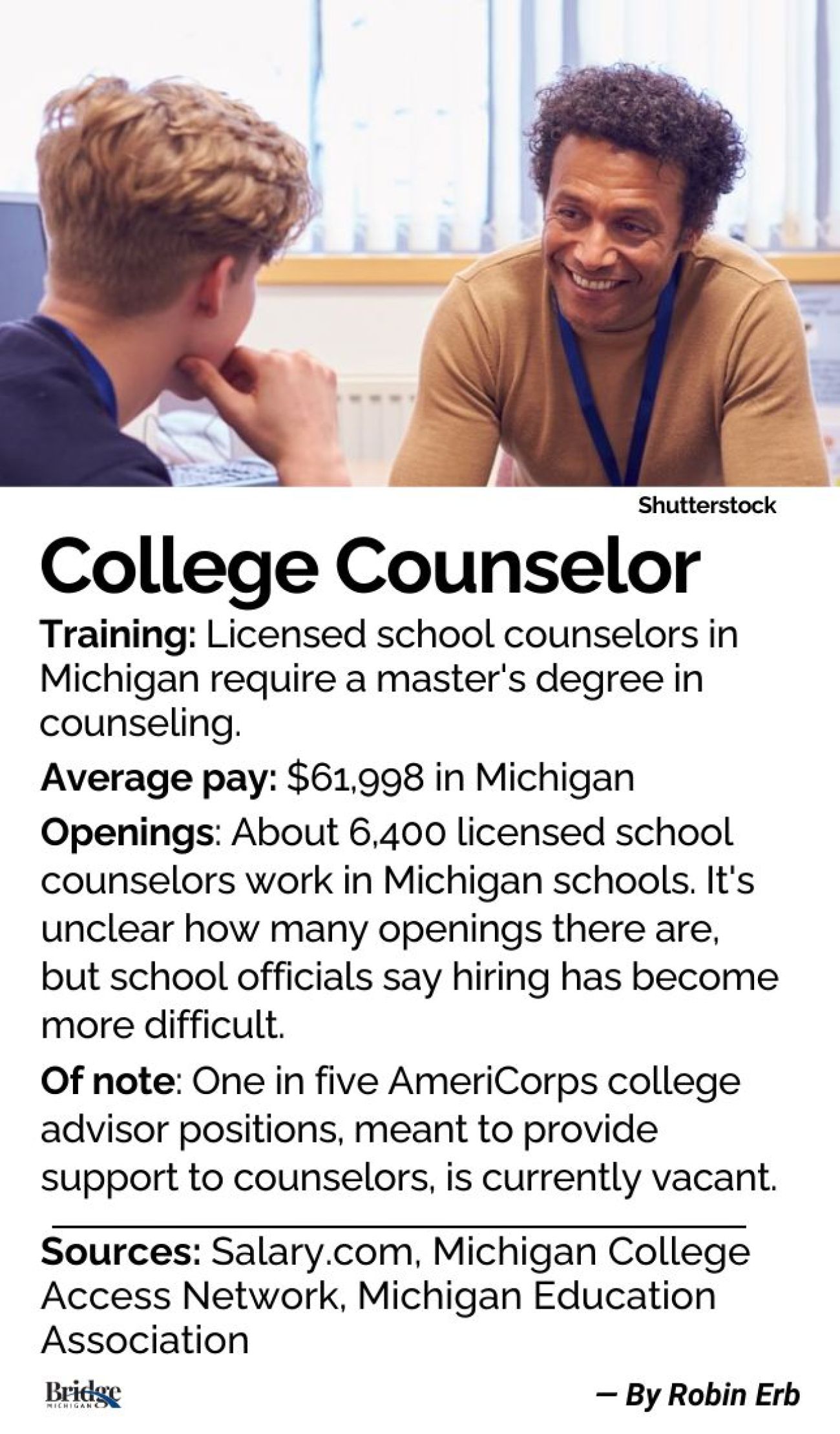 "My rural community is tight knit, there's been a lot of parents who come up to me at the grocery store and say they have a neighbor who wants to go to school, how can they do it?" she said.
"Even (at school) football games, I can't tell you how many adults who have come up to me and wanted to continue their education and don't know how. It's a chain reaction of people having this light bulb."
It's that kind of impact that made Sault Ste Marie's Talentino decide to halt retirement and return to work. What's lost when there are shortages of school counselors and college advisors goes far beyond an empty school office.
"College and career planning changes lives," Talentino said. "A girl yesterday (said), 'I can't go to college, I don't have any money.' And I told her, 'You can go to college for free, because you have no money.'
"That's what hurts when schools don't have a counselor to let kids know they can get a college education," she said, "no matter what their financial situation."
Michigan workers vacancies
In this occasional series, we examine the scope of critical worker shortages in 2023, from doctors and police officers to math teachers and social workers. To view more stories in this series click here.
Only donate if we've informed you about important Michigan issues
See what new members are saying about why they donated to Bridge Michigan:
"In order for this information to be accurate and unbiased it must be underwritten by its readers, not by special interests." - Larry S.
"Not many other media sources report on the topics Bridge does." - Susan B.
"Your journalism is outstanding and rare these days." - Mark S.
If you want to ensure the future of nonpartisan, nonprofit Michigan journalism, please become a member today. You, too, will be asked why you donated and maybe we'll feature your quote next time!