Michigan colleges vow to reopen in fall. Experts say read the fine print.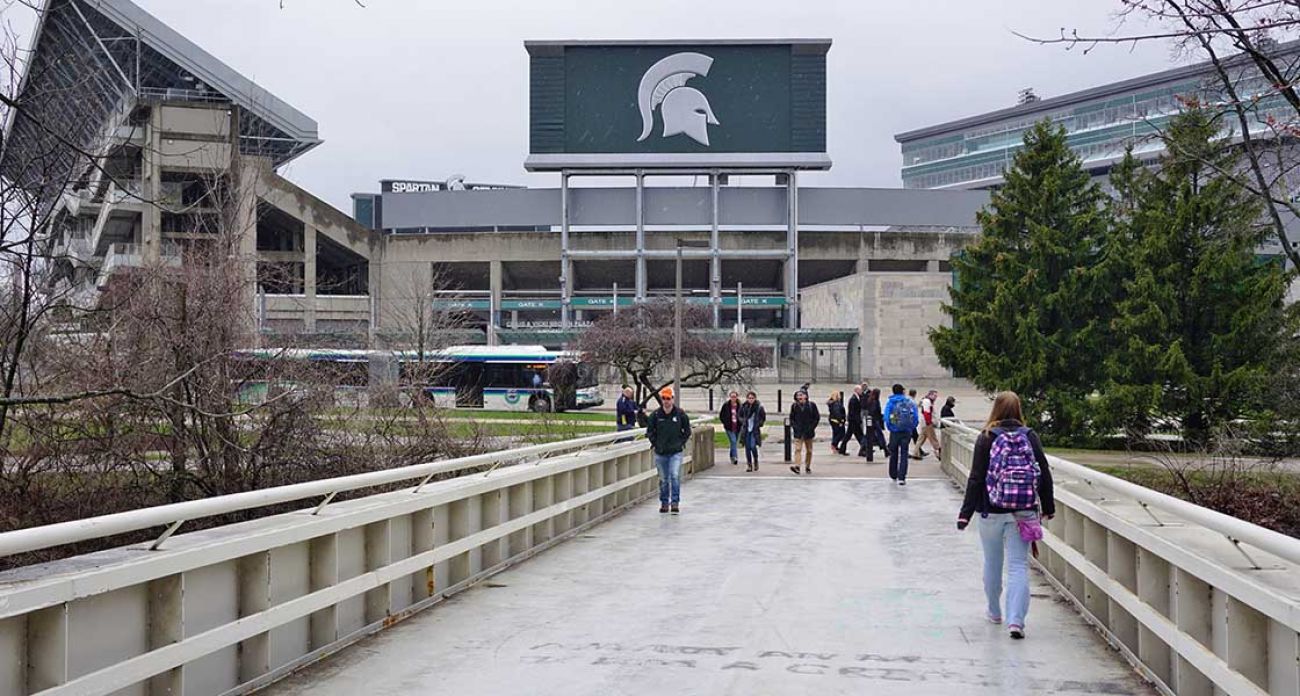 It's Michigan State University's "intention" to bring students back to East Lansing for the fall semester. Western Michigan University has the "full intention" to do the same.
Northern Michigan University will "begin planning" for in-person classes, and Central Michigan is "moving forward with plans."
Students and families reading announcements in May and early June about fall plans on Michigan campuses should pay attention to what's not in the announcements: a guarantee of what fall college life will look like during an ongoing pandemic.
Most schools are hedging their bets about the fall semester, acknowledging that their return-to-campus plans could change – even to the point of returning to full remote learning – with the rise or fall of COVID-19 in the state.
In April, most schools said they planned to announce fall plans in late June or July, when the status of the pandemic for September would be clearer. When instead many schools announced fall plans in mid to late May – days before what for many schools was a June 1 deadline for student deposits for the fall semester – it raised questions about whether the announcements were more about bolstering shaky enrollment than evidence-based public health.
College officials disagree, saying institutions are providing as much information as they can to students and families desperate to know whether fall classes will be held on campus, or a continuation of the remote learning schools have used since mid-March.
The information being given now to students and their families, though, could change significantly by September, higher education economists told Bridge.
"Everybody is using language that allows them to hedge," said Chris Marsicano, visiting assistant professor of educational studies at Davidson College in North Carolina. "It's important for students and families to know that college is not going to be the same until there is a vaccine."
Marsicano is leading a research project analyzing announcements U.S. colleges are releasing about their fall plans. According to Marsicano's College Crisis Initiative, of 761 institutions that have made fall plan announcements, 607 colleges (80 percent) say they are returning to face-to-face classes; only 77 (10 percent) say they will be online, and another 77 (10 percent) will offer a hybrid approach of online and in-person classes.
In Michigan, Oakland University and University of Detroit Mercy plan hybrid approaches, as do large community colleges in Lansing, Grand Rapids, Washtenaw and Oakland County, according to Marsicano's research.
Twenty-five Michigan colleges and universities have announced plans for primarily in-person classes in the fall.
Marsicano said that announcing students' return to campus makes headlines, but those headlines can falsely imply a return to normalcy.
"You're not going to have the Animal House experience, or the Rudy experience of going to football games. We're talking about being on campus with everyone wearing face masks."
Colleges and universities across the country closed their campuses in mid-March to slow the spread of coronavirus, which has sickened nearly 60,000 and killed more than 5,600 in Michigan alone.
"There are a number of college presidents who are genuinely optimistic that they can pull it off," said Kevin McClure, associate professor of higher education at the University of North Carolina at Wilmington. "They understand they are not going to eliminate all risks, but they will be able to follow through on guidelines provided to them."
Faced with the choice of going online until a vaccine is developed or bringing back students who, for the most part, are more likely to survive the virus, "it is difficult to say we are going to choose an option that may result in financial hardship or contraction of the university," McClure said.
Not having students return to campus in the fall could have a huge financial impact on colleges and universities, with many smaller institutions relying heavily on fees for housing and dining to survive. In April, worried college officials told Bridge they didn't know if high school grads would enroll in the fall if campuses remained shuttered and students were forced to take classes online back home.
"Universities that really need enrollment wanted to (go) on the record telling students what their experiences would be like (in the fall)," Marsicano said. "So it should not be a surprise that we have a lot of luke-warm announcements saying, 'Hey, we're going to be open.'"
Dan Hurley, president of the Michigan Association of Public Universities, which represents the state's 15 public universities, dismissed the notion there was a "mad dash" to make fall plan announcements before a June 1 deposit deadline.
"First, most institutions will gladly enroll students after June 1," Hurley said. "Second, this is part of signaling to the public that they plan to be operational in the fall.
"These are big decisions, and students and families are no doubt considering contingencies," Hurley said. "The sooner they (universities) get the message out (about the fall), the better."
Colby Cesaro, vice president of the Michigan Independent Colleges & Universities, which represents 25 private nonprofit schools, said colleges made decisions about the fall as soon as they had guidelines from the U.S. Centers for Disease Control and Prevention and several national college associations.
"Before that, people were either flying blind or looking at guidance about other illnesses (that are similar to COVID-19)," Cesaro said. "In the last month, there has been a ton of research that has come out and a lot of guidance."
Schools may not have complete control over whether they open or how campuses operate, said Robert Kelchen, a higher education economist at Seton Hall University in New Jersey.
"Basically, all these announcements have caveats because colleges don't control when they open, it's a public health issue," Kelchen said.
"As soon as one or two colleges announce, they all feel like they need to make announcements, even though everyone who's running a college knows (that a fall return to college lecture halls and crowded dining halls) is aspirational."
The University of Michigan and Wayne State University have not yet announced their fall plans.
Some colleges have followed up initial fall reopening announcements with details that reflect the challenges schools face in a pandemic.
MSU, which announced its intention for students to return to East Lansing in a letter to students that contained few details of what campus life would look like, has since revealed possible plans ranging from takeout food at cafeterias, possible Saturday and evening classes to lower class size, face masks, and college football at Spartan Stadium with, at most, 20 percent of seats filled.
Weeks after its initial announcement of in-person classes, Central Michigan University tweaked its fall calendar, beginning classes on Aug. 17, two weeks earlier than scheduled, and ending at Thanksgiving. That's a plan adopted by several universities on the theory that the most likely window for a second wave of COVID-19 cases would be in late fall.
Many schools say they plan to reconfigure classrooms and dining halls to assure social distancing. CMU said they will lower the number of students in residence hall suites.
Students and faculty who are uncomfortable with face-to-face instruction will have the option of taking/teaching classes online at MSU.
"No university is either going to be all in person or all online," said Hurley, the public university representative. "Every university will have its own model. That's the way it's going to be."
We're not just a news organization, we're also your neighbors
We've been there for you with daily Michigan COVID-19 news; reporting on the emergence of the virus, daily numbers with our tracker and dashboard, exploding unemployment, and we finally were able to report on mass vaccine distribution. We report because the news impacts all of us. Will you please donate and help us reach our goal of 15,000 members in 2021?