Michigan schools cheered when sports came back. Then came COVID outbreaks.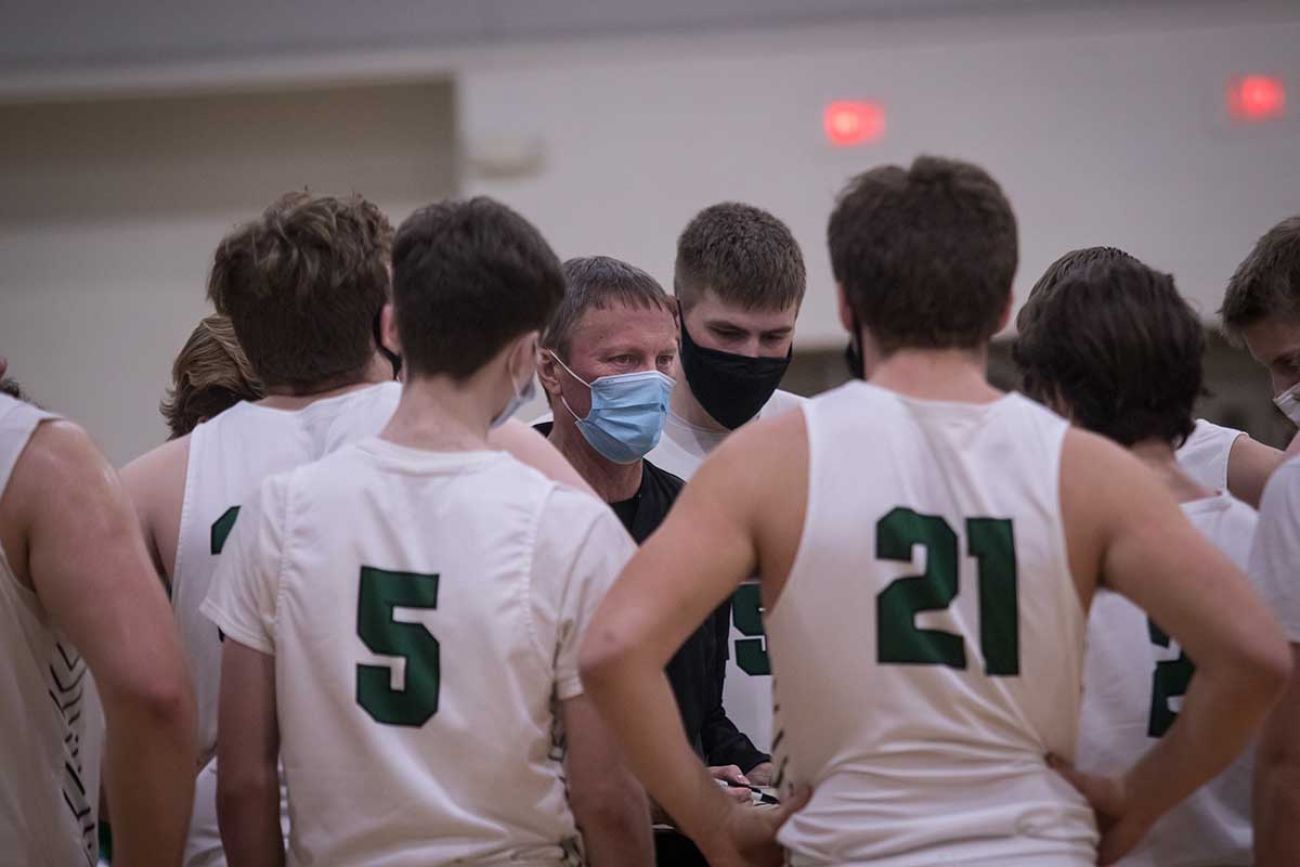 Olivet boys basketball coach Matt Seidl, center, and his team were sidelined from the state tournament after a positive COVID test. The high school went fully remote soon afterward because of coronavirus cases and quarantines. (Courtesy photo, Courtney Walker Photography)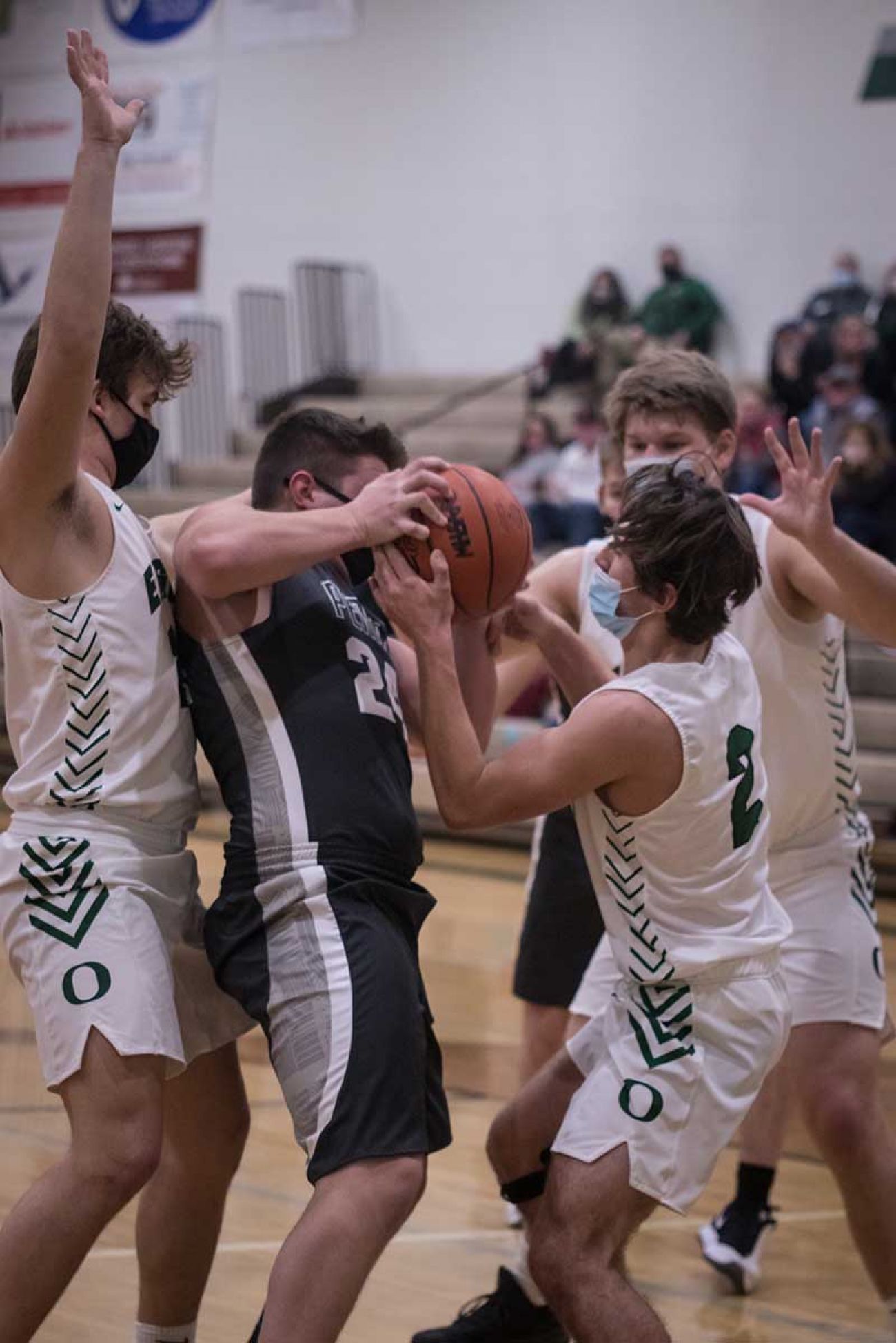 Even with facemasks, basketball can be an easy place for viruses to spread because of all the close contact, as witnessed by the high school game between Olivet and Perry. (Bridge courtesy photo by Courtney Walker Photography)
He was quarantined in his home with COVID.
Welcome to Michigan high school athletics during the pandemic, where highs and lows come as often from team test results as from a last-second three-pointer.
In March, with COVID case counts rising, the state instituted a strict rapid testing protocol for high school athletes to identify coronavirus cases. Positive tests started popping up everywhere.
More than 100 boys and girls high school basketball teams — about one in 12 in the state tournaments — had to drop out of the first round because of positive COVID tests or quarantines, according to the Michigan High School Athletic Association.
One of them was the boys team at Olivet, where a team member had tested positive a day after the final regular season game.
More teams have pulled out of the state basketball tournament since the first round in mid-March, but the MHSAA doesn't have an updated tally that includes those teams, according to MHSAA spokesperson Geoff Kimmerly.
There's now some backlash against high school sports, including from state director of epidemiology Sarah Lyon-Callo, citing school outbreaks that were traced to athletic teams.
At Olivet, a rural school 20 miles north of Battle Creek, students on the boys basketball team and girls soccer team tested positive. Infections were so widespread that all middle and high school students in the Olivet Community Schools district switched to fully remote learning March 28, followed by elementary students two days later.
The volume of athletic team outbreaks and subsequent school closures have raised questions about the wisdom of allowing close-contact, physically challenging sports like basketball and wrestling in the middle of a pandemic in which the virus spreads through the air in respiratory droplets.
But just blaming sports is too simple, argues Richard Ames, the interim superintendent at OIivet, where students are scheduled to return to classrooms April 12.
At about the time that teams started playing, many schools including in the Olivet district began offering more in-person learning. Olivet doubled the number of days per week students were in classrooms, from two to four. With more students in classrooms, desks are closer together, Ames said.
"And there are external things — restaurants are open, students can go to movies, there are new more contagious variants (of the coronavirus).
"To say it's the fault of sports and athletes, in my view, is too narrow."
Pool noodles and frustration
By mid-January, the start of winter high school sports had been delayed several times because of statewide COVID restrictions following a fall surge in statewide cases and hospitalizations. Teams were allowed to practice, but were supposed to maintain social-distance.
A girls basketball team in Hudsonville practiced while holding pool noodles to maintain distance. Seidl's boys team used chairs to simulate the opposing players.
A "Let Them Play" social media campaign urged Whitmer to drop the game ban, with organizers threatening to take the governor to court.
"I don't think it (playing games) is any less safe than going to a restaurant or going to a grocery store," Seidl told Bridge Michigan in January, when the ban was still in place. "There's a risk, but there's a risk with a lot of things that are allowed."
With coronavirus numbers dropping following the fall spike, Whitmer agreed to allow games beginning Feb. 8. She also urged all schools to offer an in-person learning option by March 1.
Olivet played its first game one day after the ban was lifted. "We were a little sloppy at the beginning, but so was everybody," said Seidl, who watched his team's first three games from home while recovering from COVID-19. "We got better and better all season long."
Olivet finished the season 13-3 and Seidl and players were looking forward to the state tournament when a player tested positive. Because of contact with that player, all the other players had to quarantine, and the school pulled out of the season-ending tourney.
Shortly after making that decision, several other players tested positive.
"It was the right move, but it was hard to do it," Seidl said. "We're glad we got to play as much as we did."
Lynn Sutfin, spokesperson for the Michigan Department of Health and Human Services, said health officials have identified 512 confirmed coronavirus cases among organized local or school sports teams in March alone. In January and February, there were a combined 344 cases tied to local or school sports teams.
"We are seeing increases of cases involving student-athletes as opposed to transmission in the classroom," Sutfin told Bridge Michigan in an email.
"It's highly possible this transmission is happening on the sidelines or during events after the games or practices such as team dinners or athletes hanging out together without masks. The presence of more infectious variants, such as the B 1.1.7 variant, threatens the state's progress in controlling the pandemic and MDHHS continues to monitor the data closely."
One example of suspected sports spread: Okemos and Grand Ledge, two districts near Lansing, had at least 47 confirmed coronavirus cases linked to basketball teams. Those schools' freshmen, junior varsity and varsity teams played each other Feb. 18, one week after the game ban was lifted.
While COVID outbreaks in schools are skyrocketing (rising 20 percent in the past week), so are coronavirus cases in the state as a whole. Michigan currently has the highest COVID test positivity rate in the nation, at 12.7 percent over the past week. A week earlier, it was 8.2 percent.
Newly confirmed cases and COVID-related hospitalizations are also rising fast.
But a group of metro Detroit superintendents argued last week that it's impossible to separate the rise in school infections from the similar rise in neighborhoods surrounding those schools.
"We've had such great support from our community, but people are weary," said Olivet superintendent Ames. "I'm weary of this, too. We've been dealing with this for more than a year and we all want to get back to the good old days."
On Thursday, three parents, joined by the Let Them Play Michigan Inc. advocacy group, sued the state, arguing that testing, mask and contact tracing rules "severely restrict student-athletes' ability to legally participate in high school sports by imposing rigorous testing, mask-wearing, contact-tracing, and other requirements."
The Michigan Court of Claims suit seeks to invalidate the state health department's March 19 order on the grounds it was "invalidly promulgated without an opportunity for public participation, in violation of the Michigan Administrative Procedures Act and the Michigan Constitution."
Plaintiffs include Michelle Moran of Yale, whose son Easton is a high school wrestler who was not allowed to participate in district, regional or finals competitions because of his contact with a friend who tested negative for COVID-19 that same day but tested positive two days later, according to the suit.
Fellow plaintiff Shannon Bandgero is a coach at Tri-Unity Christian in Wyoming whose daughter plays basketball and soccer at the school.
Bandgero's daughter "has been struggling with deepening depression for months," attorneys wrote. "Every day she — like so many student-athletes in Michigan — faces uncertainty of whether today is the day that sports will be taken from her."
Kimmerly, the MHSAA spokesperson, told Bridge that the organization has no comment on the lawsuit.
"We are not involved," Kimmerly said.
While the more than 100 teams that have had to drop out of the year-end basketball tournament is "far more" than normal," Kimmerly said, the majority of players on those teams are not infected with the potentially deadly virus.
"It's not like every team comes up with every player infected," Kimmerly wrote to Bridge in an email. "We've heard it's (typically) one or two (positive cases), and the entire team has to quarantine and potentially the opponent from last night too has to opt out."
Kimmerly said that most teams have been able to complete their seasons.
"It's meant so much to have those opportunities," Kimmerly said. "That's made a difference for a lot of athletes, a lot of families and a lot of school communities as a whole."
We're not just a news organization, we're also your neighbors
We've been there for you with daily Michigan COVID-19 news; reporting on the emergence of the virus, daily numbers with our tracker and dashboard, exploding unemployment, and we finally were able to report on mass vaccine distribution. We report because the news impacts all of us. Will you please support our nonprofit newsroom?