Quesadillas, Netflix and silence in Central Michigan's 'COVID dorm'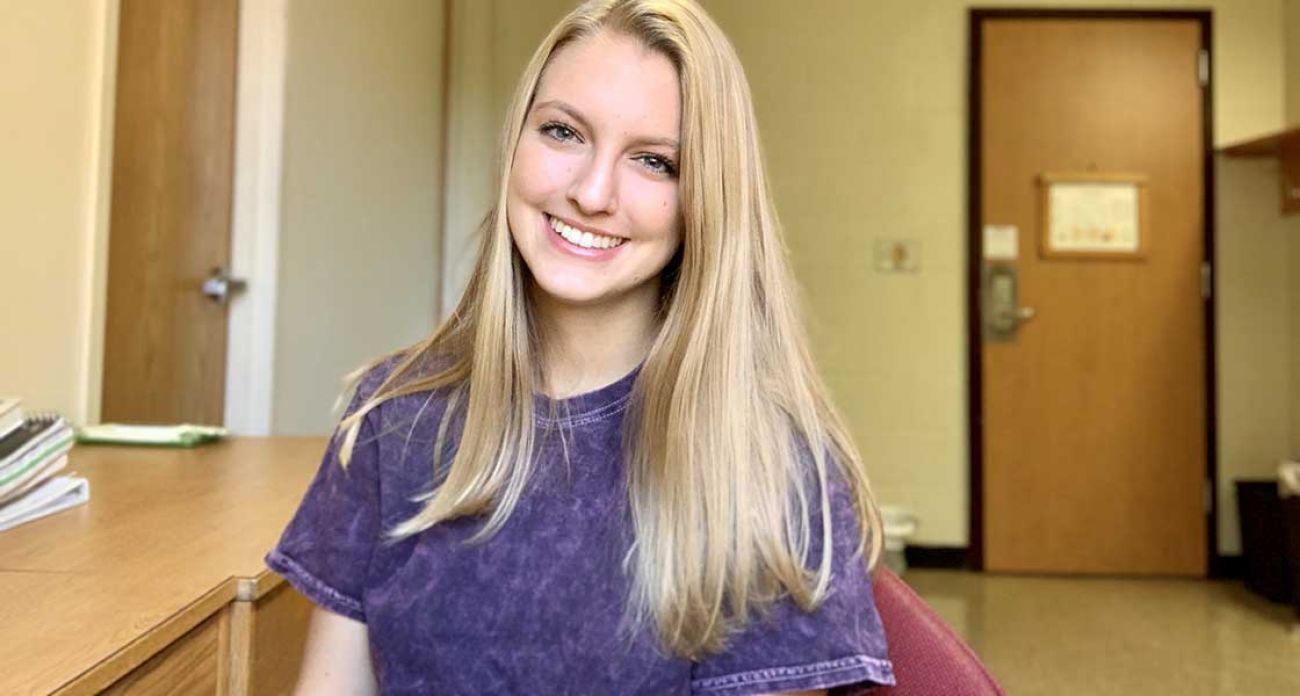 Alexia Swanson and Mariah Armstrong were in their Central Michigan University dorm room late on the afternoon of Aug. 27 when their phones started ringing. The first calls were from the local health department, informing them they'd tested positive for COVID-19. The next were from CMU, telling them they had 30 minutes to pack and move into isolation rooms in another dorm.
They grabbed clothes and school work, toiletries and face masks, phones and chargers, leaving behind — for two weeks — a suite they had decorated with tiny lights, pictures of hometown friends, stuffed animals and a map of Chicago.
Now, the roommates are isolated in a mothballed residence hall, unable to visit each other or other COVID-positive students quarantined on the same floor. So they watch movies alone, take online classes, wait for food to be delivered, and wonder how and from whom they contracted the virus.
Officially, their temporary home is Wheeler Hall. But the women say CMU students know it now by another name:
COVID Dorm.
Wheeler, said Armstrong, "is kind of a bad word on campus now. It's like [saying] 'Voldemort' in Harry Potter."
What to do with college outbreaks
Coronavirus cases have spiked on college campuses across the country as students return for the fall semester. Some schools, such as the University of North Carolina and the University of Notre Dame, quickly switched to remote learning after COVID-19 surges and urged students to go home.
Others, like Michigan State University and Kalamazoo College, took the temperature of campus outbreaks elsewhere and slammed the brakes on campus life before students could return.
But what of places like CMU and some other schools across Michigan which are marching on, trying to manage spreads as fall classes unfold?
Dr. Deborah Birx, response coordinator for the White House's coronavirus task force, suggests a different path. In Michigan on Wednesday to meet with Gov. Gretchen Whitmer and local officials, Birx urged colleges not to send students home, even if they are experiencing a spike in cases. The idea is that students are more likely to extend the spread of COVID-19 by returning home than by staying on campus.
"To every university student out there," she said, "if you have done something that is not so great and [not] so smart, and you've been in a crowd without a mask, you're likely to become infected. Do not go home to your parents or your grandparents over Labor Day weekend and spread the virus to them, and do not go out in your communities without a mask on. Don't spread it locally," she said.
Inevitably, more college students will be quarantined as more schools reopen. CMU officials experienced it first in Michigan because the university reopened Aug. 17, earlier than most campuses, and has the most recorded cases.
As of Wednesday, there were 211 confirmed cases of COVID-19 tied to students returning to the Mount Pleasant campus, with another 14 probable cases, according to data from the Central Michigan District Health Department.
Of those, at least 126 are CMU students. Most live off-campus, and have been ordered by the university to quarantine in their apartments (or their bedrooms if they share an apartment) for 10 days after their positive COVID test.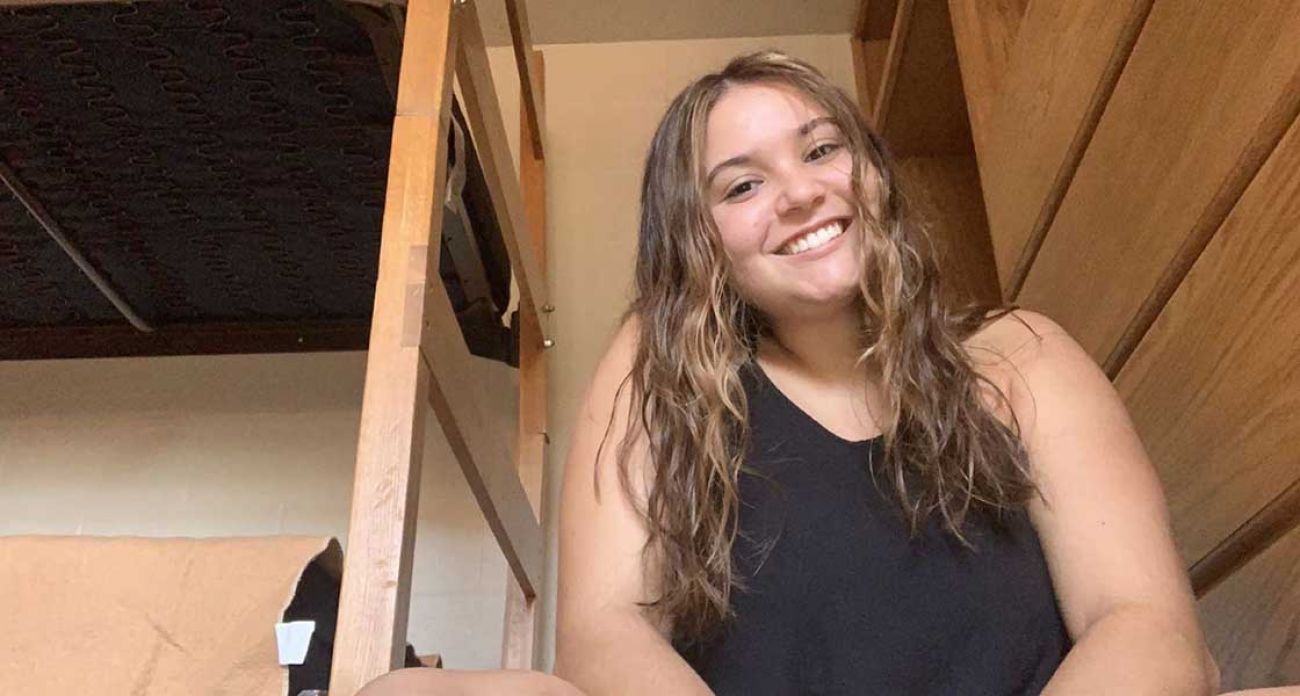 Nine dorm residents have tested positive so far, according to a CMU spokesperson Wednesday. Those students were moved to a section of Wheeler Hall, the otherwise empty residence hall on the school's central campus.
Closed doors and unnatural silence
Talking by phone this week, Swanson and Armstrong, the now-separated roommates, chronicled the emptiness and boredom of COVID Dorm life.
Their days are a succession of "school work and Netflix and school work and Netflix," Swanson said.
They describe the "eerie" and "uncomfortable" reality of being confined in a building with other students who have tested positive or been in close contact with infected students, while not being able to see them.
"You're in this room that's made for four people, but you're the only one in it," said Swanson, a public health major. "I go to sleep and I stare at empty beds. You wake up in the morning, and there are still three empty beds."
There are four desks and chairs in each suite, too.
"I sit in the same one every day," said Armstrong, who is studying electrical engineering.
The walls are barren and dull white. Absent is the constant chatter in normal dorm hallways. Both said the silence of the hall was disturbing.
They watch classes on their laptops — most of their classes were going to be online anyway. They make their way separately to the kitchenette down the hallway, where dining hall staff leave covered trays. One night was quesadillas; another night, chicken nugget bowls.
They are not allowed in the hallway together. The kitchenette is limited to one person at a time. The microwave? Off-limits. No one has thought to provide coffee.
"We have to keep doors shut. If they catch us [together], we get suspended," Swanson said.
A gathering with friends in their 'bubble'
Both women decided to get coronavirus tests Aug. 23, after "a friend of a friend" discovered she was infected. Both learned they too had the virus on Aug. 27.
Swanson arrived in Mount Pleasant Aug. 10 as a student leader for Leadership Safari, a week for new students. Armstrong arrived five days later. Both said students and staff have strictly adhered to wearing masks indoors. They both say they stayed away from the crowded off-campus house parties shown on videos in recent weeks.
They did, however, attend a gathering of about 10 friends at an off-campus apartment. They didn't wear masks, they said. Both said they felt they had limited contact for the most part to those friends "in our bubble," Swanson said.
Several people at that gathering are now COVID-19 positive, the women said, including a friend who lives in the apartment that hosted the gathering.
That friend, Rylee Holek, a 20-year-old sophomore from Temperance, near Toledo, has been holed up in her apartment bedroom, with her roommates cooking meals and leaving trays at her door.
"I can't cook for myself, I can't do laundry," Holek said. "I share a bathroom with one roommate, so I have to Clorox everything."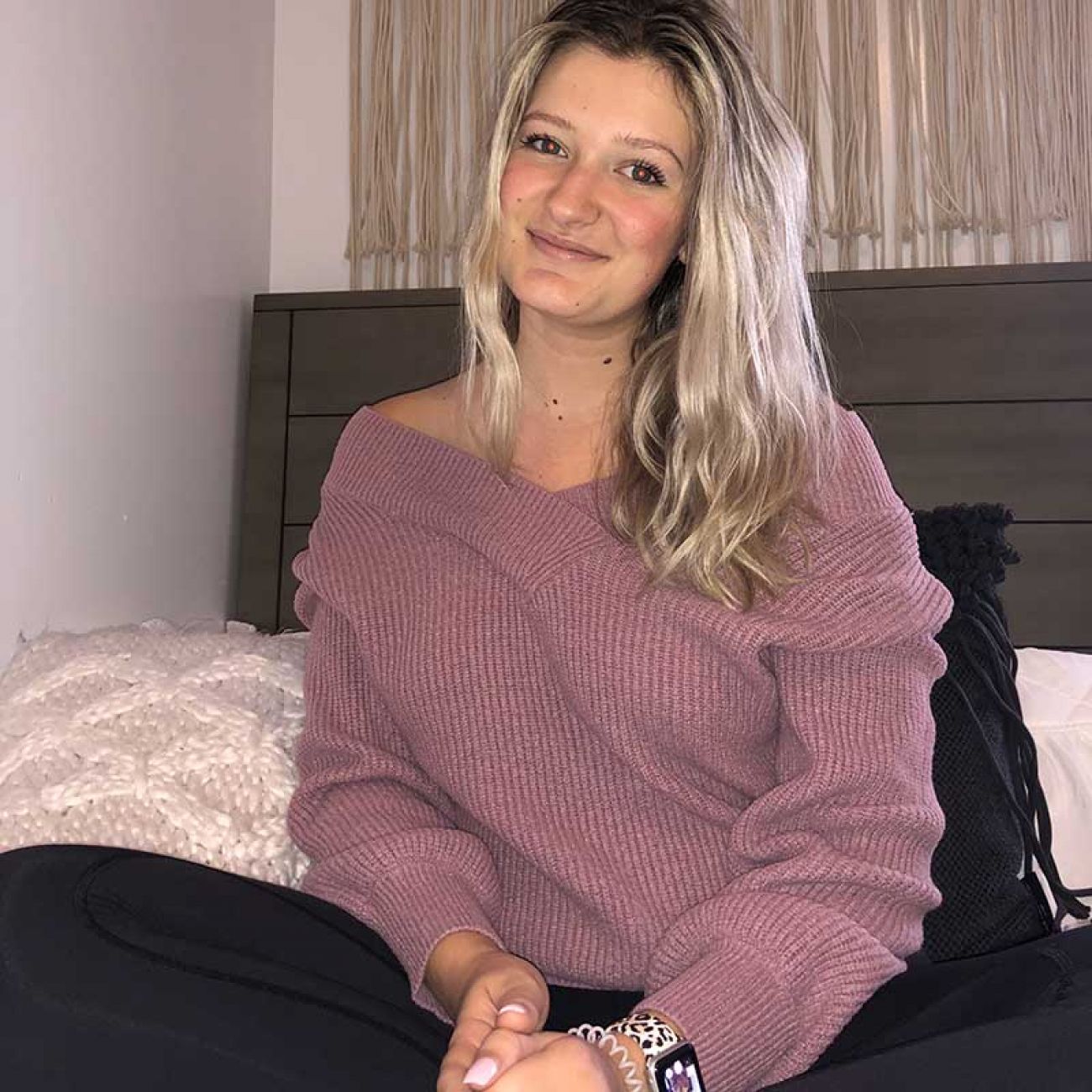 Holek, a biomedical science major, said she's experienced what she describes as "brain fog," where she's unable to concentrate like she normally can.
"I was doing a lab report and it normally would take me an hour and it took me five because I couldn't sit and focus," Holek said. "I'm lucky for the most part. But I think people kind of forget the mental health aspect of students in college, because we're all extremely social. I can't imagine everyone in the dorms being sent to isolation."
Plenty of calls from CMU
Sometimes, on a trip to the kitchenette in Wheeler, Swanson said she hears snatches of a TV show or an online lecture from another room as she passes. Other than Armstrong, she doesn't know who is in the other rooms and has never seen them.
One night, staff delivered box fans.
"I heard them dropping off the box fans and then I heard [Alexia] open her door, so I opened mine at the same time," Armstrong said. Their brief hello echoed in the otherwise empty hallway.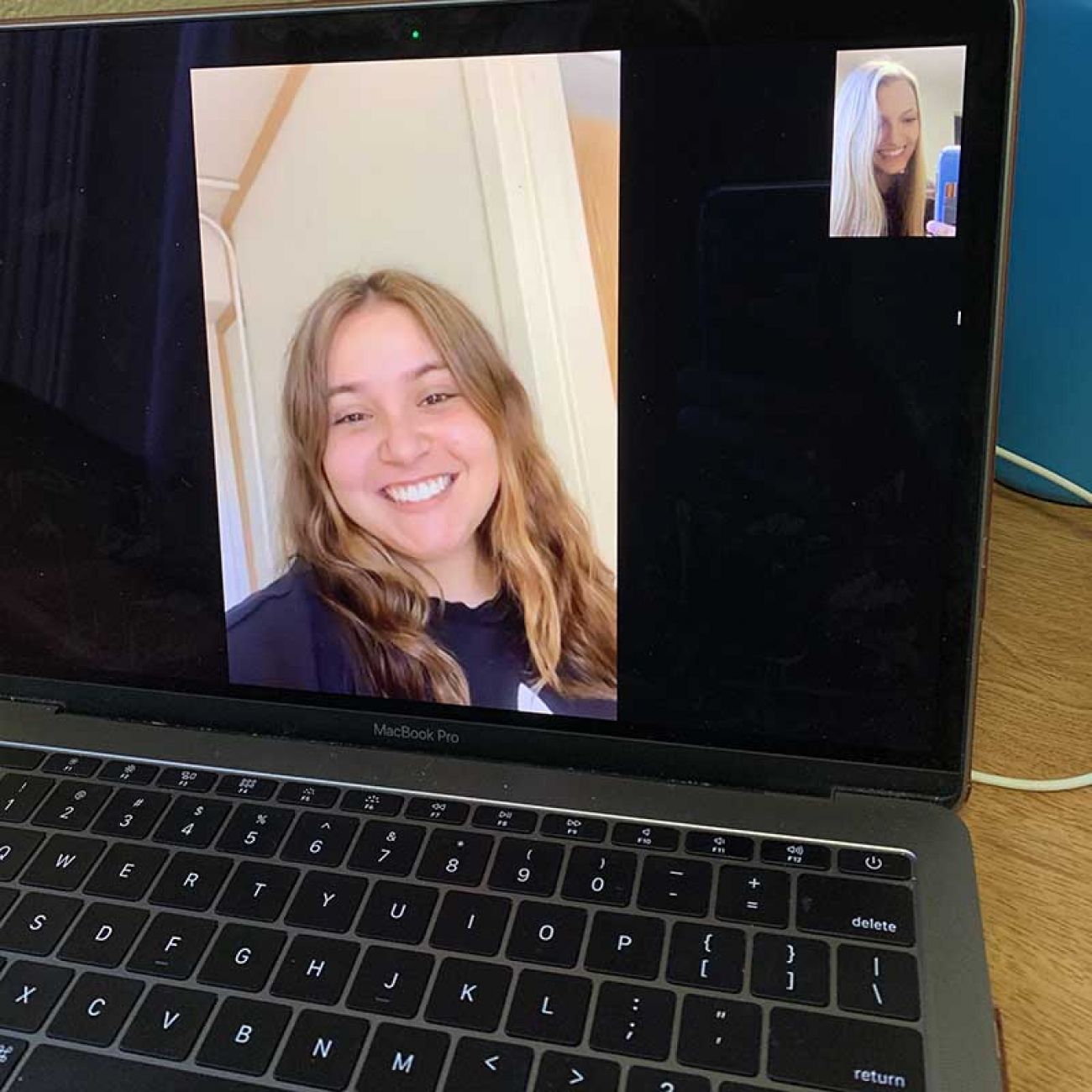 Swanson said she has almost made it all the way through the series "How to Get Away with Murder'" on Netflix while in quarantine. Armstrong jokes that her new best friend is a squirrel in a tree outside her window.
Both say they've been inundated with phone calls from family, friends and CMU officials.
Several times a day, Central Michigan staff call to check on the women — residence hall staff to make sure they're comfortable, dining hall staff to make sure they're eating. All three students who spoke with Bridge praised CMU's handling of their cases.
While neither Swanson nor Armstrong has suffered any symptoms of COVID-19, public health officials continue to drive home the message to CMU students that the infection may leave them relatively symptom-free, but others might not be so lucky.
While many students adhere to social distancing protocols and cooperate with contact tracers, others continue to be reluctant to share where they have been or with who they were in close contact with, said Steve Hall, health officer for Central Michigan District Health Department.
"It's about appealing to a sense of community — you may be fine, but others may not," Hall said of efforts to get students to cooperate.
Local health officials place much of the blame for CMU's outbreak numbers on large, off-campus parties the opening weekend of school.
But Armstrong, Swanson and Holek say the largest gathering they attended was the one they were at together, on Holek's open-air porch. They say they'll be even more cautious in the future, and that they have plenty of incentive to take precautions.
One of the students' friends lives with grandparents; others have sick or immunocompromised loved ones back at home.
"We all had reasons to be super safe and cautious," Swanson said. "It could have been someone behind me in line to get coffee, I don't know."
"I stayed with my own little friend group," Armstrong said. "I don't know. Maybe we should have confined our group down even a little bit more."
Swanson said she is reconsidering a trip to her home near Chicago for her mother's birthday; Armstrong is pleading with her parents not to come visit from her small hometown near Minneapolis.
"I told them 'You don't want to be here. You will take [COVID-19] home with you,'" Armstrong said.
"I think if this does anything, it makes us face these grown-up decisions, and it's a lot of stress with school work at the same time," said Swanson.
Holek emerged from isolation Wednesday, and Armstrong and Swanson are scheduled to be set free Thursday, with plans to immediately buy big cups of coffee.
All say they are ending their quarantines with renewed respect for the virus.
"The fact that I'm COVID-positive is so weird," Swanson said. "You hear it, and you think this is a big deadly virus … It doesn't feel real. This showed me how serious it really is. For a long time, I thought this wouldn't happen to me.
"It can."
We're not just a news organization, we're also your neighbors
We've been there for you with daily Michigan COVID-19 news; reporting on the emergence of the virus, daily numbers with our tracker and dashboard, exploding unemployment, and we finally were able to report on mass vaccine distribution. We report because the news impacts all of us. Will you please support our nonprofit newsroom?