Rural Michigan schools are considering electric school buses with EPA cash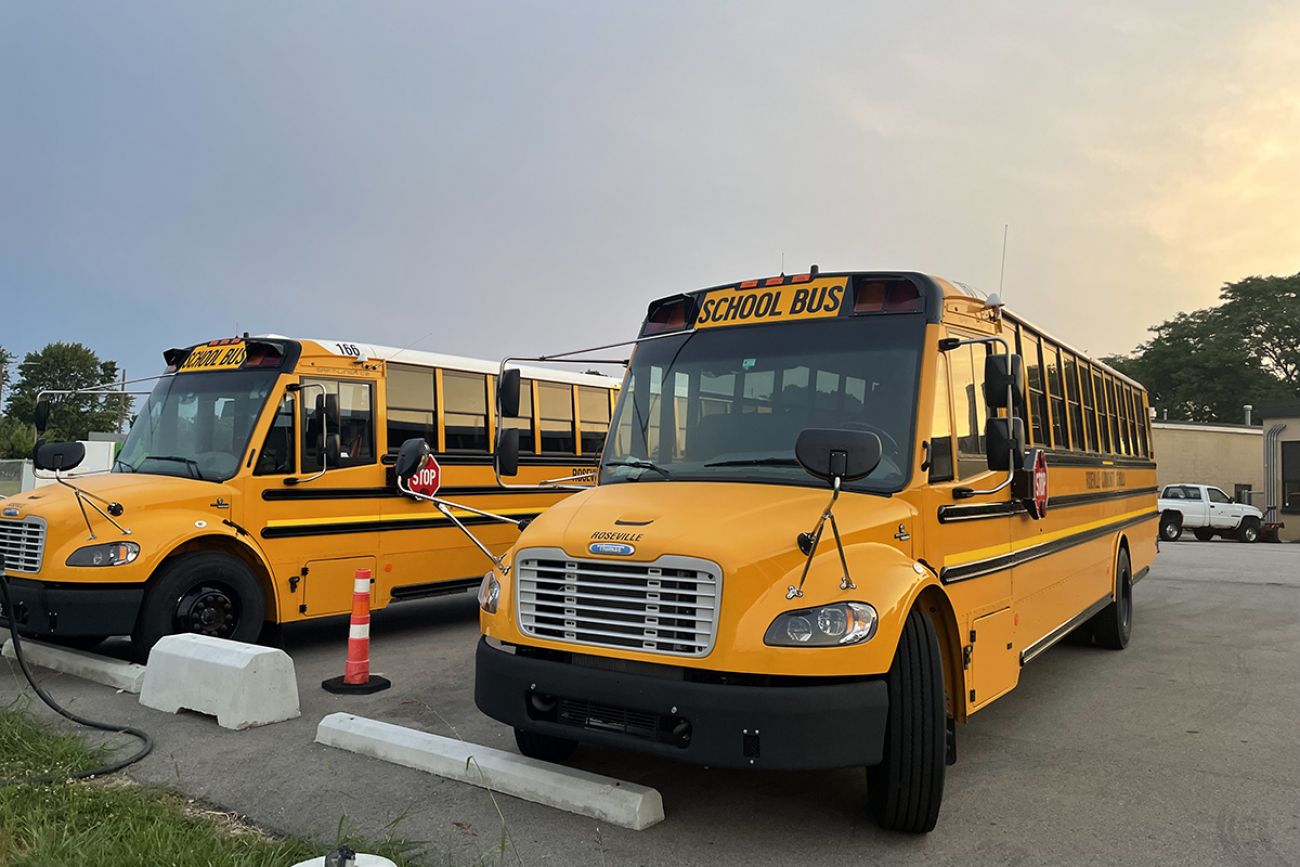 Bus 166 and 167 in Roseville Community School's fleet are a little bit different from the rest. They're all-electric. (Photo courtesy of Scott Sikorski)
46 Michigan school districts have applied for 155 electric school buses through new EPA grant program
Priority for grants is being given to rural schools and low-income areas
Clean energy advocates are on a mission to bring more EVs to Michigan schools
---
Bus 167 looks the same as the other bright yellow vehicles in the Roseville Community Schools fleet, but it sounds very different.
In fact, there's almost no sound at all.
As the pupils get on the bus, they ask driver Kristy Adkins if the electric bus is "really on" while the wheels go round and round through the streets of this Macomb County community. Adkins said it's almost eerie for a bus that weighs over 20,000 pounds to not make a sound as it traverses the suburban roads.
Related:
When Adkins drops off Bus 167 at the garage at the end of the day, all she has to do is plug it in for a couple of hours rather than pulling up to the diesel pump.
"It's a lot different than a diesel bus," Adkins said. "It's really quiet. Doesn't make any sound and it rides really smooth."
In 2019 Roseville and six other Michigan school districts received a combination of state and federal funding to pilot some of the first electric school bus programs in the nation.
Since those 17 electric buses began their routes, however, no other Michigan districts have purchased electric buses. There's still some skepticism over how well electric buses can hold a charge in Michigan winters, and there's a massive price tag.
A typical electric school bus costs about $375,000, or about three times the cost of a diesel-powered bus. Add in another $1,200 to $10,000 or more for a basic EV charger and infrastructure-related costs, and many districts say the sticker shock is too much to overcome.
By October, Michigan school districts could have more than 150 new electric school buses on the way.
Over the next five years, the Environmental Protection Agency is offering $5 billion in grants to districts across the country. That money — enough to pay for more than 13,000 buses, or the size of the entire school bus fleet in Michigan — will be used to help schools pivot from regular diesel school buses to electric and low-emissions models.
With the grants, it won't be just the suburbs like Roseville that are able to pilot electric buses. The EPA has identified 297 "priority districts" out of Michigan's over 800 traditional and charter districts for the grant program, primarily in rural and low-income areas. Priority districts are expected to have a leg-up in the selection process and are eligible for funding up to the full cost of 25 buses and the necessary chargers.
Of the seven districts that currently have electric school buses in the state, only two of them can be considered rural — Three Rivers Community Schools and Gaylord Community Schools.
"We want schools that wouldn't otherwise be able to apply to purchase electric school buses," Anthony Maietta, an environmental protection specialist at the EPA told Michigan school district representatives at a recent webinar about the grant program.
He explained to Bridge Michigan that "rural schools are priority schools" because of the Infrastructure Investment and Jobs Act, a U.S. law passed in 2021 which called for the creation of a federal grant program to replace current school buses with "clean" and "zero-emission" school buses.
The law specifies potential priority groups for the grant program which include "rural and low-income areas." Maietta said they were using the priority groups laid out in the Act as the basis for their decision to prioritize rural schools.
As of Monday, Michigan school districts had sent in 46 applications requesting EPA funding for 155 electric school buses, which would increase the number of EV school buses in the state by more than tenfold.
It's not clear how many of those districts might be in rural communities, but representatives from Ashley Community Schools and Harbor Beach Community Schools — both rural districts — told Bridge they are highly considering applying for the grant.
Shawn Bishop, superintendent of Harbor Beach Community Schools in the Thumb said his district plans to apply for at least one electric bus, but may apply for up to three.
Traci Gavenda, superintendent of Ashley Community Schools, which is an hour north of Lansing in mid-Michigan, has started filling out the application for two buses.
Bishop said he's excited to explore the economic and environmental benefits of electric buses without having to dip into his own budget. Without the federal funding, Bishop said his district could not afford to take the leap.
But even with the grants, he and other district leaders have several questions about where rural buses might fit in rural Michigan, including concerns about battery capacity, charging infrastructure, the state's brutal winters and ease of maintenance.
"I'd be remiss if I didn't say sometimes being the first, inaugural people in a new thing can be a little bit scary too, because you don't have as many examples to draw on," Bishop said. "We're pioneering to a certain degree."
Anna Stefanopoulou, a professor of mechanical engineering at the University of Michigan who has been researching electric bus batteries for over a decade, provided some of the answers to Bishop's questions. Different models of electric school buses can go 70 to 200 miles on a full battery, while diesel buses can go over 500 miles on a full tank. Unlike diesel-powered vehicles, the range for electric buses drops in the winter, Stefanopoulou said.
"Michigan has cold winters and the batteries reduce their range [in the winter], because they use some of their energy to heat up the cabin," Stefanopoulou said. "The range drops quite a bit when it's very cold. If you are in a rural area you need to do the calculations to make sure the range is appropriate when you do long-distance routes."
That problem had an easy fix in Three Rivers Community Schools, a rural district with two electric school buses.
Kenni Jean Schrader, the transportation director for the district just north of the Michigan-Indiana border, told Bridge Michigan that one of their electric buses has a range of 155 miles. It's been able to run a 75- to 80-mile rural route daily without any problems. That bus just has to be charged between morning and afternoon routes in the winter, Schrader said. Using that strategy, they've had no problems with battery capacity.
"In the warmer months we charge once a day and in the colder months we do charge in between routes," Schrader said.
Bishop said Harbor Beach does not have any regular routes that are longer than 70 miles.
Gavenda also worried that getting a subsidized charger and bus on school premises might not be enough for rural districts like Ashley to ever go completely diesel-free.
Unless there are charging stations at all of the places the buses go for sporting events and school trips, the extent to which Gavenda's district can rely on electric buses will be limited. Especially in rural areas, the EV infrastructure needs to be robust for electrification to be successful, Gavenda said.
"As we travel to events, not all areas where we travel would have the charging infrastructure," Gavenda said. "We would need to continue to run our diesel buses."
Bishop, Gavenda and representatives of other Michigan school districts have until Aug. 19 to apply for the first round of EPA funding and should be notified whether or not they have been approved before Halloween. The buses would likely hit the roads 16 months later — or by January 2024.
The deadline is inspiring a "sense of urgency" in clean energy advocates across the state of Michigan who want to lower emissions by increasing the number of electric school buses. Milena Marku, the manager of "Charging Forward," a DTE program that offers electric vehicle rebates to DTE customers, said the energy company has been in contact with several districts to encourage them to apply for funding before next week's deadline.
According to EPA data, Michigan emits the 10th-most greenhouse gasses in the nation. Forbes reported that about a third of the state's emissions come from the transportation sector alone.
DTE has estimated that the six operational electric school buses in Roseville Community Schools and Ann Arbor Public Schools will reduce greenhouse emissions by about 500 tons over the course of their lifetime — which is projected to be 13 years. That might not be enough to make much of a dent in Gov. Gretchen Whitmer's pledge to make Michigan carbon neutral by 2050.
But if all the state's 13,000 diesel-powered school buses were eventually to go electric, that would lower Michigan's emissions by an average of 108,000 tons a year — the equivalent of taking 21,700 cars off the road.
There are more than 2.6 million cars in the state, but electrifying school buses would still be a good start, Marku said.
"This is really the beginning of electric school buses because they're so costly," Marku said. "We're hoping … the applications with EPA are really going to move the needle."
Non-priority districts are also able to apply for funding, but if chosen would only receive $250,000 per bus and $13,000 per charger — making the price of a new electric bus comparable to the price of a diesel bus.
Marku estimated that if a district has to pay for an electric bus out of pocket, it would take about nine to 10 years for the bus to pay itself off. But if they're paying what they would for a new diesel bus, the district could start saving money on day one.
With historically high gas prices, the cost of electricity is comparatively low. Coupled with lower maintenance costs than diesel buses, electric buses can save districts thousands of dollars over the lifetime of the vehicle, according to Katrina Morris, the executive director for the Michigan Association for Pupil Transportation, the organization that helped pilot the original 17 electric buses in the state.
"One of our districts did a comparison and said on a field trip it would have cost them close to $24 in diesel, but cost 17 cents when it comes to electric buses," Morris said. "There is a huge difference and over time is where you're going to see it."
At Three Rivers Community Schools, Schrader confirmed that they've saved about $50,000 in fuel and $43,000 in maintenance costs with their two electric buses since they started using them regularly in January 2020.
Morris is also the transportation director for the West Shore Educational Service District in Ludington where she facilitates transportation for special needs students in the area. Though her district is not on the EPA's priority list, Morris has submitted an application on behalf of the district for two electric buses. Less than 12 percent of students at each of the seven EV pilot districts have a disability, but Morris said electric buses can offer unique advantages to certain special needs students.
"Some of our special needs kids have hearing sensitivities so loud noises can upset them and these buses are extremely quiet," Morris said.
Back in Roseville, Scott Sikorski, the supervisor of transportation and maintenance, has some advice for the districts that do get approved for the grant.
Having worked with and driven the two electric buses in their fleet over the past year, he said getting a free bus dropped off in the garage is just the beginning.
He said his district has just worked out most of "the kinks," but when they first got the buses in February 2021 it was a bit of a learning curve for the transportation department. The district still has yet to install a separate meter for their electric buses, so they don't know how much they are saving on diesel. And with only one charger to share between two buses, they had to design a special schedule to make sure both buses are always fully charged.
"I wouldn't say that we would never [buy another electric bus] in the future, but we still want to give this some more time," Sikorski said. "We just got both electric buses running regularly."
In Three Rivers Community Schools, meanwhile, the district is going full steam ahead with electric school buses. Schrader said she plans to apply for EPA funding for two more electric buses, which would bring their EV fleet up to four.
The district is also in the process of building a new transportation facility which is set to include eight charging stations for electric school buses.
"I know it's scary. It's a leap. It's not something we're used to," Schrader said. "I encourage any district to apply and learn from what our experience has been so far."
Only donate if we've informed you about important Michigan issues
See what new members are saying about why they donated to Bridge Michigan:
"In order for this information to be accurate and unbiased it must be underwritten by its readers, not by special interests." - Larry S.
"Not many other media sources report on the topics Bridge does." - Susan B.
"Your journalism is outstanding and rare these days." - Mark S.
If you want to ensure the future of nonpartisan, nonprofit Michigan journalism, please become a member today. You, too, will be asked why you donated and maybe we'll feature your quote next time!