What's in Senate climate bill for Michigan? EV credits and cheaper insulin.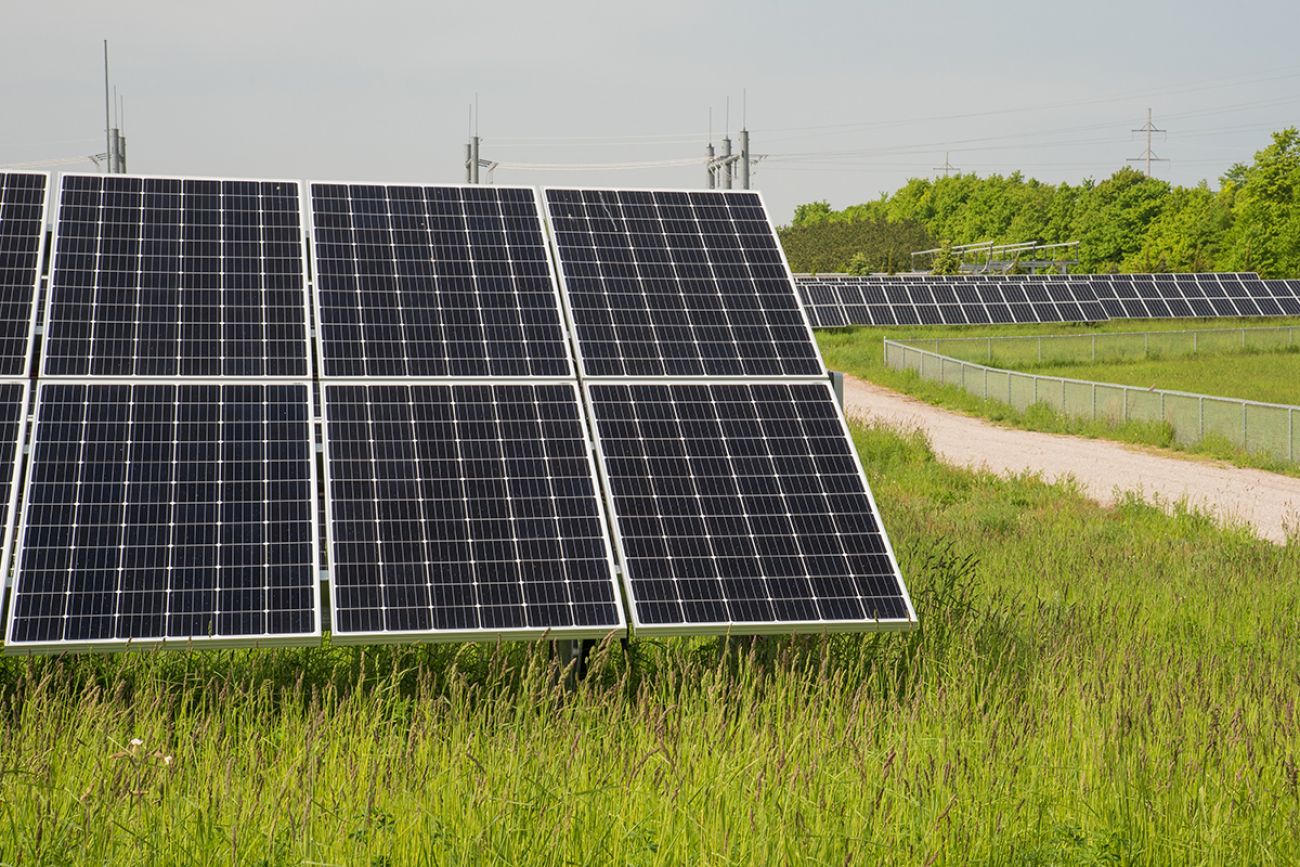 The Inflation Reduction Act, passed on a party-line vote on Sunday, includes an historic investment of $369 billion toward efforts to address climate change. ( Frank Setili / Shutterstock.com)
The bill includes money for EVs, solar panels and domestic manufacturing
Prescription drug prices could fall for those on Medicare
Environmental justice advocates lambast compromises that allow new oil and gas infrastructure
---
The federal government's largest-ever investment to address climate change is promising to bring thousands of jobs to Michigan, cap certain prescription drug costs for some of 2.1 million Michiganders on Medicare, lower the cost of electric vehicles and energy-efficient homes, and possibly boost momentum for major energy projects, from pipelines to power lines.
Those are key takeaways from early analysis of the Inflation Reduction Act, which Democrats (with not a single Republican vote) passed in the U.S. Senate Sunday. It now heads to the U.S. House of Representatives, which is expected to vote Friday before President Biden signs it into law.
Calling climate change an "existential crisis," Biden hailed the bill for its layered benefits of increasing U.S. energy security, creating jobs and saving families money on energy and prescription bills.
Related:
The state Republican party panned the legislation, which passed on a 51-50 party-line vote, warning that "tax hikes and higher inflation will be coming to Michigan."
What's inside: Some $369 billion in tax incentives and other measures to address climate change and bolster U.S. energy independence. Much of the money for that spending will be generated from a new minimum tax for corporations earning more than $1 billion a year.
Those corporate tax increases, along with new pharmaceutical price ceilings, drew dissent from a host of local and state chambers of commerce across the country, including Michigan's state chamber and six local chambers.
Mike Alaimo, director of environmental and energy affairs for the Michigan Chamber, called those provisions "uncompetitive for Michigan's future," with the potential to stifle growth at big companies.
"Given the high inflation and (consumer price index) rates that we're seeing, new production is really important," Alaimo told Bridge Michigan. "And I think this has the potential to eat away at that."
Experts have said the bill would put the U.S. on track to reduce emissions by 40 percent below 2005 levels by 2030.
While that's short of Biden's goal, Helen Taylor, state director of The Nature Conservancy in Michigan, said it would "put the United States within reach of our climate goals and international commitments."
According to scientists with the United Nations Intergovernmental Panel on Climate Change, world nations must stop adding greenhouse gasses to the atmosphere by midcentury in order to hold global warming to 2.7 degrees Fahrenheit. Society is on track to miss that target by a wide margin.
While it's unclear how the bill's incentives will be distributed among states, big investments in the manufacturing sector will be key for Michigan, where Gov. Gretchen Whitmer has set a goal to make the state carbon-neutral by 2050.
"We're still putting together the big numbers on this," U.S. Sen. Debbie Stabenow, D-Lansing, said during a call with reporters Monday. But in addition to "literally thousands of dollars" in annual prescription savings for medicare recipients, Stabenow said the bill could benefit automakers while luring green manufacturers to locate in Michigan.
Environmental justice groups, while acknowledging the gains in the bill's climate provisions, are speaking out against concessions that benefit the oil and gas industry.
Here's what we know so far:
Money for companies in the green transition
The bill includes hundreds of billions of dollars nationally in tax benefits and grants to drive industries and utilities toward solar, wind, hydropower and nuclear power.
Manufacturers could get subsidies for building electric vehicles and renewable energy components, while utilities could get them for choosing renewables over greenhouse gas-producing energy sources. Beyond hastening the energy transition, those dollars are meant to boost U.S. energy independence by weaning the country off foreign oil and onshoring the manufacturing of components used to make EVs, solar panels and the like.
"We've seen what happens when our economy is too tied to international oil markets," said U.S. Sen. Gary Peters, D-Bloomfield Township, who joined Stabenow on the press call Monday to promote the bill. "And unfortunately, many of those countries that drill a lot of oil are autocrats, whether it's Russia or Iran, or other countries that are not friendly to the United States."
Citing estimates from the University of Massachusetts that the bill could create up to 1.5 million new jobs nationwide by 2030, Stabenow estimated "thousands of those will be coming to Michigan." She pointed to Hemlock Semiconductor in Saginaw County. The company is the nation's largest producer of polysilicon used to produce solar panels and computer chips, which Stabenow said will help Michigan contend for new domestic solar production.
"We're going to be able to build a supply chain around these efforts in Michigan," she said.
While nearly a third of the world's semiconductor chips are made with polysilicon from Hemlock Semiconductor, the vast majority of the chips themselves are made in Asia. A $76 billion investment to boost U.S. chip production was signed by Biden on Tuesday.
Alaimo, of the Michigan Chamber, said the provisions could incentivize more companies to move into the EV and renewables manufacturing market, or relocate aspects of their production from overseas.
"Will it have that immediate effect?" he said. "That's really tough to know."
Tax credits for EVs, solar panels and more
The bill includes $80 billion in rebates for people who buy electric vehicles, green appliances such as electric induction cooktops, and rooftop solar panels. It's a major infusion of cash designed to speed up the transition away from fossil fuel-based transportation, electricity and heating.
One analysis, by the green energy nonprofit Rewiring America, found that people who benefit from the bill's various subsidies could save up to $1,800 in annual energy bills.
Conan Smith, president and CEO of the Michigan Environmental Council, said those provisions will address a difficult piece of the energy transition: Homes are massive sources of carbon pollution. While technology exists to better insulate homes and transition them away from fossil fuel heating and electricity, Smith said high up-front costs can make it tough to "get consumers and their households to make the right choices."
"Incentives are essential if we're going to crack the nut on a very complicated sector of emitters," he said.
EV buyers could also win big.
Today, taxpayers can get a credit of up to $7,500 for buying electric vehicles. But a cap on eligible cars-per-automaker means cars from some companies, including GM and Tesla, are no longer eligible.
The new bill would eliminate the cap, while adding a new credit for used EV purchases. But it's generating mixed reviews from automakers, who warn that because the bill ties tax credits to North American battery manufacturing, many automakers won't qualify since their batteries and battery components are sourced abroad.
"That's a missed opportunity at a crucial time and a change that will surprise and disappoint customers in the market for a new vehicle," said John Bozzella, president and CEO of the national automotive trade association Alliance for Automotive Innovation.
Stabenow called the domestic manufacturing requirement "very, very concerning" and expressed hope for some flexibility after the bill is finalized.
Question marks around environmental justice
The bill commits $60 billion to supporting low-income communities and communities of color through things like grants to buy EVs and solar panels, investments in public transit and the establishment of a "green bank" that would help fund green energy projects in disadvantaged communities.
But it drew tepid reviews within some environmental justice circles, and even an outright rebuke from some who said the bill fails to address the concerns of communities most harmed by fossil fuel pollution.
Whitney Gravelle, president of the Bay Mills Indian Community in Chippewa County, called the bill "a small step in the right direction" but said "we must move away from fossil fuels altogether in order to build a future worthy of our children."
Foremost among advocates' concerns: Senate Majority Leader Chuck Schumer secured the bill's passage by making major concessions to Senator Joe Manchin III of West Virginia, including an agreement to push new legislation that would ease permitting for pipelines and other infrastructure.
Michigan environmentalists said they don't expect that compromise to affect the battle over Michigan's Line 5. The U.S. Army Corps of Engineers has already embarked upon a lengthy environmental review of Enbridge Energy's proposal to replace part of the current pipeline with a new stretch buried in a tunnel beneath the Straits of Mackinac, and Line 5 watchers said the agency's approach is unlikely to change.
But Juan Jhong-Chung, climate justice director at Michigan Environmental Justice Coalition, said fast-tracked permitting would have longstanding and widespread consequences for communities already living alongside polluting industries.
"Our communities use (federal permitting processes) to protect ourselves from pollution, from industry who often is harming us," Jhong-Chung said. "We need strong protections, so we're against the permitting reforms."
Stabenow and Peters said they, too, have concerns about easing permitting for big projects, and noted that while Schumer is expected to put forward the permit reform bill in September, its passage is not assured.
Some permitting reform advocates have said faster permitting could speed up the energy transition in key ways, such as hastening efforts to build new wind and solar arrays and transmission lines that move renewable power around the country.
Jhong-Chung said his group is also concerned about provisions of the bill that would pave the way for more oil and gas leasing on public lands, and invest in technologies such as nuclear energy and carbon capture and storage (a technique to capture carbon dioxide before it enters the atmosphere and store it underground).
Jhong-Chung called carbon capture a "false solution" that will prop up continued industrial fossil fuel use, polluting nearby communities in the process.
Lower drug prices for older Michiganders — eventually
The bill, if passed, also could mean big health care savings in Michigan over the next several years for those on Medicare and those who purchase insurance on the federal online marketplace. It's at least in part the result of a years-long "David-and-Goliath fight" with drug manufacturers, said Cheryl Fish-Parcham at the Washington-based nonprofit Families USA, which advocates for equal access to health care.
"When something like this in healthcare happens, it's really major," said Fish-Parcham, the organization's Director of Access Initiatives.
"It's something that people desperately need and that will set the ground to build on," she said.
Most immediately, the law would cap the cost of insulin at $35 dollars for Medicare enrollees, of which Michigan has about 2.1 million, according to KFF, a nonprofit organization that conducts health research.
Under the bill, if passed, several provisions will begin rolling out in the coming years to help control drug costs for Michiganders with Medicare Part D coverage, which covers prescription drugs.
Starting next year, all vaccines covered under Medicare Part D will be free — with no deductibles, co-insurance or cost-sharing.
In 2025, out-of-pocket costs for prescription drugs will be capped at $2,000 each year for Michiganders covered by Medicare Part D prescription drug plans
In 2026, Medicare gets more control to directly negotiate with drug companies in pricing a limited number of drugs. The list will start with 10 drugs beginning in 2026, but the list will include 15 drugs in 2027 and 20 drugs by 2029. The list might change from year to year, but will include some drugs that cost Medicare the most each year.
Ultimately, drugmakers will be required to pay "inflation rebates" to Medicare if they raise prices higher than the rate of inflation.
Democrats were unable to extend that same $2,000 cap to Michiganders covered by private health plans, but Stabenow said she expects Medicare's newfound ability to negotiate drug prices to have a ripple effect on private-sector drug prices.
"Medicare is the biggest purchaser of medicine," she said. "And when they start lowering prices, the private sector is usually not far behind."
If that happens, it could mean wallet relief for hundreds of thousands of Michiganders — eventually.
Consider insulin. The American Diabetes Association estimates nearly 913,000 people in Michigan, or more than 1 in 10 of all adults, have been diagnosed with diabetes. People with diabetes have medical expenses that are about 2.3 times higher than those without a diabetes diagnosis, according to the organization.
Tax credits for health coverage
The Senate bill would extend enhanced premium tax credits to help make health coverage more affordable for some of the 303,550 Michiganders who purchase coverage on the federally-operated, online marketplace.
The American Rescue Plan Act (ARPA), had tamped down costs on the marketplace, a product of the 2010 Affordable Care Act, or Obamacare. The 2021 ARPA law boosted the enhanced tax credits to income-eligible residents. The lower a person's income, the larger the credits and, in turn, the smaller a monthly premium.
But those enhanced tax credits under ARPA were set to expire next year.
Because of the enhanced ARPA subsidies, Michiganders paid an average of $2,040 in 2022 for coverage, rather than estimated $2,832. Without the Senate bill, those costs are expected to increase an estimated $792 in 2023, according to Families U.S.A.
Fish-Parchum said that level of price hike may cause "financially vulnerable" patients to ditch their coverage.
"They look at a cost like that and, if they aren't sick at this very moment, they might say, 'I'm going to forego that cost. I need to do something else with my money,'" she said.
When they face an emergency, medical debt piles up, she said, making it difficult to access care when they most need it.
Dominick Pallone, executive director of the Michigan Association of Health Plans, said he was "thrilled" by the Senate's extension of the tax credits.
MAHP, which represents most of the state's largest insurers, supported tax credits extensions in an editorial that was also signed by representatives from the Michigan Health & Hospital Association, the Michigan State Medical Society, and the Michigan Primary Care Association, which represents federally-qualified health centers serving the state's un- and underinsured.
But Pallone told Bridge he worries drug manufacturers will simply increase prices on other drugs to make up for losses they face on drugs that will be negotiated by Medicare.
"That's where (the bill, if passed) could potentially negatively impact you," he said.
"If you're a manufacturer, and you just had your profit margin decreased on certain drugs, you might increase prices on other drugs to negate those losses," Pallone said. "We love that Congress is getting serious about drug prices, but we need it for the rest of the world, too."
Michigan Environment Watch
Michigan Environment Watch examines how public policy, industry, and other factors interact with the state's trove of natural resources.
Michigan Health Watch is made possible by generous financial support from:
Our generous Environment Watch underwriters encourage Bridge Michigan readers to also support civic journalism by becoming Bridge members. Please consider joining today.
Only donate if we've informed you about important Michigan issues
See what new members are saying about why they donated to Bridge Michigan:
"In order for this information to be accurate and unbiased it must be underwritten by its readers, not by special interests." - Larry S.
"Not many other media sources report on the topics Bridge does." - Susan B.
"Your journalism is outstanding and rare these days." - Mark S.
If you want to ensure the future of nonpartisan, nonprofit Michigan journalism, please become a member today. You, too, will be asked why you donated and maybe we'll feature your quote next time!