Six systems in 7 years and Michigan students still lag. Now comes A to F.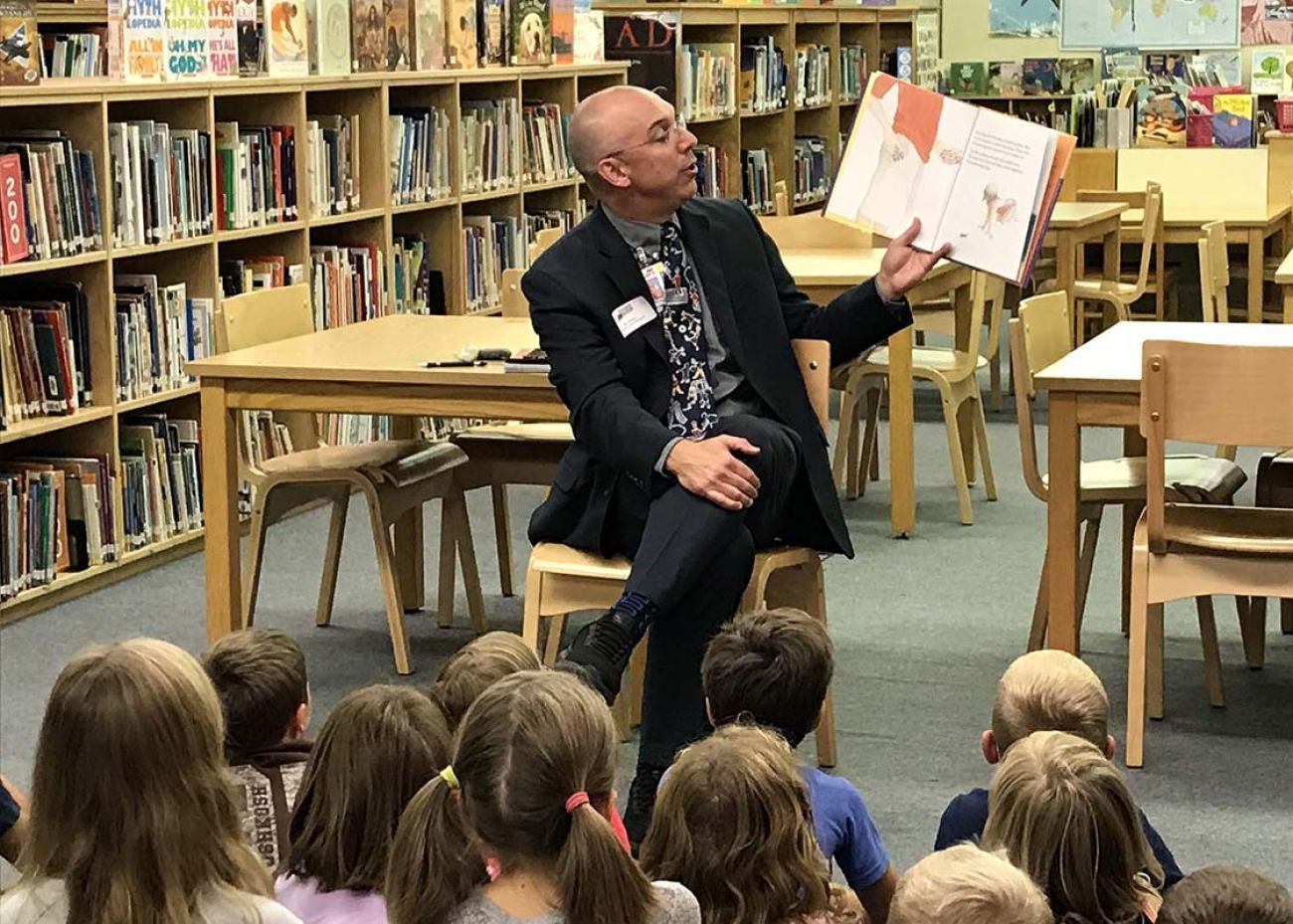 As superintendent of Traverse City Area Public Schools, Paul Soma has more than 9,500 students spread over 300 square miles. He worries about getting them to school in the winter. He worries about paying for the gas that gets them there. He worries about disparities in funding between his district and wealthier school systems, and the gap in test scores between rich and poor students.
One thing he doesn't worry about: Michigan's latest school accountability system.
The system, ranking schools with letter grades from A to F, was passed by the Legislature in December and is scheduled to go into effect next school year. It'll replace an index scoring system that has been used since 2017, which replaced two systems that operated simultaneously: a top-to-bottom ranking and a system that ranked schools by colors.
Related: Michigan education department blasts A to F school system bill
Before that, there was an accountability system that gave schools … wait for it … letter grades, like the impending system will do.
"I haven't seen an accountability system that's been impactful yet," Soma said. "I ask (educators) who have strong opinions on (the new A-to-F law), I say, 'What do you think of the current accountability system?' And their answer is, 'I don't even know what it is.'
"There is so much churn in our time as education leaders, we haven't had time to understand it," Soma told Bridge. "And why begin to understand it if it's going to change next year?"
"That Michigan schools don't know how success or failure will be measured eight months from now is emblematic of the state's public education woes"
Though the A-to-F school system is scheduled to go into effect in September, school leaders only know the outlines of the plan. Schools will get letter grades for performance and growth in math and English on standardized tests, test score growth among English language learners, graduation rates and test performance compared to demographically similar schools.
How those grades will be assigned, and the consequences for schools earning F's, aren't determined yet.
The Michigan Department of Education is tasked with getting the system up and running. But the department isn't rushing to fill in the blanks – instead, it's asking Michigan Attorney General Dana Nessel and the U.S. Department of Education to rule on whether parts of the policy violate federal law before it will even start implementation.
Related opinion: Bill to grade Michigan schools A-to-F is a horrible idea
Related opinion: If our kids get graded A-to-F, then our Michigan schools should, too
That Michigan schools don't know how success or failure will be measured eight months from now is emblematic of the state's public education woes. Michigan students struggle academically compared to much of the nation, with our state ranking dropping from the top third of the nation to the bottom third in the past two decades.
Over the past decade, state leaders have jumped from one education reform, testing regimen and school accountability system to another, to little educational impact.
Consider that in the past seven years, there have been:
11 education reform reports produced, by business groups, education advocacy organizations, the governor's office and statewide collaborations.

Three state standardized testing programs, the MEAP the M-STEP, and a third, the PSAT,

replacing the M-STEP in eighth and ninth grades this year. The state also switched from the ACT to the SAT in the Michigan Merit Exam taken by high school juniors.

And six school accountability systems, including the new A-to-F system.
Is my school a letter, a number or a color?
Here's the list of the various school accountability measures used in the past seven years in Michigan.
2002-12: Adequate Yearly Progress (AYP). Schools were labeled as either meeting or not meeting Adequate Yearly Progress.
2003-15: Education Yes! School were given letter grades by performance level.
2013-16: School Scorecards. Schools were designated by color, depending on their performance, from green (the best), to lime green, yellow, orange, and red (the worst)
2012-16: Top to Bottom Rankings. Schools were shown how they ranked by percentile compared to other schools.
2017-current: Michigan School Index System. School outcomes by 0-100 scores on how closely they reached academic goals.
2019: A-to-F. Schools will be given letter grades for performance level on various measures.
Source: Michigan Department of Education
The result: In 2017, on the most recent National Assessment of Educational Progress, sometimes called "The Nation's Report Card," Michigan students' fourth-grade reading scores were lower than in 2011, before the state's frenzy of education reforms. Fourth-grade math scores were the lowest in the history of the test, dating back to 2003. In that test, Michigan ranked 35th in fourth-grade reading and 38th in fourth-grade math.
All of which show how far the state has to go to become a Top 10 education state by 2026, the goal set by the Michigan Department of Education in 2016.
Measures intended to hold schools accountable, which often include metrics such as student performance on standardized tests, are required by federal law. While those measures vary from state to state, they must be approved by the U.S. Department of Education. In Michigan, accountability measures have been used to close low-performing school buildings and even whole districts.
There's little evidence, though, that the measures improve student learning.
Brian Jacob, an education researcher at the University of Michigan, examined student test results for schools that were in the bottom five percent of districts statewide (and required to implement various reforms), and districts that were in the sixth percentile statewide, which received no additional state attention.
Jacob and co-author Steven Hemelt found no difference in student learning between the districts.
One problem, Jacob told Bridge, is that Michigan doesn't stick with reform efforts long enough for them to have an impact.
"I think we just need more stability in the political and policy environment to allow the people on the ground to focus on the actual work at hand," Jacob said.
"This change (to an A-to-F accountability system) alone is not going to do very much," Jacob said. "It simply can be viewed as one more iteration of accountability in the state.
"School administrators are confused and frustrated as is."
The newest accountability system is 74 pages long and passed the House of Representatives at 3:30 a.m. during December's frenetic lame duck session.
Bill sponsor Tim Kelly, R-Saginaw, argued at the time that an A-to-F scale will make it easier for families to gauge how schools are performing than the current system, which offers a 0-100 score indicating how well schools are meeting goals.
The A-to-F system was a longtime goal of Gov. Rick Snyder, who signed the bill into law days before leaving office. "It's good to see the Legislature joining us in taking action to bring accountability to schools in a way that will be easier for parents to track and understand," Snyder spokesman Ari Adler told the Associated Press at the time.
Education Trust-Midwest, a Michigan-based education reform advocacy organization, supports the new accountability system. "Accountability alone does not improve schools – that only comes from the expertise and hard work of exceptional educators, school leaders and of course parents," said Ed Trust's executive director Amber Arellano. "But honest and transparent accountability systems have been shown to be an important lever for bringing attention and greater commitment to closing achievement gaps for vulnerable students and other areas for needed improvement."
Kevin Polston, superintendent of Godfrey-Lee Public Schools a 1,700-student, low-income district near Grand Rapids, is quick to say that he and other school leaders aren't trying to avoid accountability.
"We believe accountability is critical to our schools," Polston said. "We owe it to our taxpayers, students, families, communities that we are accountable stewards, and we take responsibility for our outcomes.
"But when we're in our third system in three years, from color-coded to 0-100 to A-to-F," Polston said, "it makes it difficult to make sense of it, for us and our families."
"My sense is, 'Here we go again,' said Scott Menzel, superintendent of Washtenaw Intermediate School District. "Every time you create a new accountability system, you move the (goal posts). There are some districts that will jump through hoops to make sure they stay off (low-achieving) lists, and others that may be doing fine that won't (change much) and will stay fine. It's probably not earth shattering, it's just frustrating."
Education leaders who spoke to Bridge have different views on the merits of the A-to-F accountability system. Traverse City's Soma likes it. "We should come to something that people can look to and hold schools accountable to their students and their community." Soma said. "It's uncomfortable. But data indicate schools should not be comfortable."
Washtenaw's Menzel calls the A-to-F system a "simplistic model" that "is perfectly designed to give the results we are already getting. If we want different results, we need to stop tinkering at the margins."
But both agree that the state should stop changing systems.
"We get lost in the weeds of whether it should be an A-to-F system or some other kind of accountability method," Menzel said. "Top performing states pick indicators and stick with them. That's what we should do."
In 2014, Bridge visited other states with high-achieving schools and came away with lessons Michigan has yet to learn. One: Top performing states had clear, tough standards that the stick with, rather than changing with political winds.
Soma and Polston both argue that Michigan needs to spend less time recreating accountability systems, and begin the hard task of reforming the state's school funding system.
Most states have funding formulas that provide more money for schools with high numbers of low-income students, minority students and children for whom English is a second language. Michigan has per-pupil funding that varies little for schools from Monroe near the Ohio border to Houghton in the Upper Peninsula.
"What difference does it make if I'm a letter or a color; if you're hitting the reset button every three years, how do you know what's working and what isn't?" asked Menzel. "The best thing that could come from this is to have a serious policy conversation (about funding) like we had in the 1990s that resulted in Prop A and charter schools. Let's have another conversation."
"Maybe it's time to put a system in place and continue to improve it instead of scrapping it," said Traverse City's Soma. "Tweak it as needed, and worry more about focusing on the children."
Only donate if we've informed you about important Michigan issues
See what new members are saying about why they donated to Bridge Michigan:
"In order for this information to be accurate and unbiased it must be underwritten by its readers, not by special interests." - Larry S.
"Not many other media sources report on the topics Bridge does." - Susan B.
"Your journalism is outstanding and rare these days." - Mark S.
If you want to ensure the future of nonpartisan, nonprofit Michigan journalism, please become a member today. You, too, will be asked why you donated and maybe we'll feature your quote next time!