Articles
March 18, 2020 | Tom Henderson
More than 60,000 auto workers in Michigan are affected by the closure of plants due to the coronavirus. Banks and credit unions also are moving to increase lending.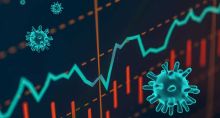 March 17, 2020 | Mike Wilkinson, Jonathan Oosting, Tom Henderson
How bad will it get? Many economists agree a major downturn is coming along with perhaps hundreds of thousands of layoffs. But others say if the coronavirus is contained soon, the economy could roar back.
March 16, 2020 | Tom Henderson
Minutes before Gov. Whitmer ordered state restaurants and bars to close dine-in services, Justin Winslow, president and CEO of the Michigan Restaurant & Lodging Association, described to Bridge Magazine the dramatic impact the new coronavirus is already having.
February 9, 2017 | Tom Henderson
Retiring Detroit journalist Tom Henderson shares the tale of a bewildered car thief, a donut-obsessed desk cop, and the fine art of patience in an indifferent world.
April 11, 2016 | Tom Henderson
Even as company grows globally, family keeps it home in Michigan villag
July 30, 2015 | Tom Henderson
Snyder's approval rating slips while Obama's climbs.