Michigan travel industry feels 'pressures in all directions'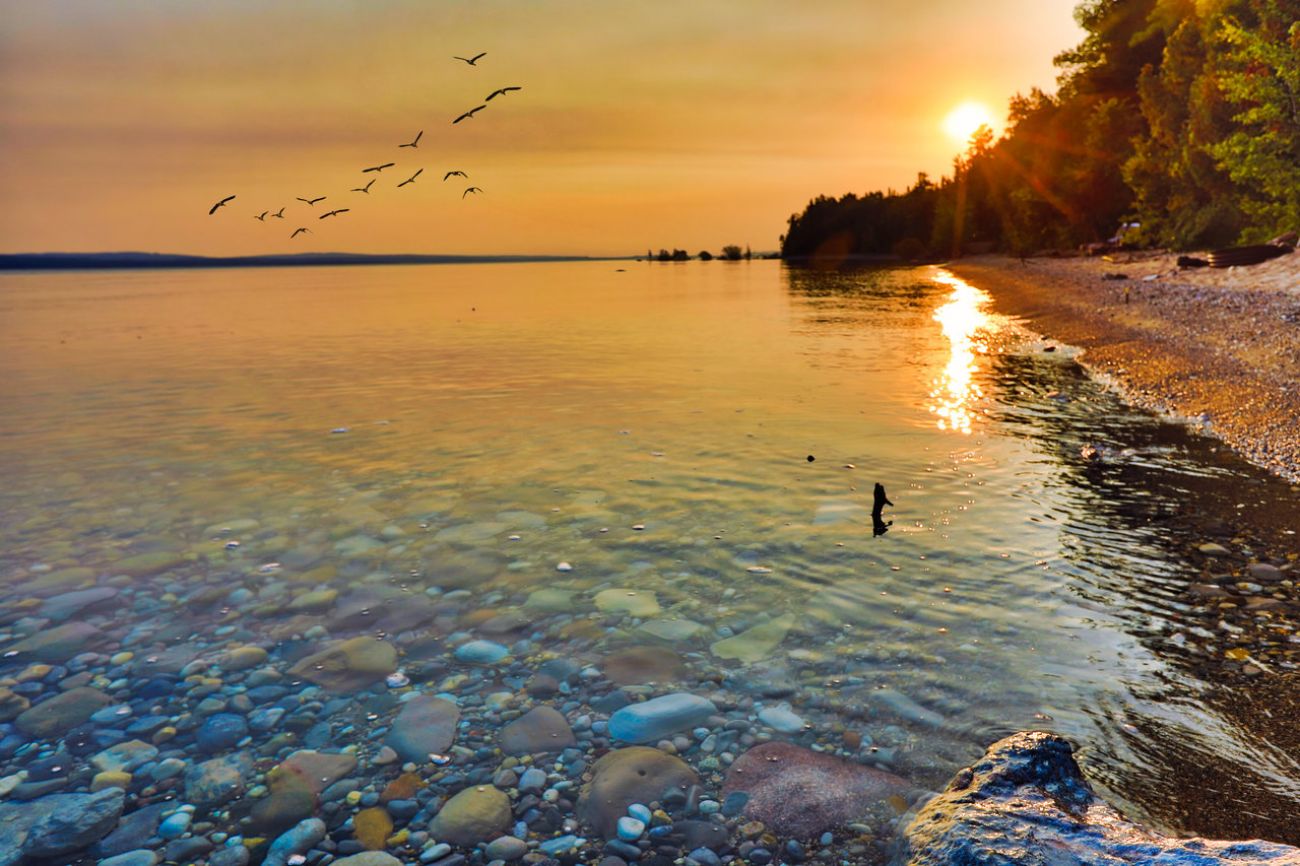 Update: Michigan is ready to vacation again. Is it enough to save the hotel industry?
Instead of launching summer tourism in Michigan, the long Memorial Day weekend of 2020 signaled just how far the industry has to travel before it recovers from effects of COVID-19.
Hotels remain largely closed around the state except for essential travel. Tourism promotion efforts lost funding by the millions. And thousands of jobs that support visitors comprise part of the growing unemployment rate that reached 22 percent last week.
Now travel industry experts are looking at what they can do to rebuild business and boost spending, which in previous years reached at least $25 billion per year.
Hiring enough staff was the industry's biggest problem in 2019, but COVID-19 changed the playing field. Now lodging businesses don't know when they can fully open, and restaurants and attractions across the state still face questions about capacity and how they'll be allowed to operate. Seasonal businesses have still more concerns; so do venues that target banquets and conventions.
"There are pressures from all directions," said Stephen Kircher, past chair of the Michigan Travel Commission and president and CEO of Boyne Resorts. "The state setting regulations for reopening is one; so are customer needs and expectations.
"In between is the practical execution of opening," he said, "and trying to balance all three — and trying to do it so you're not going to go out of business."
Unclear is what the future for one of the state's top-three industries will look like. Owners are setting new operating strategies to balance staff and customer safety.
"There's no question that this industry is in a very precarious time," said Bill Parlberg, COO of Zehnder's in Frankenmuth and chair of the Michigan Tourism Council.
Signs of the struggle can be seen across all segments of the U.S. travel industry:
AirBNB laid off 25 percent of its workforce as stay-at-home orders cut into its rentals.

Hertz filed for bankruptcy reorganization on May 22.

Delta lost $607 million in the first quarter and warns the second quarter will be worse. The airline cut flights at three Michigan airports (Kalamazoo, Lansing and Flint).
In Michigan, layoffs have been extensive, reaching casinos, hotels and travel support services. The total reached at least 90,000 tourism layoffs in April, with more continuing in May, even as the summer tourist season was ready to begin.
"Tourism is one of the biggest employers in our state," Parlberg said. "There is going to be a major impact on the state's economy."
And it's not just about economics, he added. Activities like traveling around the state for its natural resources or attending festivals — most of which have been canceled through summer — help the industry make Michigan feel like home.
"There are a plethora of things we've taken for granted," Parlberg said. "It leaves an empty feeling."
One measure of the change is found in the hospitality industry. Michigan's 1,400 hotels suffered devastating declines in occupancy, with impact on room rates and profitability.
Data from STR, a global hospitality benchmarking company, showed occupancy for all of the state's hotel rooms at 18.1 percent for the week of April 5-11, a decline of 68 percent. The average room rate fell 35 percent to $66.49, making this week the worst of the pandemic.
The situation was particularly bleak in Northern Michigan, when 12 percent of rooms were booked — a decline of 73.6 percent from a year earlier.
Across the country, "hotel performance data is uniformly bad," said Jan D. Freitag, senior vice president of lodging insights at STR. "There really are no outliers on the positive side," he added, noting that mild upticks through May are "still terrible."
It's not better among homestay vacation rentals, say operators who, like hotels, were allowed only to rent for essential stays (though, as Bridge reported, some lodgings are making generous interpretations of which visitors are considered essential).
Janice Cutting manages three AirBNBs in Ann Arbor near the University of Michigan. All three have been filled at times, she said, but it was different from high-priced times like U-M graduation. Instead, she was renting to health care workers or people trying to self-isolate away from elderly parents.
Profits are elusive, she said. Two of her units are leased in a rental arbitrage arrangement that lets her manage them as short-term rentals. She pays a rental rate higher than a long-term occupant would.
Faced with little demand, she rented some days "at cost or below," she said. "I figure some money is better than nothing."
Looking ahead, with hotels and short-term rentals still not openly allowed under Michigan's stay-at-home orders, she sees limited options for turnaround.
"I have no real future reservations," said Cutting.
That outlook follows an upbeat 2019, when Michigan's travel industry flourished.
"We just went through possibly our strongest year ever," said Dave Lorenz, vice president of Travel Michigan through the Michigan Economic Development Corporation.
In 2019, Pure Michigan-themed advertising influenced about 1.9 million trips which resulted in about $142 million in state tax revenue and a return of $8.79 in state taxes for each $1 invested, according to a survey done for the MEDC.
Kircher said the state needs to market Michigan again to get spending flowing through the hard-hit sector that, in many communities of northern Michigan and the Upper Peninsula, is a top employer.
"For the first time in 15 years, we are not marketing the state of Michigan," Kircher said. "We shouldn't be now, but we should be very soon."
Travel success in 2019 came even as Gov. Gretchen Whitmer in October cut the $37.5 million Pure Michigan travel promotion budget. Funding was restored to preserve ads through year-end, with the MEDC taking over social media promotions in-house beyond that. Then, in February, the proposed 2021 budget called for $15 million to again fund Pure Michigan, and some in Lansing said travel promotion money could make its way back to the program in 2020.
That's a concern for the industry's recovery, said Kircher. There's also broader impact for the state, given projected budget shortfalls due to lower tax collections during COVID-19 crisis, he said.
Whitmer announced in May that it has a $6.2 billion budget gap for the rest of this year and into 2021.
"The state is going to be in a budget crisis like we've never seen," Kircher said. "I understand that spending money on tourism is going to be a hard pill to swallow, but if we are going to drive the second-largest industry in the state, if Pure Michigan is not reignited, it's going to be a huge missed opportunity in the third quarter and into 2021."
Metro Detroit already has lost $32 million in business from nearly 50 conventions that canceled through fall, said Renee Monforton of the Detroit Metro Convention & Visitors Bureau. One had been booked in 2008: The national convention of Alcoholics Anonymous, which was bringing 50,000 people to southeast Michigan over July 4.
Now, Monforton said, the CVB is operating with fewer than half of its 65 employees and trying to remind people about the attractions in southeast Michigan by sending inspirational messages.
"Our philosophy is: dream now, visit later," Monforton said.
That messaging is coming through social media due to budget cuts. Local tourism around the state is funded by accommodations assessments based on hotel room stays. So far, the Detroit CVB estimates an annual budget of about $7 million, down from $19 million last year.
Meanwhile, even as the industry struggles without knowing when it can reopen, it's taking steps to determine what it will look like when it does. Communicating that to customers will be important to rebuilding business.
"What you or me will experience in a hotel stay is going to change drastically," Freitag said.
Housekeeping no longer will take place mid-stay, he predicted, and grab and go breakfasts will replace buffets. Self check-in will become more common instead of having masked staff greet guests. Hotel gyms may only be by appointment, and elevator rides — along with how to touch buttons inside them — will be regulated. At times, he said, that may mean not all rooms will be utilized.
"Overall, we are going from a high-service industry to a high-tech service industry," Freitag said.
Lorenz said he hopes that Michigan residents will consider how they spend their travel budgets this year, and find options within the state. Taking a day trip to explore, shop or eat out will resonate by keeping workers employed and generate tax revenue within the state. It also lets someone concerned about virus risks avoid air travel or other close contact in random travel settings.
Monforton also is pursuing that approach in metro Detroit.
"When the time is right, and the executive order is lifted, we will start out by promoting staycations," she said. The target audience: people who live within a two-hour radius.
Donald Grimes, an economist at the University of Michigan, said tourism doesn't just reflect travel. It's also how people spend their money on leisure activities, including restaurants.
"Up until the COVID-19 crisis, it was one of the fastest growing sectors in the economy, as an aging and increasingly affluent population was spending more money 'having fun,'" he said.
Grimes is optimistic a recovery will start this year and escalate as confidence builds over fighting the coronavirus. The personal savings rate went from 8 percent in February to 13 percent in March, Grimes said, and federal programs for temporary job losses are replacing (or increasing) many incomes, while people have fewer places to spend. He expects pent-up demand for travel to build.
"So if and when we beat this virus," Grimes said, "the leisure industry should enjoy a big rebound."
But it may not be fast. Restaurants in the Upper Peninsula and some areas of northern Michigan were able to open in time for Memorial Day weekend, attracting some travelers.
At the Short's Brewery in Bellaire, south of Traverse City, the first day of reopening was manageable in the restaurant, said Scott Newman-Bale, co-owner of the destination pub.
But it had to turn down many people who'd shown up for the holiday weekend without reservations for the now-limited seating. That, he said, shows the pressures that will be felt across the leisure and hospitality industry in Michigan. All sectors of travel want customers to return, but as they do amid restrictions and new operating procedures, the industry may not be able to meet their demands.
"I think it's going to be a much slower process … with issues people are working through," he said. "This year is showing how all intertwined we are, with restaurants and hotels and towns."
We're not just a news organization, we're also your neighbors
We've been there for you with daily Michigan COVID-19 news; reporting on the emergence of the virus, daily numbers with our tracker and dashboard, exploding unemployment, and we finally were able to report on mass vaccine distribution. We report because the news impacts all of us. Will you please donate and help us reach our goal of 15,000 members in 2021?