Armed with flea meds, Michigan defends hemlock trees against deadly invader
Hemlock wooly adelgids, an aphid-like insect, are tiny and difficult to spot on trees. But they can be identified by the white fuzz they produce in wintertime. (Bridge photo by Kelly House)
The hemlock wooly adelgid, an aphid-like invader, threatens Michigan's 170 million hemlock trees
With help from chemical treatments and Michigan's cold winters, workers aim to keep the pest at bay
Climate change threatens to give the pest a better foothold
---
SHELBY—To the untrained eye, the towering hemlocks that shade this West Michigan forest appear healthy.
They comprise 90 percent of the canopy, evergreen needles lending vibrance to a gray January day. But if you know where to look — on the undersides of their thin branches — it's clear something's not right.
"There it is, right there," says Natalie Bekins, coordinator of the West Michigan Cooperative Invasive Species Management Area, as she points to dozens of white fuzz balls that cling to the base of needles like tiny bits of cotton.
Related:
The tree is heavily infested with hemlock wooly adelgid, an insect native to Japan that has wiped out hemlocks in the eastern U.S. and is now creeping northward along the Lake Michigan shoreline.
Without treatment, it would have no more than five years left to live. But Bekins and her colleagues have diagnosed its ailment early.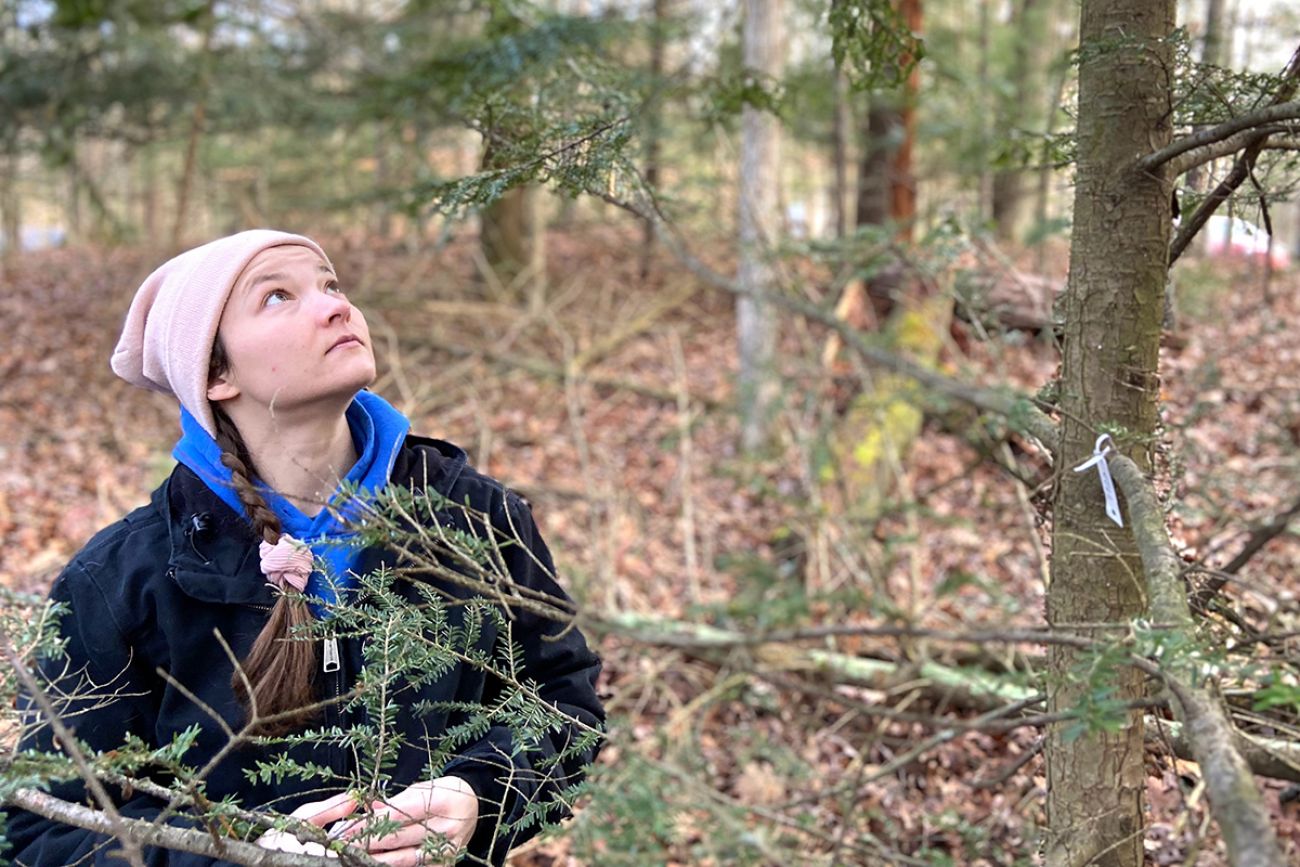 Natalie Bekins, coordinator of the West Michigan Cooperative Invasive Species Management Area, inspects the damaged needles of an infested hemlock tree. (Bridge photo by Kelly House)
While Bekins inspects the damage, William Latham measures its circumference and pounds a metal tag into its trunk. His colleague, Brendan Canavan, enters its GPS coordinates into a spreadsheet, a reference point for crews who will return next summer to inject the tree with life-saving medicine.
It's one more tree rescued as Michigan aims to contain the latest troubling pest to threaten its forests.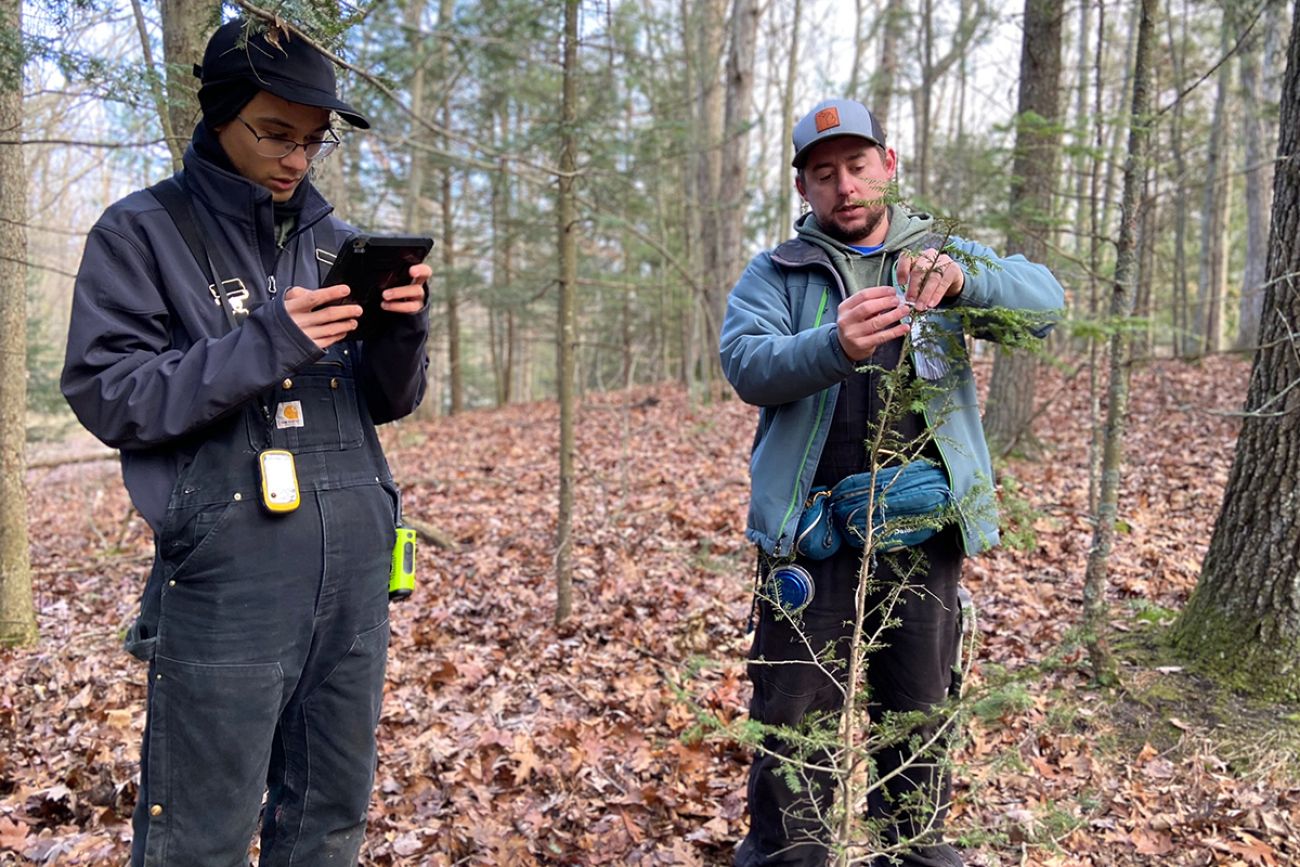 William Latham, right, tags a hemlock tree to prepare it for future imidacloprid treatment while Brendan Canavan, left, enters data about the tree into a spreadsheet. (Bridge photo by Kelly House)
The latest in a long line of invaders
The adelgid is part of a long line of damaging invaders imported to the U.S., intentionally or accidentally, from across the globe.
The elm trees that once shaded Detroit's neighborhoods have disappeared due to Dutch elm disease, brought from Asia around World War I. Tens of millions of the state's ash trees have died since the emerald ash borer arrived in 2002. Michigan's beeches are succumbing to an uncontainable beetle-and-fungus infestation known as beech bark disease. And that's just a start.
"Anyone who does some basic research can see that the composition of our forests, and even our urban landscapes or street trees, (has) changed," said Robert Miller, an invasive species specialist with the Michigan Department of Agriculture & Rural Development.
Species managers hope for more success with the adelgid. The state has a lot to lose.
Michigan's 170 million hemlocks are considered a "foundation species" whose presence influences the entire forest ecosystem. Certain types of birds, such as the black-throated green warbler, and salamanders are dependent on hemlock-containing forests. The trees are also an important food source and a great shade tree, whose overhanging branches shelter deer from harsh winters and keep rivers cool in the summer.
They also grow well on steep slopes, making them great for erosion control. And as some of Michigan's longest-living trees, with tiny cones that hang from branches like jingle bells, they're showstoppers in Michigan forests.
"Some of our most beautiful forests have these big majestic, just wonderful hemlock trees," said Deb McCullough, a Michigan State University forest entomology professor and tree pest expert. "That's hugely important in terms of recreational experiences."
Native to Asia, the aphid-like hemlock wooly adelgid arrived in the eastern U.S. in 1951, likely on nursery trees brought from Japan. It has since spread to 20 states, wiping out large quantities of eastern and Carolina hemlocks. No bigger than a milled pepper flake, adelgids harm trees by feeding on sap at the base of needles. That prevents nutrients from flowing to the tree, killing it within a few years.
After watching the pest wipe out hemlock forests in the eastern states, Michigan regulators in 2001 instituted a ban on the import of hemlocks. It was apparently ignored, resulting in Michigan's first known infestation in Ottawa County in 2015.
Five counties are now affected: Allegan, Ottawa, Muskegon, Oceana and Mason. Armed with experience gleaned from past invasions, along with Michigan's cold climate, Michigan officials hope the pest won't spread much further.
Dead and dying hemlock trees line the pathway at Lake Harbor Park in norton shores. The trees succumbed to a hemlock wooly adelgid infestation. (Bridge photo by Kelly House)
Help from cold winters
Michigan's cold winters work to hemlocks' advantage, said McCullough, who studies the impacts of extreme cold temperatures on adelgids.
The insects start to die in temperatures below -5 degrees Fahrenheit, which means a good cold snap can knock back new infestations.
That's why Michigan's outbreak is concentrated near Lake Michigan. The lake moderates air temperatures, giving West Michigan warmer winters than the rest of the state.
But climate change is shortening and warming Michigan winters, putting chinks in Michigan's icy armor. By midcentury, far more of the state is "not going to be able to count on cold winters anymore," McCullough said.
In a worst-case scenario, the zone where adelgids can easily survive winter will creep inland by up to 47 miles, leaving almost all of the lower peninsula more susceptible to infestation.
For now, the statewide plan to control the spread relies on a network of workers like Bekins. After surveying trees in the winter, they return in the summer to spray or inject any hemlock within 800 feet of an infested tree with imidacloprid, an insecticide widely used in flea medications, termite killers and agricultural seed treatments.
Once it travels through the tree's trunk and branches, the treatment kills adelgids on infested trees and prevents new infestations on healthy trees.
Pentwater resident Thomas Rice had already lost most of his wooded property's birch trees to disease when he received a mailer from Bekins' team asking for permission to inspect his property.
"I'd heard it could kill the trees, and I didn't want that to happen again," Rice said. So he granted them access to his land. Sure enough, the tiny adelgids creatures had colonized his trees, and those of his neighbors.
Working within five miles of the Michigan shoreline, Bekins' crew alone has treated 100,000 trees. Similar crews are working in other locations up and down the shoreline.
With limited time and staff to contain a spreading infestation, eradication is not possible. Rather, the goal is to slow the spread, buying time for researchers to develop a more permanent solution.
Treatment crews prioritize the northernmost properties first. If they can stamp out infestations there, they may be able to cut off the adelgid's path toward Northern Michigan, which contains the vast majority of Michigan's hemlocks.
A bad infestation there would be devastating, but hemlocks are also important to West Michigan's steep, sandy dunes. They hold sand in place to prevent erosion, and shade the creeks that trickle at the bottom of coastal ravines.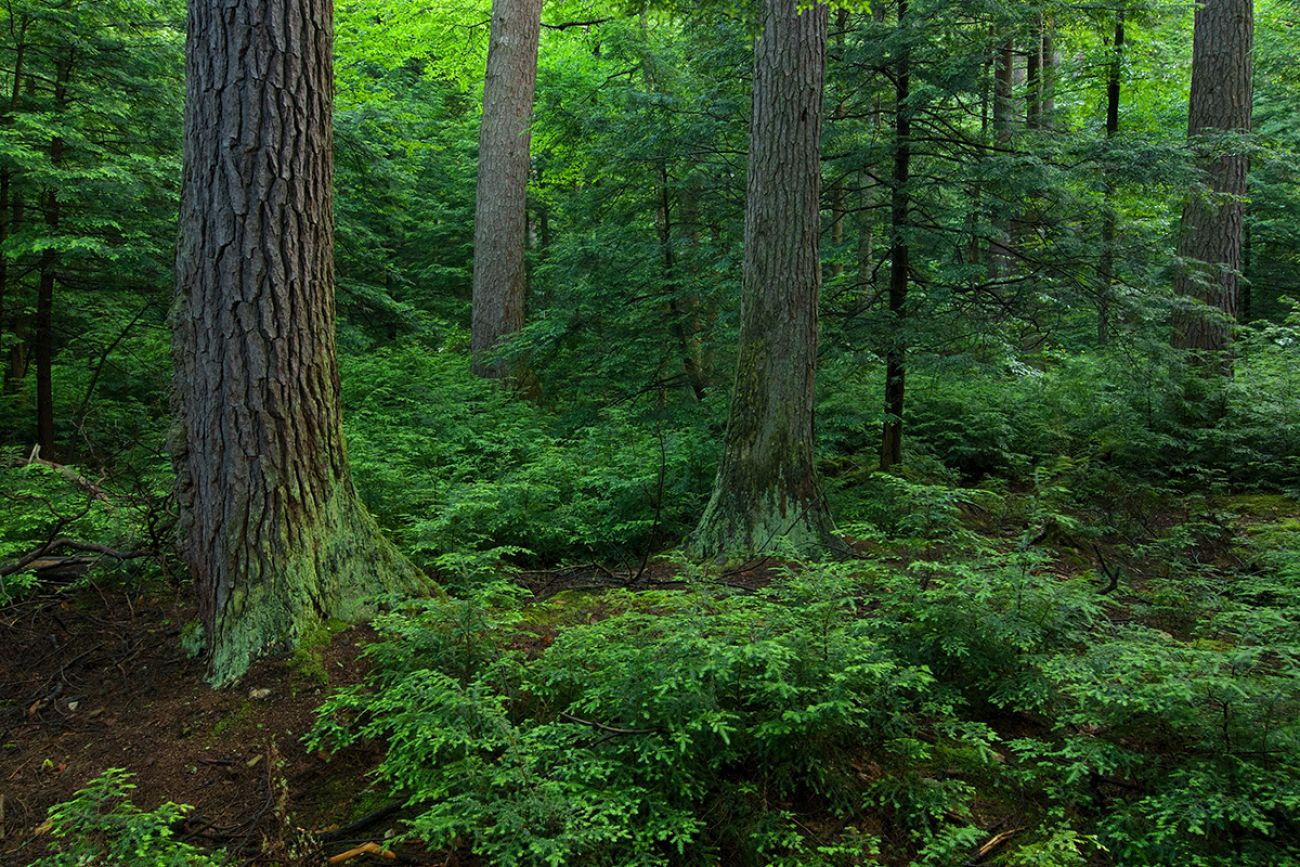 Long-lived, able to grow in low light, and teeming with tiny jingle bell-like cones, hemlocks are a showstopper in Michigan forests. (Shutterstock photo)
When they die, said Latham of the inspection team, "you end up with warm streams, full of silt."
The trio work their way down the property, walking sections a few yards wide. Normally, they would be tromping through snow, but this year has been abnormally warm. That's not great for their efforts to contain the pest.
And imidacloprid injections can only do so much. A dose protects the tree for five to seven years, after which more treatment is needed to prevent reinfection.
"You can't do that forever," Miller said. "It's a stopgap measure, so hopefully we can preserve our hemlocks and give researchers time to develop longer-term solutions."
Permanently controlling the infestation may require introducing new pests that prey on adelgids but don't harm other plants and animals.
At Shenandoah National Park in Virginia, where adelgids have killed off about 95 percent of hemlocks, scientists are experimenting with predatory flies and beetles.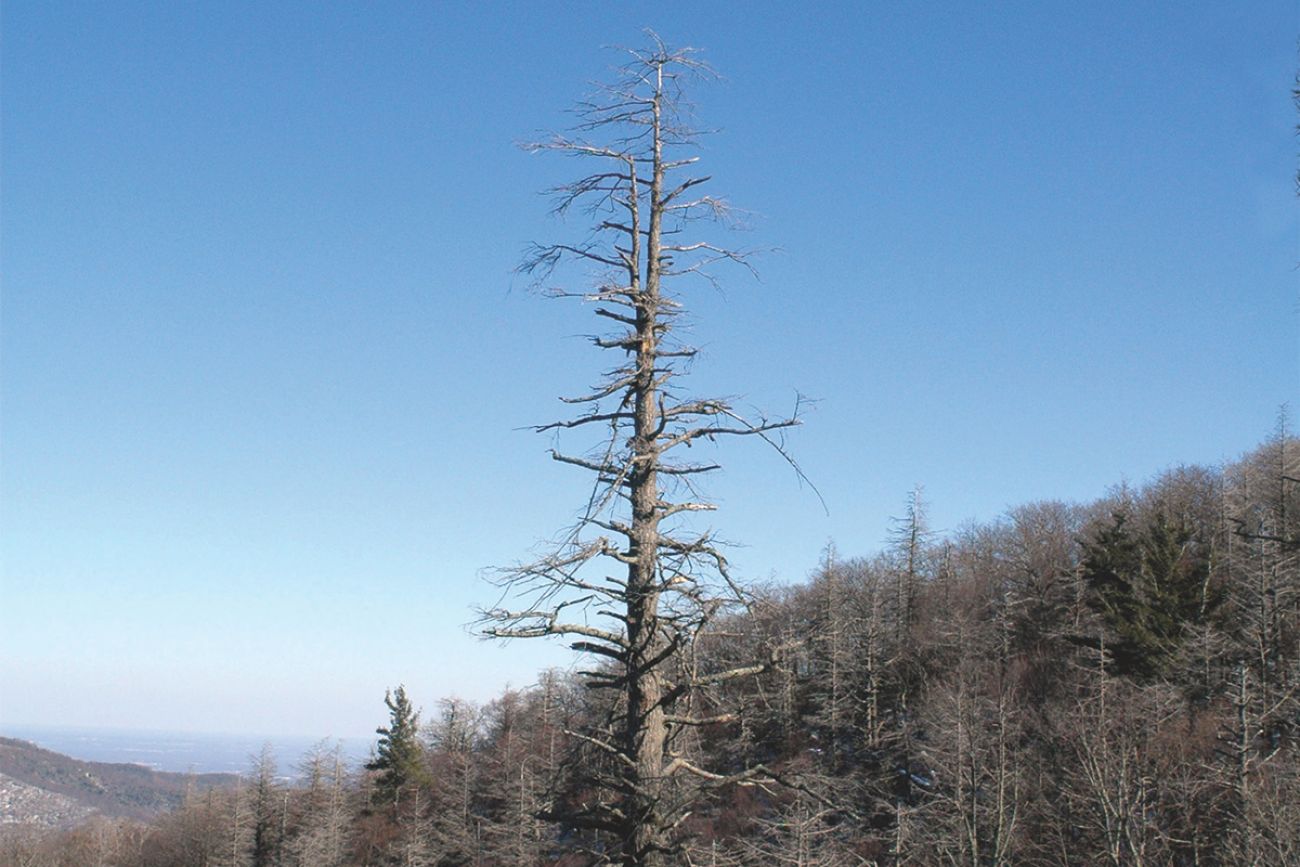 The gray skeletons of dead hemlocks are visible in Shenandoah National Park, where 95 percent of hemlocks have succumbed to the hemlock wooly adelgid invasion. (Photo courtesy of National Parks Service)
A 22-year-old seasonal employee when the pest arrived at Shenandoah in 1988, Rolf Gubler watched the trees disappear. Three decades later, he leads the effort to preserve what's left.
Hoping to "get off the chemical treadmill" Gubler said scientists in Shenandoah have released a few thousand Laricobius nigrinus beetles that eat the adelgids. But the beetle is only active from fall through spring, so researchers plan to pair it with a silver fly that's active in the summer.
"We want to get away from that chemical reliance and have a long-term solution," Gubler said. Failure to do so, he said, would be bad news for the country's hemlocks. "Eventually the money's gonna run out, or people will retire or priorities will shift."
Michigan Environment Watch
Michigan Environment Watch examines how public policy, industry, and other factors interact with the state's trove of natural resources.
Michigan Health Watch is made possible by generous financial support from:
Our generous Environment Watch underwriters encourage Bridge Michigan readers to also support civic journalism by becoming Bridge members. Please consider joining today.
Only donate if we've informed you about important Michigan issues
See what new members are saying about why they donated to Bridge Michigan:
"In order for this information to be accurate and unbiased it must be underwritten by its readers, not by special interests." - Larry S.
"Not many other media sources report on the topics Bridge does." - Susan B.
"Your journalism is outstanding and rare these days." - Mark S.
If you want to ensure the future of nonpartisan, nonprofit Michigan journalism, please become a member today. You, too, will be asked why you donated and maybe we'll feature your quote next time!