Here's how your ideas could help save Lake Superior's Buffalo Reef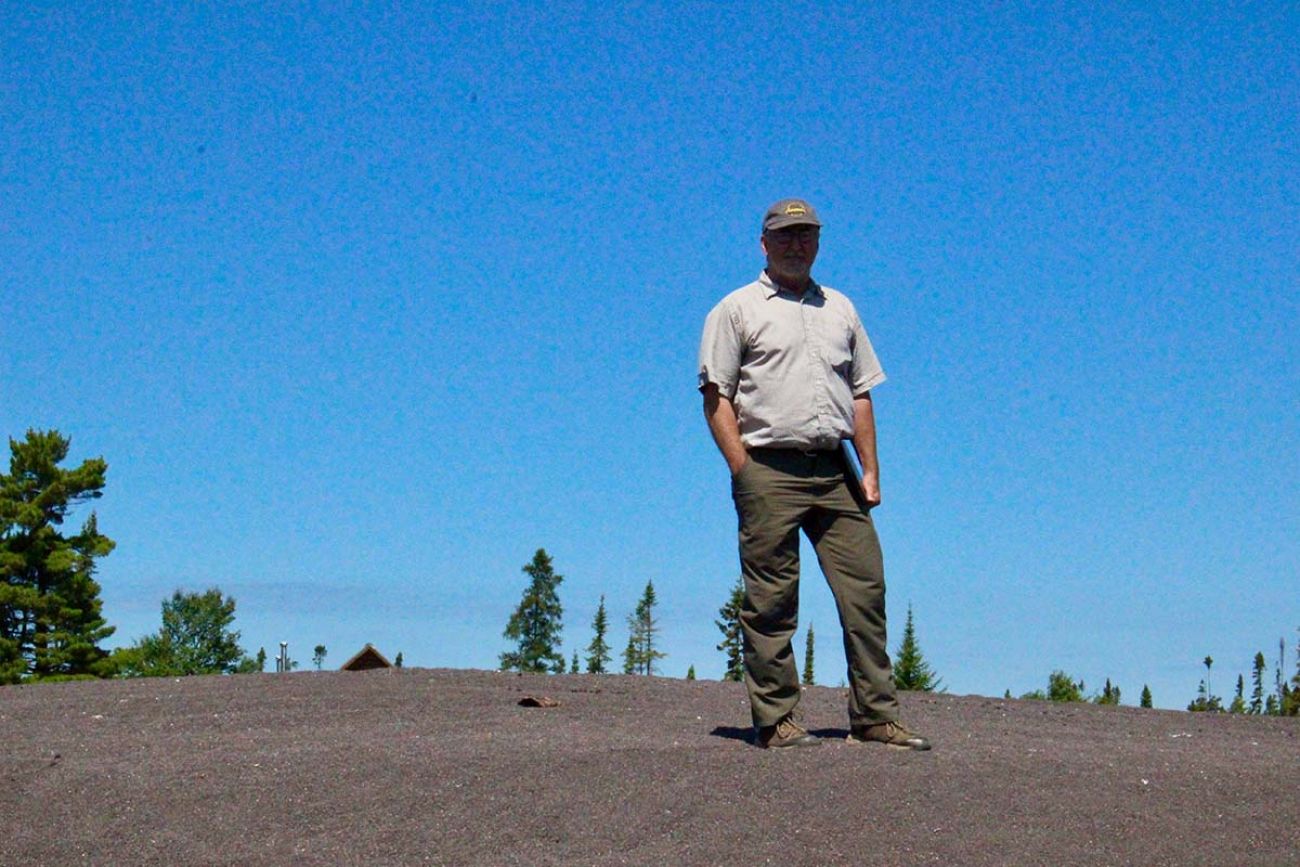 Millions of tons of copper mining waste are threatening to smother one of Lake Superior's most productive fish spawning grounds.
How can officials thwart it?
A panel of federal, state and tribal officials wants your input.
The Buffalo Reef Task Force this month published a draft analysis of 13 options for confronting waste that covers a five-mile stretch of coastline along Lake Superior's Keweenaw Bay and is inching toward Buffalo Reef, a vital spawning ground for lake trout and whitefish.
Related: A slow-moving 'disaster is threatening Lake Superior and a way of life
Slideshow: ​In Michigan's Upper Peninsula, mining waste threatens Buffalo Reef
The 50-page report considers a range of options, including walling off the waste along the shoreline, pumping it into Lake Superior's deepest reaches, dumping it in wetlands or piling it in a new special landfill or at a historic copper mine.
The task force, which includes representatives of the Keweenaw Bay Indian Community, U.S. Army Corps of Engineers and the Michigan Department of Environmental Quality, will accept public comments through March 8. It's asking for input on the proposals outlined in the report or any additional strategies it should consider. The panel will eventually select two to four ideas for more study — including their price tag.
Bob Regis, a Northern Michigan University geology professor who owns a bungalow along the shore that's being overwhelmed by stamp sands, said he's happy to see concrete action after years of fits and starts.
"This has been going on a long time," he said. "To start seeing more and more activity and concern and alternatives actually being addressed … I see that as very encouraging."
The report is the latest step in a government effort to address a slow-moving environmental crisis that dates back to 1932.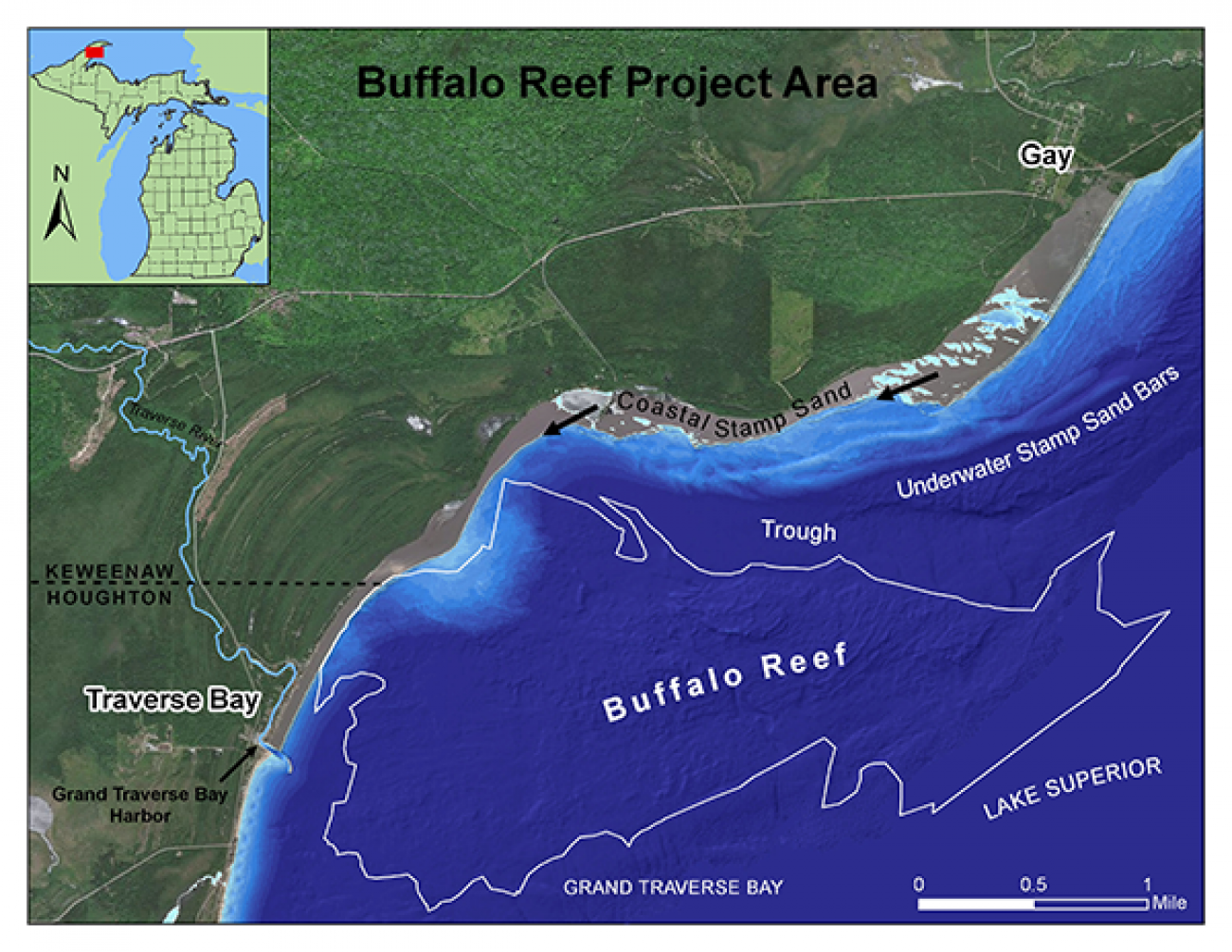 That's when Mohawk Mining Co. shuttered its stamp mill in the town of Gay — a speck in Michigan's far western Upper Peninsula. The company left as much as 23 million metric tons of crushed rock along the shore — enough to fill more than 1.4 million commercial dump trucks.
The whittled down pile now weighs about 2.4 million metric tons. The rest of the dark, course sands have seeped into the lake, bringing along metals like arsenic and copper. Drifting southward, the waste is damming stream outlets, covering wetlands and jeopardizing Buffalo Reef.
Buffalo Reef stretches 2,200 acres beneath the bay and supports a roughly $5 million-a-year recreational and commercial fishery that's culturally and economically vital for the Keweenaw Bay Indian Community and other Ojibwe tribes.
The reef sustains nearly a quarter of tribal commercial harvests of lake trout (12,500 pounds a year) and whitefish (about 125,000 pounds a year), according to the Great Lakes Indian Fish and Wildlife Commission. Losing those fish would likely harm genetic diversity across the bay, perhaps making surviving fish more prone to diseases, researchers say.
The waste already covers more than 35 percent of the reef and could blanket up to 60 percent by 2025 without major intervention, according to the Michigan Department of Natural Resources.
Related: Bridge Magazine wins Michigan Environmental Journalism Award
So what to do? First, officials are working to remove the sands traveling from Gay using heavy dredging machinery.
The U.S. Army Corps of Engineers last year announced a $2.7 million contract with a company that's to clear about 27,500 cubic yards of mining waste from Grand Traverse Harbor, and an extra 80,000 cubic yards from a fast-filling trough north of Buffalo Reef.
Slated for this summer, that work would only remove a small fraction of the sands, and would protecting Buffalo Reef for little more than two years.
Meanwhile, questions loom about where to put what's pumped from the lake. For now, the Army Corps plans to put it right back where it came from — the pile at Gay.
That's where the task force's analysis comes in, and the ideas range widely.
They include trying to find a "beneficial use" for the stamp sands.
Related: Mining waste and growing wetlands mean more mercury in fish in Upper Peninsula
Suggestions over the years have ranged from using the sands to manufacture shingles to recovering the trace amounts of leftover copper in it.
"Most of the proposals being contemplated have not made it past the conceptual phase. Developing an end use for this product has proven to be challenging," the task force wrote, citing logistical difficulties of permitting and transportation and other logistics. What's more, demand for any developed materials could plummet over time.
The Michigan Legislature last year approved $3 million for projects related to saving Buffalo Reef, and the state may put $500,000 of that pot into researching "beneficial use" alongside the Army Corps of Engineers, according to the DNR.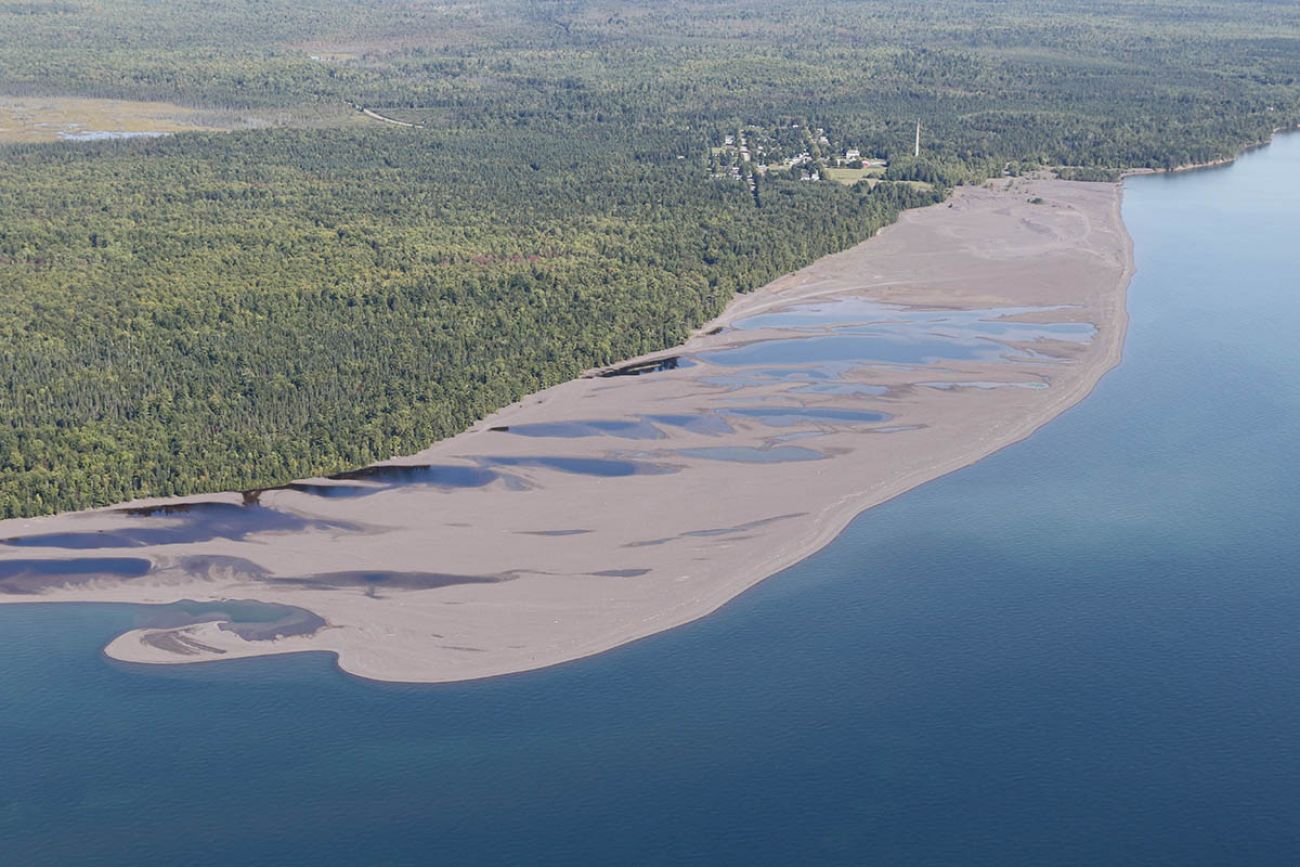 The task force also contemplated hydraulically pumping the waste into waters at least 100 feet deep or as far from the reef as possible. That underwater pile would be 50-feet thick and would spread as wide as 200 acres. The "closest deep water disposal sites" are about 1.8 miles southeast from where the sands are now, the report said.
That option would protect the near-shore reef reduce damage from the sands, but drawbacks abound for plants and animals living at those depths.
"This depth range provides habitat for most species of Lake Superior fish throughout all or part of their life," the report noted.
"Tribal agencies do not believe the deep-water alternative is viable."
Neither does Charles Kerfoot, a professor of biological sciences and geological and mining engineering at Michigan Technological University who has researched the encroaching stamp sands for years. But he worries bureaucrats might seriously consider this option because it's relatively cheap and the Army Corps in the 1950s through 1980s routinely dropped smaller amounts of dredged stamp sands deep into Lake Superior.
Ecologically, deepwater disposal "just makes no sense at all," Kerfoot told Bridge Magazine.
"I've been down to the bottom of Lake Superior. There's life down there," he added, noting this plan would be "dumping the stamp sands right on top of" some fish species that are thousands of years old.
Another idea: dredge all of the material and pile it 100-feet high across 200 acres of wetlands. The report mentioned a litany of ecological problems with that idea, including habitat loss for plants and animals, and loss of natural flood control.
"Wetlands also serve important ecological functions, as abating the extremes of fluctuating water levels, filtering sediments, providing habitat in which fish, birds and other wildlife can thrive," the task force wrote.
The panel also considered dumping the waste into a special new landfill, scattering it across several local landfills, or adding it to a waste site at the historic White Pine copper mine in Ontonagon, 75 miles southwest of Gay.
Regis said he sees particular promise in disposing the stamp sands at new local landfill or at White Pine, which already has a mine waste permit.
Still another idea: Dredging some of the stamp sands and placing it behind a new 9,900-foot stone retaining along the coast, preventing the waste from migrating further.
"By leveraging the sand already in place at these locations there is an opportunity to avoid the additional cost and time needed to dredge approximately 3.6 million [cubic yards] of stamp sands," the task force wrote.
That option would also require the construction of a shipping pier perpendicular to the shoreline. It would allow barges to bring in quarry stone — and it would capture sands drifting south from Gay, the report said.
A wall project the Army Corps considered in 2014 would have cost $13 million not counting dredging and maintenance.
But Regis worries that project could have unintended consequences: A pier wouldn't only capture the pesky mining waste; it'd also block the migration of natural sands that have moved through the bay for thousands of years, Regis said. That means he and some other landowners on the backside of that pier would likely see their shore erode over time.
"Everyone one of these [options listed in the report] has issues that need to be resolved," Regis said.
We're not just a news organization, we're also your neighbors
We've been there for you with daily Michigan COVID-19 news; reporting on the emergence of the virus, daily numbers with our tracker and dashboard, exploding unemployment, and we finally were able to report on mass vaccine distribution. We report because the news impacts all of us. Will you please donate and help us reach our goal of 15,000 members in 2021?