A slow-moving 'disaster' is threatening Lake Superior and way of life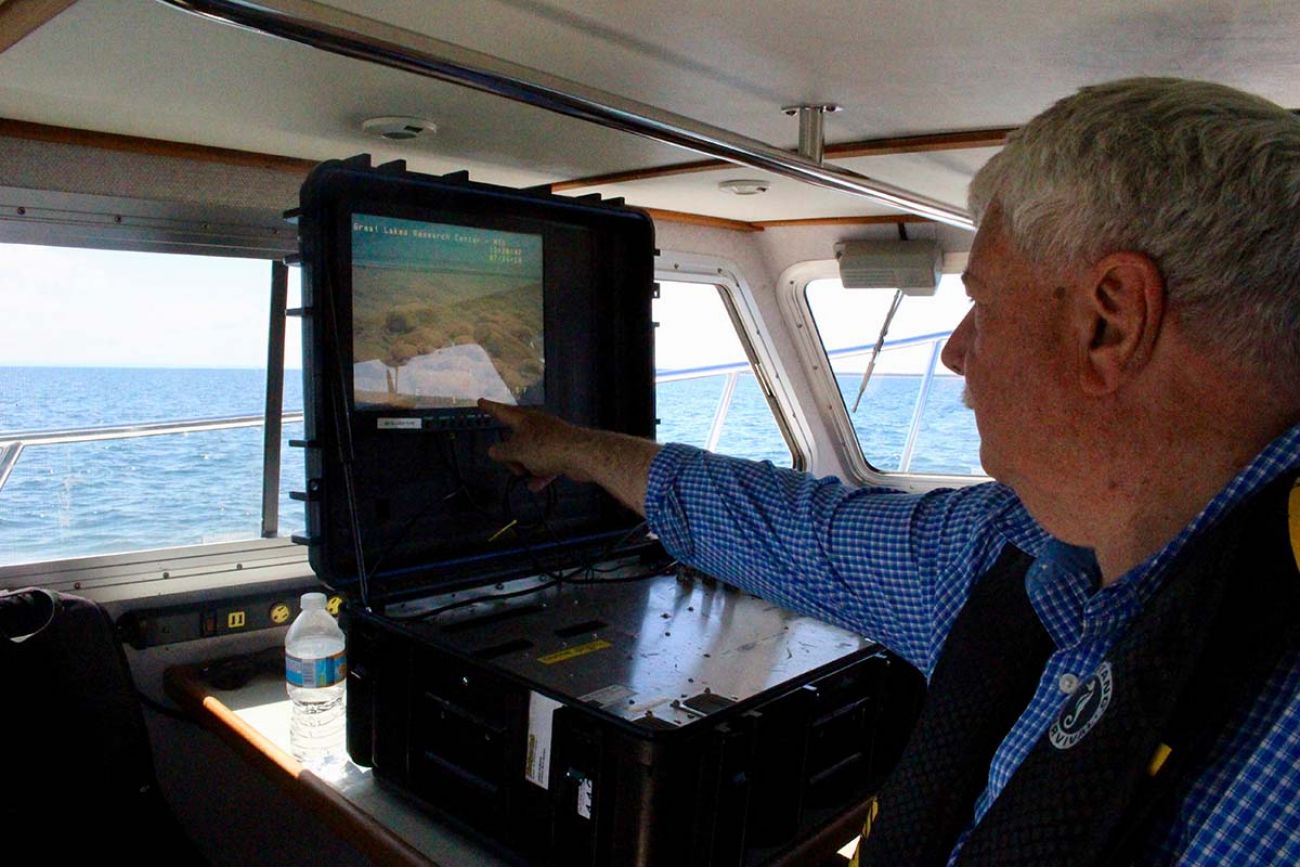 Feb. 2019: Here's how your ideas could help save Lake Superior's Buffalo Reef
GAY — A slow-moving environmental catastrophe unfolding in Lake Superior starts beneath the shadow of an old smokestack.
That's where the Mohawk Mining Co. left a heaping pile of waste when it shuttered its stamp mill 86 years ago in the far western Upper Peninsula. As much as 23 million metric tons of crushed rock sat along the shore — enough to fill more than 1.4 million commercial dump trucks today. Line up those trucks end to end, and the queue would stretch more than 7,000 miles, circling more than a quarter of the globe.
Whittled down by winds and waves, the pile now weighs in at 2.4 million metric tons (more than 150,000 trucks) and is shrinking. But none of the dark, coarse sands actually vanished.
Instead, they've seeped into the lake, bringing along metals like arsenic and copper – as well as the potential to decimate fisheries and a way of life for Native American tribes who rely on them along the Keweenaw Peninsula.
"It's a man-made natural disaster," said Jeff Ratcliffe, executive director of the nonprofit Keweenaw Economic Development Alliance. "People have been kind of ignoring it for a long time."
Left over from the mining bonanza that gave the western Upper Peninsula its "Copper Country" nickname, the waste now covers five miles of coastline along the corner of Lake Superior known as Grand Traverse Bay.
Drifting southward from Gay, a tiny unincorporated community, the mining waste is damming stream outlets, covering wetlands and jeopardizing one the lake's most productive spawning grounds for lake trout and whitefish. That's Buffalo Reef.
The waste already covers more than 35 percent of the reef and could blanket up to 60 percent by 2025 without major intervention, according to the Michigan Department of Natural Resources.
Stretching 2,200 acres beneath the bay, Buffalo Reef supports a roughly $5 million-a-year recreational and commercial fishery around the Keweenaw Peninsula in the western Upper Peninsula. Nearly a quarter of the lake trout caught in Michigan's portion of Lake Superior, the world's largest freshwater lake, comes from within 50 miles of the reef, according to the DNR. The reef produces 22 percent of commercial fish in southern Lake Superior.
"There's almost as much harvest in Keweenaw Bay as there is the entire eastern half of Lake Superior," said Dave Caroffino, a fisheries biologist in the DNR's tribal coordination unit. "The Keweenaw Bay is a very important area."
But life is vanishing in waste-covered sections of the reef. That's because stamp mill sands are smothering crevices between the reef's cobbles, where fish lay, fertilize and incubate eggs. The metals in the sand, particularly copper, are toxic to tiny organisms that grow on the reef and are at the bottom of the food chain.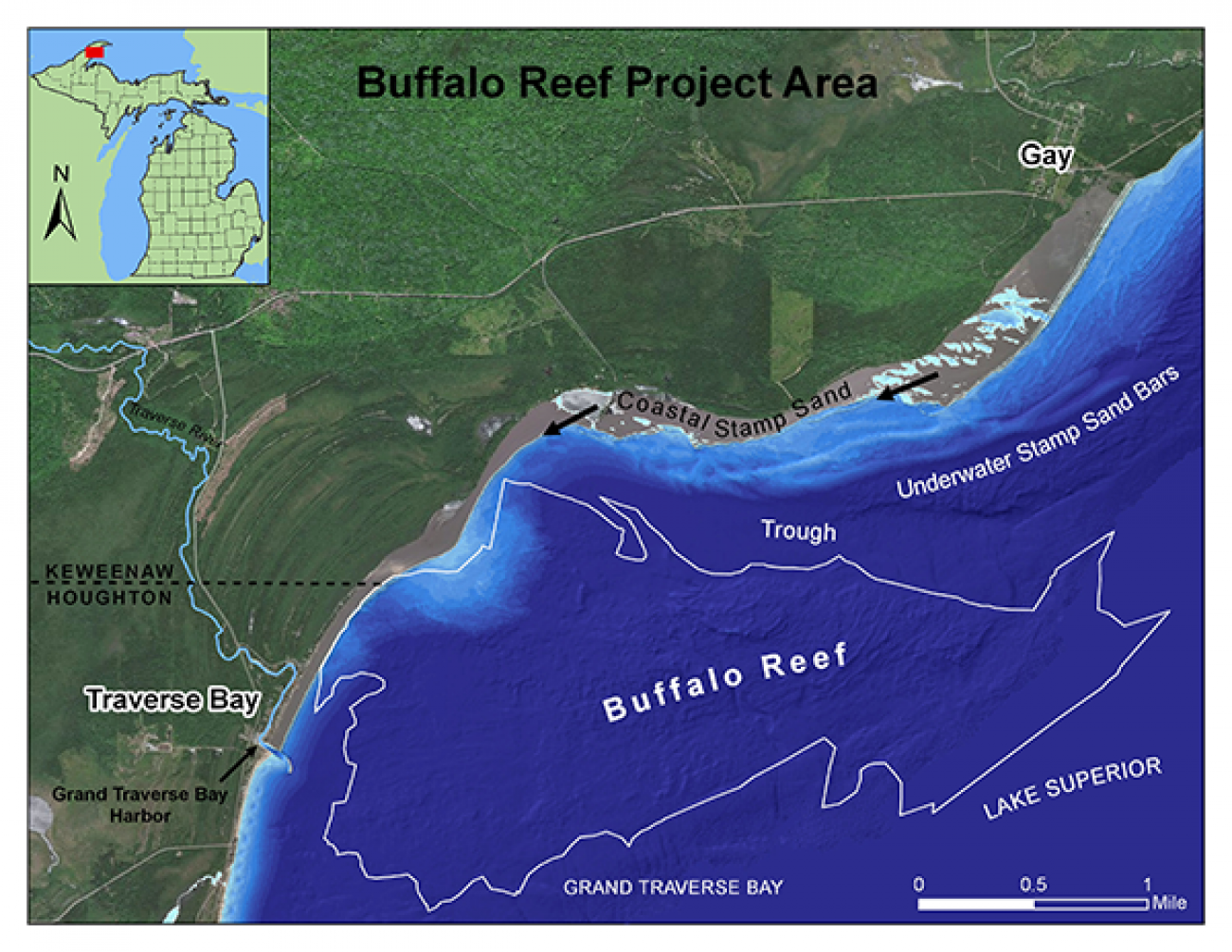 The trend worries the Keweenaw Bay Indian Community and other Ojibwe tribes. The tribes fished Superior — called gitchi-gami— long before miners swooped in to strip away earth's metal.
"Every single tribal member is affected by what goes on on this reef," said Evelyn Ravindran, natural resources director of the Keweenaw Bay Indian Community, a 3,600-member tribe whose L'Anse reservation includes 19 miles of Lake Superior shoreline.
After fits and starts in recent years, state, tribal and federal policymakers are searching for a way to permanently protect the reef. A solution would require confronting Lake Superior's ever-changing conditions — and coughing up a lot of money.
Oozing down the coast
From the front porch of his summer beach house, Bob Regis can hardly see Lake Superior's waves rolling into shore.
Instead he sees dark sand. It's everywhere, hiding the native white beach and adding more than 100 yards between Regis' spruce bungalow and the water.
The 62-year-old Northern Michigan University geology professor remembers this beach looking very different decades ago. It was gentler. There was less of it. Visiting his uncle's place nearby as a child, Regis recalled wading into water little more than 20 or 30 feet from the porch.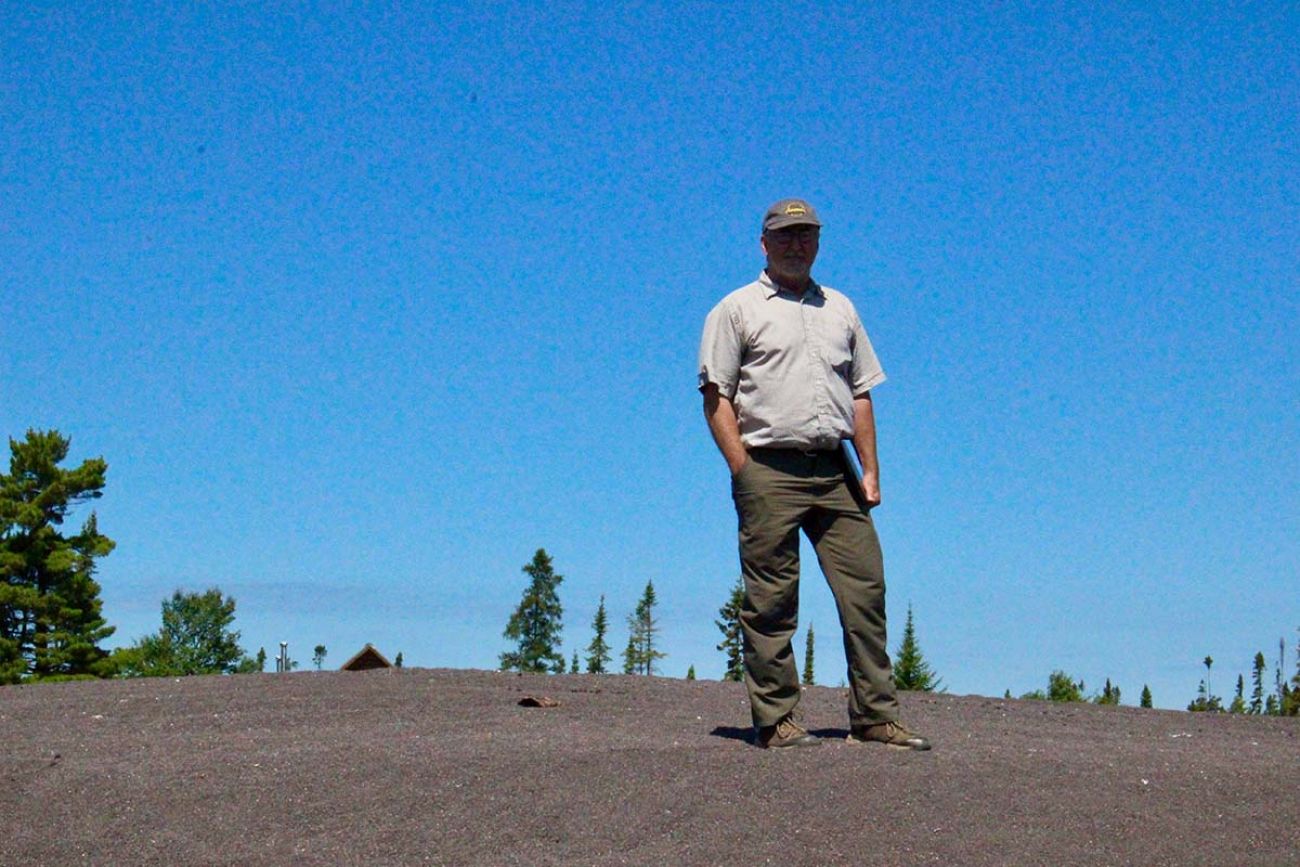 Back then, folks could reel in lake trout and whitefish from the shore. Now?
"I don't catch anything" from shore, said Regis, who bought his property about 20 years ago.
The sands, of course, are coming from Gay, just up the coast.
To find the pile, go to the town's eponymous Gay Bar, across from a historic schoolhouse. Grab a drink and look east to the weathered smokestack peaking above the trees near the lake shore.
At its base sits the graffitied cement remains of Mohawk Mining's stamp mill. The company's mine, 12 miles northwest in Mohawk, employed 1,000 workers at its peak in the early 1900s. At the mill, workers crushed rock stripped from Mohawk, separating out lucrative copper. The grueling work lasted until the mine shuttered in 1932.
The process left heaping piles of waste: crushed rock known as stamp sands. Throughout the UP, about a half billion pounds of the waste was left after the boom went bust, according to the DNR.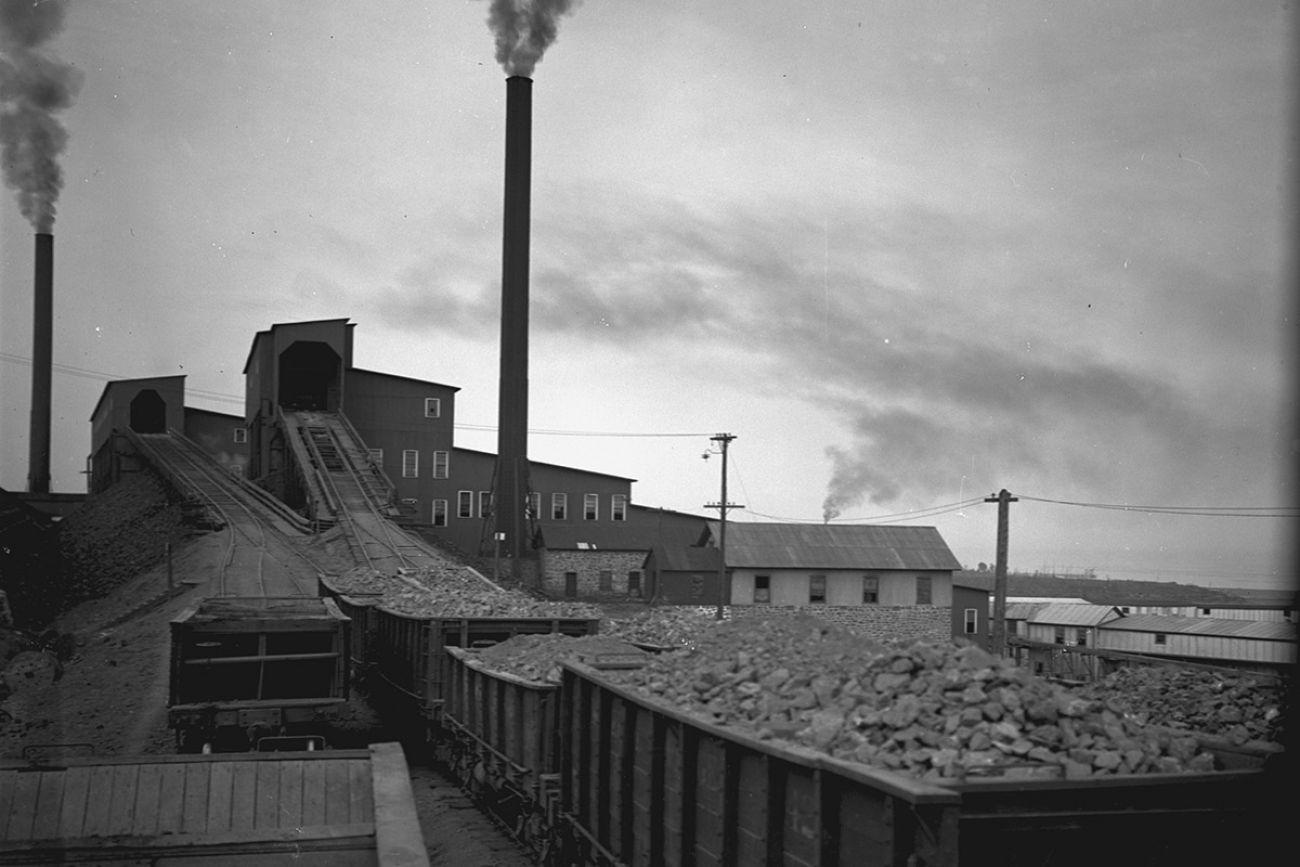 This pile in Gay now serves as an unofficial playground. It's a place to walk dogs, ride snowmobiles and ATVs or, in the case of a bearded man who declined to share his name, drink a couple of beers by the water. "I come here pretty much every night," he told a Bridge reporter who visited in July.
But visitors can't see the disaster playing out down the coast and beneath the bay: the gradual smothering of Buffalo Reef.
Mapping the threat
"You can definitely see how this stuff is alive," said Charles Kerfoot as his research boat floated above a healthy swath of Buffalo Reef and an underwater camera transmitted video to his computer screen. "That's really nifty."
Kerfoot teaches biological sciences and geological and mining engineering at Michigan Technological University. He's examined the encroachment on Buffalo Reef for years, helping government agencies understand where the Gay sands now cover the reef and where they're heading.
On a sunny day in late July, Kerfoot and Jamey Anderson, who coordinates Michigan Tech's marine operations, examined the reef through the eye a remote-controlled vehicle roving underwater.
The men liked what they saw as they floated over some southern portions of the reef. Here were growths of Periphyton — a type of algae that thrives in shallow, clear waters and forms an essential base of the food web. Here, Kerfoot's calculations showed a sand mix of just 3-6 percent mining waste. That left the reef's crevices cleared for fish to drop their eggs in the fall.
But as Anderson went farther, the monitor showed a more waste-heavy mix of sands — some of which had drifted farther south than the men expected. Kerfoot sighed. In some spots, the waste completely hid the reef's cobble fields.
Kerfoot and other experts say the dark sands could transform Buffalo Reef into a biological desert, starving tiny creatures and disrupting the food chain.
"It's killing off a lot organisms," he said.
Traditional waters
Tribal fisherman first noticed something had changed in their waters. In the early 2000s they reported catching a different mix of fish, some at lower numbers in pockets of the bay, particularly nearer to shore. Tribal biologists began investigating and found troubling signs around Buffalo Reef. Mainly: juvenile fish could no longer be found in shoreline habitats covered by the waste.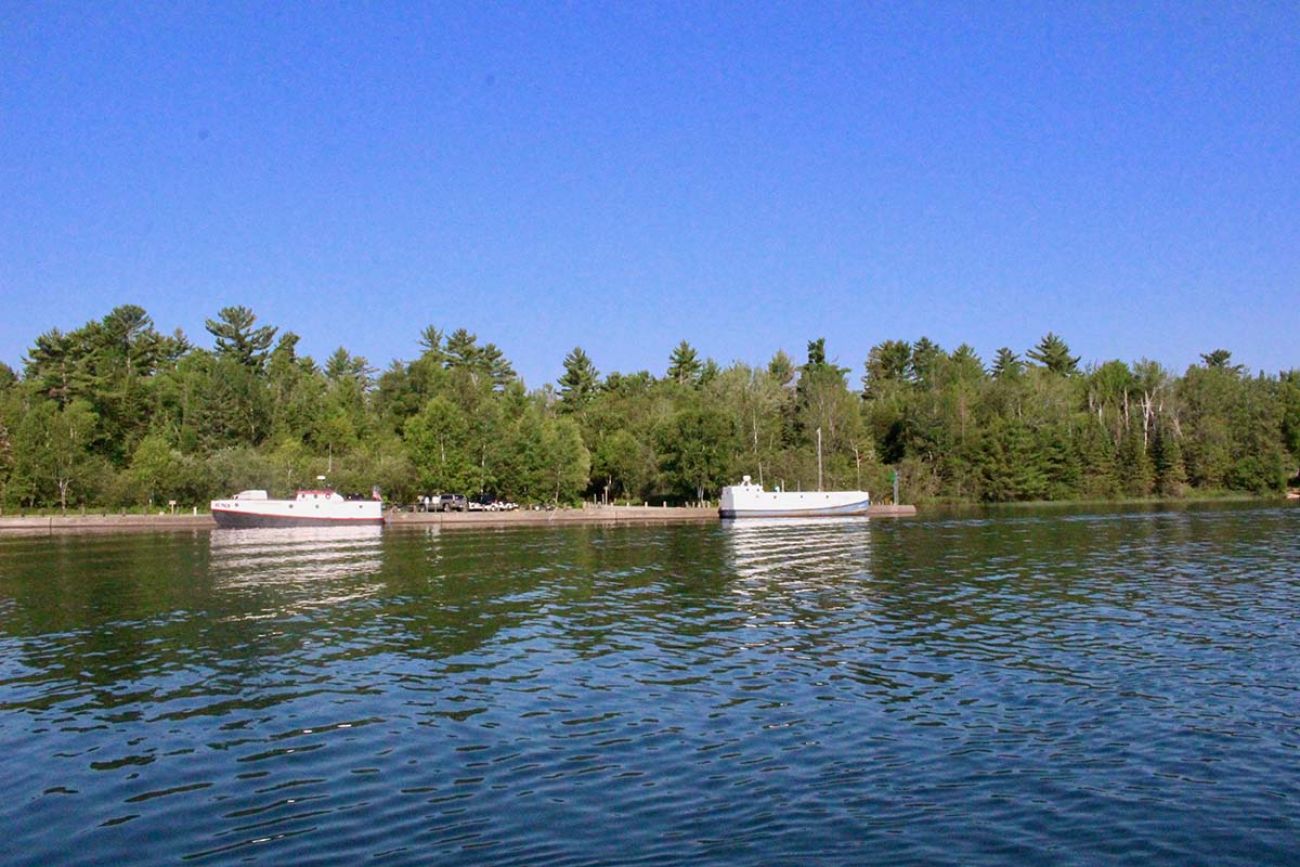 Fish catches haven't dramatically changed region wide. Whitefish harvests are down in the area, but they're also down lakewide, so it's hard to pin the decline on Buffalo Reef, said Bill Mattes, a fisheries biologist for the Great Lakes Indian Fish and Wildlife Commission.
But with a smaller area to hatch their eggs, biologists predict, fishermen may see more significant changes in the coming years.
"Areas where we captured spawning whitefish in the early 2000s are now covered with stamp sands," said Mattes. "So even if any more are spawned there, they won't be successful."
A similar threat to lake trout is frustrating, Mattes said, because Great Lakes fishery managers over the years stocked some 1.6 million of the fish in the Keweenaw Bay, trying to reach a self-sustaining population.
"We've put a lot of effort into rehabilitating this reef, just to see it covered by stamp sands," he said.
Buffalo Reef supplies nearly a quarter of tribal commercial harvests of lake trout (12,500 pounds a year) and whitefish (about 125,000 pounds a year), according to the Great Lakes Indian Fish and Wildlife Commission.
A loss of fish from Buffalo Reef would likely deal a blow to genetic diversity across the bay, perhaps making surviving fish populations more prone to diseases.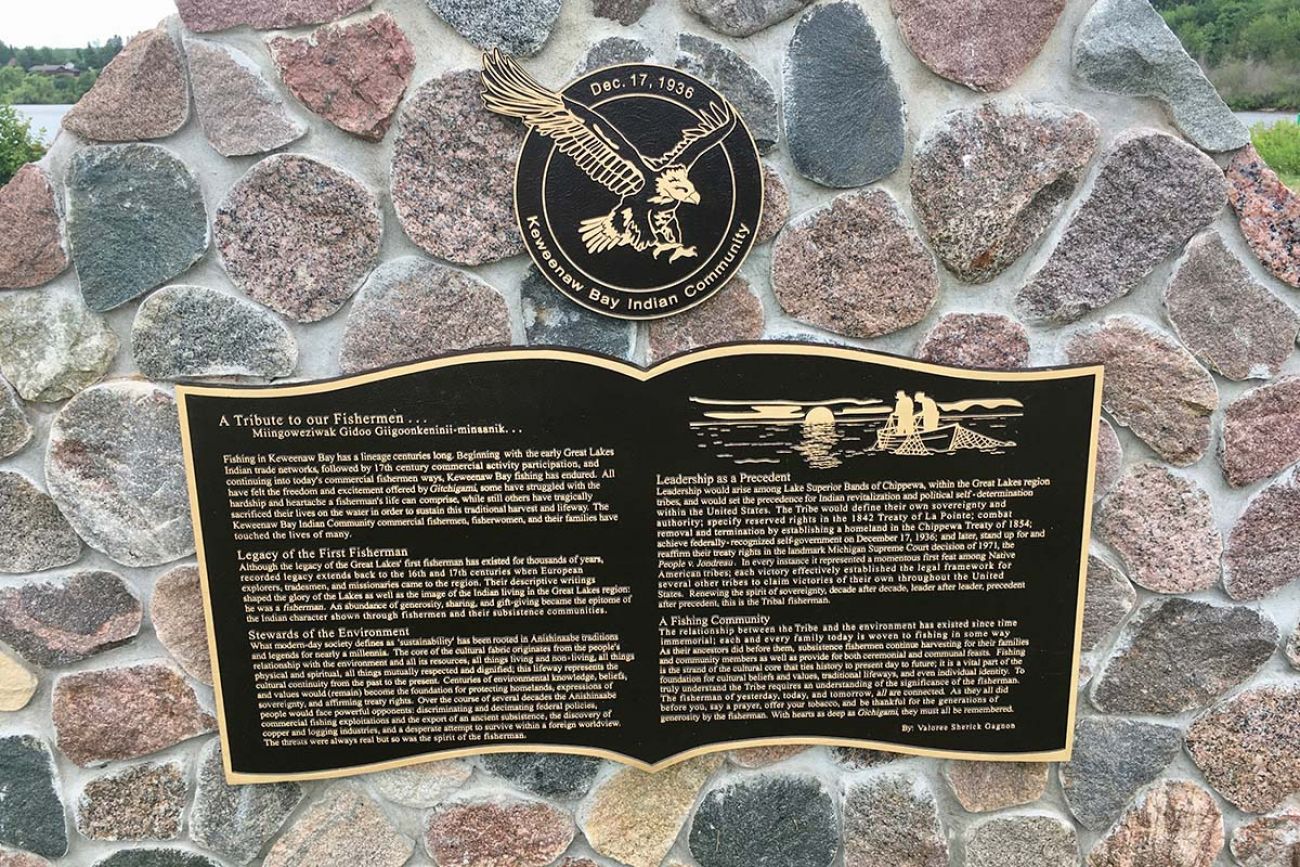 "This threat further undermines the ability of my tribe and others to sustain themselves through the harvest and sharing of fish," Warren "Chris" Swartz, president of the Keweenaw Bay Indian Community, told a U.S. Senate committee last year at a hearing about Native American treaties and hunting and fishing rights.
He warned that failing to protect Buffalo Reed could violate treaties that allow tribes to fish in the waters, including a 1909 agreement that bars the U.S. and Canada from polluting boundary waters.
In search of solutions
But how to save Buffalo Reef?
First, officials must thwart the millions of tons still traveling south from Gay. For that, the focus is dredging — clearing the muck using heavy machinery.
The U.S. Army Corps of Engineers this month announced a $2.7 million dredging contract to Peterson Cos, Inc. of Wisconsin. By next July, the contractor is to clear about 27,500 cubic yards of mining waste from Grand Traverse Harbor, and an extra 80,000 cubic yards from a fast-filling trough north of Buffalo Reef.
That's just a tiny fraction of the waste in the bay, and the dredging is expected to delay the migration to Buffalo Reef for just two years, according to Steven Check, a project manager in the Army Corps' Detroit district.
That's only if all goes as planned, which is not a sure thing on Lake Superior.
Last year, the Michigan DNR dredged near the Grand Traverse Bay Harbor, whose sea wall separated white native beaches from the encroaching mine muck.
Powerful storms undid much of the work, pushing the black blob over the wall and clogging the harbor.
Another issue is where to put the waste.
For now, the Army Corps plans to put it right back where it came from — the pile at Gay, where it won't sit still unless governments find at least $13 million dollars to wall off the shore.
A task force of state, federal and tribal agencies also is studying a permanent solution. A feasibility report on all the options will be released in October.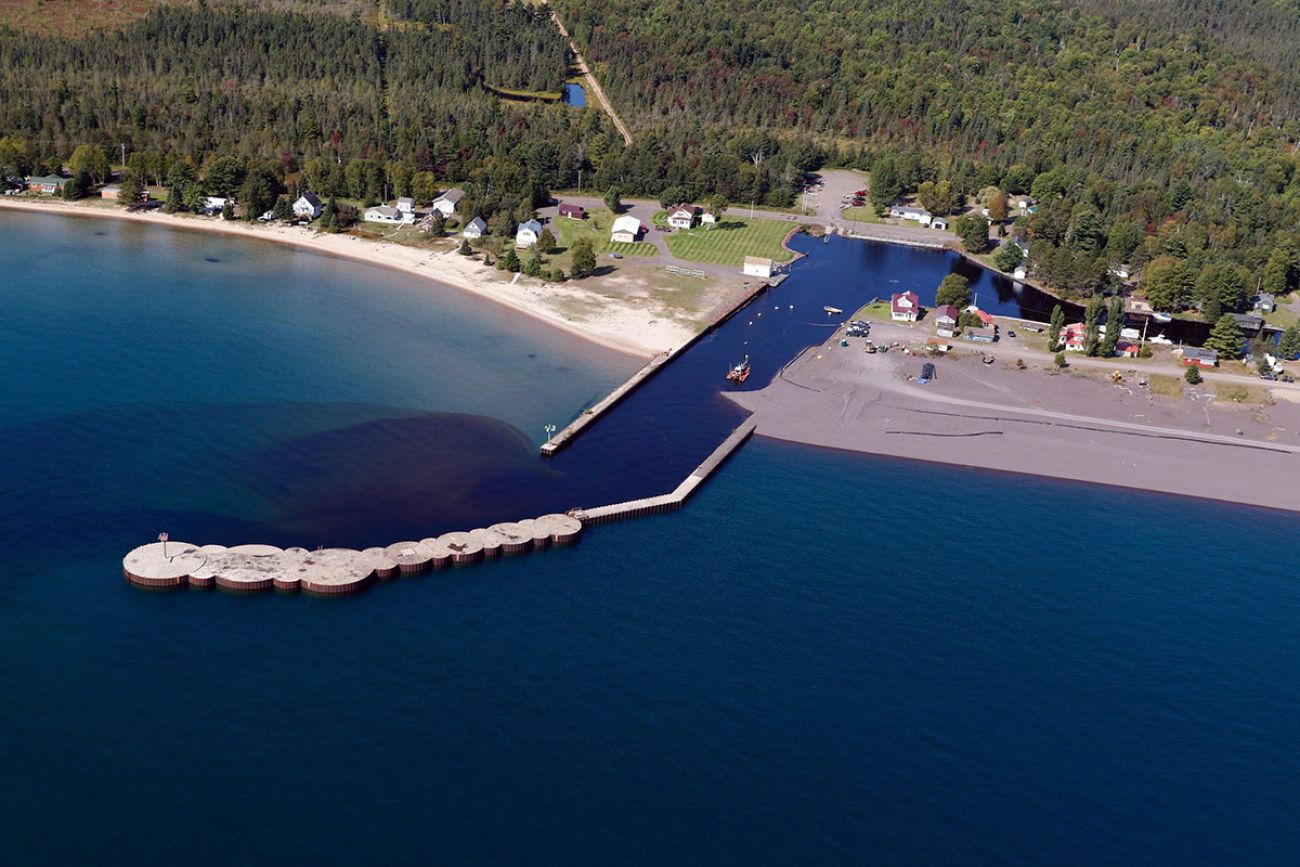 Suggestions over the years have ranged from dumping the waste in a special landfill; using it in modern mining operations; manufacturing materials like shingles from it; or recovering the trace amounts of leftover copper in it (research suggests that's possible, but such a project would require government subsidies).
Another option may not be popular among lake lovers: dumping the waste in Superior's deepest reaches where little lives.
Whatever the solution, it won't be cheap, but something must be done, Kerfoot said.
"In my whole life up here, I've only been to two meetings where the public applauded presenters," he said. "Those were the last two meetings that had to do with Gay."
Michigan Environment Watch
Michigan Environment Watch examines how public policy, industry, and other factors interact with the state's trove of natural resources.
Michigan Health Watch is made possible by generous financial support from:
Our generous Environment Watch underwriters encourage Bridge Michigan readers to also support civic journalism by becoming Bridge members. Please consider joining today.
Only donate if we've informed you about important Michigan issues
See what new members are saying about why they donated to Bridge Michigan:
"In order for this information to be accurate and unbiased it must be underwritten by its readers, not by special interests." - Larry S.
"Not many other media sources report on the topics Bridge does." - Susan B.
"Your journalism is outstanding and rare these days." - Mark S.
If you want to ensure the future of nonpartisan, nonprofit Michigan journalism, please become a member today. You, too, will be asked why you donated and maybe we'll feature your quote next time!