Where have all the babies gone? Michigan births lowest since 1944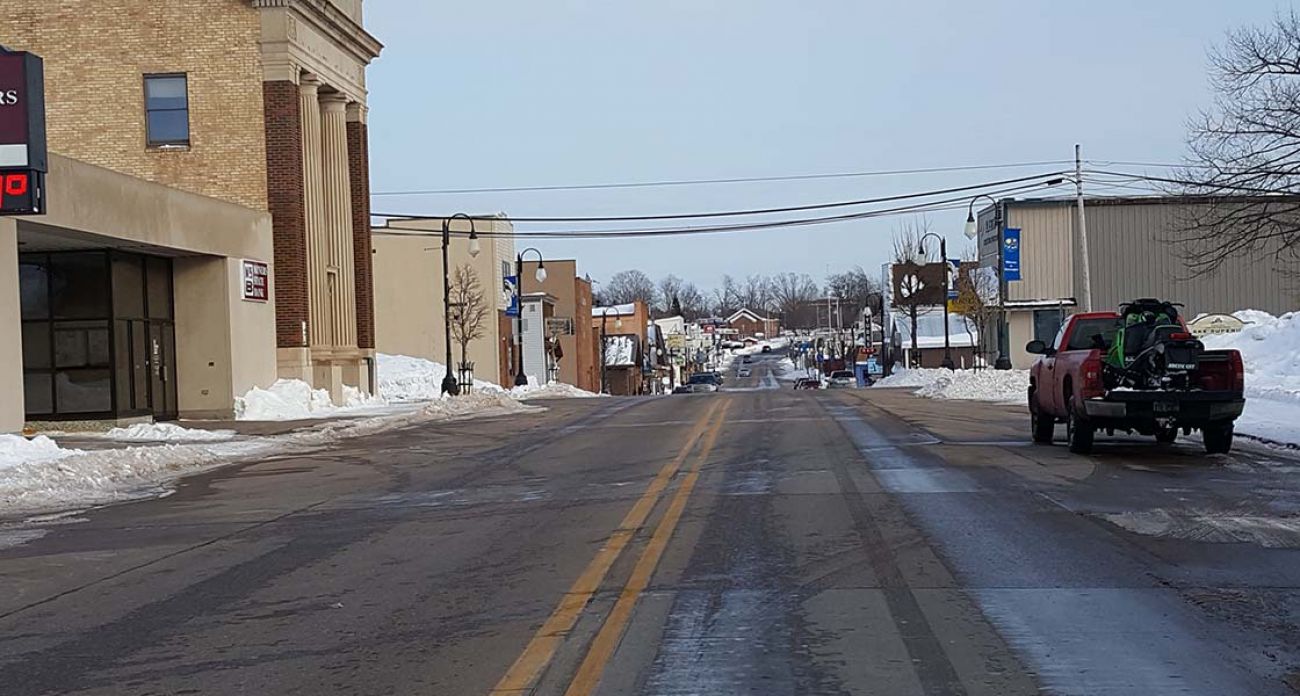 Michigan's big baby drop
Hurt by waves of recession and an aging population, Michigan has seen the second highest drop in the annual number of births since 2000. While the nation has seen a 5 percent drop, Michigan's loss approaches 20 percent. Only Illinois has fared worse.
Rank
State
Change
2000 to 2017
Percent
1
Illinois
-35,646
-19.3%
2
Michigan
-24,745
-18.2
3
Connecticut
-7,805
-18.1
4
New Hampshire
-2,493
-17.1
5
Mississippi
-6,718
-15.2
United States
-201,297
-5
Ontonagon is a quiet little town, and it's getting quieter.
There are three funerals for every birth in this Lake Superior shore village of about 1,500 and the surrounding county of the same name. The number of children birth through age 9 in the western Upper Peninsula county plummeted 32 percent just since 2010.
"We're Mayberry," said Jan Tucker, referring to the quintessential television small town. "But we're Mayberry without children."
Related: Michigan is No. 1! At getting old. That's not good news.
Related: Gerrymandering is dying in Michigan. Of old age. No joke.
Ontonagon may be Ground Zero for Michigan's baby bust, but it's far from alone. Since 2000, the number of babies born in Michigan has plummeted 18 percent, the second-biggest drop in the nation (after Illinois) and triple the decline in the U.S., according to Bridge Magazine analysis of Census data.
The ramifications can be seen around the state, from closed maternity wards in northern Michigan to sinking school enrollment.
And the implications for the state's future are sobering, from economic struggles and school closings in northern Michigan where the birth declines are steepest, to challenges filling jobs in a state that is aging and likely to lose population.
"All of our policy thinking assumes (population) growth, and instead we have stagnation and decline," said retired University of Michigan demographer Ren Farley. "The fact is, we may have to start managing stagnation and decline."
The most likely way to head off demographic disaster may be to look outside our borders, says Kurt Metzger, former demographer for Data Driven Detroit and current mayor of Pleasant Ridge. Metzger says the state must entice young adults to move here from other states, a mantra of state policymakers for at least two decades (Remember Gov. Jennifer Granholm's "Cool Cities Initiative"?) Attracting non-Michiganders to ward off demographic disaster likely involves more high-paying jobs, and possibly incentives from cities or the state.
No historic precedent
The last time so few babies were born to Michigan moms was 1944, when Franklin Roosevelt was president, Allied forces landed on the beaches of Normandy, and the state had about half as many residents as it does today.
There were about 153,000 births in Michigan in 1990, according to U.S. Census figures. Births dropped to 136,000 in 2000 and 114,000 in 2010. In 2017, the last year data is available, there were about 111,000 births.
"You haven't had this sustained drop in births in Michigan's history," Metzger said. "And there's no indication, unless a lot of folks move here and decide to have children, that it will change."
A total of 49 of Michigan's 83 counties – including virtually all of northern Michigan – had more deaths than births in 2017. Two counties, Ontonagon and Alcona, had three deaths for every birth; another four, Roscommon, Montmorency, Iron and Presque Isle, had more than two deaths per birth.
Kent (1.8 births to each death) and Ottawa (1.7) counties on the state's west side had the most promising ratios in the state.
Eric Guthrie, the state's official demographer, speaks to groups around the state about the dynamics of Michigan's population. It's a conversation that can be depressing.
"What we're looking at is the confluence of long-term trends," Guthrie told Bridge. "Along with a decrease in fertility rates over the 25 years, we're going to see the effect of baby boomers dealing with mortality."
"Dealing with mortality" is Guthrie's way of gently saying Baby Boomers are going to die off in the next few decades, making today's birth-to-death ratios look like the good old days.
"You can draw a diagonal line across the state starting at the crook of the thumb (a line that would include Bay City, Midland and Mt. Pleasant), and almost everything north is in natural decline (more deaths than births) already," Guthrie told Bridge. "Over the next decade, that line is going to creep south. Over the next 10-20 years, the entire state will have more deaths than births."
What's happening in Michigan is happening to a lesser extent across the U.S. But the drop in births in Michigan (18 percent since 2000) has been much more precipitous than the national average (5 percent).
The reason behind Michigan's baby bust is buried deep in the demographics of the state.
Michigan women of childbearing age give birth at close to the U.S. average (59.5 births per 1,000 women between the ages of 15 and 44 in Michigan, compared to 60.3 nationally), according to Census data.
The problem: a shortage of women.
In Michigan, 37 percent of women are between the ages of 15 and 44. That's in the bottom 10 in the country (the national average is 38.7 percent). A 1.7 percent shortfall of childbearing-age women doesn't sound like a lot. But that's about 32,000 women and about 2000 births a year Michigan is missing out on.
An example of how that plays out in baby bust or boom: Nearly one in two residents are child-bearing age women in fast-growing west Michigan Ottawa County; In Ontonagon, it's just one in five residents.
Michigan baby bust
There were fewer babies born in 2017 in Michigan than any year since 1944, a demographic trend with long-term consequences. Check what's happening to the number of annual births by county in this map.
Source: U.S. Census Bureau, Michigan Department of Health and Human Services
A town without kids
Dot Phillips would love to retire. She serves on four boards in Ontonagon County. She's president and secretary of the Chamber of Commerce, president of Ontonagon Animal Protection, and a board member for the housing commission and the local Methodist church.
"I'm 80 years old," Phillips said. "But it's harder than heck to find young people to take my place."
The United Methodist Church where Phillips worships has a congregation of about 50 people; on most Sundays, a 2-year-old is the only child.
"You used to see kids outside riding bikes and playing," Phillips said. "You don't see that anymore."
Like a lot of northern Michigan communities, Ontonagon's troubles started with job losses. "Most of it happened with the closing of the mines and the (Smurfit Stone paper) mill," said fellow Ontonagon resident Tucker. "The young people had to move away for jobs.
"The people that left, they love it here," Tucker said. "They like the kind of freedom you get here to hunt and not have to fight the crowds at the beach and go golf and not have to get a tee time. But young people need jobs."
"You're talking about an aging state that is not replenishing its childbearing population," said Metzger, the demographer. "What's going to happen to at least a third of the state, those counties with more deaths than births? How are they ever going to turn around?"
Salvation in moving vans, not maternity wards
Ontonagon's struggles play out in subtler forms across Michigan. During the Great Recession of the 2000s, Michigan was losing more than 100,000 people a year (the net loss between people moving in and moving out of the state). The children of those economic refugees are coming of age and having children in other states.
Despite an economic recovery, Michigan remains a net loser in state-to-state moves, with about 16,000 more people leaving than moving here in 2018. The state inched up in population in 2018 on the strength of immigrants moving into the estate.
The people most likely to move are young adults with above-average education – the exact type of people Michigan needs to grow its economy, as well as start families.
"We're not going to enact a policy to increase birth rates," said Guthrie, the state demographer. "So when you talk about moving forward, we need to stay laser-focused on the immigration."
Related: Michigan population almost 10 million again. These maps and charts explain how
One possibility is to offer financial incentives for families to move or return to Michigan communities. That's being done on a small scale now in three adjacent counties in Michigan's thumb, Sanilac, Huron and St. Clair. There, former residents who left to attend college are offered up to $15,000 to be applied to student loans if they move back home.
Related: Yes, you can pay rural college grads to move back home
Kansas is doing the same thing on a larger scale, recruiting workers to 77 rural counties by offering student loan repayment of up to $15,000 and state income tax waivers of up to five years. The program has failed to attract many newcomers to rural Kansas, according to a Kansas State University study.
The European nation of Hungary got very creative recently, offering housing and auto subsidies and tax breaks to families, with the incentives increasing with the number of children.
The wrong kind of contractions
While that plan may be a little radical for Michigan, U-M's Farley said the state needs to either look at ways to address the baby bust, or begin considering how to manage an older, less-populated state.
Among the myriad questions this trend poses for Michigan: Does a state with fewer and fewer high school grads need 15 taxpayer-funded public universities? And how will Michigan provide support for senior citizens in rural Northern Michigan when so few people will live there? Should the state merge low-population counties and consolidate more school districts? What happens to taxpayer-supported services if there are fewer working-age Michiganders?
"In 1946, no demographer predicted the baby boom, and maybe something like that will happen again," Farley said. "But I don't see how."
Only donate if we've informed you about important Michigan issues
See what new members are saying about why they donated to Bridge Michigan:
"In order for this information to be accurate and unbiased it must be underwritten by its readers, not by special interests." - Larry S.
"Not many other media sources report on the topics Bridge does." - Susan B.
"Your journalism is outstanding and rare these days." - Mark S.
If you want to ensure the future of nonpartisan, nonprofit Michigan journalism, please become a member today. You, too, will be asked why you donated and maybe we'll feature your quote next time!