Bloody drawings, a cry for help and Oxford's choice before school shooting
A sign outside the Palazzo Di Bocce restaurant in Lake Orion on Dec. 7, 2021. School officials at Oxford High School have come under scrutiny for allowing a 15-year-old sophomore to return to class following a series of troubling incidents reported by teachers. (Bridge photo by Joel Kurth)
Dec. 13: 1978, a teen opened fire at Lansing Everett. It has lessons for Oxford.
Dec. 9: After Oxford shooting, Michigan Dems seek to bar high-capacity magazine sales
In the eyes of Oxford Community Schools, it was a judgment call.
Fifteen-year-old Ethan Crumbley had been scrolling online for ammunition at school, drew a disturbing picture of a gun, a bullet and someone bleeding, and wrote that his "thoughts won't stop, help me," and "the world is dead."
But the teen also had no history of disciplinary issues at school and appeared "calm" when he met with school counselors, according to a letter released Saturday by the Oxford superintendent.
Related stories:
When Crumbley's parents, who had been called to the school for an emergency meeting, refused to take their son home, counselors made a decision, apparently on their own: they sent the sophomore back to class.
Hours later, three students — Hana St. Juliana, 14, Madisyn Baldwin, 17, and Tate Myre, 16 — were dead and eight injured in a shooting spree. One of those injured, Justin Shilling, 17, died the next day.
That meeting and its tragic aftermath illustrate the push-pull faced by school officials, who must weigh potential security threats facing students and staff against a concerted trend in public education to be more thoughtful about when to remove students from school grounds.
Education and law-enforcement experts interviewed by Bridge Michigan say Oxford High officials had the legal right to remove Crumbley from the school based on the graphic violence in the note found by one teacher and his online search for ammunition noticed by another. But the district's discipline policy also emphasizes that administrators are to consider expulsion or suspension as a last resort.
While Oxford's code of conduct allows officials to search student property and make "snap suspensions" to remove students when necessary, experts and former school leaders differed on whether Oxford had enough evidence at the time to credibly suspect that Crumbley posed a danger worthy of removal from school.
Crumbley is accused in the deadliest school shooting spree in the U.S. since 2018. He and his parents have been charged with felonies; the teen with murder, and the parents with involuntary manslaughter for, among other things, failing to notify officials their son had a gun.
The school's actions in the days and hours leading to the rampage raised questions about school officials' judgment in returning him to class, rather than searching his backpack or locker, calling police or sending him home.
Oxford Community Schools said over the weekend that it would seek a third-party investigation of the school's handling of the case, saying "our community and our families deserve a full, transparent accounting of what occurred."
Attorney General Dana Nessel said the district rejected her offer to have her office lead that investigation. Tuesday, Nessel said her office may do so anyway and will review the school's policies, evidence and take other actions before deciding whether to launch a full investigation. Nessel told reporters she hasn't "seen information that points to culpability on the part of anyone in the school district, but that's not to say that doesn't exist."
Oakland County Prosecutor Karen McDonald, who has been critical of the school's threat response, said she has not ruled out charges.
In hindsight, the school's correct course of action is obvious. But with the information the school had at the time — there is no evidence school officials knew Crumbley had a gun — the district is asking the public to extend it the benefit of the doubt.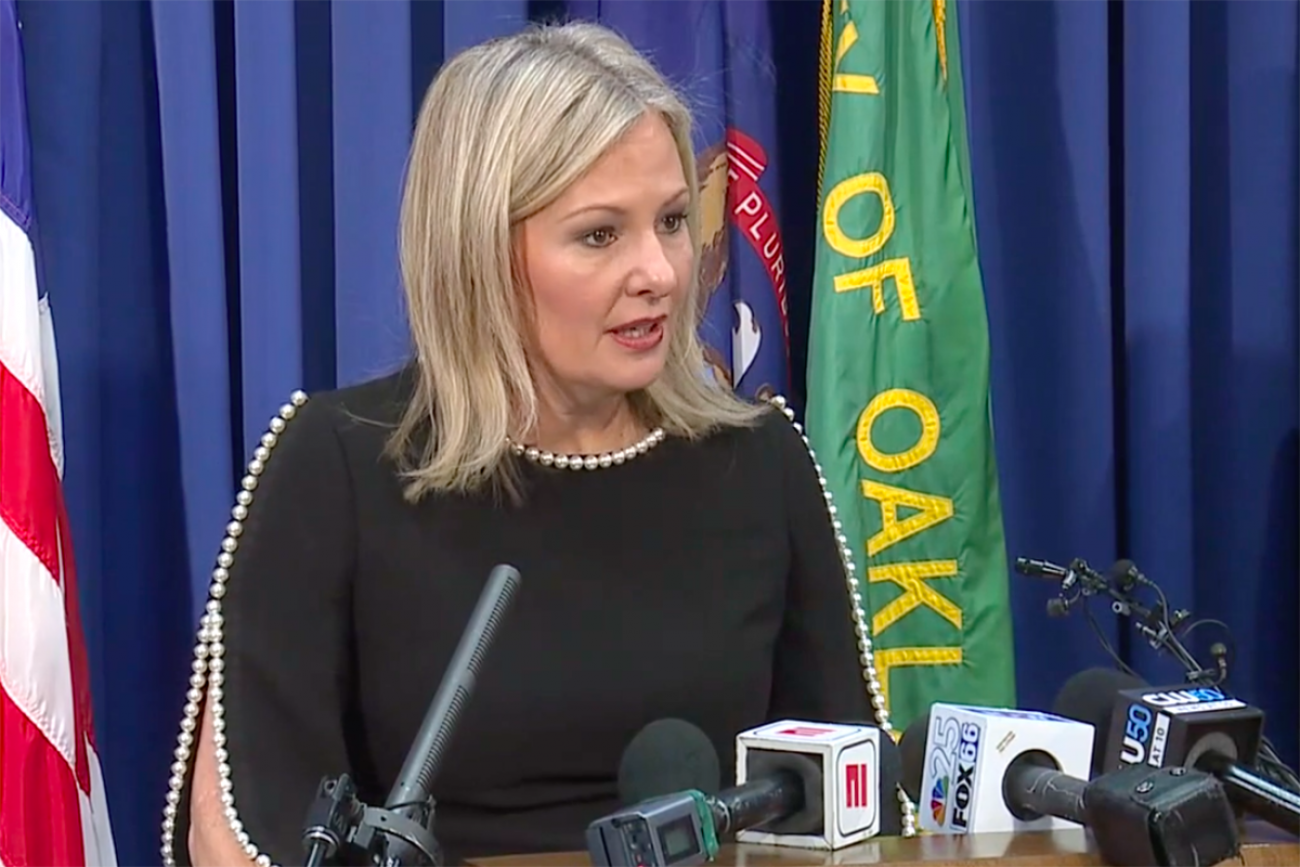 Oakland County Prosecutor Karen McDonald has questioned Oxford High School's decision to allow a 15-year-old suspected shooter to return to class hours before a shooting spree last week. (Screenshot)
"While we understand this decision has caused anger, confusion and prompted understandable questioning, the counselors made a judgment based on their professional training and clinical experience, and did not have all the facts we now know," Oxford Superintendent Tim Throne wrote in a letter to families Saturday.
Throne defended Oxford's decision to leave Ethan Crumbley in school after counselors met with the teen and his parents. Throne said Crumbley was "calm," and that counselors had no reason to believe the 15-year-old might harm others "based on his behavior."
The letter went on to say that, "despite media reports, whether or not the gun was in his backpack has not been confirmed by law enforcement to our knowledge nor by our investigation at this time."
The school's judgment has invited criticism.
McDonald has said repeatedly Crumbley should never have been allowed to return to class.
"We all should be looking at the events that led up to that horrific event," McDonald told Good Morning America Monday. "And in this case, a lot could have been done different. I mean, at that meeting he was allowed to go back to (class). We know that he either had that weapon with him or someplace where he could have stored it in the school, but he had it in the school."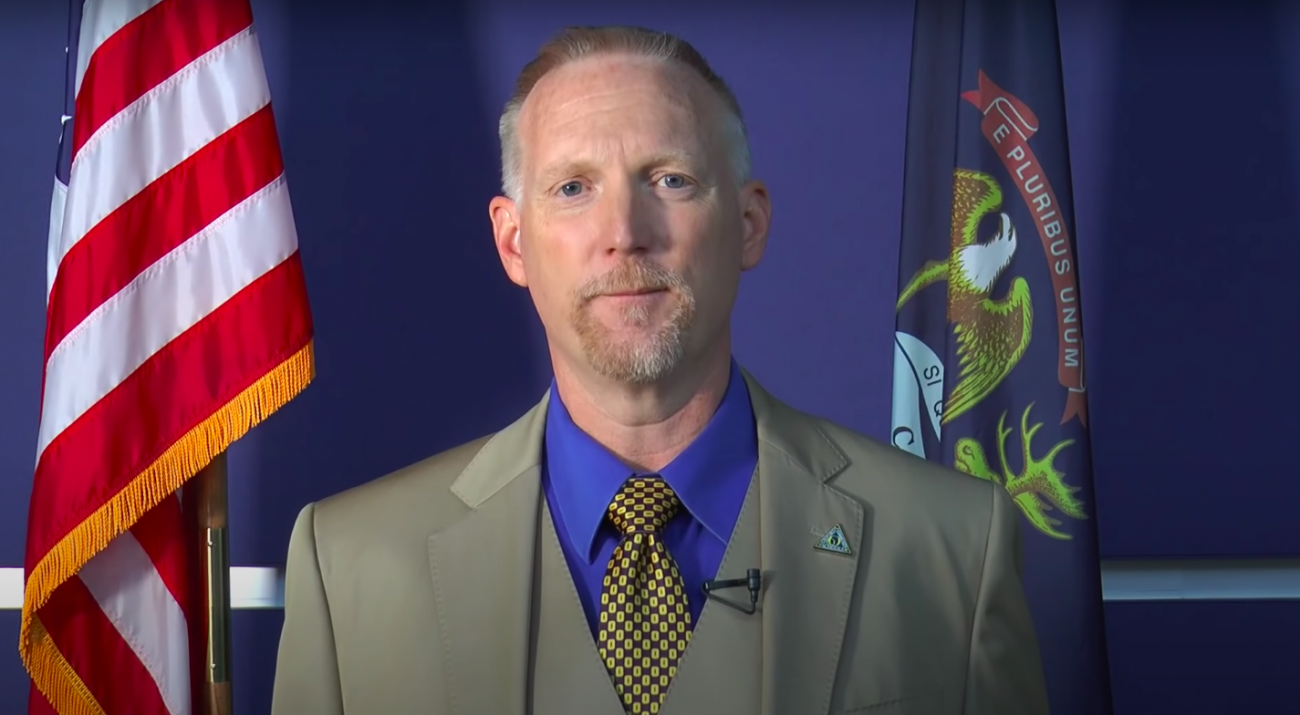 Oxford Superintendent Tim Throne (Screenshot)
Some school safety experts agree.
"The school, in my opinion, had the right and probably the obligation to remove him from school," said Amy Klinger, director of programs for The Educator's School Safety Network, a national nonprofit that provides schools with safety training and resources.
Schools have broad leeway to search student property if they have a reasonable suspicion their backpack or other belongings contain drugs or weapons.
One day before the shooting, a teacher caught Crumbley looking at images of ammunition on his phone. He was brought to the school office for a meeting. According to Throne's letter, Crumbley told school officials "he and his mother recently went to the shooting range and that shooting sports are a family hobby."
Authorities say they would later discover that the mother, Jennifer Crumbley, wrote on her social media account days before the shooting the handgun was an early Christmas gift to 15-year-old Ethan.
But aside from the dueling statements of the prosecutor and superintendent, details remain scarce on what was said in Crumbley's meetings with school officials, or why officials decided he should be allowed to return to class, his backpack and school locker apparently un-inspected.
A trend away from suspensions
Like many school districts, Oxford has increasingly moved away from discipline that takes students out of the classroom. The district's code of conduct cites "exclusionary discipline's negative impact" on students, and says it will "reserve exclusion for only the most serious offenses."
The district did not implement these changes in a vacuum. Studies indicate that, in most instances, removing students from classroom instruction for disciplinary reasons does little to change the objectionable behavior and can have a long term negative impact on the student's academic and social success.
Expulsions and suspensions have declined across Michigan schools in recent years, after laws passed in 2016 encouraged schools to move from so-called "zero tolerance" discipline policies to restorative justice, a tenet of which is to keep students in classrooms and reduce the disparate rate of suspension and expulsions meted out to more vulnerable student groups, including homeless students, Black students, and members of other marginalized groups.
Statewide, expulsions and suspensions declined 18 percent from the 2015-16 school year to 2018-19, the most recent school year uninterrupted by the pandemic. Oxford Community Schools, a district with about 5,500 students, reported no expulsions or suspensions in 2018-19, according to state data.
Many school leaders consider the movement away from zero-tolerance expulsion policies as good for students.
"If you were in a small rural community and you inadvertently left your hunting rifle in your car, you were expelled," Scott Menzel, former superintendent of Washtenaw Intermediate School District, told Bridge Monday. "If you brought a butter knife (to lunch), you were expelled. Context didn't matter."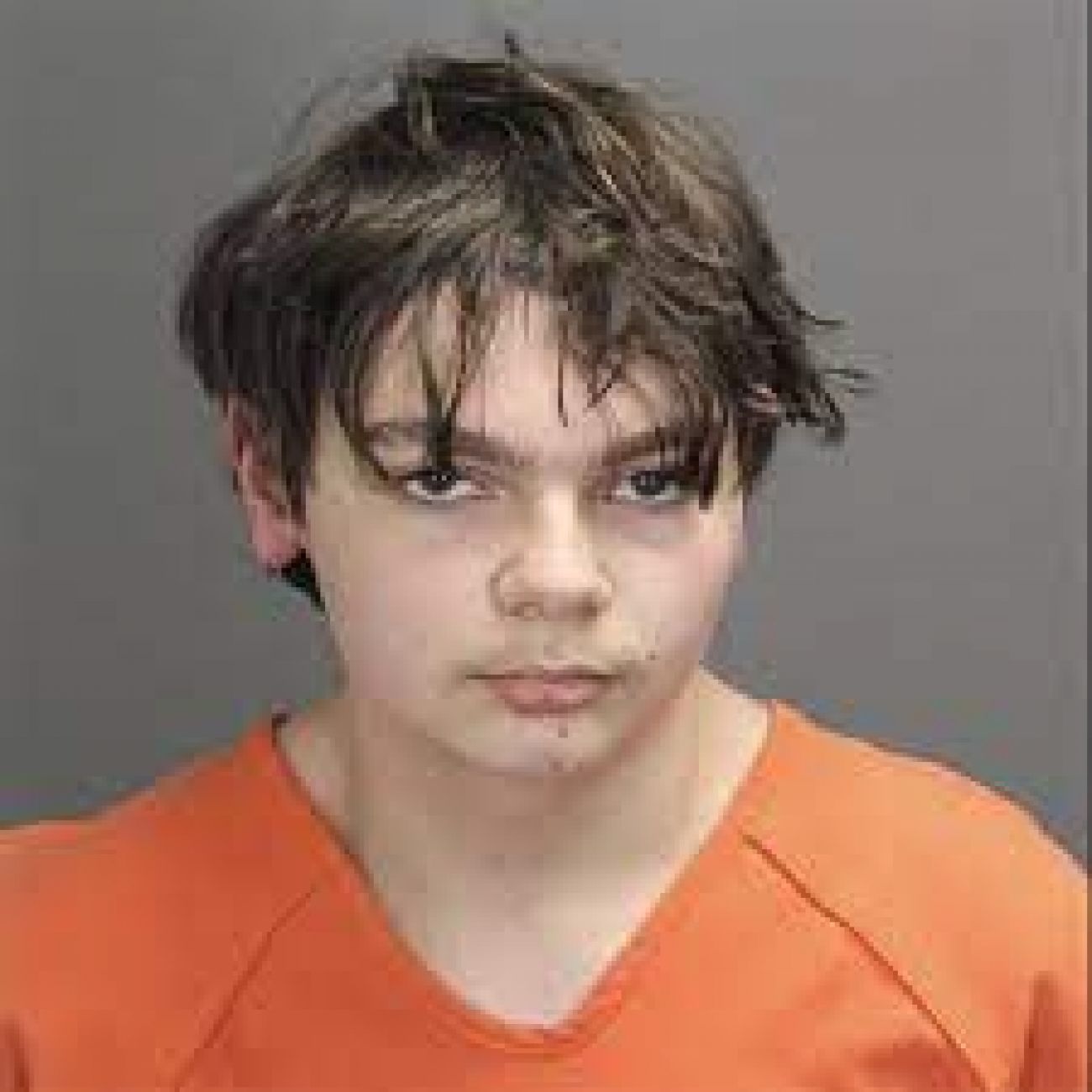 Ethan Crumbley, 15, is charged as an adult with multiple felonies that could imprison him for life.
The movement away from expulsion and suspension doesn't stop a school from taking action in more concerning situations, said Randy Liepa, former superintendent of Wayne Regional Educational Service Agency.
"Schools have the ability to take action if they think it's necessary," Liepa said.
But deciding when action is necessary is challenging, especially in cases such as school shootings, which remain exceedingly rare.
In 2018, the U.S. Secret Service National Threat Assessment Center issued guidelines on preventing school violence, citing factors schools should consider in deciding whether to notify police. While most troubling student behaviors can be handled by school personnel, "those that do warrant law enforcement intervention include threats of violence and planned school attacks."
Reports of student behaviors "involving weapons, threats of violence, physical violence, or concerns about an individual's safety should immediately be reported to local law enforcement," the guidelines say.
And yet, Oakland County Sheriff Mike Bouchard said his department received no notice of Crumbley's concerning behavior, which included drawings a teacher allegedly found on his desk the morning of the shootings of a semi-automatic handgun pointing at the words, "The thoughts won't stop, help me." A second drawing showed a bullet, with the words, "Blood everywhere." And a third showed a person who appeared to be shot twice and bleeding.
The Secret Service guide also notes "key themes" schools should look for in analyzing potential threats, including "evidence of desperation, hopelessness, or suicidal thoughts and gestures."
Crumbley's morning note said: "My life is useless" and "The world is dead."
But by the time he and his parents were called in to meet with counselors later that morning, Crumbley had scratched out some of the images and words, and told school officials the drawings were intended for a video game he was designing, school and law enforcement officials have said.
Further complicating counselors' decision making process: they would have been sending Crumbley home to an empty house after his parents refused to take him home, according to Throne's letter.
In March, a new Secret Service analysis of U.S. school shootings revealed that many of them featured circumstances similar to the Oxford shooting: A boy with easy access to firearms at home, who exhibited mental health problems and gave some warning before commencing an attack.
Nearly all shooters shared their intentions beforehand, and nearly a third conducted research. Crumbley allegedly did both — scrawling disturbing messages and images on his school worksheet and searching for bullets online.
After the tragedy, investigators also discovered videos on Crumbley's phone, recorded the night before the attack, in which he vowed to shoot up the school the next day, Lt. Tim Willis of the Oakland County Sheriff's Office said at the suspect's arraignment Wednesday. A journal recovered from his backpack contained similar threats, Willis said, and Crumbley had posted photos of the gun and a target on social media. There is no evidence indicating school officials knew beforehand of the videos or the journal.
The Secret Service recommended immediate intervention if a student shows an interest in violence or hate-filled topics. But its analysis also acknowledges the limitations of simply sending students home.
"Simply removing a student from school, without appropriate supports, may not necessarily remove the risk of harm they pose to themselves or others," the analysis noted.
Oxford's code of conduct states that if a student poses a danger to people or property, school officials can act first, and ask questions later.
Some school safety and legal experts told Bridge Michigan they believe officials should not have let Crumbley return to the classroom. Others said it is premature to comment on the school's handling of Crumbley without knowing specifics about counselors' interactions with him and his parents.
Mark Barden, whose son was killed in the 2012 Sandy Hook Elementary shooting in Connecticut that left 28 dead, now leads the Sandy Hook Promise, a nonprofit that trains students, parents and staff about how to respond when they identify the warning signs of a would-be school shooter.
Barden told Bridge the Oxford shooting "clearly underscores the importance of the intervention when we see those warning signs." But he said he hesitated to pass judgment on Oxford officials' response, noting that details are still scarce.
Mike Kelly is a Northville attorney who routinely defends students against a public education system he sees as too quick to suspend or expel. But he said he sees the Oxford shootings as a rare instance in which officials were too quick to return a student to the classroom.
He accused school officials of caving to parental pressure in the face of legitimate safety concerns. According to authorities, Ethan Crumbley's parents vehemently rejected bringing their son home from school.
"It's not the parents' decision," Kelly said, "and that's where the school failed to act: by not taking action in spite of the parents' reluctance."
Preventing the next shooting
In the days after the Oxford tragedy, Michigan school safety officials say they have mailed resources to school administrators across the state to help them better evaluate potential threats and take preventative measures.
School safety experts contacted by Bridge said perhaps the most effective measure would be greater use of school threat assessment teams.
The teams, typically made up of school administrators, counselors, school resource officers or local police and possibly others, are tasked with determining how to respond when a student poses a possible threat. They work to "connect the dots," said Klinger of the The Educator's School Safety Network, to see whether the behavior that triggered an assessment represents an isolated incident, or portends a dangerous threat.
The U.S. Department of Education sees threat assessments as a more reliable and objective measure of potential violence.
But despite their widespread embrace by school safety experts, Klinger said threat assessment teams are "tragically, not very common."
"The thing that actually saves the most lives is the thing that is in least demand," she said of the team approach, in part because it requires lots of training and resources that cash-strapped schools typically lack.
A handful of states require schools to maintain threat assessment teams. Michigan is not one of them, Klinger said.
It's unclear whether Oxford has such a team. Throne's weekend letter said that the school's actions after meeting with Crumbley and his parents before the shootings "remained at the guidance counselor level and were never elevated to the principal or assistant principal's office."
Katherine Schweit, a Detroit-born former FBI agent who has studied active shooter threats, said assessment teams take responsibility for such decisions out of an individual school official's hands, and assign them to a team of trained professionals.
Without those teams in place, Schweit said, school counselors, teachers and others are too often left to decide, with little guidance and limited investigatory power, how to best balance school safety with individual students' rights.
"It's easy, from a distance, to see what's the right thing to do or what you think is the right thing to do," Schweit said.
"But I think when you're up close dealing with the individual facts, and the parents who are in your face, and the kid who's saying 'I didn't do anything wrong,' school districts make these kinds of calls every day. And a lot of them send the children back into the classroom."
For its part, the Secret Service acknowledges schools are rightly concerned with making sure discipline isn't levied disproportionate against particular groups of students. But it said "the best data available demonstrate that this is not the case with threat assessment programs, which are based on an understanding and addressing student behavior, rather than on profiles or types of students."
Kelly, the Northville attorney, warned that schools looking to ramp up security after the Oxford shootings run the risk of taking it too far, violating students' rights in the process. On Monday morning, he said, a client came to him for help. His son had just been removed from school for asking whether the building has metal detectors.
"They're overreacting," Kelly said of schools. "Because nobody wants to be in the position that Oxford was in."
Only donate if we've informed you about important Michigan issues
See what new members are saying about why they donated to Bridge Michigan:
"In order for this information to be accurate and unbiased it must be underwritten by its readers, not by special interests." - Larry S.
"Not many other media sources report on the topics Bridge does." - Susan B.
"Your journalism is outstanding and rare these days." - Mark S.
If you want to ensure the future of nonpartisan, nonprofit Michigan journalism, please become a member today. You, too, will be asked why you donated and maybe we'll feature your quote next time!