In changing Grosse Pointes, subtle racism gives way to political extremism
The five communities comprising the Grosse Pointes have a history of exclusivity and physical and legal barriers to Detroit, which it borders. But over the years, the Pointes have become more middle class and diverse. (Bridge photo by Madeline Halpert)
Since the Nov. 3 election, Anne Vanker said her six-person evening book club in Grosse Pointe has looked a bit different.
Lately, at the end of the meetings, Vanker and other group members have been "bringing facts."
Some have shared theories that former President Donald Trump is still in charge of the military and arrests are going to be made, she said.
Vanker, a former candidate for Grosse Pointe School Board, has falsely claimed the COVID-19 vaccine has "nanoparticles and antennas that feed stuff up into the cloud."
"Donald Trump has awakened the people," she said.
"I don't want to be a conspiracy theorist, but nothing would surprise me."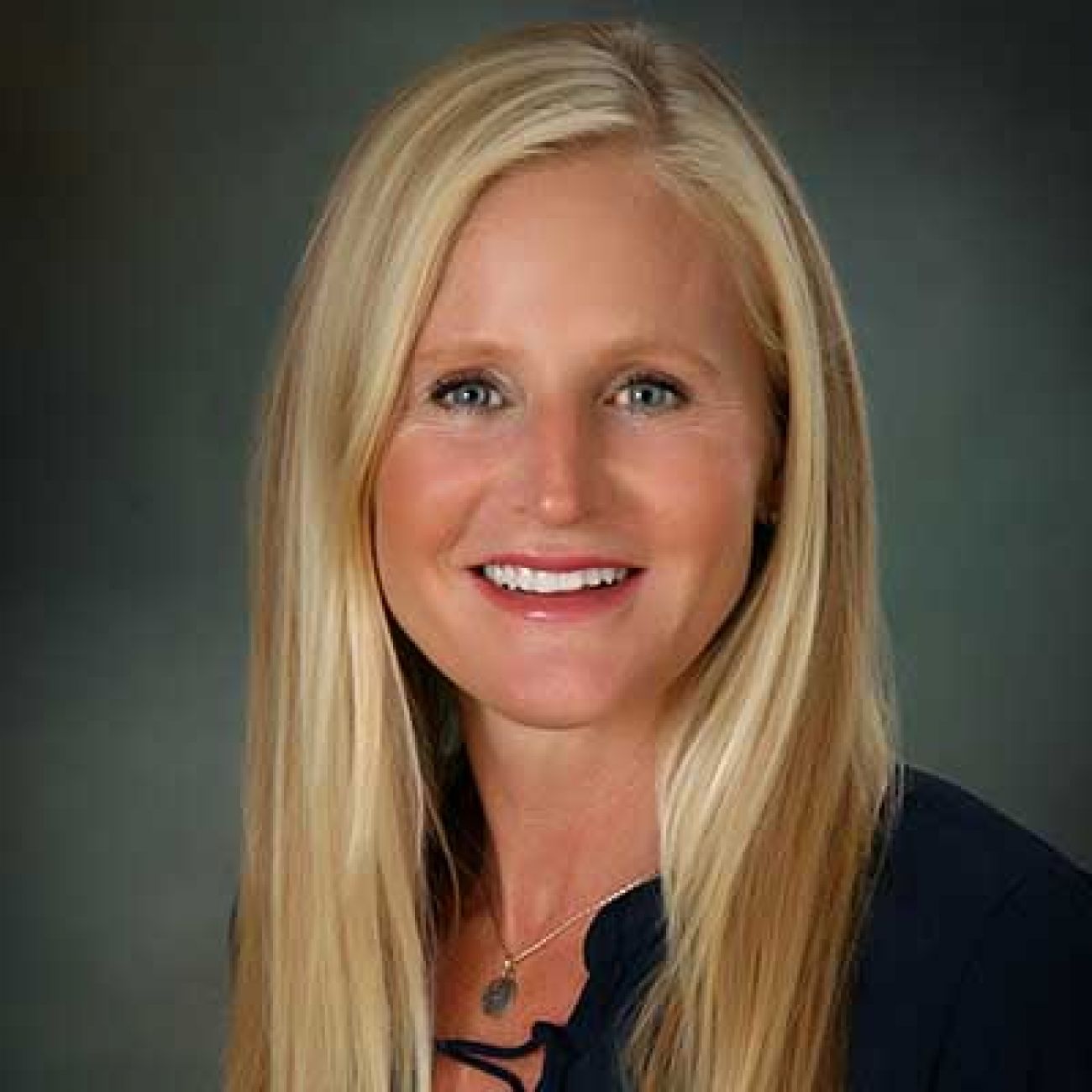 Anne Vanker, who worked as an executive manager for Johnson & Johnson, says President Donald Trump "has awakened" her and her friends. (Courtesy photo)
Vanker's book club is composed of women like her: She's 55, a former executive manager for Johnson & Johnson and a native of Grosse Pointe, an affluent and predominantly white community that is an unlikely breeding ground for what experts call the radicalization of the Republican Party.
On the northeast border of Detroit, the five Grosse Pointe communities — with a collective 46,000 residents — have a history of well-heeled exclusivity that some call old-fashioned racism. Pristine parks and award-winning public schools are open to residents-only and, over the years, the Pointes have erected a series of barriers along the Detroit border.
Two of the Pointes — Grosse Pointe Shores and Grosse Pointe Farms — remain two of the richest communities in Michigan. But over the past decade, some of the barriers in the onetime Repubilcan stronghold have fallen. As the communities become more diverse, middle-class and liberal, groups are forming such as Welcoming Everyone Grosse Pointe (We GP) and a local chapter of the NAACP.
But change comes hard, and in recent years the Pointes have endured a series of racially tinged fights over school closures, diversity initiatives and local elections — and unflattering headlines, such as last week's controversy when a white Grosse Pointe Park man hung a Ku Klux Klan flag in a window facing a Black neighbor.
"You would think that money and privilege and education would insulate them against radicalization," said Greg Bowens, the founder and former president of the Grosse Pointe-Harper Woods NAACP branch.
"But unfortunately, that's just not the case."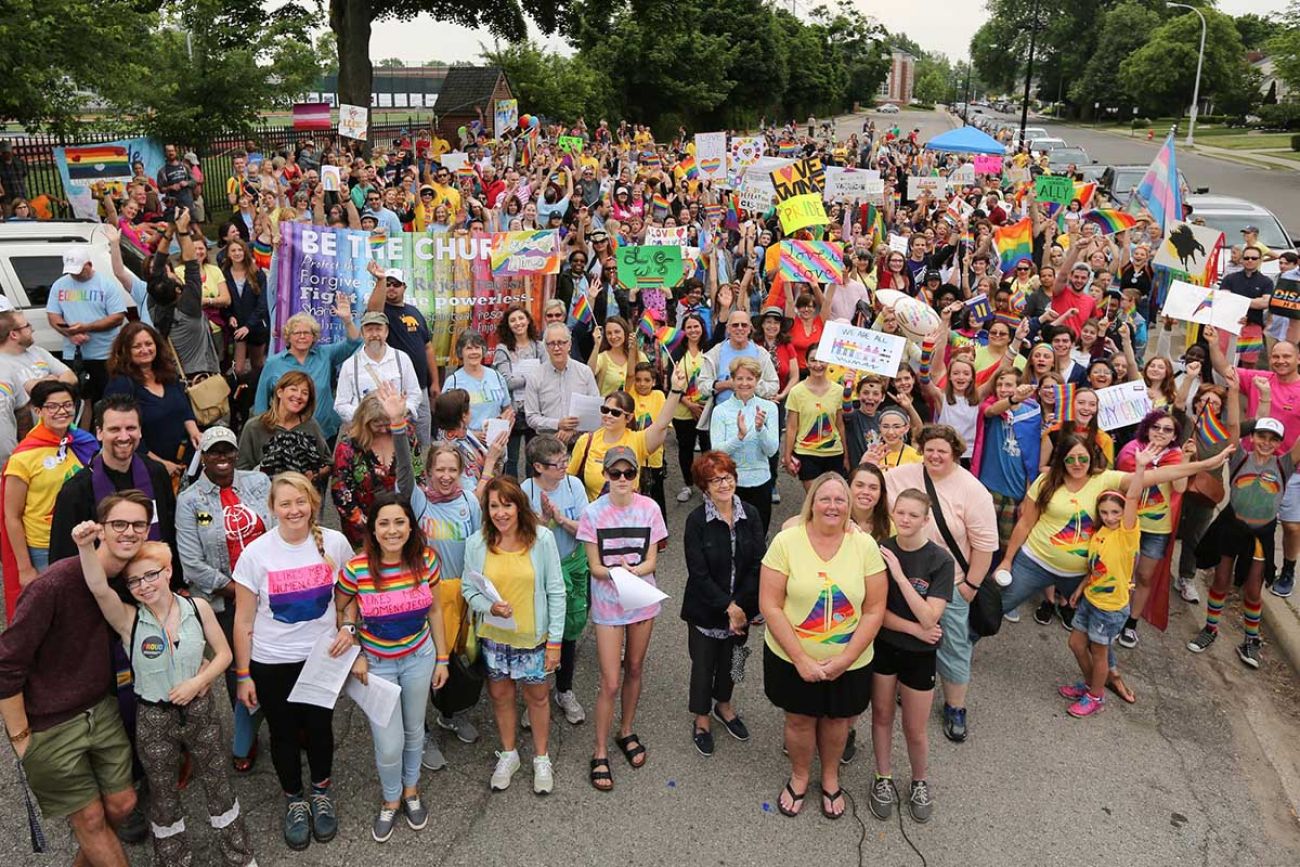 A local nonpartisan group, We GP, has hosted LGBTQ pride marches with thousands of attendees in recent years. But some residents have pushed back against the initiatives, claiming the social justice group is Antifa-aligned and designed to enact a radical "leftist globalist agenda." (Photo courtesy of John F. Martin Photography)
Others say the issues aren't confined to the Pointes, but rather a microcosm of the nation's divisions.
They say political extremists are a minority in Grosse Pointe communities that are rapidly becoming moderate and inclusive.
Related stories:
"Grosse Pointe has its share of crazy people, but it's not a share any larger than other communities," said Tim Bledsoe, a Democratic former state House member who represented the Pointes.
Bledsoe, who is now a political science professor at Wayne State University, pointed out that right-wing fringe groups exist nationwide, not just the Pointes. He said Democratic President Joe Biden's success in the communities in November is proof that most residents of the Pointes reject Trump and extremism.
Biden carried three of the five Pointes against Trump: Grosse Pointe Park, the City of Grosse Pointe and Grosse Pointe Woods, while losing the conservative stronghold of Grosse Pointe Farms by only 10 votes.
In 2012, all the Pointes except for Grosse Pointe Park went for Republican Mitt Romney. In 2016, Democrat Hillary Clinton did slightly better than Democrat Barack Obama in 2012, picking up the City of Grosse Pointe in her race against Trump.
Demographic data show incremental shifts in the racial composition of the communities as well. From 2000 to 2019, the African-American population grew from 2.95 percent to 8 percent in Grosse Pointe Park, which appointed its first Black city council member last year.
Even so, some residents of the Pointes are headed down a worrisome path, said Roger Clark, a Grosse Pointe Park resident.
"The phrase that I've been saying a lot is 'a wounded animal is loudest and most violent right before it dies,'" he said.
"The 60-year-old and up white conservative demographic is dying off. . . I think they know their time in power is coming to an end, so they're trying to hold on to it with any means possible, even if that's being dishonest."
'Next step...get them out of masks!'
Residents said tensions and disinformation came to a head last year when the nation began a new reckoning with racial justice, COVID-19 forced students and parents home and Trump and other Republicans raised the political temperature with accusations of a rigged election.
In the spring, WE GP, a local, nonpartisan, social justice group, distributed Black Lives Matter signs throughout the community after the police killing of George Floyd in Minneapolis.
Grosse Pointe Shores ticketed one man after it claimed a BLM sign displayed in his yard was too big. After threatening to sue the city, the man received hate mail, including a poem from the early 1900s with racial slurs.
In November, Vanker, the woman in the book club, and at least five other Grosse Pointers served as GOP poll challengers at Detroit's TCF Center, where poll workers counted the city's absentee ballots. They shared dozens of unfounded election fraud claims with Bridge Michigan after the election. They wrote affidavits featured in Trump's campaign lawsuits in Michigan.
Some received cease-and-desist letters from Dominion Voting Systems after they falsely claimed the company's election equipment manipulated votes.
"I threw (the letter) in the trash," Vanker said.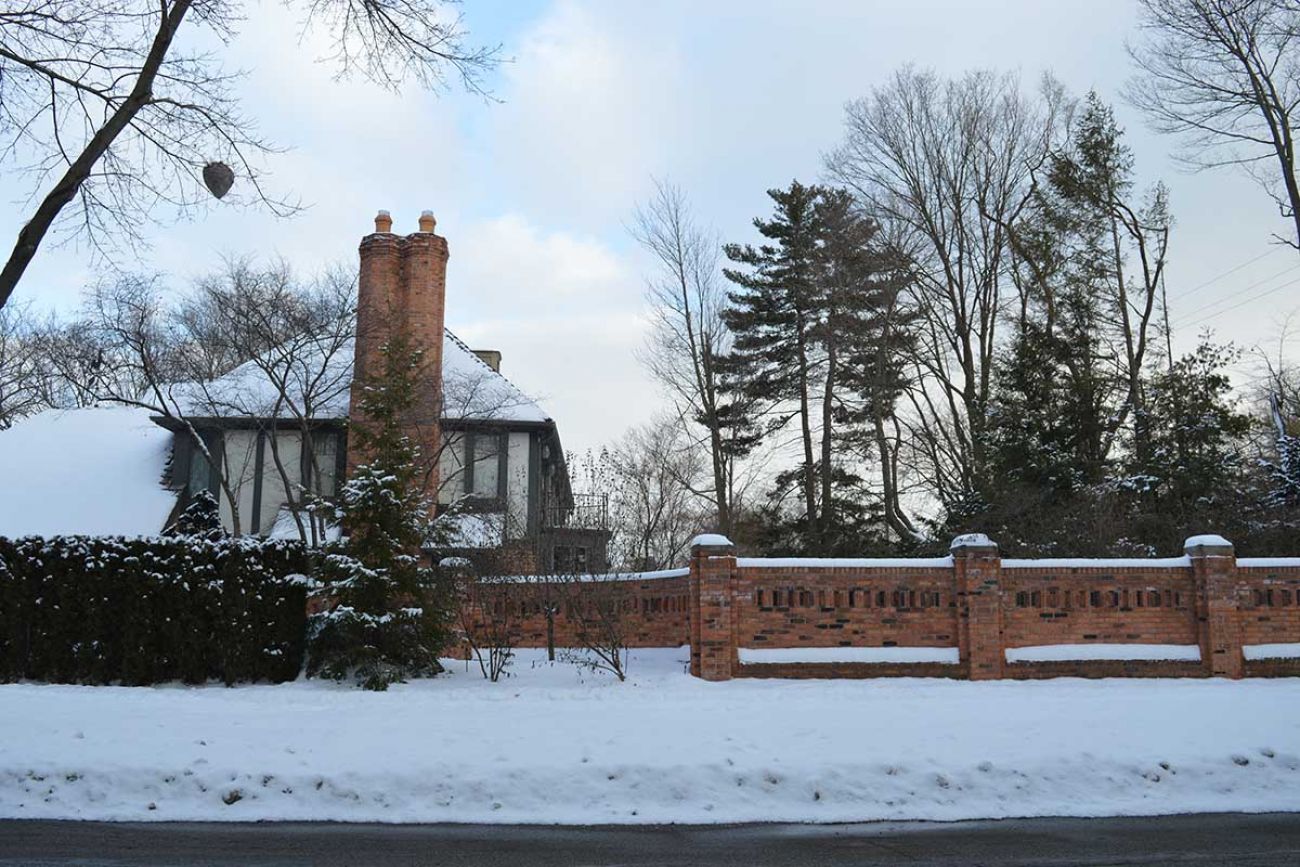 Grosse Pointe Farms — where households have an annual median income of $132,000 — is one of the richest communities in Michigan and of the five Grosse Pointes. (Bridge photo by Madeline Halpert)
She followed the election fraud allegations all the way to the nation's Capitol on Jan. 6, where she said she was not a part of the mob that breached the building as Congress counted the nation's Electoral College votes. She falsely claimed Antifa committed the violence that left five dead.
After the election, misinformation about COVID-19 continued to permeate a local fight to get Grosse Pointe Public School System students back in the classroom full-time after several months of hybrid learning.
In February, the debate came to a close when the Grosse Pointe School Board voted unanimously for children to return in-person full-time.
"We won!" several parents wrote on a Facebook page.
"Next step…get (the kids) out of masks!" another parent wrote in a comment.
"Who says that extensive mask wearing is safe? It's not, it's a bacterial breeding ground."
'The progressive left is coming'
Months after the election, extremist ideologies persist in the community. Last week, Grosse Pointe Park resident JeDonna Dinges, who is African American, found a Klu Klux Klan flag hanging in her neighbor's window.
"These types of racist jerks walk amongst us," said Dinges, 57, the owner of a resale fashion store. "They're doctors, they're lawyers, they're police officers. They're our neighbors."
For years in the Grosse Pointes, there has been an undercurrent of old school racism, and a desire for life to remain the same in the affluent communities — exclusive and white, said Dinges, who grew up in Detroit and moved to the Grosse Pointes 11 years ago.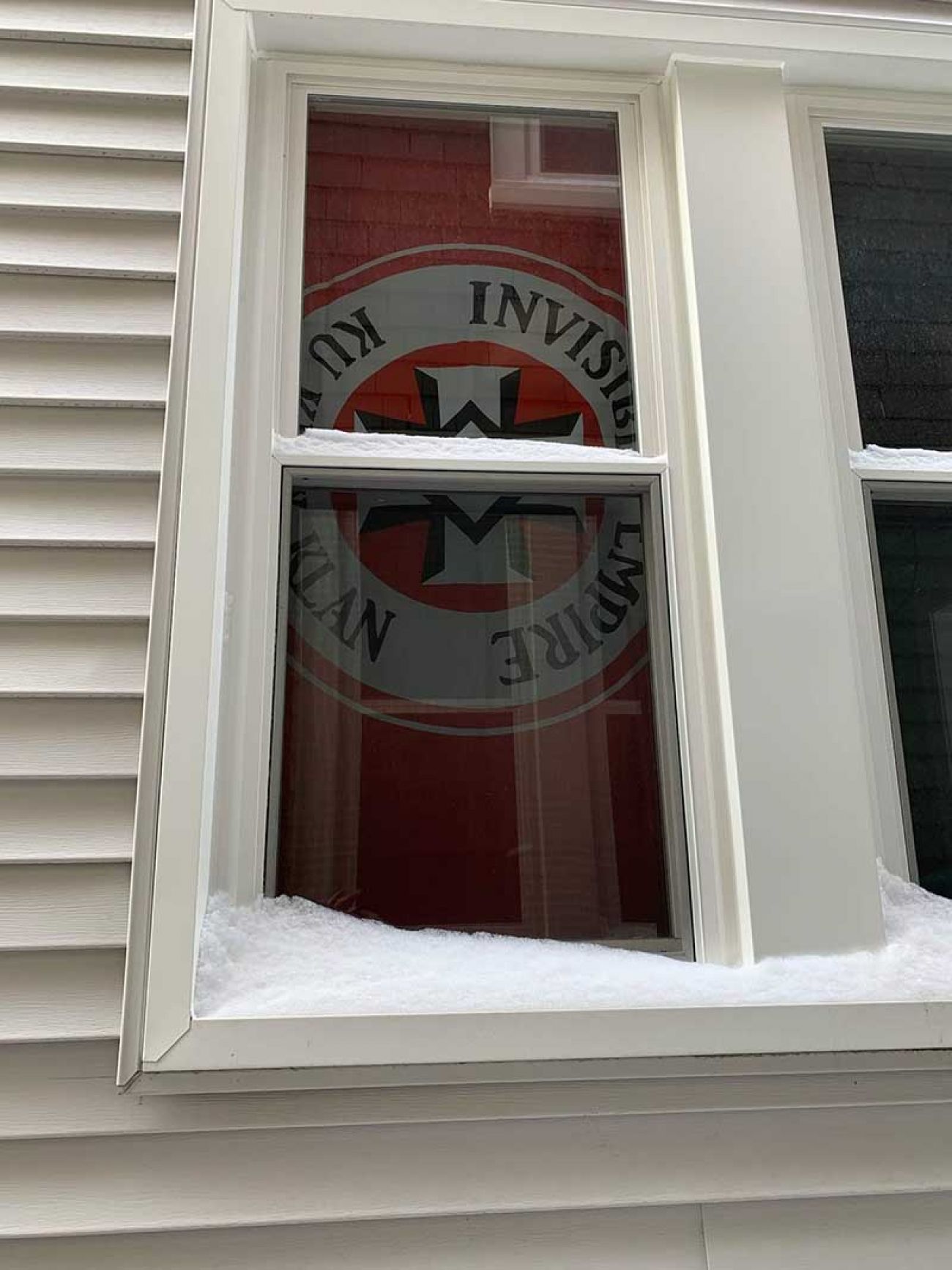 Grosse Pointe Park resident JeDonna Dinges, who is African American, found a Klu Klux Klan sign hanging in her neighbor's window this month. She said the incident represents an undercurrent of old school racism and a desire for life in the Pointes to remain exclusive and white. (Photo courtesy of JeDonna Dinges)
But she said when Trump was elected in 2016, people concerned about social justice in the Pointes "came out of the woodwork."
We GP, the local, nonpartisan social justice group, now hosts annual LGBTQ pride marches with thousands of attendees. The group is sponsoring a rally with the local NAACP chapter to protest against the KKK flag display. Black Lives Matter signs line the yards of many homes in Grosse Pointe Park, Detroit's next-door neighbor.
The groups have raised suspicions from community members like Vanker, who say they worry that liberal values may hurt the Pointes.
"The progressive left is coming into little city councils in Grosse Pointe and Grosse Pointe Park," Vanker said before the KKK sign incident.
"It's WE GP and the NAACP. What they want to do is say there's systemic racism in Grosse Pointe, and that (we) have to open the parks to everybody. This is happening locally and they're very well organized."
Vanker said in the past few months following the election, she's spent many late-night hours investigating fraud and other conspiracy claims. Fox News and other far-right news sites like Gateway Pundit and Gab have informed her research.
"I don't work anymore, so this is what I do," she said.
Bridge Michigan reached out to several members of Vanker's friend group, Republican community leaders and others. Some did not respond to requests for comment, and others refused to speak on the record, saying they don't trust the media.
Dinges said extremists realize the country is becoming more diverse, and that people of color are beginning to "take their rightful seats at the table."
"And because of that, they're losing their minds."
Community leaders have also partaken in the conspiracies. A Grosse Pointe Shores City Council member, Matt Seely, was a plaintiff in lawsuits from Trump alleging Michigan voter fraud, while Grosse Pointe School Board Trustee Lisa Papas has posted conspiracy theories on Facebook about John F. Kennedy Jr. and welcomed militia members into the community, according to screenshots reviewed by Bridge Michigan.
'Ghost of Grosse Pointe past'
Fifty feet in front of Grosse Pointe South High School, an 8-foot metal green sign commemorates one of Martin Luther King Junior's last speeches before his assassination. It was called "The Other America."
"I use this title because there are literally two Americas," he said during a speech at the school on March 14, 1968.
"Every city in our country has this kind of dualism, this schizophrenia, split at so many parts, and so every city ends up being two cities rather than one."
More than 50 years later, residents say the split remains in the Pointes. On one side, residents are working toward change. In January, a local Realtors group paid for the installation of the high school marker to commemorate King's speech, said Bowens, the former NAACP president.
Greg Bowens, a former president of the Grosse Pointe-Harper Woods NAACP branch, stands in front of a recently erected monument to Martin Luther King Jr.'s speech at Grosse Pointe South High School three weeks before his assassination in 1968. King spoke of "two Americas," a divide that some residents say remains in Grosse Pointe. (Photo courtesy of Greg Bowens)
It's a sign of the progress that has been made in the community, he said. But others say changes are ruining the Pointes.
"The evangelical left is trying to destroy the various Grosse Pointe communities using lies," a resident wrote in a comment on a local Facebook page, Grosse Pointe Park community forum, which some have dubbed the "GPPQ" (Grosse Pointe Park QAnon).
In another comment, he falsely claimed George Floyd was not killed by a police officer, but died of a drug overdose. (An autopsy ruled the cause of death was "cardiopulmonary arrest complicating law enforcement subdual, restraint, and neck compression" and the manner of death was homicide.)
The weaponization of disinformation is alarming, said Shannon Byrne, a co-founder of We GP.
"But I think when we talk about extremism, it can start feeling like it's bigger than it is," she said. "They're vocal, but they're a tiny little slice of the community."
Many in the community are working hard to bridge the divide, Byrne added. She said people have been advocating for justice in the Pointes for a long time, but in recent years, they've become more organized.
"A lot of times what we've been fighting as a community has been the ghost of Grosse Pointe past," Bowens said. "But with the advancements — the formation of the NAACP, We GP, the gay rights march, the women's march — there is reason to be very hopeful about the future."
Only donate if we've informed you about important Michigan issues
See what new members are saying about why they donated to Bridge Michigan:
"In order for this information to be accurate and unbiased it must be underwritten by its readers, not by special interests." - Larry S.
"Not many other media sources report on the topics Bridge does." - Susan B.
"Your journalism is outstanding and rare these days." - Mark S.
If you want to ensure the future of nonpartisan, nonprofit Michigan journalism, please become a member today. You, too, will be asked why you donated and maybe we'll feature your quote next time!